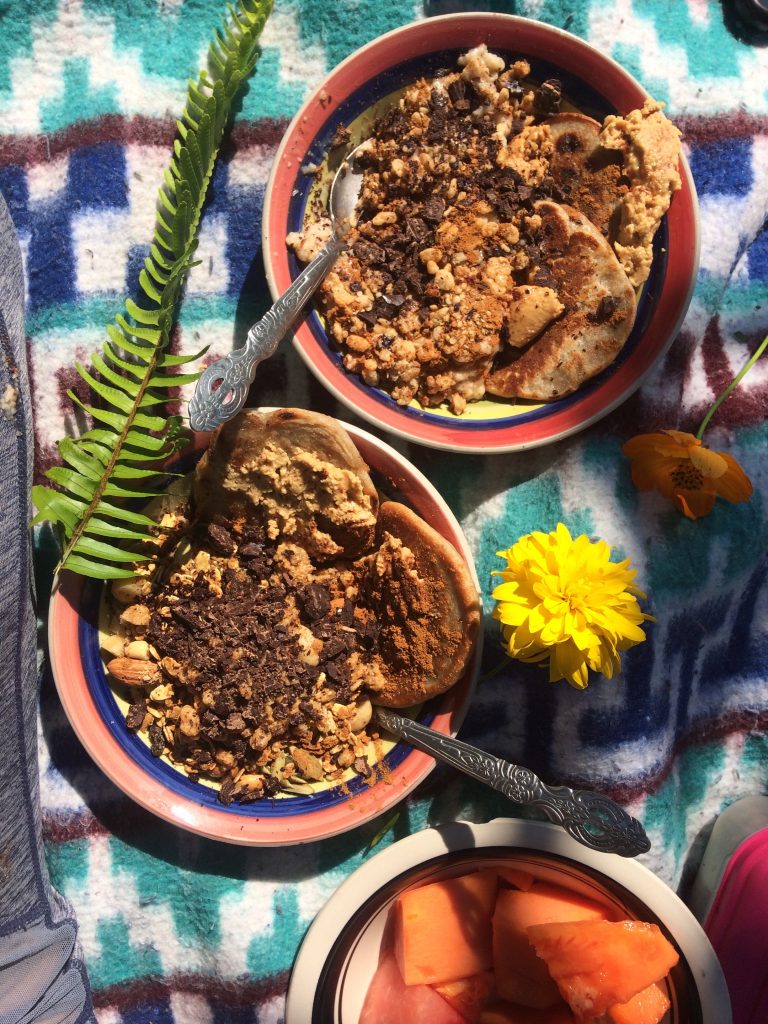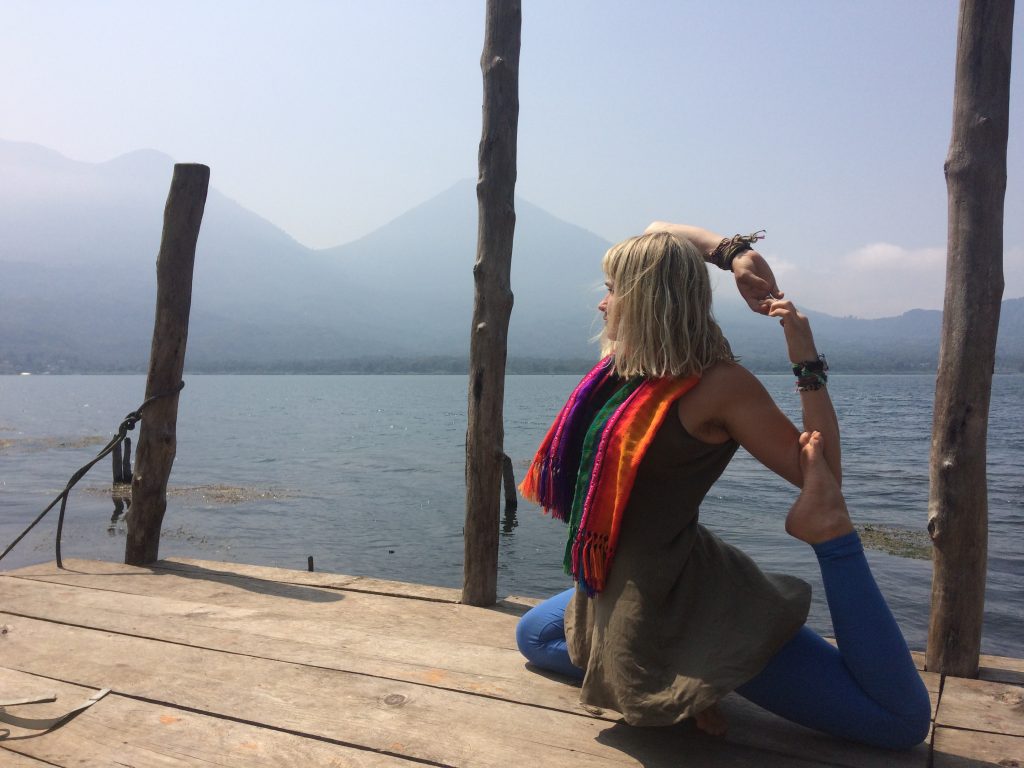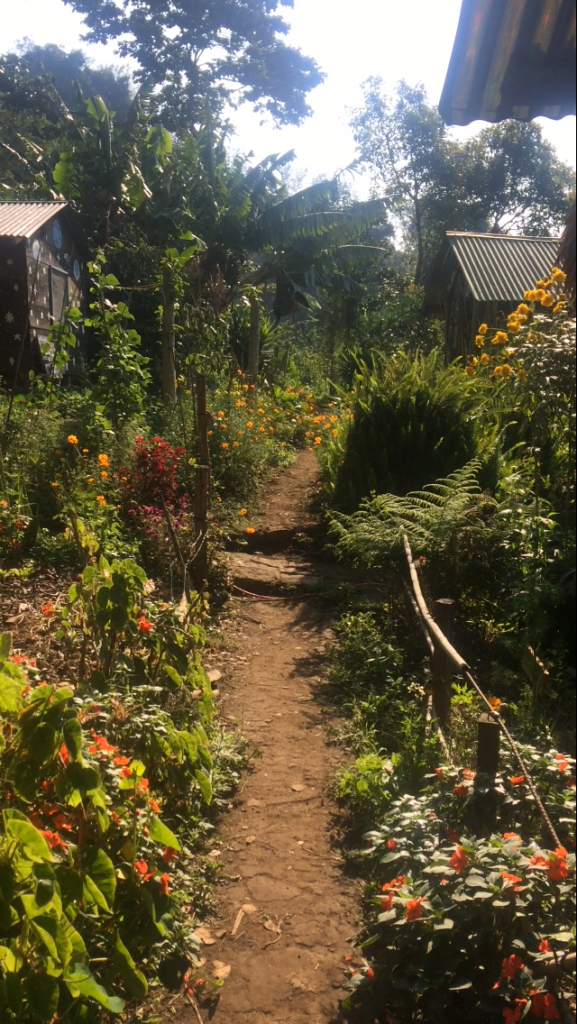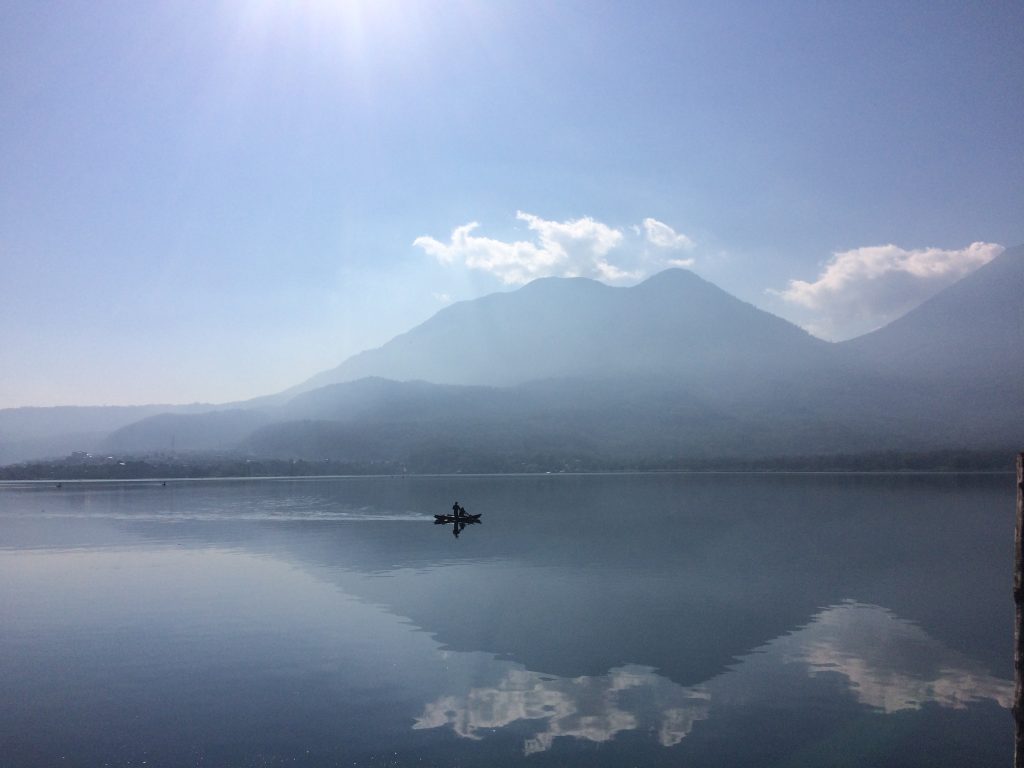 I tossed my backpacking backpack in the back of a large van filled with people from around the world. I hopped in and greeted everyone before the four hour journey to Lake Atitlan. Lake Atitlan is one of the most popular tourist sites for those traveling through Guatemala, it is known for its beautiful views of the lake surrounded by volcanoes. During the ride I spoke to a man from Guatemala who created his own coconut oil toothpaste that he sells at health food stores all over the country. He explained to me how special the lake is to locals, and some of the history behind it. The locals living around the lake are all Mayan and wear homemade woven clothing that represents the different communities. The different colors and symbols sewed onto the clothing helps separate the twenty seven different tribes. There are many different towns on the lake where these communities live. You can travel to each of them by boat. My destination was the Mystical Yoga Farm, a short boat ride from Santiago.
I was dropped off near a bunch of boat docks with local woman and men selling me a variety of crafts and clothing. There were men shouting different cities on the lake. I heard "Santiago" and headed his way. The man grabbed my backpack and began tying it town to the top of the boat with ropes, I got in and sat down amongst a bunch of Mayans. We sat for about ten minutes until the boat was completely full and everyone was squished in. As we began to take off the sun began to set and the skies were filled with orange and pink colors surrounded by dark silhouette looking volcanoes. The ride was bumpy and water splashed in a few times, I distinctly remember having thoughts of excitement in my head as I was so close to the adventure I had been planning for a few months now. All of the pictures I had seen of the lake and the farm were all coming to real life right now, right in front of me. My private boat pulled up to the yoga farm and I saw the giant sign that said "Mystical Yoga Farm" I climbed off the ladder and paid the driver. I was greeted and settled into my little cozy room for what I thought was going to be three months. During these three months I had plans of learning about permaculture, how to live off the grid, Guatemalan cooking, and completing my yoga teacher training. As I sat down for dinner I shortly realized things were going to be different than I had expected. The farm was going through some changes and the owners had decided to put the farm up for rent as they wanted to focus on their family back in the United States. I was told I could complete the teacher training but afterwards would have to find a new placement.
In the meantime my schedule was waking up with the sun as we met for meditation and yoga every morning, eating breakfast, then helping out with any tasks needed on the farm, which mostly included cleaning yoga mats. I was the only volunteer at the farm and was not fulfilled with the work I was doing. I could only learn about the permaculture and off the grid life on this farm through conversation and my own eyes. I didn't have any service and had to request to use a locals phone to get in contact with Carpe to tell them the change in plans. I began to grow very lonely and confused with the path that I was on, I was questioning what could possibly come from this. I had an abundance of free time that I used to draw, and journal. I soon was realizing how independent I was becoming. My initial goals for myself were to meet people, put myself out there and help overcome my social anxiety, but here I was becoming more introverted and began enjoying the time I had alone. Through meditation, cacao ceremonies, tea ceremonies, and swimming naked in the lake I was constantly reminded by those on the farm to let go of any expectations I had and trust in my path of life. All this time I had thought my journey was going to be this certain way, but here I was taught that your journey is going to be whatever the universe has in store for you. I was taught to let go of the control I felt I needed in life to help discover love, love for myself, my life, and my own path.
I have now met so many people that have come through the Mystical Yoga Farm that have inspired me. People who have helped me dig deep into myself and explore who I really am and what possible spiritual beliefs I could hold inside. I am now an ecstatic dancer, a cacao lover and a yoga teacher. I could not be more happy with how everything has turned out for me, and am so grateful for the experience I had at the yoga farm. I had never felt so positive that this is where I am supposed to be at this point in my life.
For my last month of volunteering I will be at Atitlan Organics. A small organic farm on the lake where I will learn about permaculture, sustainable farming, and get to help out in the kitchen. I am so thankful for all of the Carpe staff that has helped me throughout my time here so far, and am beyond excited to see what the future holds for me. As I finish writing this blog I feel an immense amount of love in my heart for my gap year in whole. I am so proud of myself for the growth that has been made within me and the experiences throughout this gap year that have helped me get there. I feel as if I am a flower who has finally learned how to bloom.