By Maggie Seida
Seeing my first glance of Koh Tao from the boat, I was already hooked—the little island is dotted with bungalows, dogs running on the beaches, and boat captains calling to each other from the bay.
To get from the main pier to the dive school is an overpriced, five-minute taxi ride (be prepared: that taxi means the back of a motorbike or the bed of a pickup).
There is no typical day at New Heaven as our daily work is always changing. Usually though, after stopping by Sandwich Lady for my daily smoothie, I arrive at the dive school (which is a two-to-10 minute walk depending on where you're staying) by 9:00 am to pack the dive gear for the day and walk to the beach for our daily beach clean-up. There are a series of lectures for newcomers to get a head start on learning everything from the mutual symbiosis between many organisms on the reef to coral taxonomy to restoration techniques. The dive boat heads out somewhere around 11:00 am (get used to the concept of "island time," 11:00 am can mean anywhere from 10:00 am – 2:00 pm) and dives tend to be upwards of an hour.
Artificial reef work, or "reeforestation" as NHRCP calls it, takes many forms. On land, we weld large metal structures and make bottle nurseries by sinking glass bottles in concrete. Once we deploy these and add a bit of science, these structures make great places to aid with the rehabilitation of corals. Some days we work directly with the coral, hitching it to the structures. Other days we lay out a transect line and survey for coral health and the presence of indicator species to add to the database. Every day is a chance to see something you've never seen before and maybe didn't even know existed. One day I'll be ogling over a nudibranch (sea slug), the next day I'll be swimming with a whale shark, and the next getting one-on-one time with a blue-ringed octopus. During coral spawning, which happens once a year, we dove during the night and when one coral starts so do the rest. It was like floating in space among hundreds of thousands of little pink eggs!
The weather here is hot and humid but with a fan in your room, a cold shower, a beachside pool and, well, the beach, there are plenty of ways to ward off the heat. In our free time, we snorkel with black tips at nearby Shark Bay or check out some of the island's great viewpoints. There's a lot of downtime, so get used to relaxing and bring a book. There are so many restaurants and cafes to try that if you're a food connoisseur like myself, you won't be disappointed.
As working in conservation spans more than just the marine work that we do, NHRCP is trying to raise awareness on one-use plastic usage on the island. Plastic pollution is a huge issue in South East Asia and Koh Tao is no exception—during dive cleanups we come up with bags and bags of trash, much of which has the potential to be very dangerous to the reef. I recommend bringing a reusable to-go cup and a metal straw with you as all smoothies here (and you'll be drinking a lot of them) come in a plastic cup with a plastic straw. Also bring a small backpack or tote back so you can say no to plastic bags. It makes a difference.
As a New Heaven intern be prepared for a lot of work, a lot of new experiences, and a whole lot of sun. Group dinners are the norm, live music on weekends is a favorite (turns out shop members are quite musically gifted!), and your bed sheets will unavoidably have sand in them.
Welcome to Turtle Island.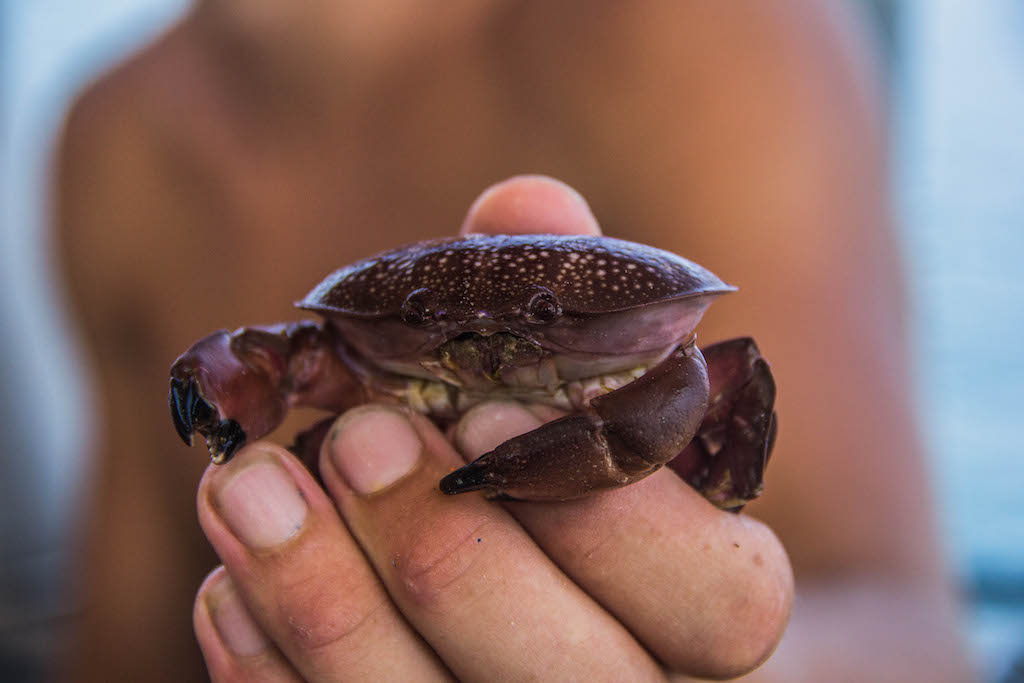 We rescued this little guy from an abandoned net. It took two divers 30 minutes to cut away all the netting.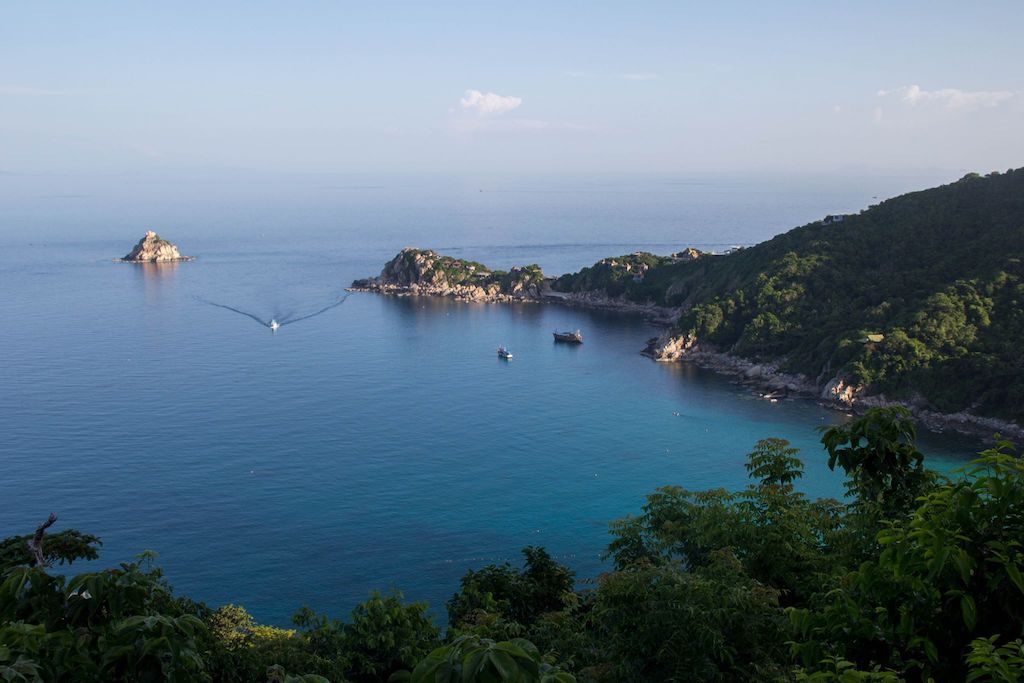 View of Shark Bay from one of our favorite restaurants.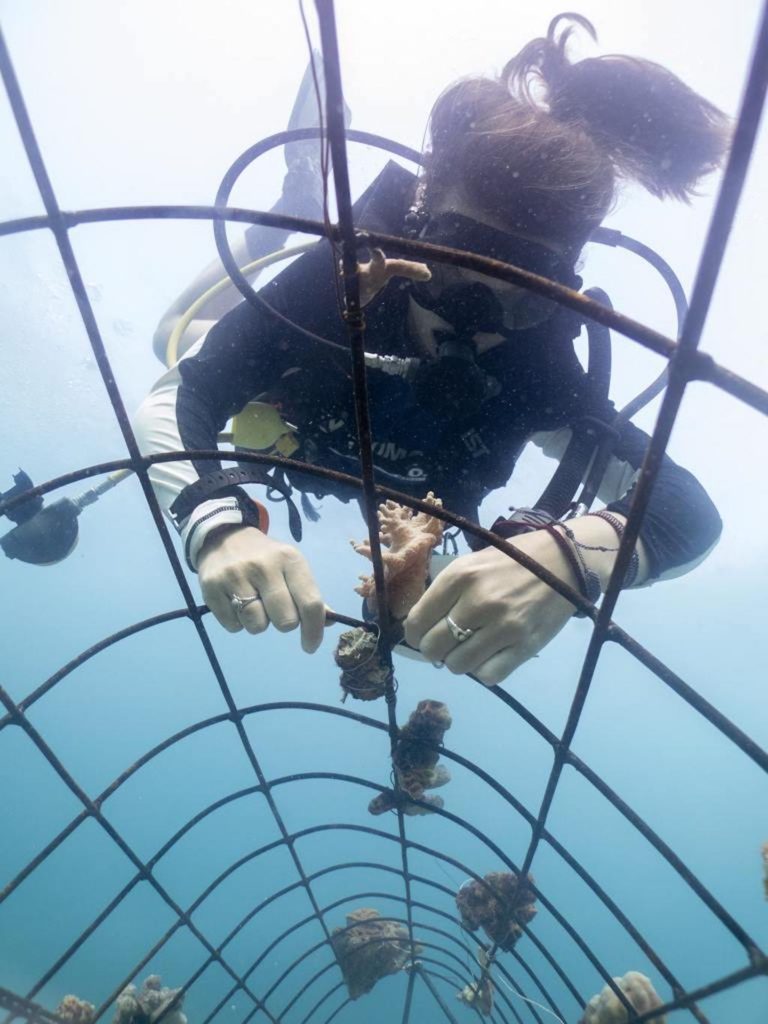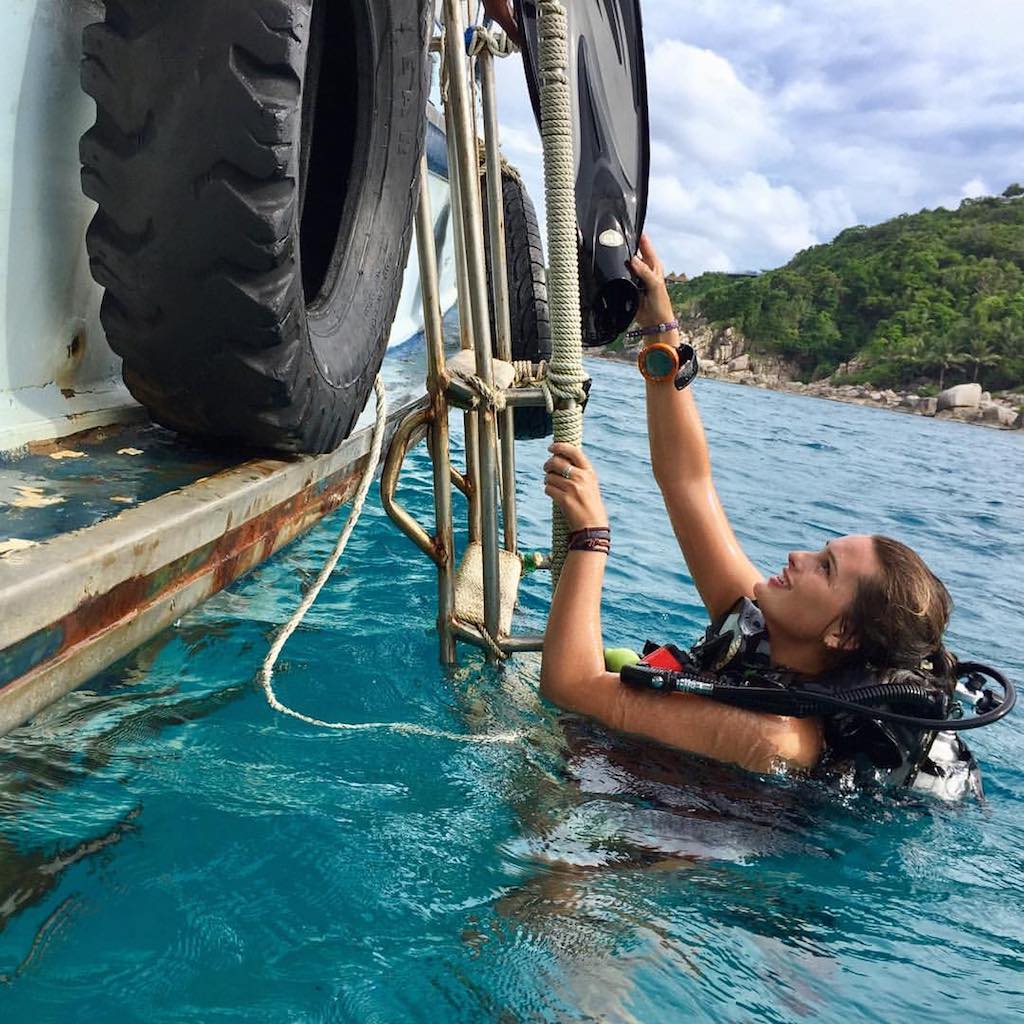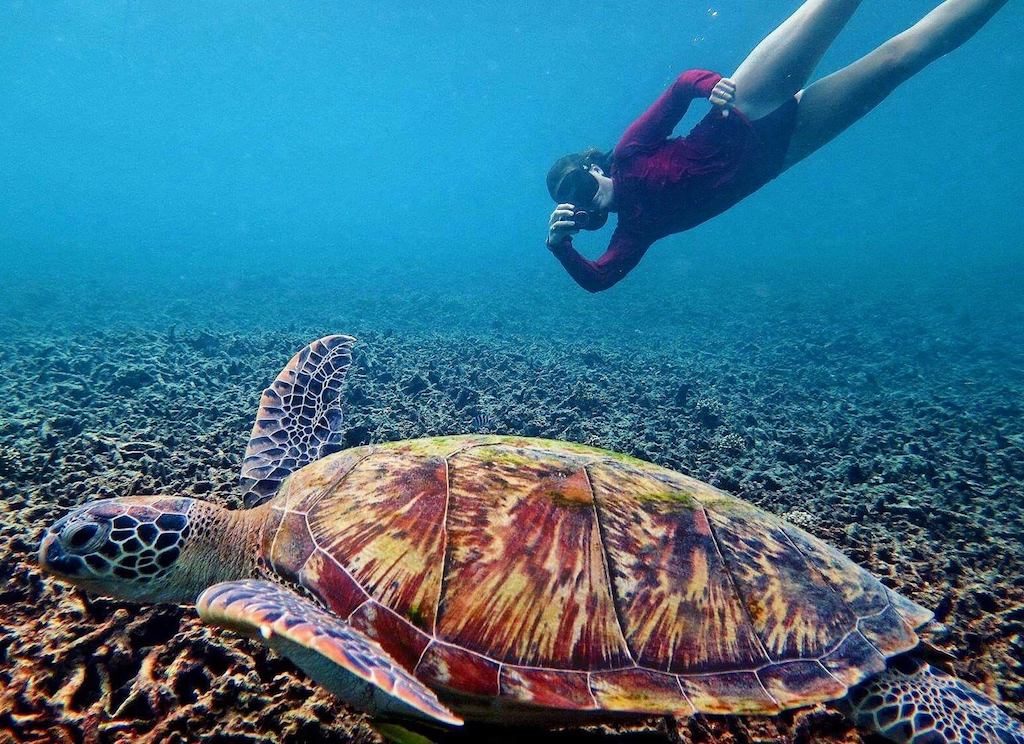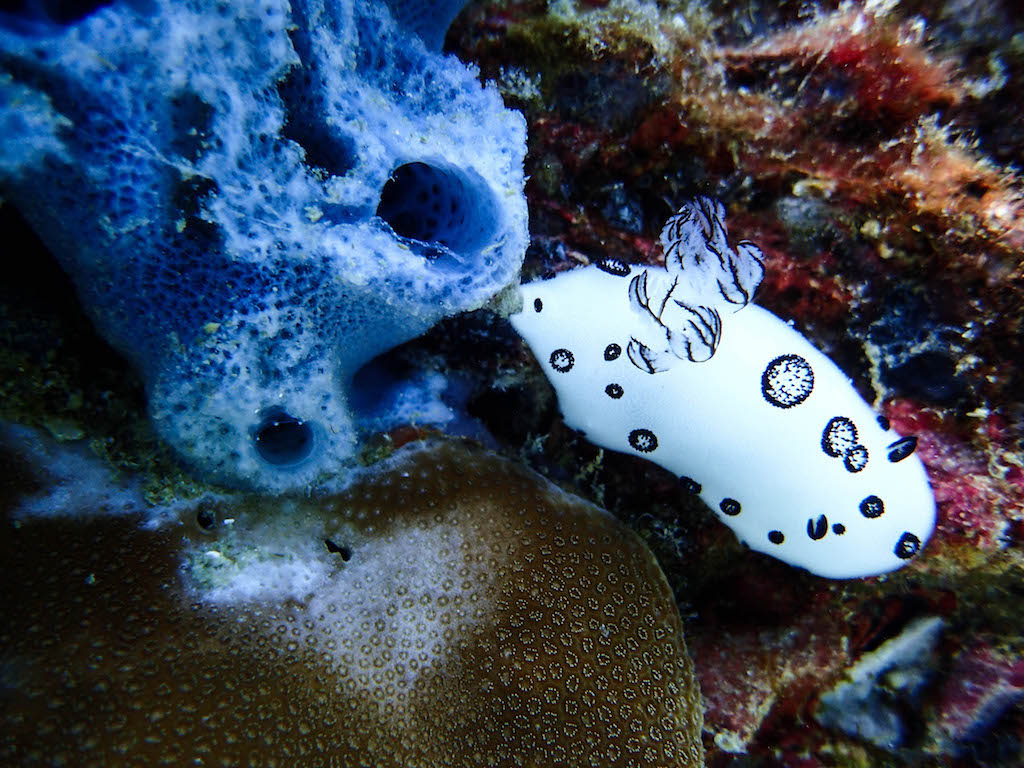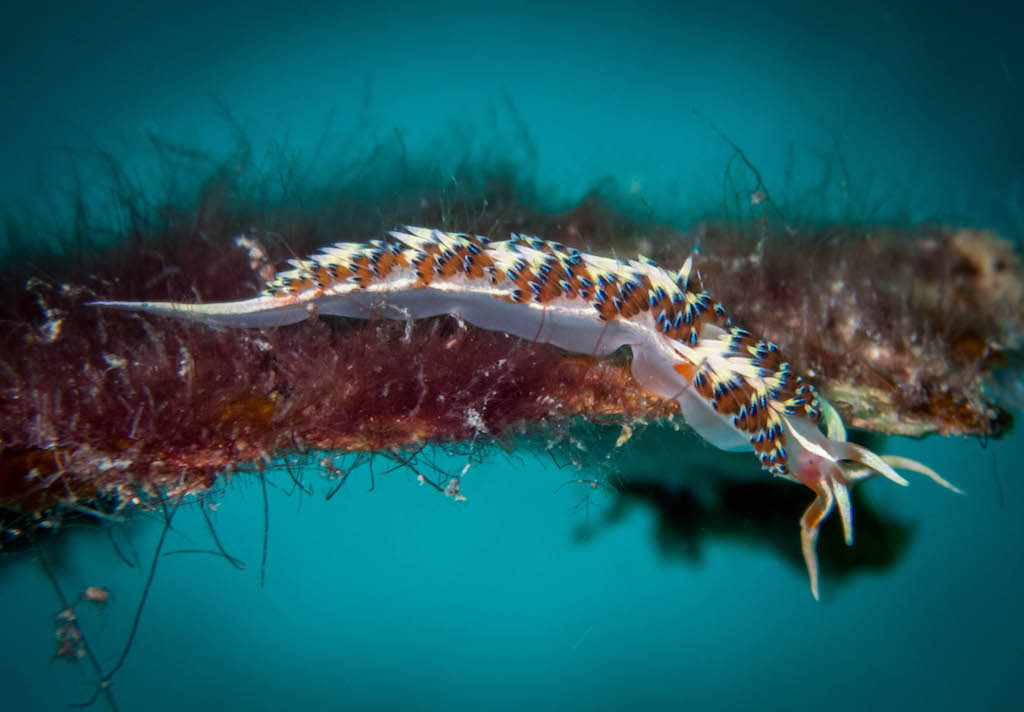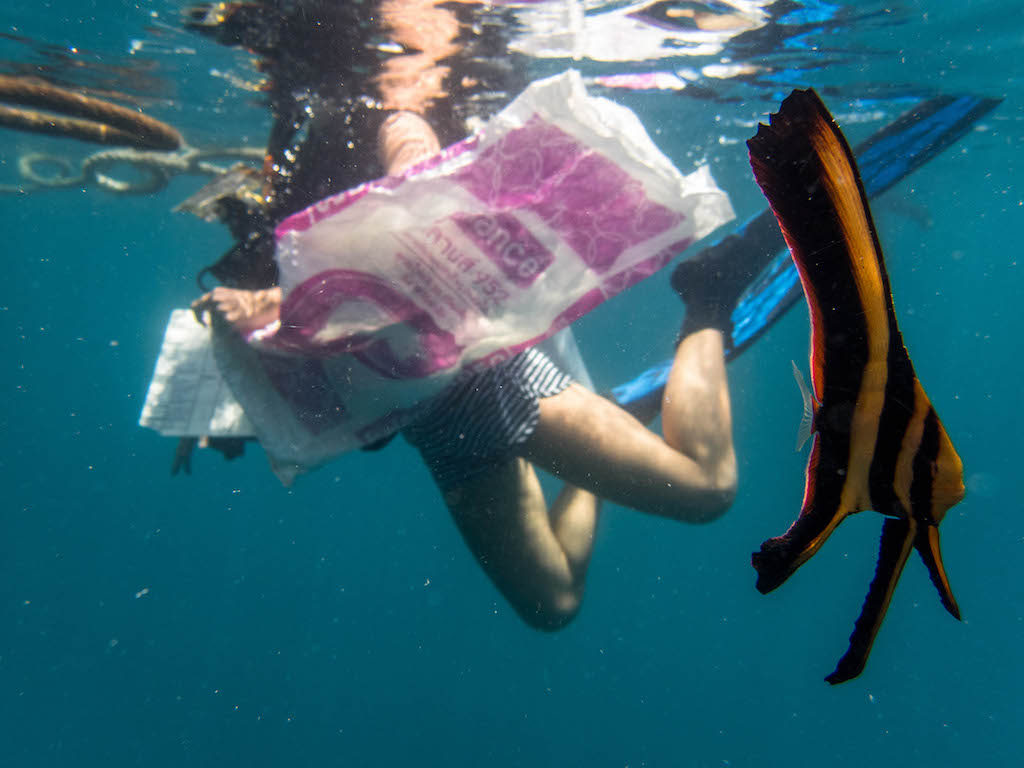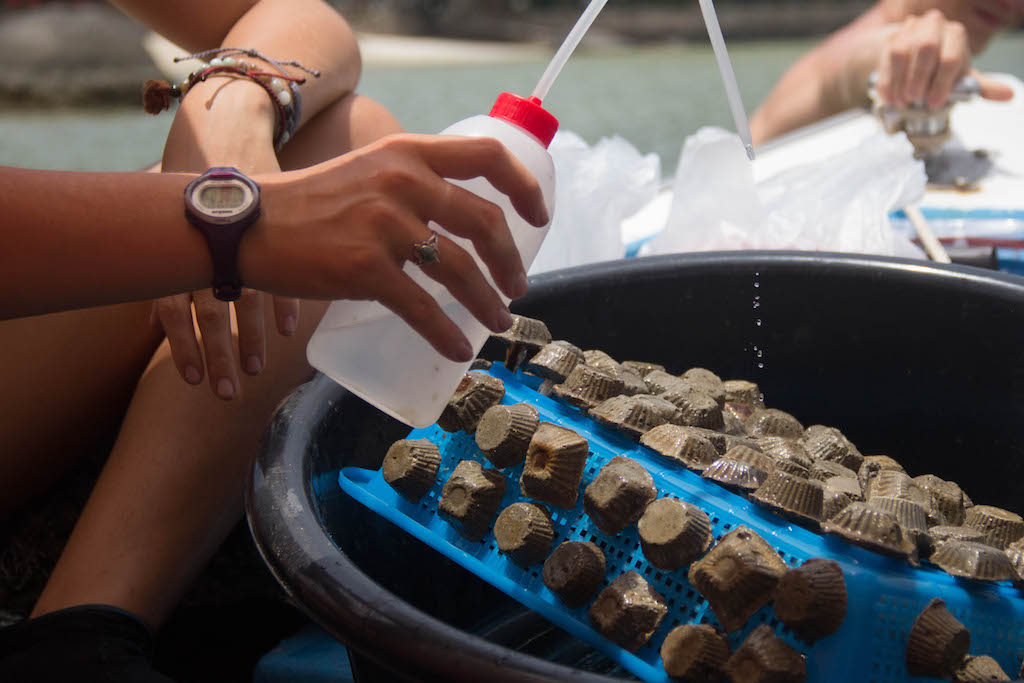 Deploying the amateur coral from the eggs we collected during spawning. Our hope is that they attached to the concrete and will grow successfully in the ocean. They're so small at this stage you can't even see them!