Summer in Nepal
The Girl Effect:
Women's Empowerment and Education

Summer in Nepal
Experience
---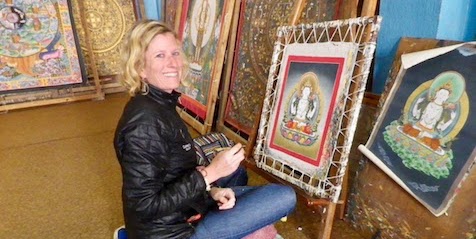 This program has been developed by Carpe Diem Overseas Educator,
Kelsi Lyon
. Kelsi began leading group semesters with Carpe Diem in 2013 and has extensive regional knowledge and experience in Nepal and Northern India.
Reconnect with an experiential community, meet other alumni, and dive deeper into intercultural learning. Spend your summer exploring women's empowerment and education in Nepal and learn how these issues connect to human rights around the world.
This program is designed as a Carpe Diem Education Capstone. You'll work with your group to extend your learning journey beyond your initial group travel experience by connecting what you've been doing since to what you're dreaming of next. Walk away with a renewed sense of confidence in your leadership capabilities and a reignited passion for becoming a global changemaker.
We will begin with an orientation in the sacred and charming site of Boudhanath, where the streets pulsate with the rich culture of a thriving Tibetan community living in exile. We'll then travel just a short distance to get up close and personal with Nepali life by living with local families. We will learn about the challenges facing Nepali women and girls, and what they are doing to empower one another. We will be working alongside a women's empowerment project to help build a new greenhouse, and will get hands-on experience with the local school.
After experiencing daily life in the valley, we will journey inward to learn about our own "Dakini" power. This includes an introduction to Tibetan Buddhism from a buddhist nun who will speak to women's experiences in Buddhism. Additionally, we'll learn about the role of nunneries in girls' health and education, and the ongoing equality movement within the traditional patriarchy of Buddhism.
Our next leg will take us to a community just outside the scenic lake town of Pokhara. We will set out with guides from Nepal's first and only female-owned and operated trekking company. During this five-day Himalayan Yoga Teahouse Trek, you'll not only challenge your physical stamina and catch incredible views, you'll also learn about women rising as powerful agents in Nepal's tourism industry.
Our final closing ceremony and celebration will be at the UNESCO World Heritage Site in Bhaktapur. We can wander through the picturesque, ancient streets and discuss how to best go forward with all that we have experienced.

Journey

---
ORIENTATION


Your program begins with three days in the sacred and charming site of Boudhanath. This is a peaceful place to adjust to our new environment, shake off the jet lag, and get to know our new Carpe family. We will have a crash course in Nepali language and culture, an orientation on women's interests in Nepal, and visit the stupa that is considered the holiest Buddhist temple outside Tibet.

COMMUNITY ENGAGEMENT


Living with local families, we will get an in-depth immersion into the daily life and roles of Nepali men and women.

We will work alongside the young women of a neighboring empowerment project to help build a greenhouse for their community garden. The women there will teach us about the challenges facing Nepali women and girls, and what they are doing to empower one another.

There are some basic repairs to the girl's local school that are still needed after the earthquake that we will assist with. The teachers will speak to us about the education that girls receive there, and will let us experience local education in action by helping out with an English class.

WOMEN IN BUDDHISM STUDY


Get an introduction to Tibetan Buddhism while learning about the role of nunneries in girls' health and education, as well as the ongoing equality movement within the traditional patriarchy of Buddhism. We will participate in a five-day course specifically designed for our group by a beloved teacher and longtime Buddhist Nun.
WOMEN'S EMPOWERMENT PROJECTS


Visit a variety of NGOs in the Kathmandu and Pokhara areas dedicated to women's empowerment issues. Learn how women are moving equality forward through health initiatives, income-generating projects, and advocacy. We may receive tours of projects and talks from local leaders that will highlight creative non-profit projects.

HIMALAYAN YOGA TEAHOUSE TREK


We will cap off our time together with a five-day trek in the Himalayas with the first and only agency in Nepal to offer female trek guides. This is an opportunity to explore this spectacular mountain range with a local women's trekking company run by three Nepali sisters who seek to provide safe, high-quality treks while also empowering women of Nepal. This will be a relatively mellow trek that allows us the time and energy to get to know the stories of the village women that are guides-in-training, and to practice yoga from many beautiful vantage points—not to mention, enjoying lots of tea and delicious mountain food at the teahouses!
Details

---
DATES

SUMMER 2018 June 12 – July 9*
*Dates may fluctuate depending on flight times and availability.
GROUP SIZE

A maximum of 12 Students & 2 Overseas Educators
ELIGIBILITY

Ages 19 and up. Open to Carpe Diem Education alumni and those with comparable group travel experience.
COLLEGE CREDIT & FINANCIAL AID

College credit and financial aid are not available for this program.
LANGUAGE REQUIREMENT

None
PROGRAM TUITION

$4,200
Program tuition includes all food, accommodations, scheduled program activities, and international travel insurance for the duration of the program. International airfare, VISA costs, and spending money are extra. International airfare estimated at $1,200-$1,400.