By Angelo Accus
Our journey to Lake Atítlan began with Talia being a team player and using her Level: 100 finesse skills to talk down our boat driver from 500 quetzales to 280 quetzales. Talia truly raised the bar for the Transporte position. We then glided across the sparkly blue-green Lake Atítlan, which smelled much cleaner than we had anticipated. Many of the Maya group members took photos as the boat traversed the body of water. Before we knew it we had arrived to our destination. We climbed onto a dock and there it was, the Mystical Yoga Farm.
All side-conversations and corny ice breakers were put on hold. Instead the mellifluous sound of drums and birds echoed throughout the farm. A well-postured blue-eyed man with a feather in his hat introduced himself as Daniel. Daniel was the founder of the Mystical Yoga Farm. Daniel carried a giddy aurora and was more than happy to converse individually with the Maya group members. We were surrounded by not one, not two, but three volcanoes: Volcano Atítlan, Volcano San Pedro, and Volcano Toliman. Spending four days off the grid on the Mystical Yoga Farm meant solar powered showers, biodegradable dish soap and hand soap, hydration stations, gardens watered by our showers and sinks with underground hugelkultur systems, compost toilets, a fire powered sauna, and even naturopathic gardens which consisted of herbal medicines such as Aloe Vera, Lemongrass, and Horsetail. El Rancho was the name of the Mystical Yoga Farm's Kitchen and dining area. El Rancho featured a tea library and a real library!
As far as I could tell the Maya group seemed happy to be in a placid atmosphere surrounded by art and nature, especially our weekly captains, Chloe and Maddie. The plants and animals possessed an equivocal sum of shades and hues that even a colorblind boy could discern. We were surrounded by purple plants, blue birds, lavender leaves, red people, periwinkle people, and olive people. I guess that's why we're called HUEmans. Not only did the Maya group see the rainbow but we also tasted the rainbow. Our meals on the Mystical Yoga Farm contained a broad spectrum of nutrient-rich vegan cuisine. Bananas, bagels, broccoli, beets, chocolate, corn, carrots, cauliflower, granola, greens,green beans, nachos, nectar, nuts, nutritional yeast, pancakes, passion fruit, pasta, potatoes, plantains, mangoes, soy, sunflower seeds, soup, tea, tomatoes, oatmeal and zucchini. Making music together on the first night was an eye opening experience for me because people creating music together is how we were born.
The second day on the Mystical Yoga Farm was spent in silence by the entire Maya group including Hannah and Julian, However this activity did not convey notions of melancholy. In fact, our silent day was not mundane and did not solely consist of awkward non-verbal communication. Instead this activity encouraged many gestures of kindness and comical connections that ruminated with us for the rest of our time at the Mystical Yoga Farm. Both Maddie and Hanna showed no hesitation to be the first professional silent paddle boarders of the spring 2k18 Maya group. Grandfather Rock watched over us and in turn many of us spent time with the epochal Grandmother Tree. Our 24 hours of silence was broken by a cacophony of music, laughter and Talia.
On our third day at the Mystical Yoga Farm we awakened from our slumber and made our way to Jaguar Hill to attend a cacao drinking ceremony. Steaming pots of cacao possessed an aroma that was much more intense then ordinary hot chocolate. Unlike Hershey's this chocolate was made with LOVE. No slaves were involved. Unlike coffee, the cacao drinks dilated the arteries in our hearts while increasing blood flow to our brain. The cacao had an interesting affect on the Maya grou; instead of dancing we shared anecdotes of the deep sea and performed acrobatics while suspended in the air. After a brief break we had attended a tea ceremony, also hosted by Daniel. We indulged on 6-8 cups of red pu-errh tea which was shipped from China and purchased from a vendor. During our tea ceremony Daniel talked to us about renewable energy, beautiful minds like Nikola Tesla, and monopolization. As we met our last cups of tea Daniel discussed his brilliantly stated philosophy on love, good and evil, naturally grown food vs pesticides, the law of attraction, and even epistemology. Daniel sharing his philosophy truly exemplified the sacrosanct aspect behind tea ceremonies. Later that day we were invited to an improv workshop hosted by Don, one of the staff members. We played games like "big booty", imitating movement and sound and performed rolls and scenes chosen by the audience. For example Kaitlin was flirting with a file cabinet…and wow…our improv workshop built a maximum amount of character because Don modeled it. Before the night ended Annie and Maddie blessed the yoga farm with a beautiful painting which was signed by the Maya group. The Mystical Yoga Farm gifted the Maya group with a clearer view of the opacity of our group members. Standing on the dock with our bags packed waiting for our boat, we were sad to say goodbye and happy that it happened.
After saying goodbye we arrived to the colorful lakeside city of Santa Catarina where we met Alfredo the architect. Alfredo introduced both himself and a lime-based, breathable, anti-corrosive, eco-friendly, insecticide, fungicide and inexpensive paint that costs $10 a gallon. Shortly after introducing ourselves, where we're from, what we're studying and why we chose Carpe Diem, Alfredo informed us that our mission was to make the city of Santa Catarina even more colorful by painting houses! Alfredo explained to us that lime-based paint was used by the Ancient Mayans, Egyptians, Romans and Greeks. During our tour of the city we learned that the city's population stood at a mere 5,000 and that 80% of the population was under forty years of age. Pintando Santa Catarina is an offshoot of an organization that began painting houses for communities and was originally founded in Brazil. They've already painted houses in Port-Au-Prince, Haiti, San Paulo, Brazil, and even Philadelphia. The project was originally named Favela Painting.
The Maya group spent a total of 6-7 hours painting the houses of Olga and Martina for the next two days. The owners of the houses were very nice, they gifted us with fresh fruit, braclets, and necklaces for painting their homes. After we accomplished our mission we sat down with Alfredo for a cup of coffee/tea for a Q&A. Some of us were wondering how painting houses is working against poverty, pollution and pet abandonment? Alfredo was more than happy to answer this question by informing us that painting houses are only the first step in the mission and by making the city colorful Pintando Santa Catarina was encouraging sponsors to be more open to supporting the cause. Alfredo also showed us colorful birdhouses built by Pintando, because instead of fighting with the birds why not help them. It is almost as if all if the colors at the Mystical Yoga Farm and Santa Catarina encouraged us to show our own true colors. Chloe and Maddie were great captains this week.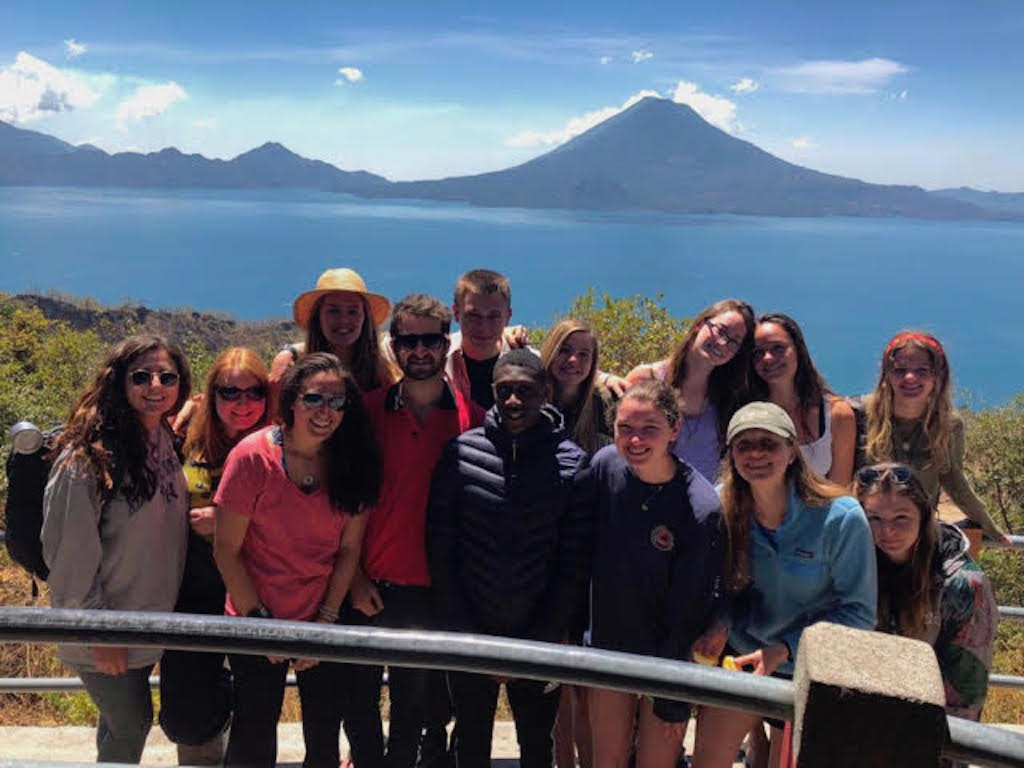 The group in front of Lake Atitlan.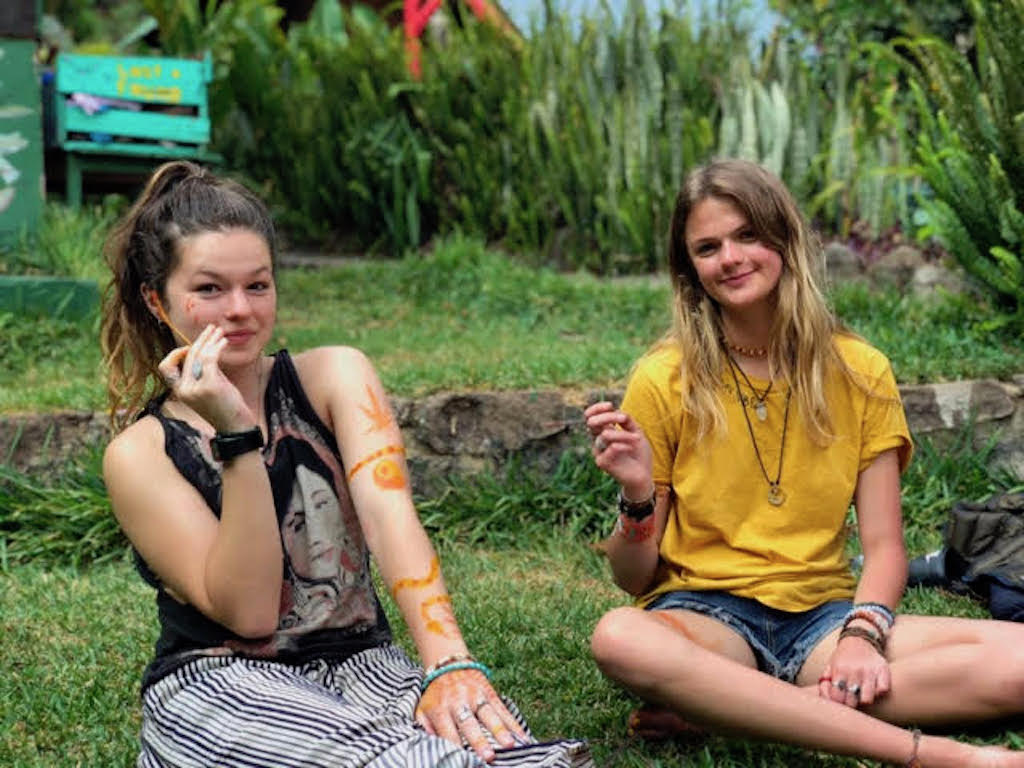 Maddie and Chloe enjoying turmeric-based body paint at The Mystical Yoga Farm.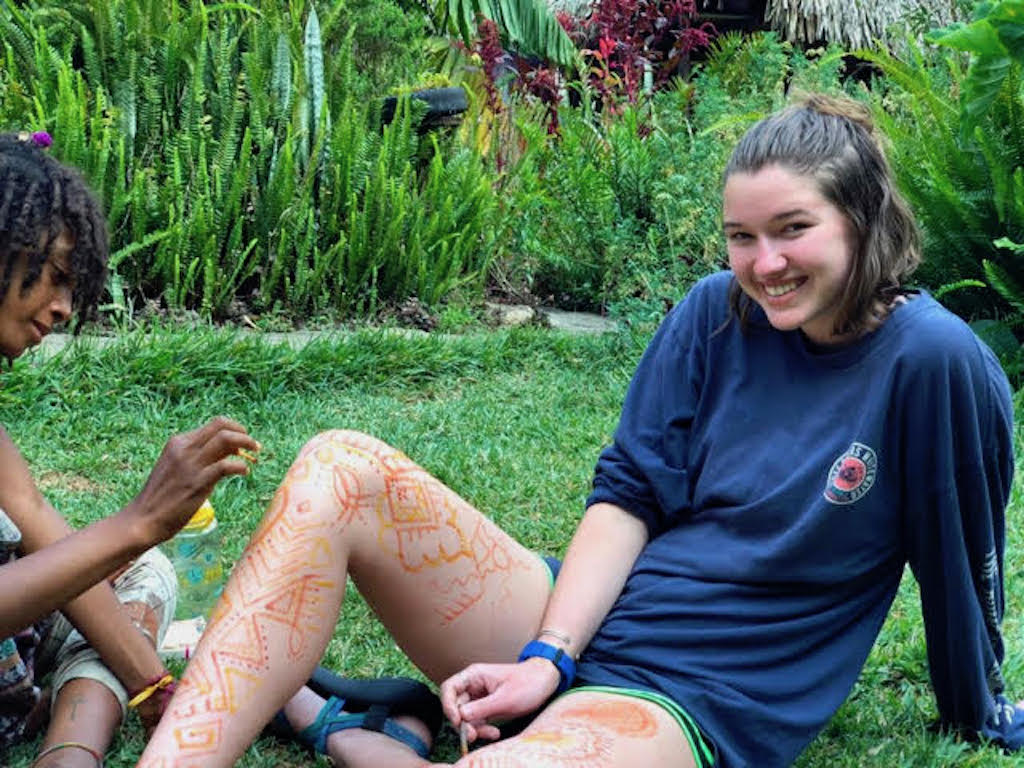 Sioban getting painted at Mystical Yoga Farm.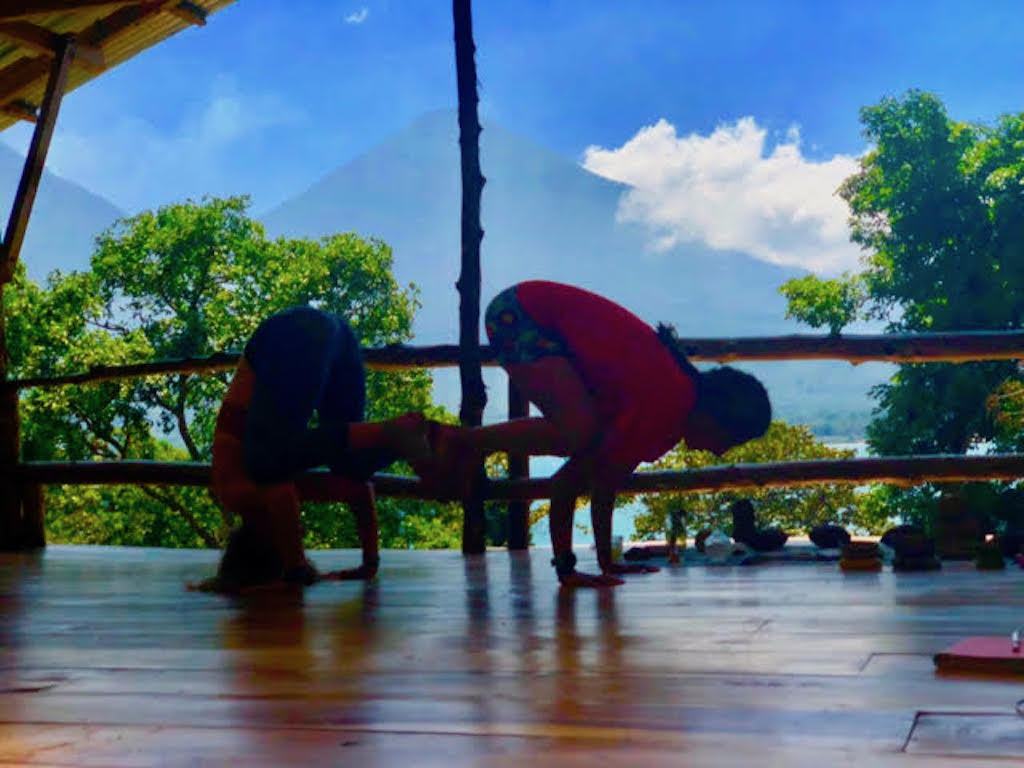 Grace and Hannah getting their yoga on at The Mystical Yoga Farm.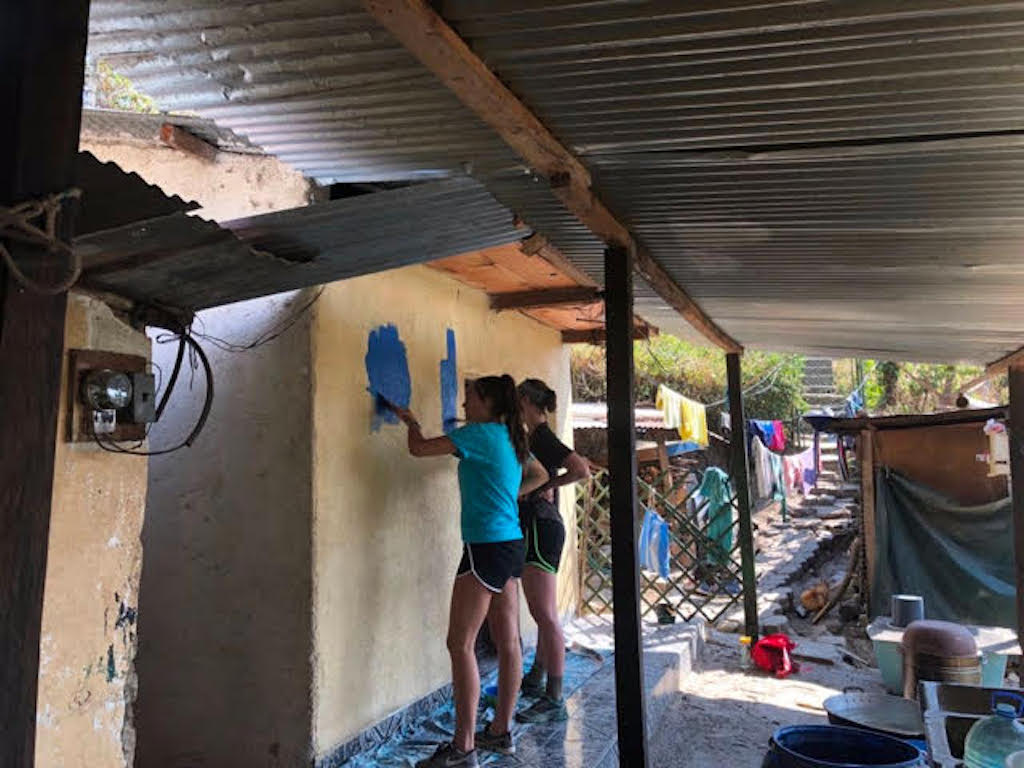 Beginning to paint in Santa Catarina.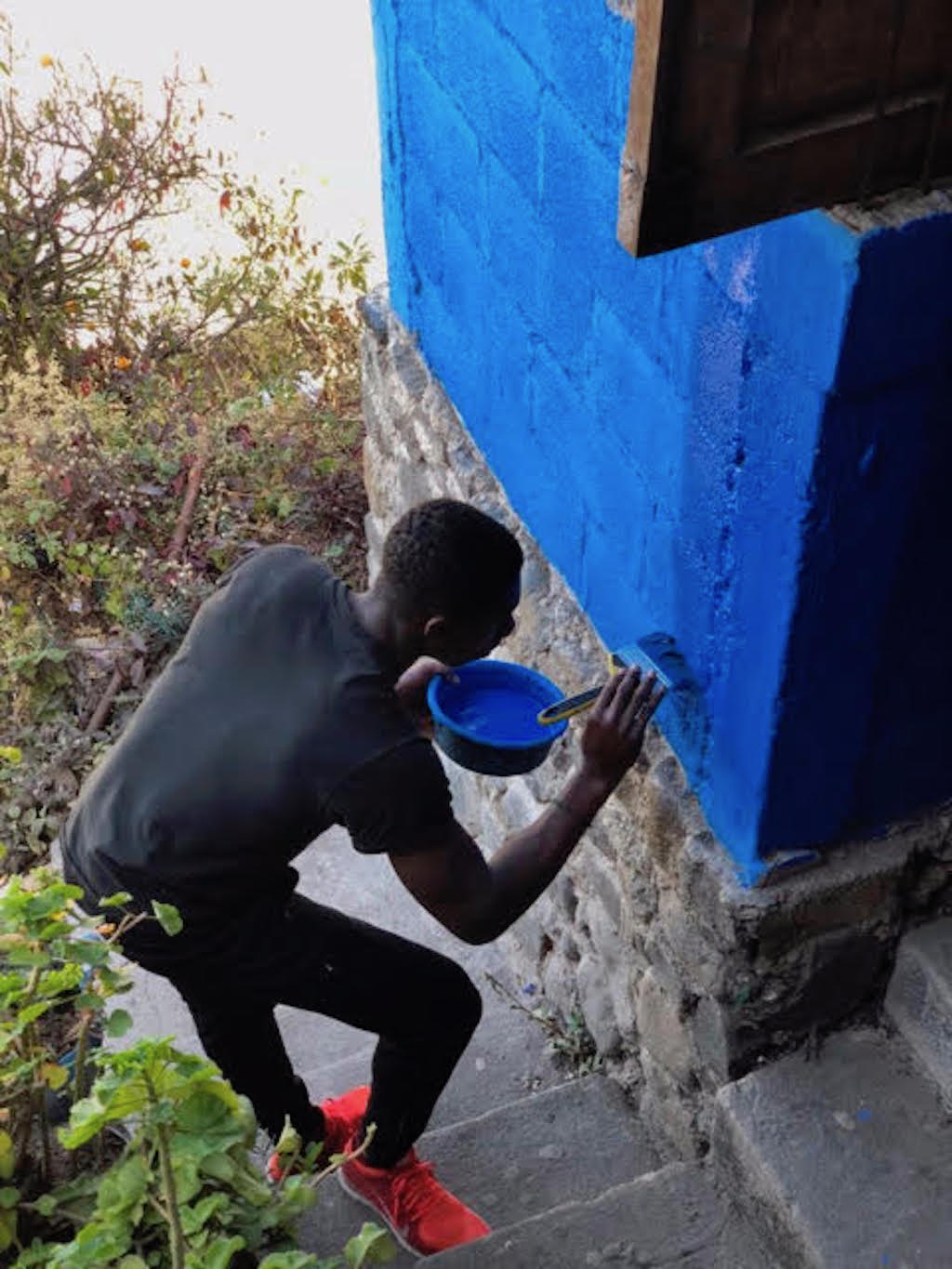 Angelo working hard on Martina's house.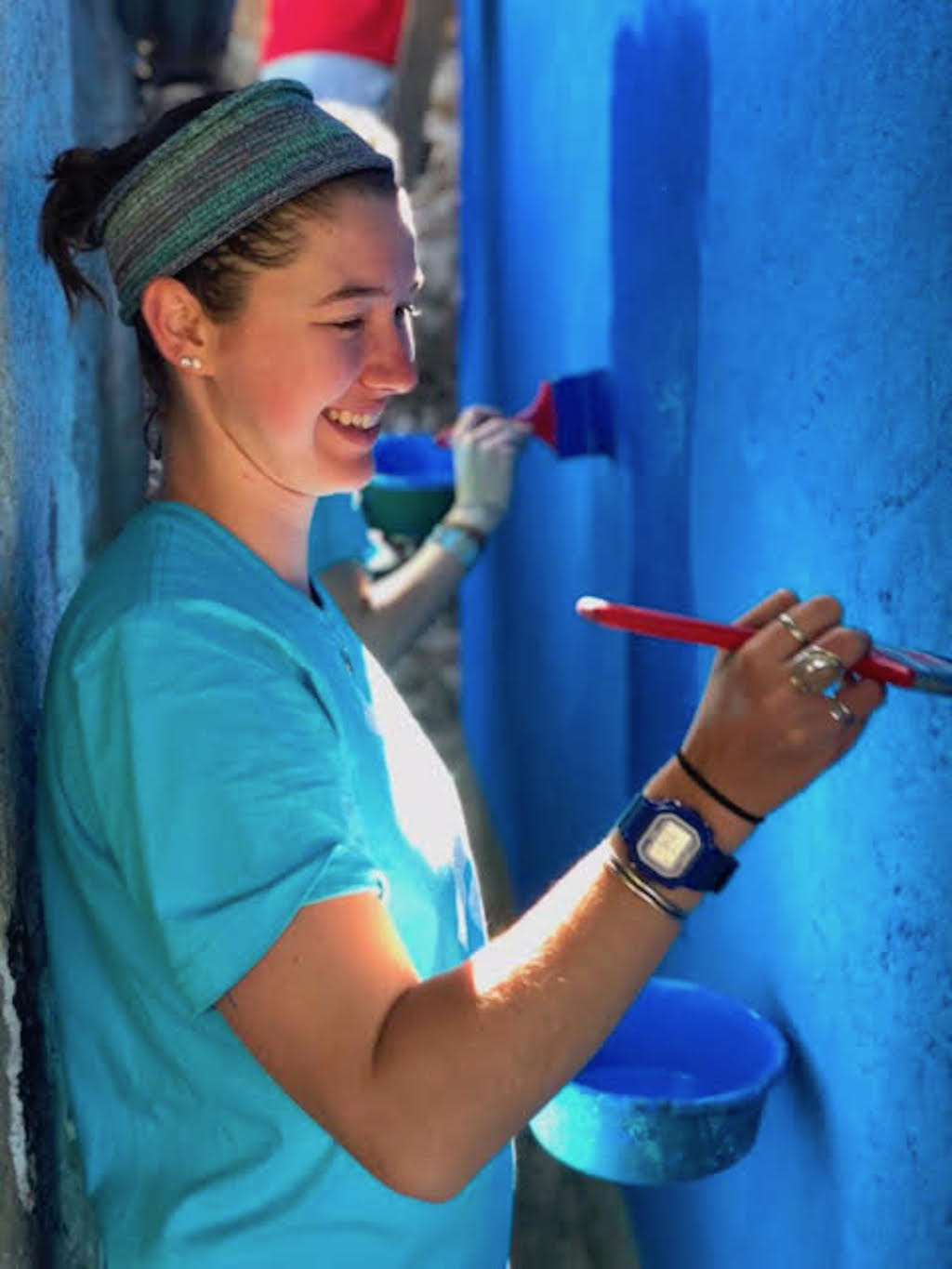 Siobhan painting.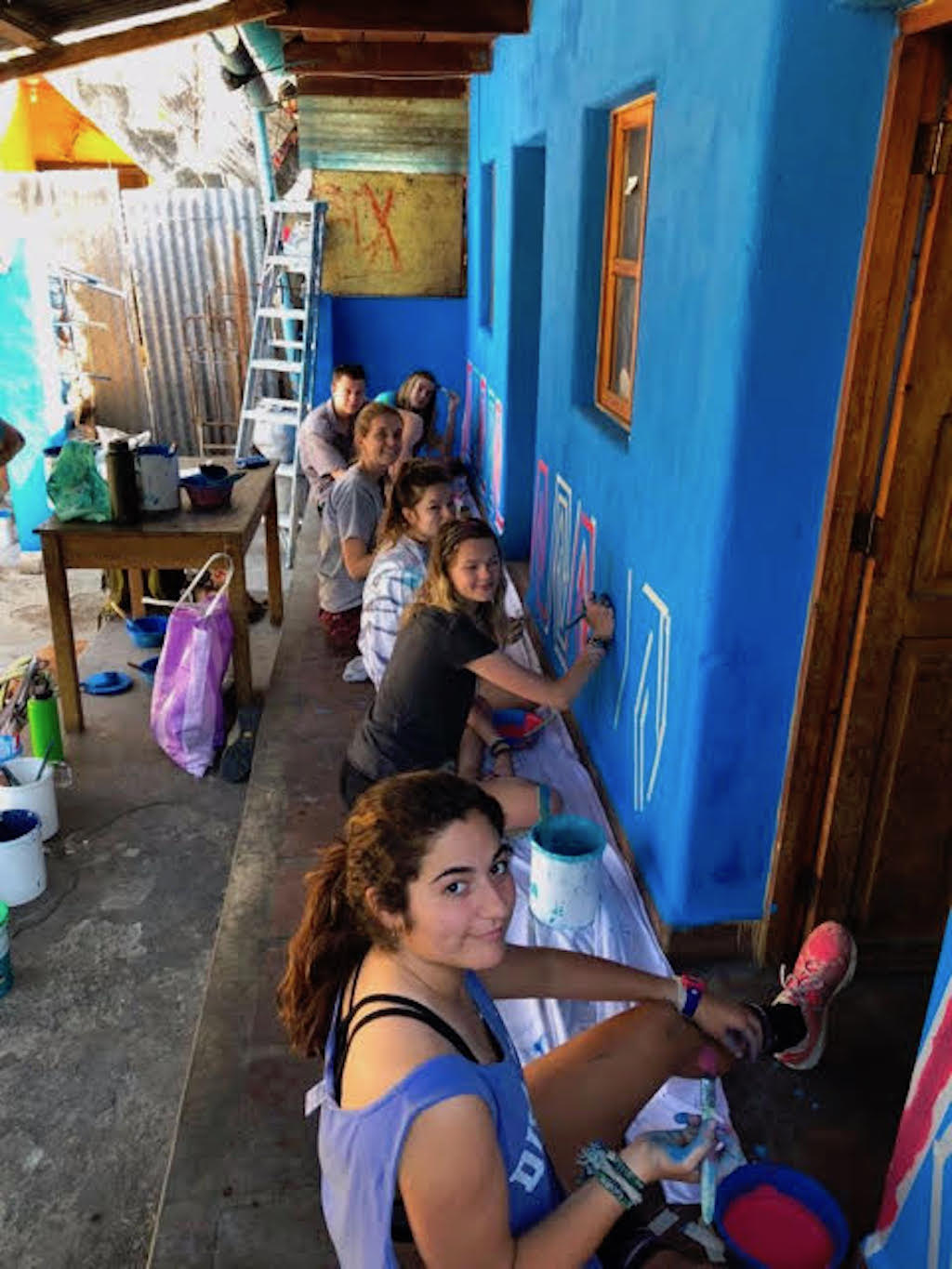 The group at Olga's house working on the designs.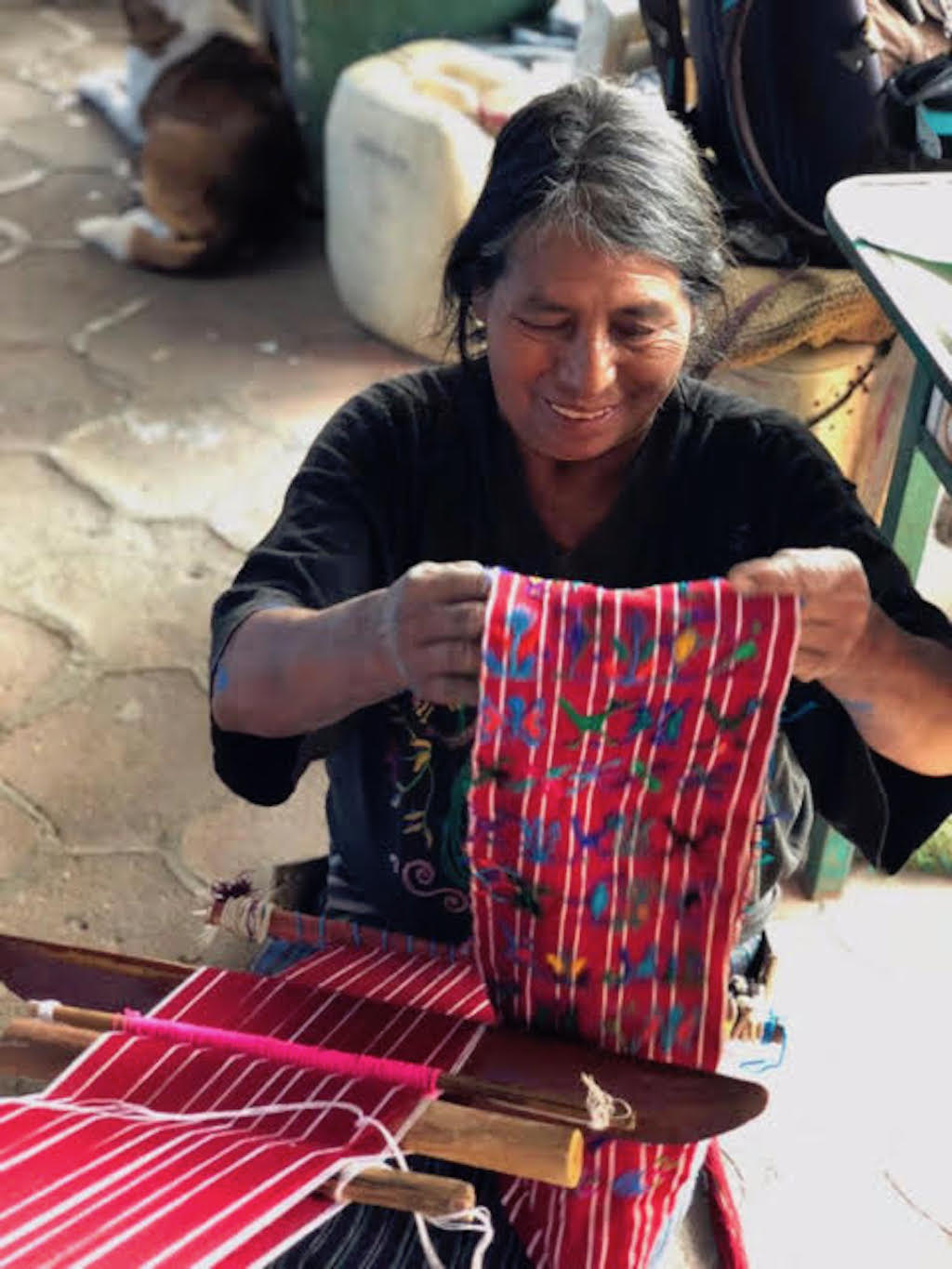 Martina showing us how she weaves beautiful textiles by hand.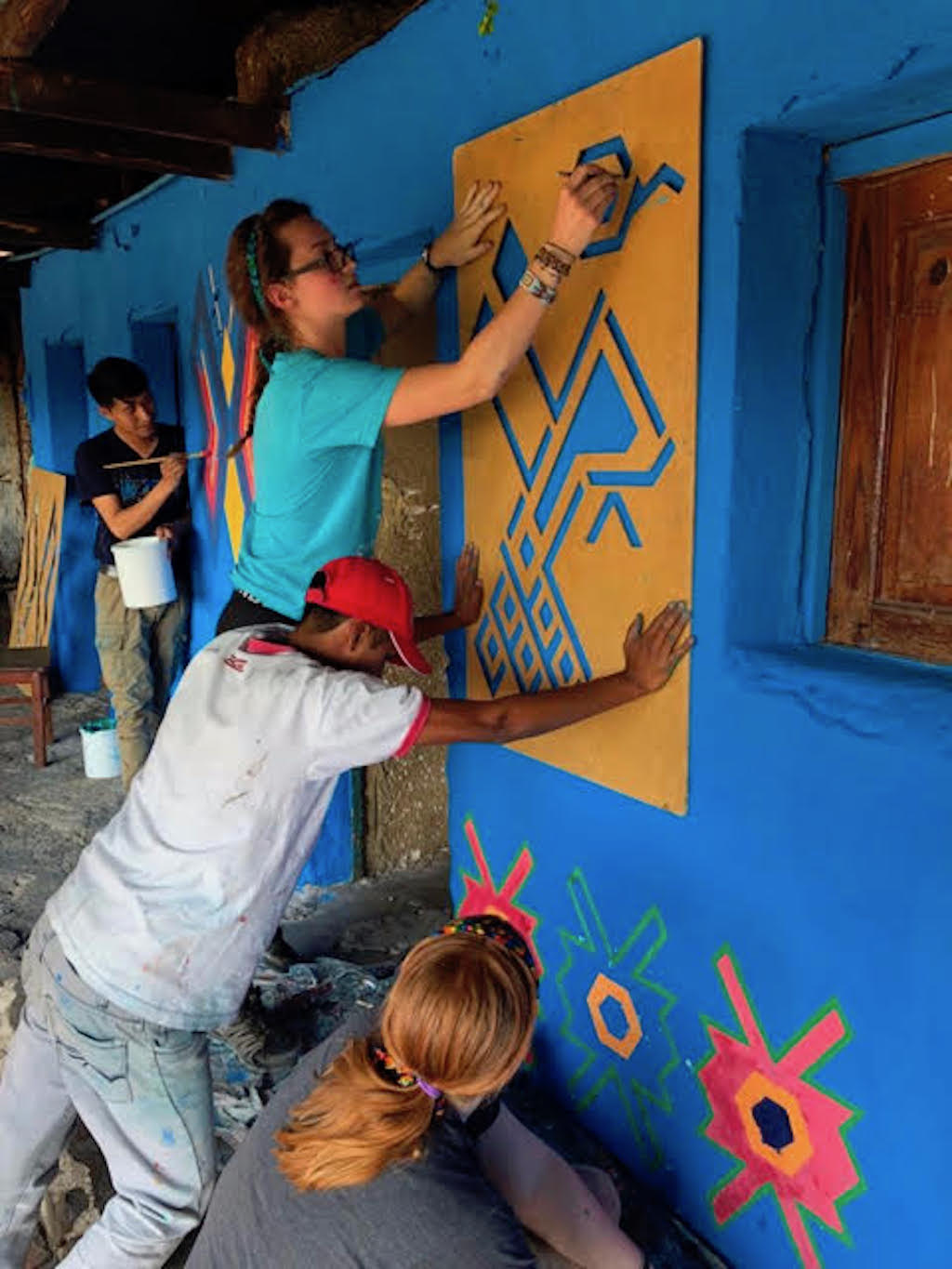 Grace working on the quetzal design element.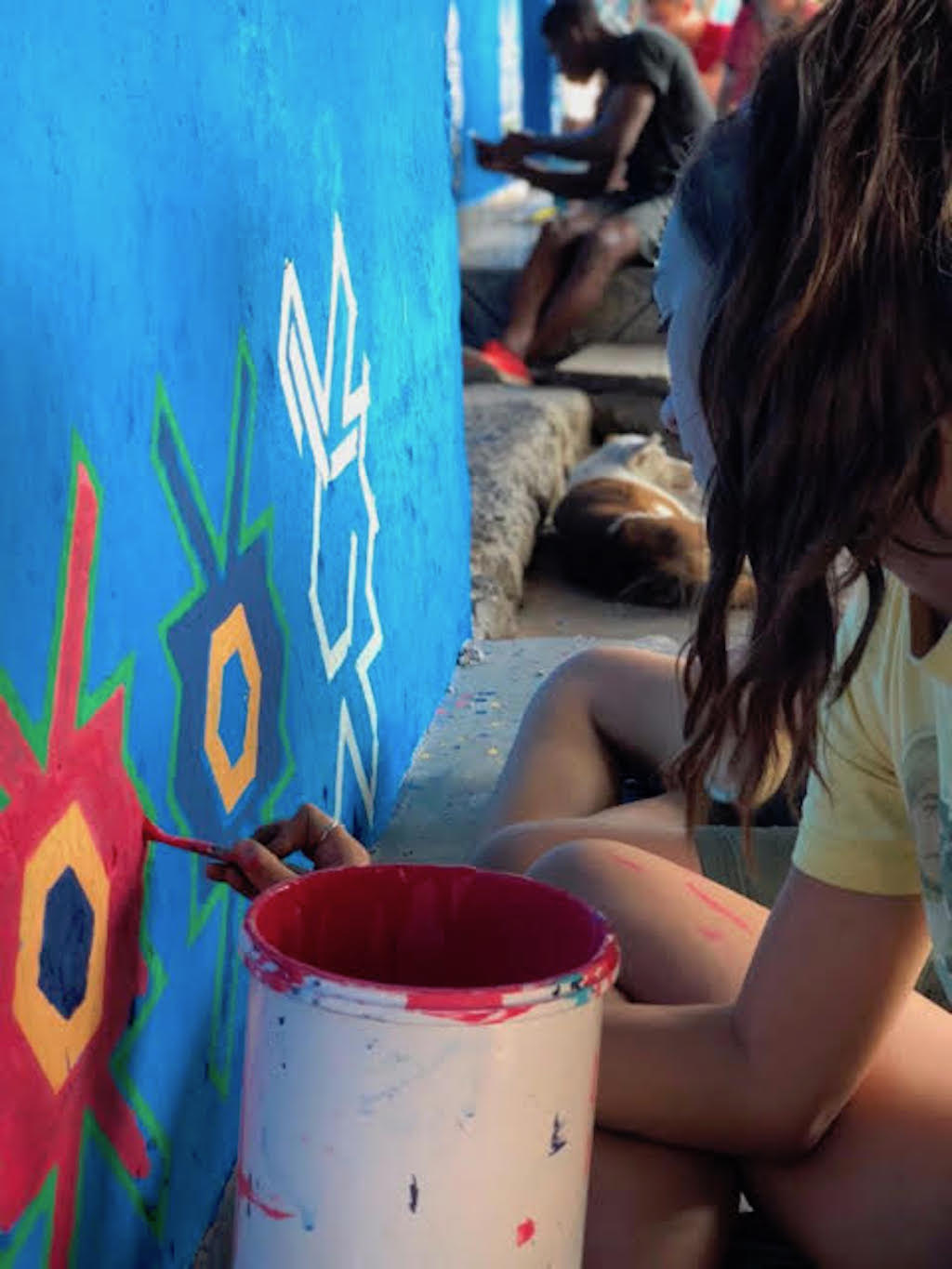 Juliette painting.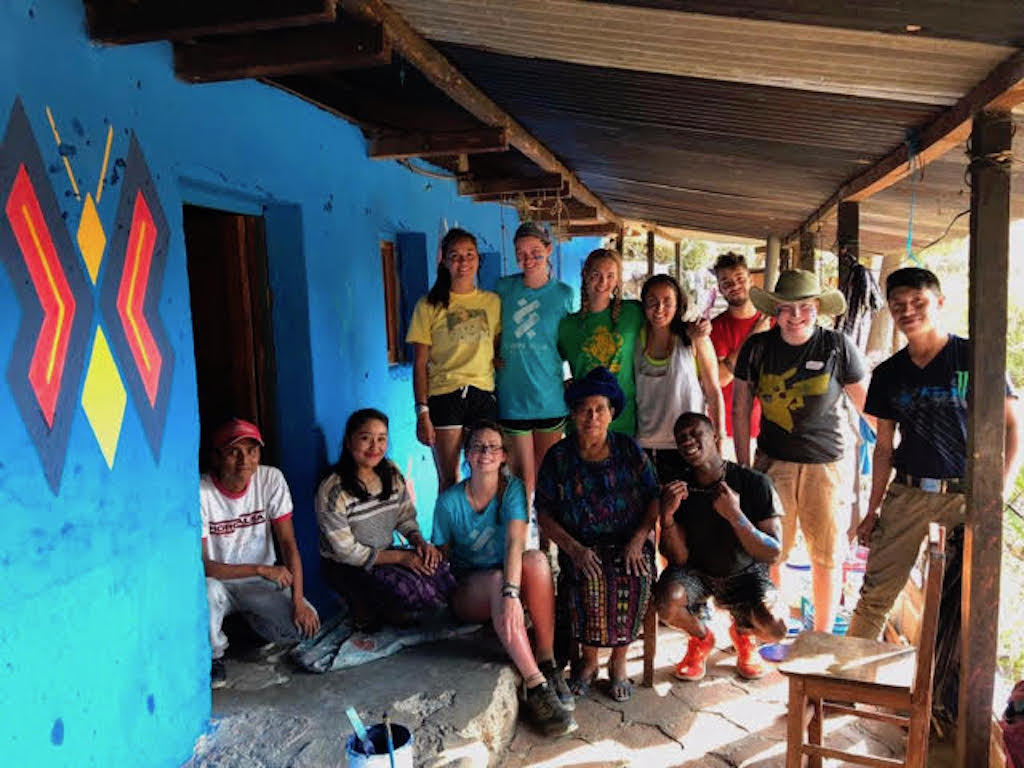 The group at Martina's house.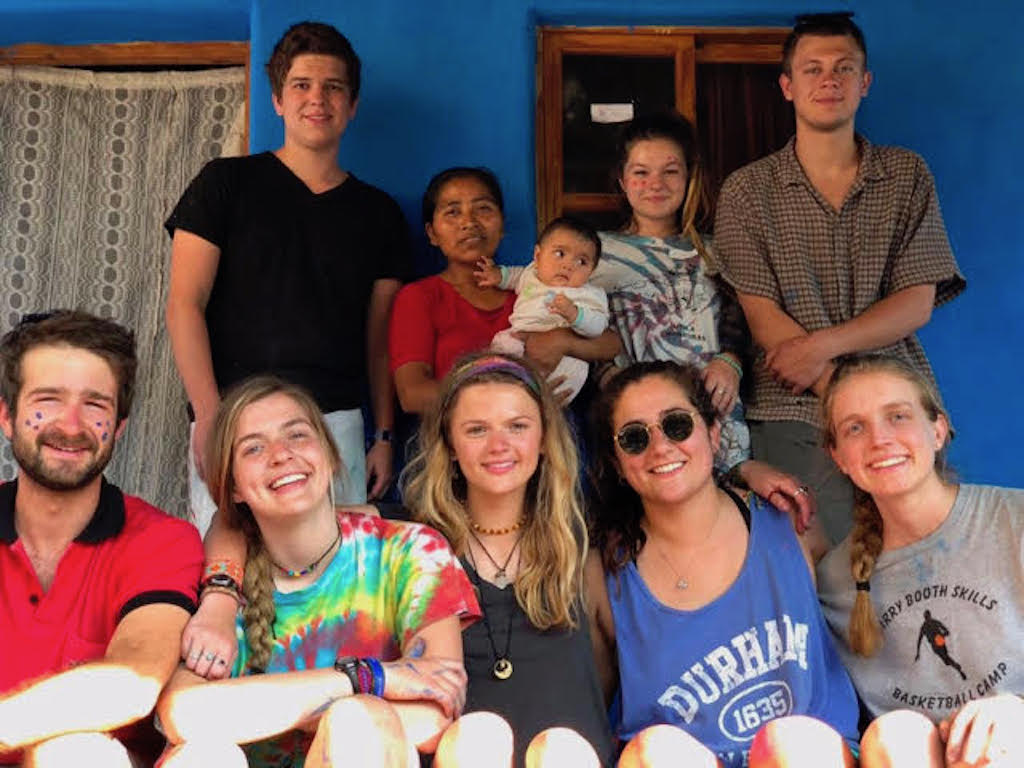 Some of the work Pintando Santa Catarina has already accomplished.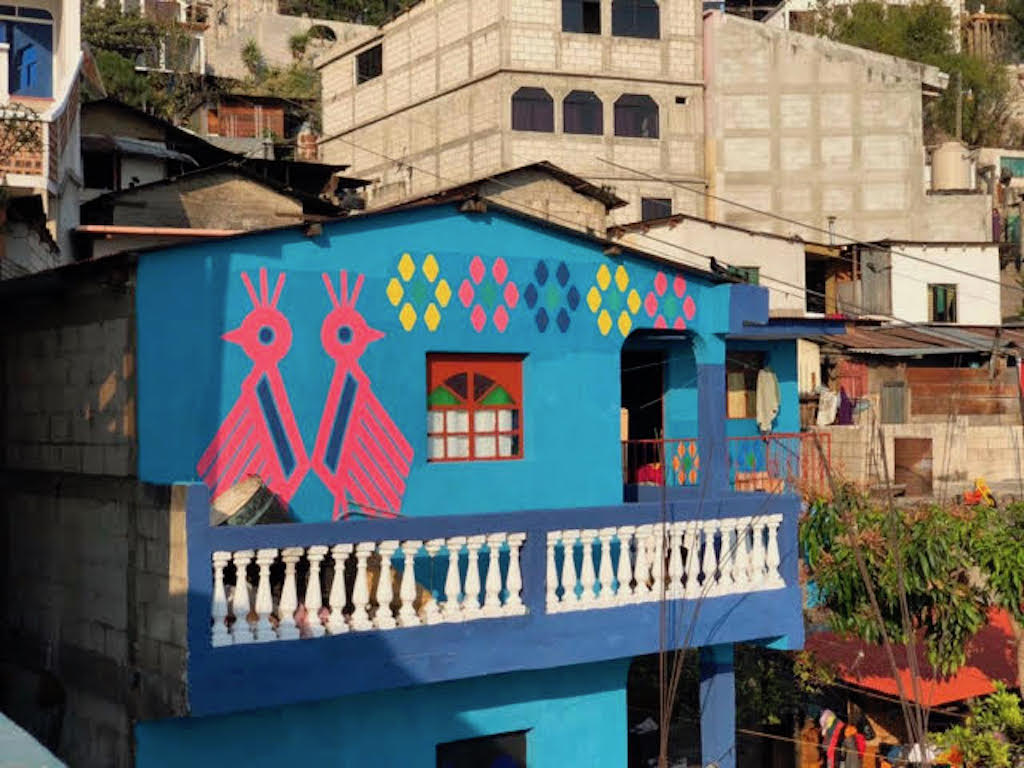 Some of the work Pintando Santa Catarina has already accomplished.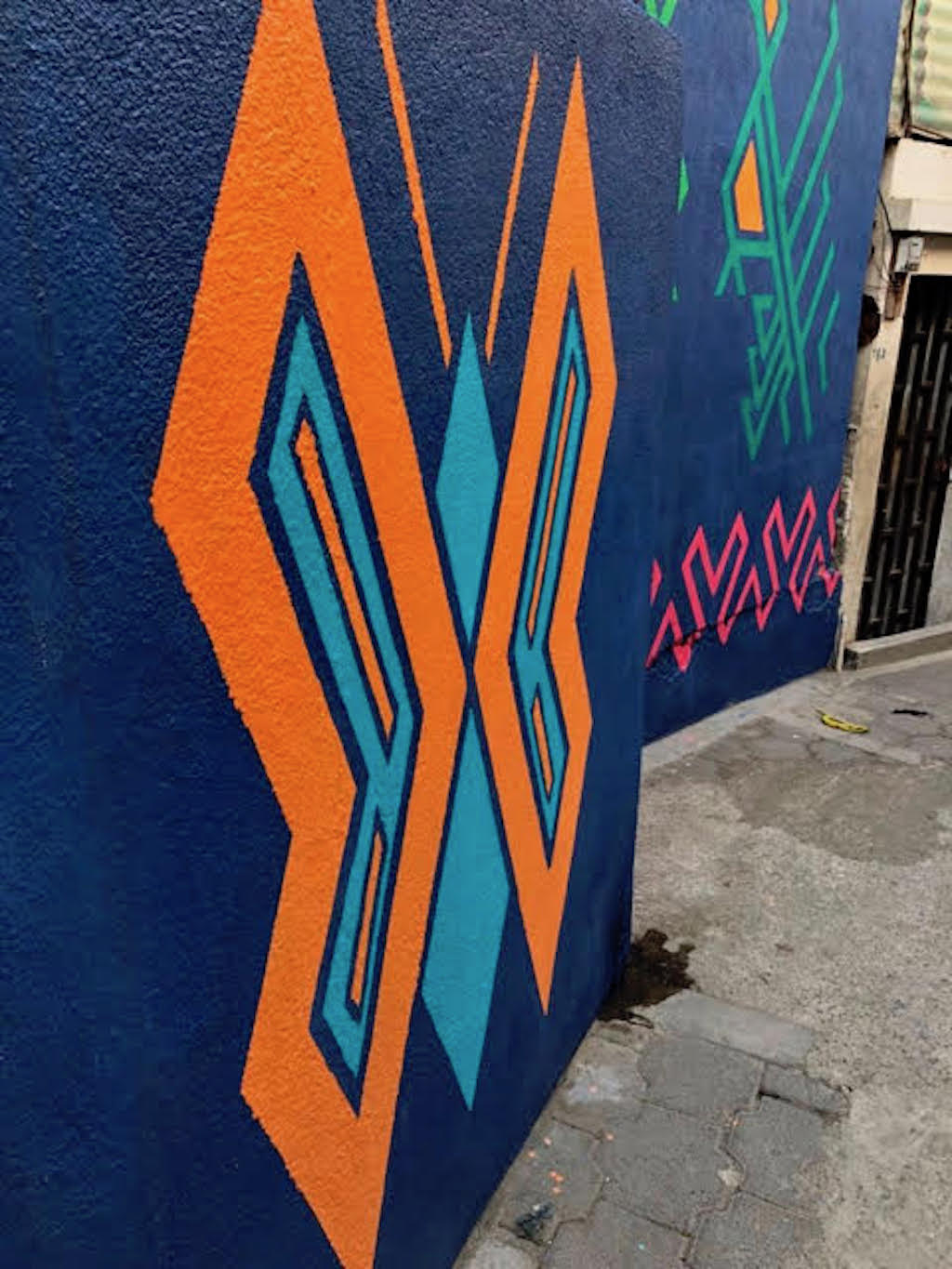 The Maya group in Santa Catarina.