Carpe Diem Education
Custom Education

Custom Education
Our Approach
---
In crafting a custom program for your college or university group, we will partner with you to create an itinerary reflective of your goals and desired learning outcomes, that is also in alignment with our mission. Building community within the group and the host communities, individual and group reflection on activities and volunteer projects, and immersion in local culture through language classes, homestays, or service all comprise the Carpe Diem approach.
Since 2008, Carpe Diem Education has successfully facilitated international education experiences for over 120 groups and over 1500 students. With an impeccable track record for safety and risk management, you can be confident that we will provide an authentic, off-the-grid experience with the best practices in the industry to safely navigate the complexities of traveling in the regions we go.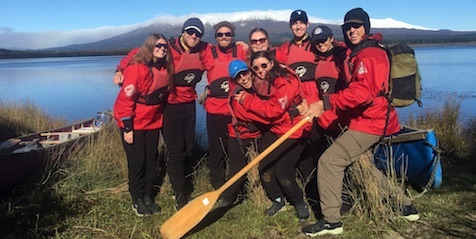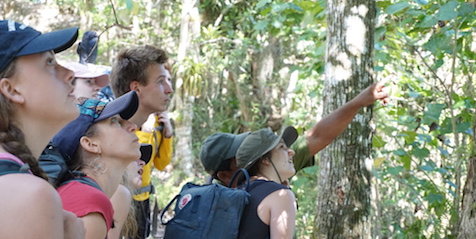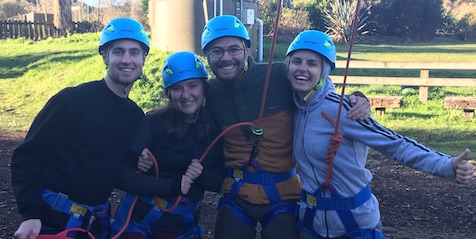 Journey
---
No two custom programs are alike. From beginning to end, the process is collaborative, responsive, and facilitated to create a deep understanding of your needs and desires as a group—and to build together from there. Below are some of the core concepts and building blocks around which we strive to create phenomenal itineraries. Explore the drop-down menu below to understand more concretely how we can support your custom program.
LEARNING OUTCOMES

Our programs are based on the building blocks we believe provide students with intentional space for infinite opportunities to learn. We believe that what and how they learn will be more powerful, relevant, and transformational if it is immersive, experiential, and self-directed.As educators, it is our job to create the space that allows students the opportunity to learn—and we know from experience there are certain methods to foster a space that works better than others. This is why Carpe Diem Education has identified the following broad learning outcomes as intentional building blocks, so that our students walk away from our programs having learned:

Independent and travel savvy
Basic understanding of the region
Basic understanding of global interdependence
Stronger sense of self
Improved interpersonal communication skills
Better understanding of self within a community
Gratitude, compassion, and empathy

EXPERIENTIAL EDUCATION

Experiential Education is learning through action and reflection.

Action

Students will be challenged to try many different types of activities, with the intention that they learn—either a new skill, a new perspective, something more about the world, or something new about themselves. We encourage students to be actively open to new experiences and find ways to safely push themselves to step outside of their comfort zones.

Reflection

Carpe Diem Education strongly believes that structured reflection activities dramatically increase the potential for individual transformation, intercultural understanding, and community development. All Carpe Diem leaders are experienced group facilitators and use a wide variety of resources, including games, lesson plans, reflective prompts, and activities designed to enhance group dynamics and support individual learning. Students are encouraged to reflect on their own and shared experiences, as well as begin to consider the impact that these experiences have on their lives.
TRAVEL LOGISTICS AND FLIGHTS

We are happy to assist with booking international flights. In the interest of group dynamics, student safety, and general logistical simplicity, Carpe Diem encourages all participants and Overseas Educators to fly together to the host countries. Carpe Diem works with with an experienced travel consultant to arrange flights and she does a thorough job getting all of our students on the same flights, advocating for our groups if issues arise with the airlines, and finds competitive fares. If your group has other needs, or prefers to arrange airfare on your own, please let us know.

Once in country, there are a variety of options for ground transport. Depending on the size of your group, number of locations you're visiting, your budget, and your goals for the program, we can work with you to arrange for private transportation or to support you in using public transportation.

ACCOMMODATION

Depending on your programmatic goals, learning outcomes, and budget, there are a variety of accommodation options you might experience during the course of the program.

Homestays

Carpe Diem Education works with a variety of local organizations to arrange homestay opportunities for our students. Homestays can typically host between one to three students, provide up to three meals a day, and are a wonderful way to be immersed in the local language and culture. We work with families in both urban and rural settings, in conjunction with language study and/or volunteer projects.

Hostels and Hotels

As part of program orientation, or in days of transition between homestays and projects, our groups frequently stay in hostels or small hotels. We try to work with smaller, locally-run businesses that offer a safe and tranquil environment for reflection and rest. Depending on your budget, rooms might be shared doubles or larger dormitory-style accommodation.

Volunteer Housing

Some of the volunteer projects we work with provide housing for volunteers as part of the experience. This might mean living in shared rooms on a farm, dormitories at a research station, in bunks at a community center, or cabins in the jungle! There are a variety of possibilities depending on the location of your program, what projects you are involved in, and your group's preferences.
Emergency Response
---
Carpe Diem Education has developed policies and procedures which allow us to respond as quickly—and skillfully—as possible to on-the-ground emergencies.
EMERGENCY RESPONSE PROTOCOL

We use a detailed emergency response protocol outlining exactly what to do in case of an emergency—complete with the following list of stakeholders and specific steps outlined for each: the individual, group, program leader, community, friends and family, and Portland headquarters.

24-HOUR EMERGENCY PHONE

Portland headquarters operates a 24-hour emergency phone number so program leaders can reach us at anytime.

CRITICAL INCIDENT PROCEDURES

In addition, we have extensive policies and procedures in place for critical incident stress debriefings and psychological first aid in the event we need to respond to a particularly traumatic event.
TIMELY COMMUNICATION

Regional Program Directors update and communicate with parents, school administrators, and other stakeholders should there be a concern.

In order to be aware of and sensitive to natural disasters, political unrest, and large scale emergencies, the Portland-based staff receive regular updates from regional contacts and partners.

RESOURCE MANAGEMENT

Regional Program Directors check international news sources, Global Incident Map, Reliefweb and State Department websites and receive daily reports from the Overseas Security Advisory Council.

ADAPTIVE PLANNING

We regularly change our itineraries or plans in order to respond quickly and safely to medical, environmental, political and social developments where we are traveling.
Health, Safety, & Risk Management
---
LEADER CERTIFICATIONS

In addition to having extensive knowledge around the region of travel, all Carpe Diem program leaders are CPR-certified and hold a current Wilderness First Responder (WFR, 10-day extensive backcountry medical training course) certification. In some cases, leaders will obtain more extensive certifications, such as EMT or WEMT. The Carpe Diem leader on your program will carry a fully-stocked medical kit (including EpiPens) in order to treat minor sickness and respond to medical emergencies in the field.
ORIENTATION WORKSHOPS
Health, safety, and risk management will be covered in-depth in the first 2-3 days of the program, during the group orientation. During this time, the Carpe Diem program leader—in conjunction with your team—will run workshops on a variety of skills such as food safety, self-care while traveling, bargaining, cultural sensitivity, risk assessment, situational awareness, and emergency planning.
LICENSED CONSULTATION

Carpe Diem Education has a partnership with a licensed medical doctor who is available to our staff for consult of treatment plans and medications. This additional level of oversight and support ensures we are pursuing the best treatment plan for your students, should they need medical attention. We have found it to be very beneficial to have this backup in place, as we occasionally work with doctors and hospitals in very remote locations.

We also have a partnership with a mental health specialist who serves as an independent consultant for any program participant experiencing a mental health issue. The specialist conducts an over-the-phone consult to assess the status of the student and provides initial emergency counsel, if necessary. Additionally, the specialist recommends treatment interventions and strategies that supports the student's mental health needs.
Community Partnerships
---
Carpe Diem Education aims to create mutually-beneficial partnerships with local organizations who have long-term investments in the communities they serve—and who also respond to stated community needs. We believe these organizations have a much better understanding of the needs and challenges of a given community and also serve the given community in sustainable ways. As a result of our partnerships with these organizations, your students and groups get plugged into existing programs, rather than starting new projects.
In selecting a new organization to work with, Carpe Diem Education uses a detailed agreement—a Memorandum of Understanding—as the basis for discussing organizational needs, service opportunities for students, safety precautions, financial transactions, and clarifying mutual expectations.
In our efforts to promote reciprocity and transparency within the communities we are working, we follow up with our organizational contacts within one week of each group experience to review the following:
Feedback about the group's experience
Avenues for improving sustainability of projects
Evaluation of project and community needs
Impact on local job market
Potential adverse effects of group service
Assess if existing power dynamics have shifted within the community
Check that resources, materials, and supplies were tracked and used appropriately
Testimonials
---
"Carpe Diem Education was a joy to work with. I really appreciated Carpe Diem's willingness and ability to collaborate with us in creating customized educational programs to India and New Zealand focused on service, leadership, and global understanding based on our specific learning outcomes and educational goals. Their philosophy of global education is rooted in the notions of mutual learning and reciprocity, respect, and intentional immersive engagement, which served as a catalyst for growth and development for all of our students. Carpe Diem has excellent risk management protocols in place, which was critical for us in the proposal, approval, and implementation of these global initiatives. Carpe Diem's program leaders were fantastic. They are professional, relational, flexible and easy to work with, very knowledgeable about the country of focus, and well-equipped for any of the challenges that may emerge on the journey. I can't recommend Carpe Diem enough for partnership in the creation of transformative student learning experiences!"
Dr. Dave Houglum
Director for Leadership
Franz Center for Leadership, Entrepreneurship, and Innovation
University of Portland
"Carpe Diem Education's (CDE) focus on transformative learning in an international context is the perfect match for our own ethos. Paired with their experience and recognition as an industry leader, our partnership has been a tremendous benefit to Ecothropic's field studies. Thanks to working with CDE, Ecothropic has top-notch risk management protocols, administration infrastructure, and a broader team to call upon. As a result, our internal team can focus on developing curriculums, our in-country relationships, and offering eye-opening and life-changing experiences for our students."
Britt Basel, M.Sc.
Founder of Ecothropic
Contact Us
---
Let's collaborate! Feel free to contact us—we would love to start a dialogue about how we can understand, support, and facilitate your students' experience abroad.