Looking for a gap year program?
You're in the right place! We're all about inspiring growth and transformation in students 17-22 through experiential education, community, and intercultural exchange during gap year travel. We offer a Latitudes Year and semester programs to 18 countries on 5 continents.
To get started, flip through our online catalog below, and then click on the images below the catalog to explore themes and itineraries for each of our gap year travel programs!
Fall 2020 Programs
Click below to explore our fall 2020 programs!
Carpe Diem Education has made the difficult decision to cancel all Fall 2020 international semester programs. We are still accepting applications for the Fall 2020 Borderlands Semester. We made this decision due to the continued political and economic instability, constantly shifting travel restrictions and announcements, and a lack of clear, proven guidelines to effectively mitigate the risk of transmitting COVID-19 to local communities and partners (many of whom live in areas lacking essential medical infrastructure).
We hope to resume offering our international programming in Spring 2021, when (hopefully), the world will have a much better understanding of COVID-19, and all communities will have access to either an effective vaccine, inexpensive medical treatment, or other means of effectively mitigating the risks of transmitting the virus. We are optimistic that one of these options will be available by the time our Spring programs are set to depart.
Carpe Diem is still offering the 
Latitudes Year
program to all Fall 2020 students. The Latitudes Year program will also be available to Spring 2021 students who wish to complete a Focused Volunteer Placement over the summer. The Latitudes Year offers students the opportunity to engage in an
8-week
group semester experience during the first semester, with a
10-12
week personalized Focused Volunteer Placement during the following semester. Learn how to become an independent, savvy traveler with the guidance and mentorship of our Overseas Educators, then head out and have your own unique experience in a different country during the second half of your gap year.
Spring 2021 Programs
Click below to explore our spring 2021 programs!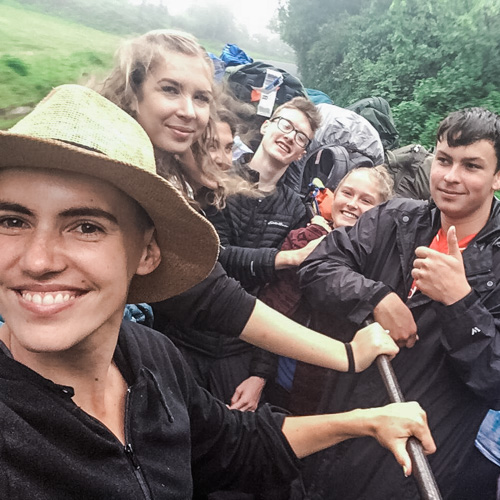 1 We offer the most accessible programs to the widest diversity of students.
2 Our programs are immersive, interactive, and culturally authentic.
3 Your health and well-being are our top priority.
4 You can earn up to 18-36 college credits and access financial aid.
5 You'll become a skilled and confident world traveler.
Click below to download our Program Comparison Chart. When participating in a Carpe Diem gap year program, students explore some of the most culturally and geographically diverse (and exciting!) regions of our planet.
Imagine engaging in forest and river conservation efforts in the Amazon Basin; studying indigenous perspectives in the hills of Northern Thailand; living with families and studying Arabic in the capital city of Morocco; scuba diving the coral reefs of Fiji.
Carpe Diem students journey to settings that fuel the imagination, stoke the fires of curiosity, and encourage growth and transformation.
Community 
An integral part of the Carpe Diem journey is the experience of community. Traveling with a group of like-minded individuals who share many similar interests and passions, students learn to share perspectives, build friendships, and challenge assumptions.
Living and traveling together has its challenges, and it's important that each individual arrives with an open mind, ready to push comfort zones and find common ground. A thriving gap program community requires that students develop effective communication skills, practice patience and empathy, and proactively resolve conflict as it arises.
Through sharing experiences and overcoming challenges, students grow individually and collectively while exploring the world together.
Experiential Education
Every day, there will be new experiences and activities that enhance perspectives, inspire curiosity, and promote deeper understanding. Click here to learn more about our innovative approach to experiential education.