By Claire
Helloooooo from Claire! It's week 6 and Team Inti is alive and well!
We began this week with a simply-worded, yet fundamental question to ponder: "Why are some places in the world poor and others rich?"
After arriving in the tiny community of Pucara Monday afternoon, we were met by Peter, an expat originally from Vermont, who has built a farm and integrated himself here in this community for the last 15 years. We were treated to a surprise ceremonia de bienvenidos, in which local school girls performed a dance and we all participated in egg tosses and other random games with the community members. It was an incredibly warm welcome and broke the ice before we met and headed out with our host families. With 13 families available to host, most people lived solo with a local family this week to allow more one-on-one connection, except for Matt and Will that lived together, as did Lauren and I.
Tuesday morning dawned bright and clear, allowing us to take in for the first time the incredible mountainous view that surrounds us here in Pucara. Every morning we've had here has been intensely sunny, while in each afternoon, fog and rain have rolled in and the temperature has dropped by a good 20 degrees. We began Tuesday with a discussion on local history, Incan conquering tactics, and local biology. Pucara and surrounding areas are part of a cloud forest with some of the highest rates of endemism and biodiversity in the world. Peter explained that this is because the region has two vital biological advantages: up to six meters of rainfall and consistent, year-round heat. In addition, the western slope of the Andes rising up from the Pacific Ocean is the steepest geographical feature of its kind. In a short 150 miles, there are over 20,000 feet of altitude change. In terms of biodiversity, this means that every 100 feet descending from the highest elevation point.
Peter then led us to a massive biofilter processing the town's wastewater, and explained why biofilters such as these end up being much more cost-effective than the traditional sewage systems we use in the US. The plant-based system here in Pucara effectively lowers the fecal coliform level from 20,000 ppm (sewage) to 300 ppm (safe swimming water by US standards). Before this biofilter was constructed, the town's sewage was being piped directly into the nearby river, which unfortunately is still the case for much of Quito's wastewater. However, Pete, who's studied water systems extensively, also shared that the systems we have in the US aren't much better. 44% of all domestic water usage is used simply to flush the toilet and then to process this water with chemicals costs us millions. To Peter, the future lies in composting toilets, "cooking with your farts" (recycled methane), and cleaning poop water with your garden.
That afternoon, we were given a tour of Peter's farm, "Finca la Fey," picked pineapples, and introduced ourselves and our reasons for taking a Gap Year to Peter. Lunch was full-bodied fish (we're all getting reeeal good at extracting fish skeletons now), fried yuca, and of course, arroz! Afterwards, we visited the coffee co-op Pete helped establish, which allows over 300 local coffee growers to determine fair prices for their gourmet coffee and work together to market it around the world.
As we learned this week, the western slope of the Andes just so happens to be where some of the largest untouched reserves of copper left in the world are. We discussed how the Ecuadorian government sees especially this, the Intag region, as yet undeveloped economic hot spot, and would like to allow mining companies to buy the land and mine it. The problem is that copper mining here would involve multi-kilometer wide and kilometer deep open pit mines that would absolutely destroy the incredibly unique and biologically important forest. Peter has joined many of the locals in the fight against this exploitation, arguing that this region has other, more sustainable means of contributing economically. One of these is the specialty coffee co-op, another is promotion and sale of local artisan products, and another is the development of ecotourism.
On Wednesday, we split into two workgroups. Rosita, Clarita, Mateo, Anyag, Chris, Christian, and Kit-Kat cut trail on Peter's farm and by lunch, had hade a lot of progress on the path and progress on our blisters. Meanwhile, Mika, Nimbob, Dana, Guillermo, Col-ay, Yoshua, Julian, and Lorena picked fruit and shoveled cow poop. After almuerzo, we were treated to a hypnotic panela-making demonstration. Panela is the least refined form of sugar and comes directly from boiled cane juice (healthy sugar!) While getting slightly suffocated by boiling panela vapor, a downpour rain started outside, which Chris, our Southern Californian, promptly ran out to enjoy.
Our ongoing dialogue about the mining issues in Intag continued the next day with a hike to visit Carlos Zorrila, a Cuban-American environmental activist. Carlos leads an organization called DECOIN that is working to fight the government and mining companies from a grassroots level. In recent years, DECOIN has worked to make the UN aware of the corrupt activity and human rights abuses that have occurred in the area. The entire group was completely absorbed for a solid two hours listening to this man talk about everything from:
-Market demand for copper (Americans/Europeans changing out iPhones, laptops, etc., every year or so)
-The tearing apart of social fabric that occurs in rural mining areas (influx of single male miners leads to more prostitution, drugs, theft)
-Mining companies' strategies to "greenwash" their public images with oxymoronic slogans like "sustainable mining"
Carlos also proposed to us the Paradox of Plenty, which questions why countries with all these lucrative natural resources end up being so poor. We discussed the ultimate fact that companies always develop areas to make money for themselves, not to invest in the place or people.
On Friday morning, we continued work on constructing the eco path and planted native trees to offset the carbon emissions from our group's travel to and from South America. In the mist that afternoon, we got to perform the "despedida," or goodbye, to the community that we'd been practicing all week. Josh gave a thank you speech in Spanish to the community, and our three-part performance included the Cotton-Eye Joe dance, trick jump roping by Anya, Naomi, and Kate, and our best rendition of "Wagon Wheel," with guitar and ukulele courtesy of Brian, Will, and Julian.
We said our goodbyes to our host families and left Pucara Saturday morning. A short ride down the road was the cabanas and hot springs we enjoyed for the rest of the day, and on Sunday, we drove a bumpy two hours to the town of Junin. We'll be staying here for two nights to learn about this community's struggle against the bribery, lies, and intimidation tactics of mining companies.
This week the group wrote haikus about their experience (which were compiled together and then, as our final activity with Pete, performed in the form rap by Cole with Pete as beatbox) and here they are:
PUCARÁ
THE COOL RAIN COMES DOWN
BIG THANKS TO PACHAMAMA
NEW SEEDS IN THE GROUND
BEHOLD IN A DAZE
WITH LUSH GREEN FUR HARSH PEAKS BATHE
SOAKING INTI RAYS
SUPER SCENIC SITES
SHOVELING SLOPPY COW PIES
CLOUD FOREST PANCAKES
HEAPS OF YUMMY FOOD
TALKING WITH CARMEN WAITING
FOR A BUS SITTING
ITCHY RED ANKLES
IRRITATED SUNBURNT ARMS
TWO OF MANY PAINS
CLEANING WASTE WITH PLANTS
HIKING N THE CLOUD FOREST
DANCING IN THE RAIN
POOPS PEE AND WATER
GUIDED GENTLY TO THE MARSH
THE SWAMP THINGS CLEANSE ALL
BENEATH HEAVEN´S HAZE
TO COTACACHI THEY GAZE
AT HIGHLAND ICE GLAZE
CLOUDS IN THE MOUNTAINS
CHILDREN LAUGHING IN THE PARK
DANCING IN THE TOWN
MOUNTAINS OF THE INTAG
AN EXPRESSION TO FIGHT BACK
INCAN SPIRIT WITHIN US
EXILE FROM CUBA
BROUGHT UP IN A FOREIGN LAND
FIGHTS FOR RIGHTS OF MAN
A SMILE IS SHARED
THE LANGUAGE GAP DISAPPEARS
A FRIENDSHIP IS MADE
LOCALS AND FUTBOL
RAIN AND SWEAT DRIP DOWN MY CHEEKS
COLD TOES AND WARM HEARTS
WORKING ON THE FARM
DANCE AND LAUGH WITH THE LOCALS
THINK ABOUT OUR WASTE
REUSE RECYCLE
METHANE TRAPPED FOR BUILDING GAS
COOKING WITH YOUR FARTS
DANCING WITH LOCALS
AFTER SINGING WAGON WHEEL
LOTS OF LOVE AROUND
AN IMPACTFUL WEEK
FILLED WITH MANY EMOTIONS
LOTS OF GRATITUDE
After a couple more days in the Junin community, Team Inti will be heading to PERU, and feelings at our group meeting tonight were mixed. Some in the group are really feeling sad to be leaving Ecuador, but we got to share our hopes and excitement for parte dos of this wonderful trip, and the outlook is POSITIVE 🙂
Love to all!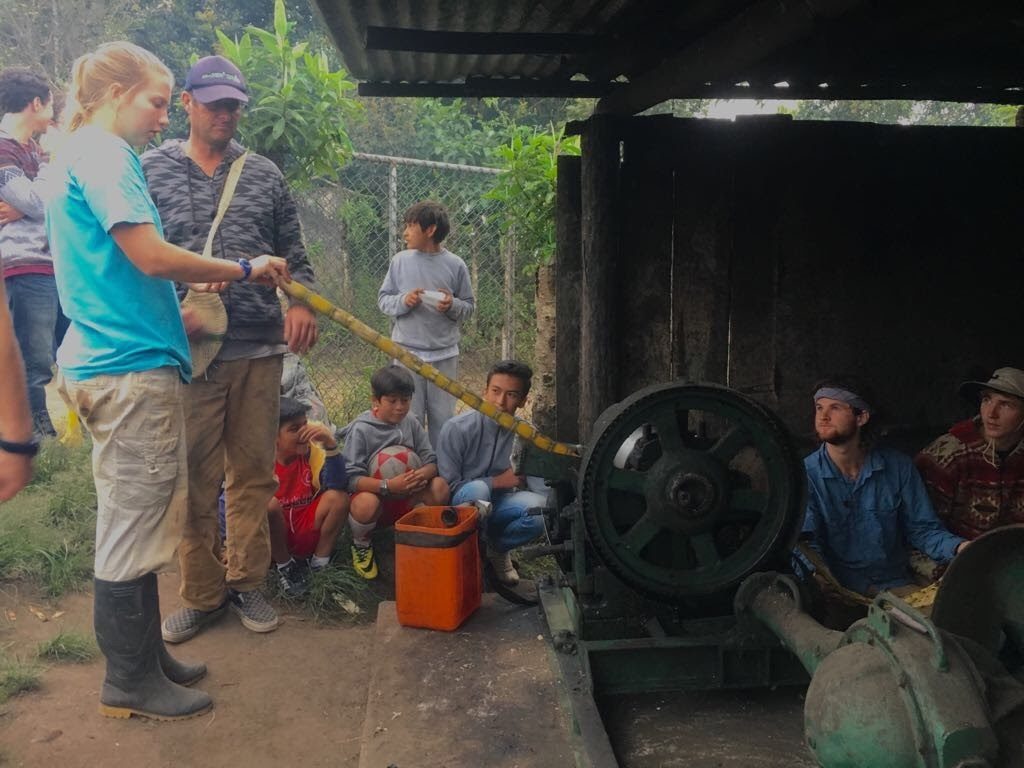 Beautiful views in Pucara.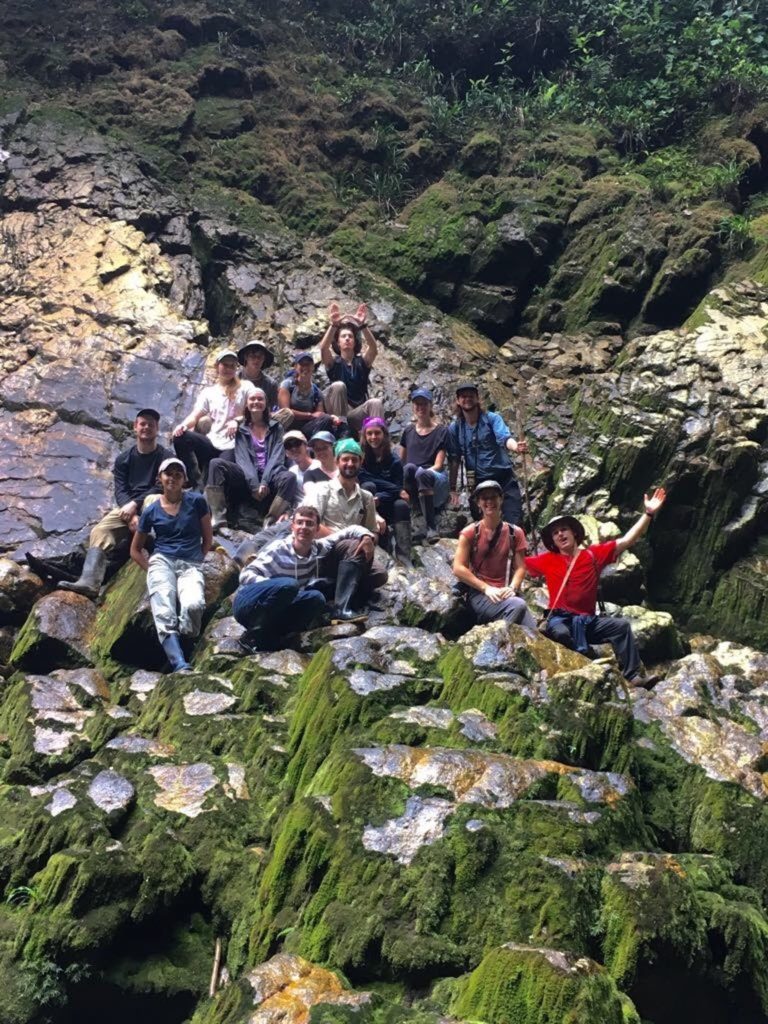 Prepping for trekking in Peru while basking in the beauty of Ecuador.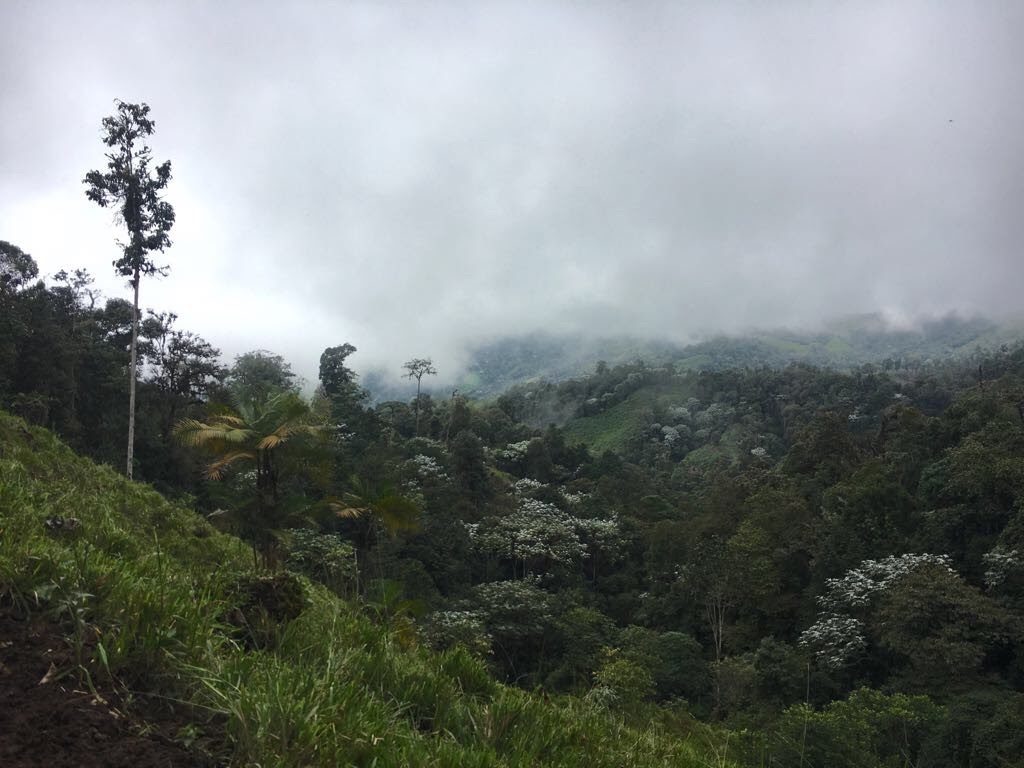 The specific mountainside area of the cloud forest that is currently being threatened by mining.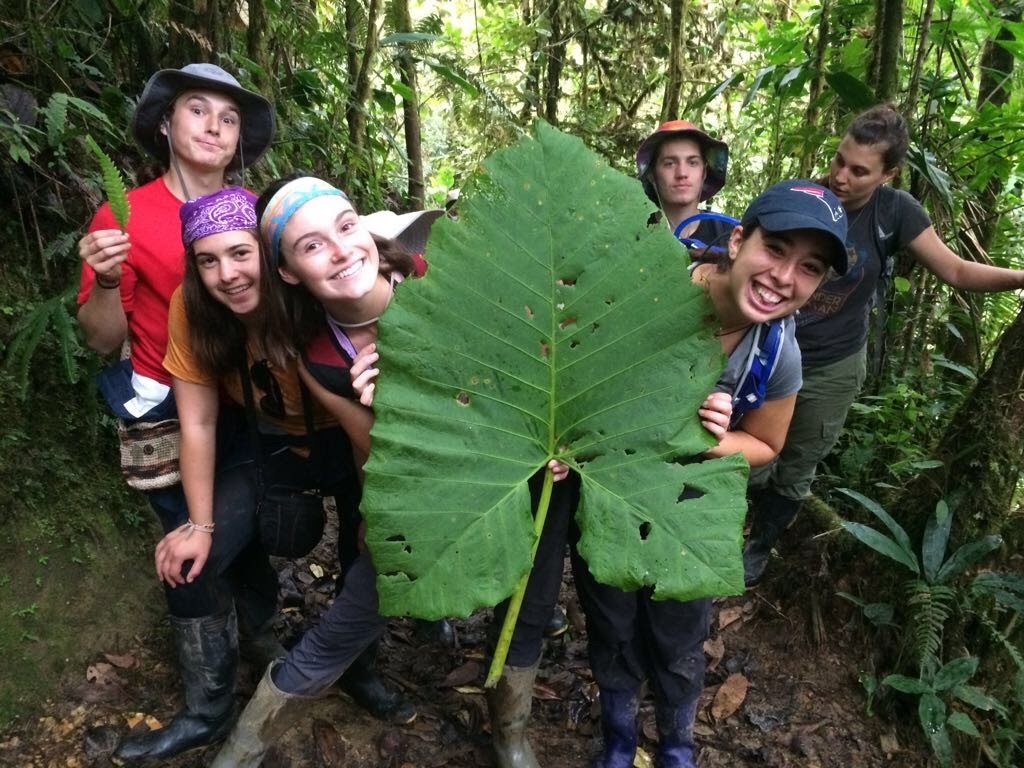 Tune in next week to learn more about our all-day trek through the cloud forest!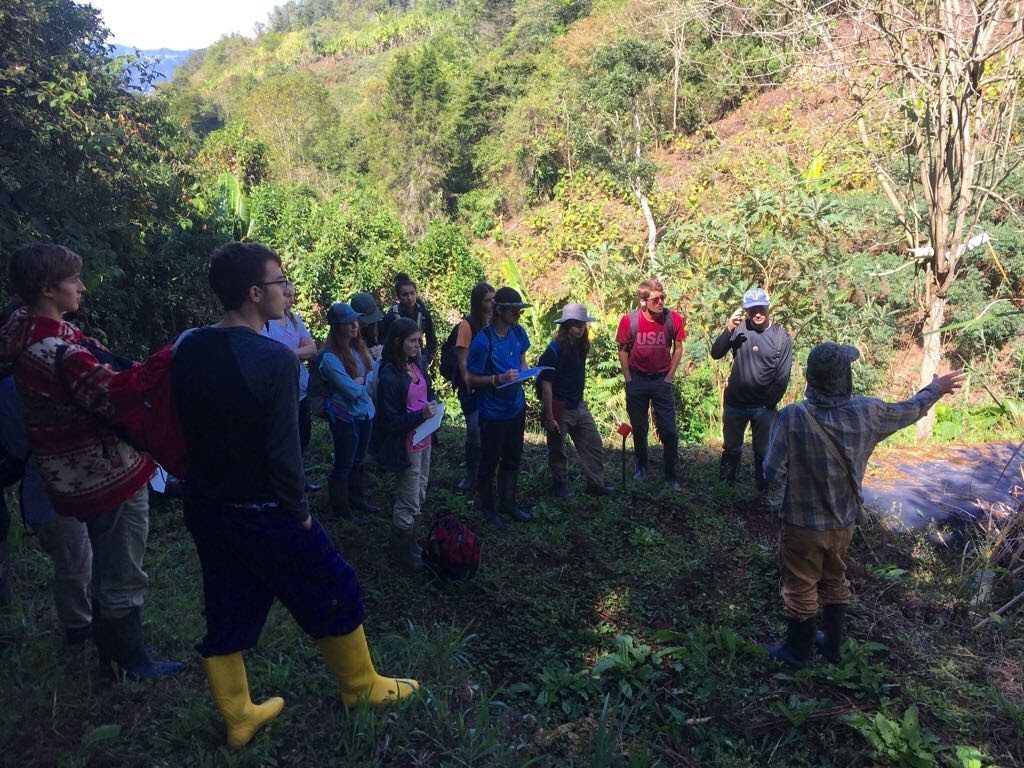 Learning from Pete about the community biofilter.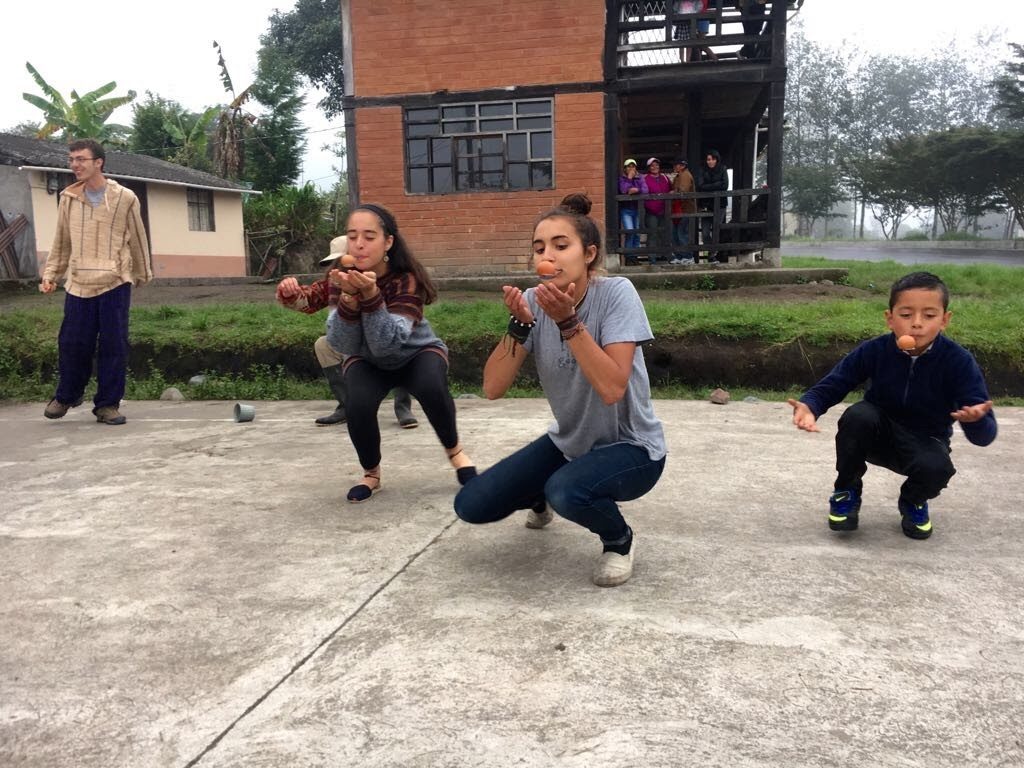 Egg games at the despedida!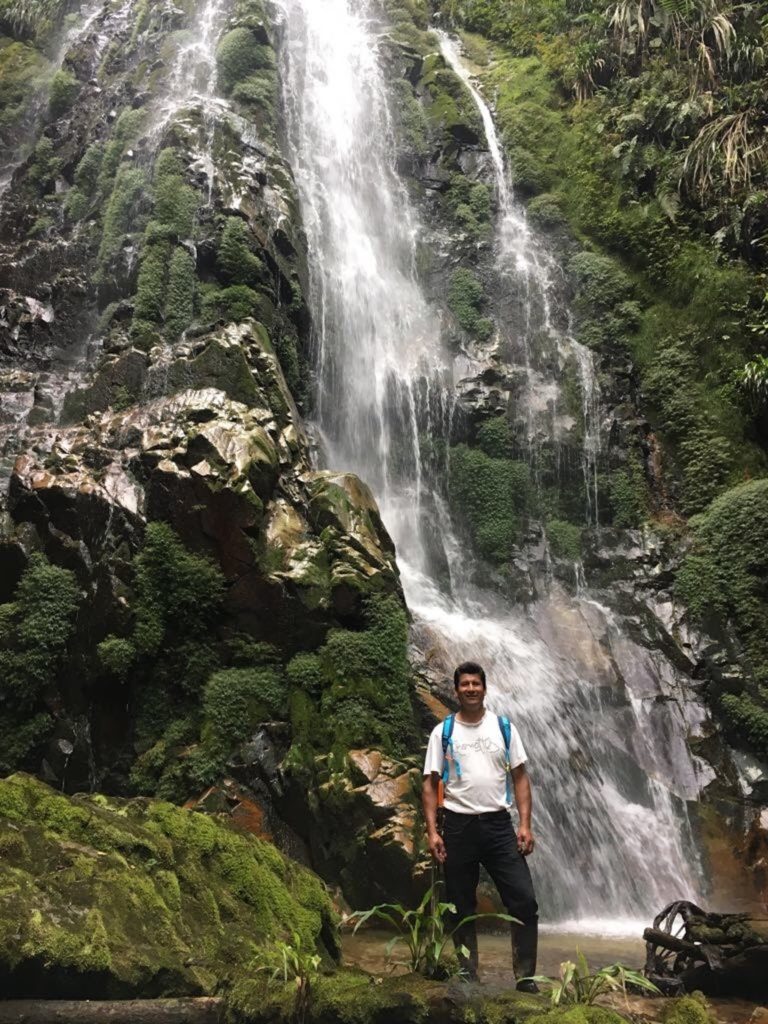 Javier was our guide for our hike (more stories to come next week!) and is a local leader fighting against the mines.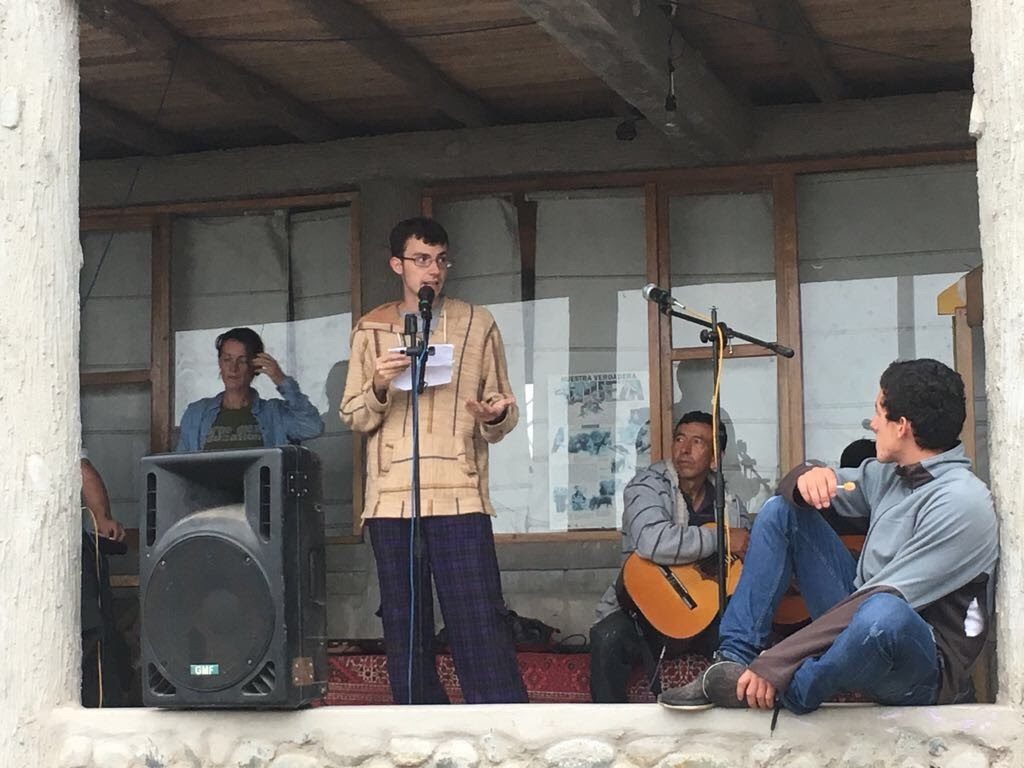 Josh gives a speech in Spanish at the despedida (goodbye party).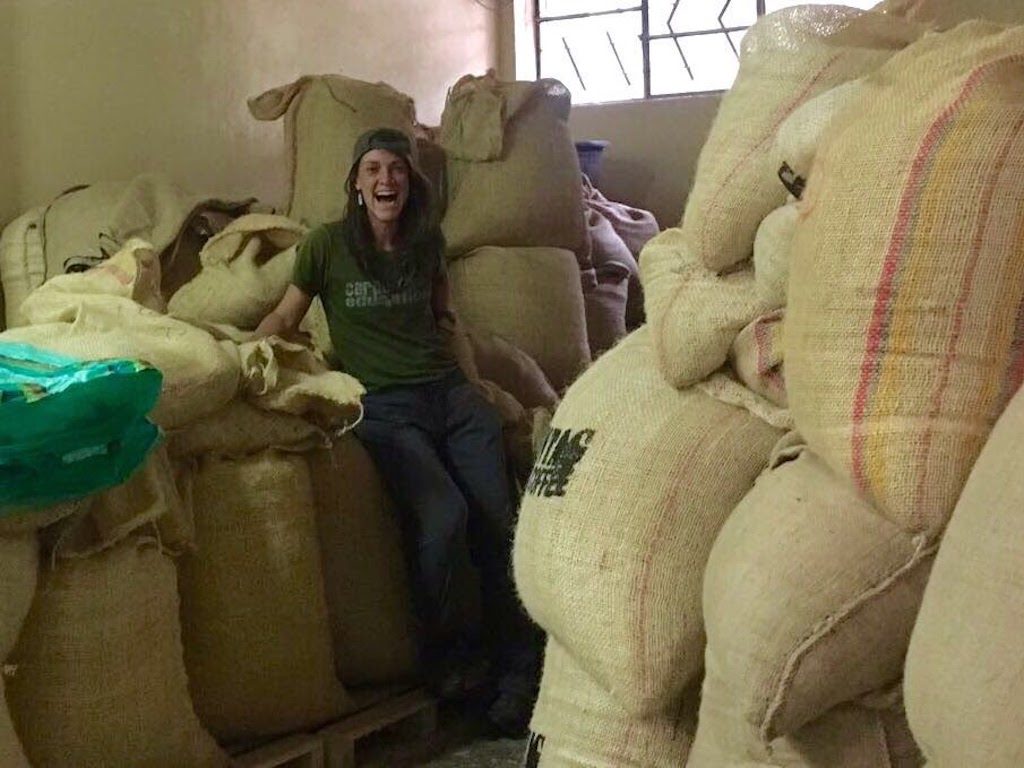 Kate at Cafe Rio Intag with bag and bags of coffee ready to be sorted and roasted.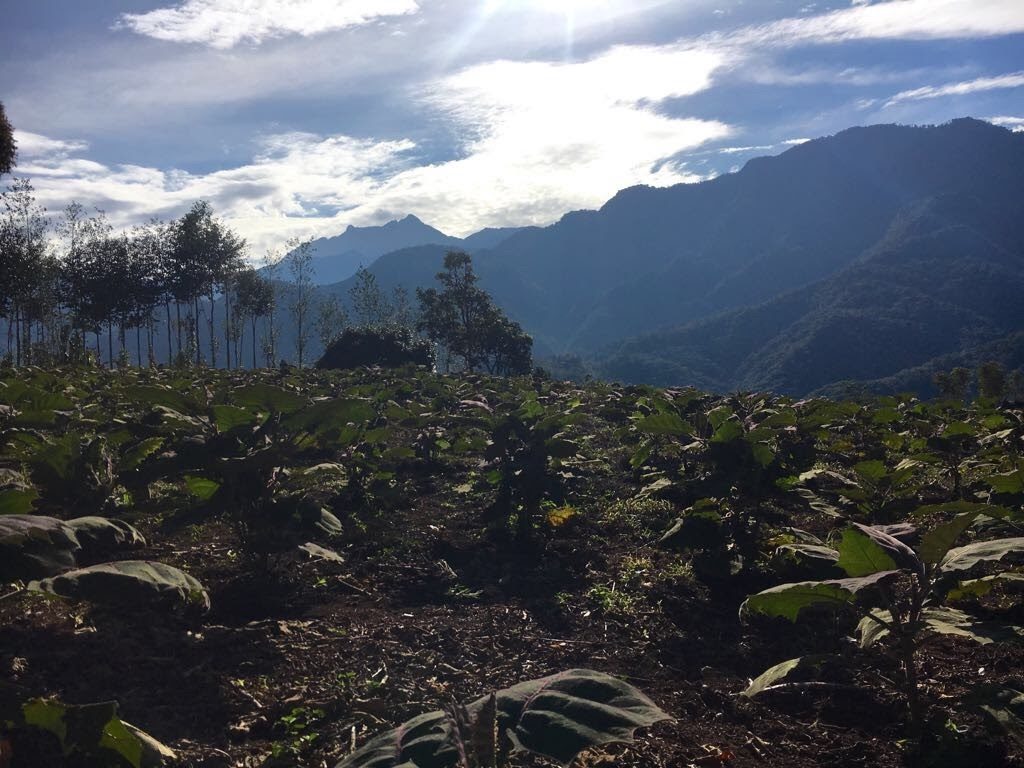 Mountain views in the Intag.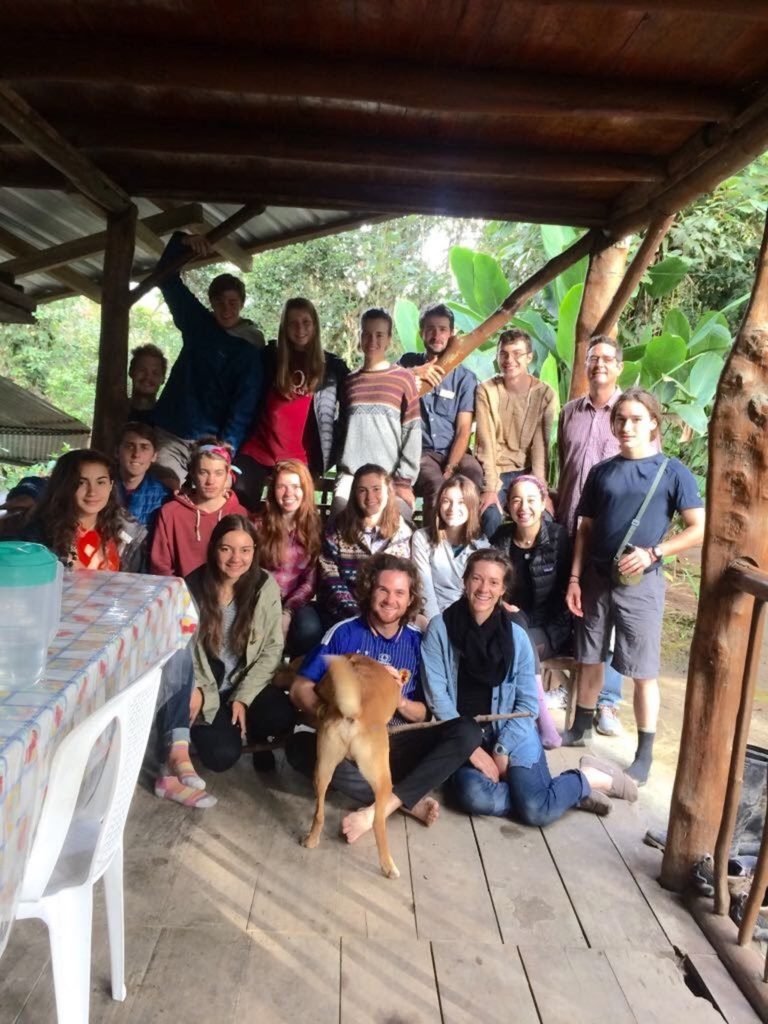 Our group plus our new friends, Pete and Michelle!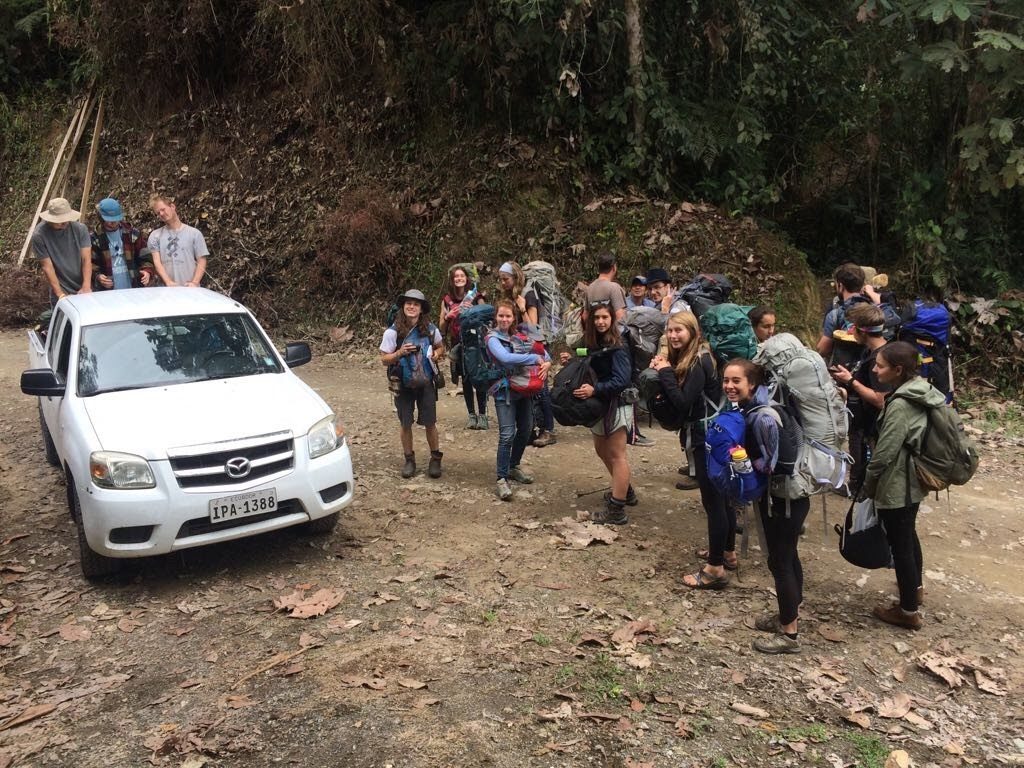 On the go!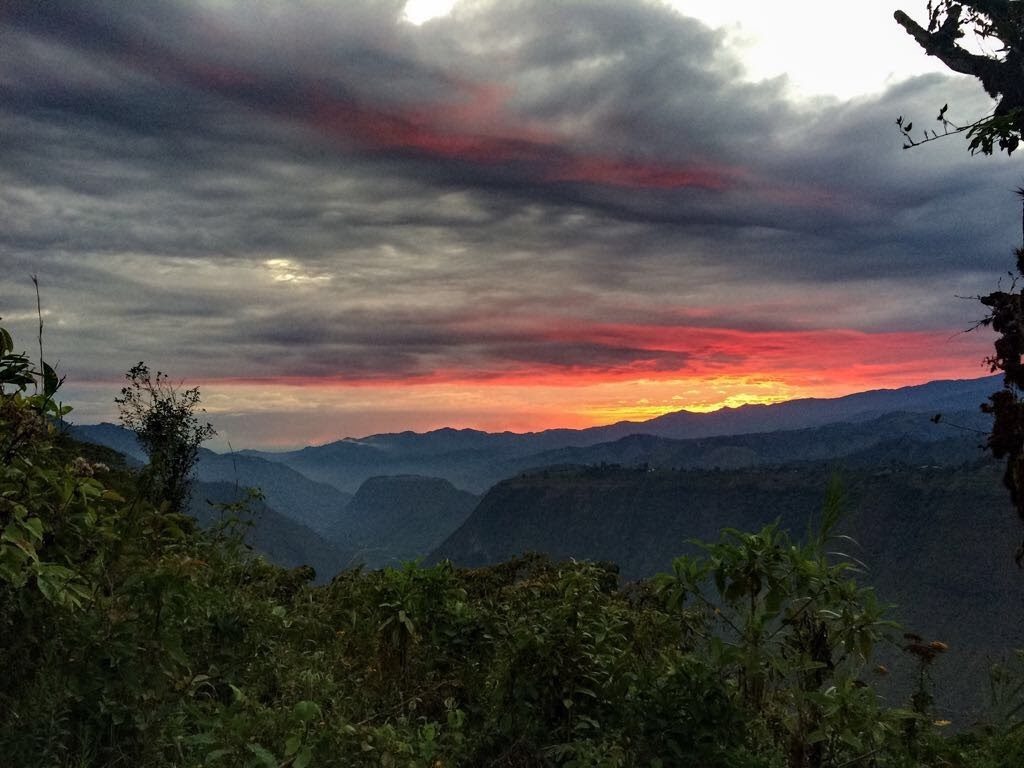 Anya and crew learn to make panela, first by pressing the sugarcane into juice.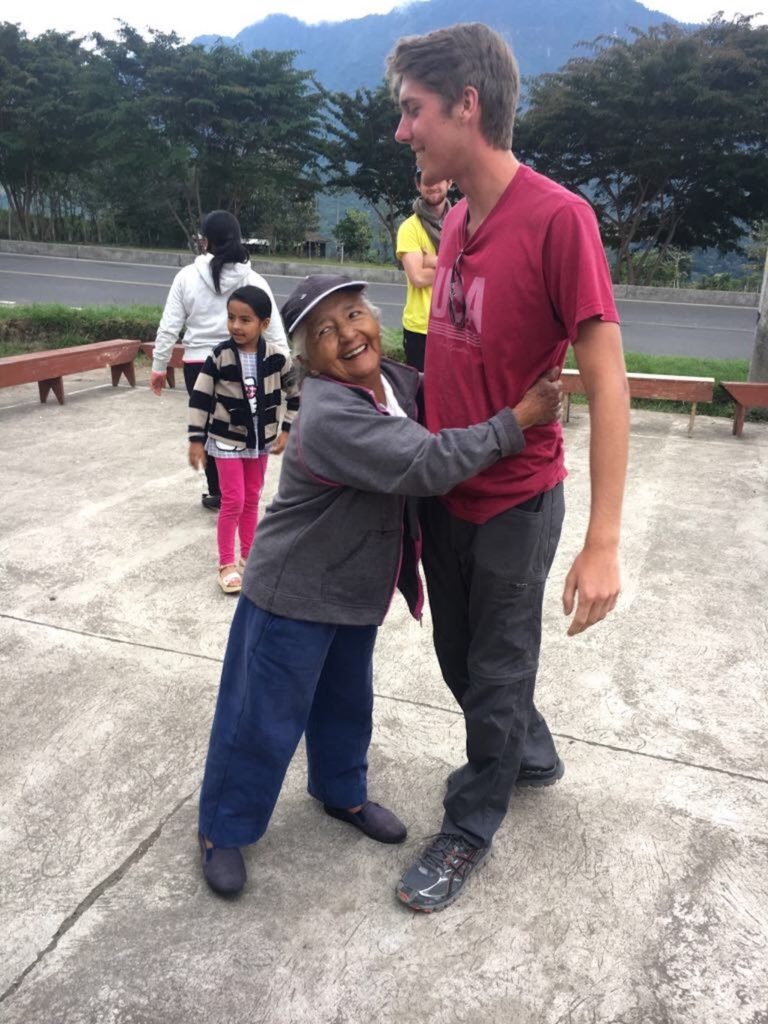 Meeting host families in Pucara, with Brian and his "mom" hug.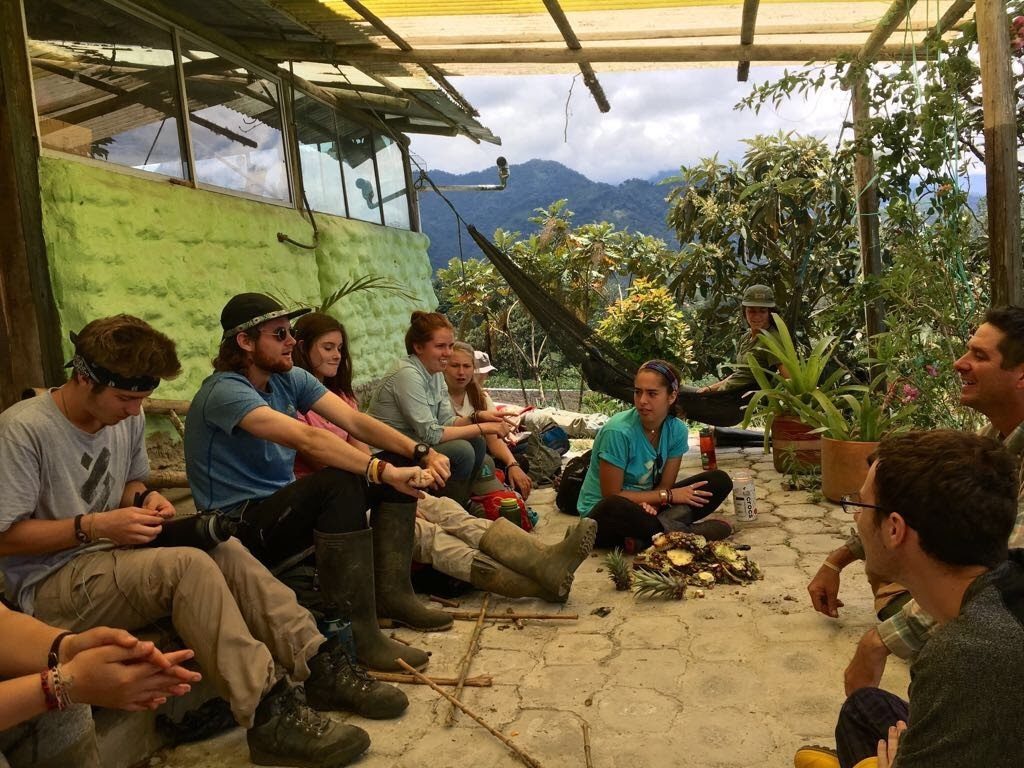 Sharing stories (and favorite Michael Jackson songs) with Pete at his home.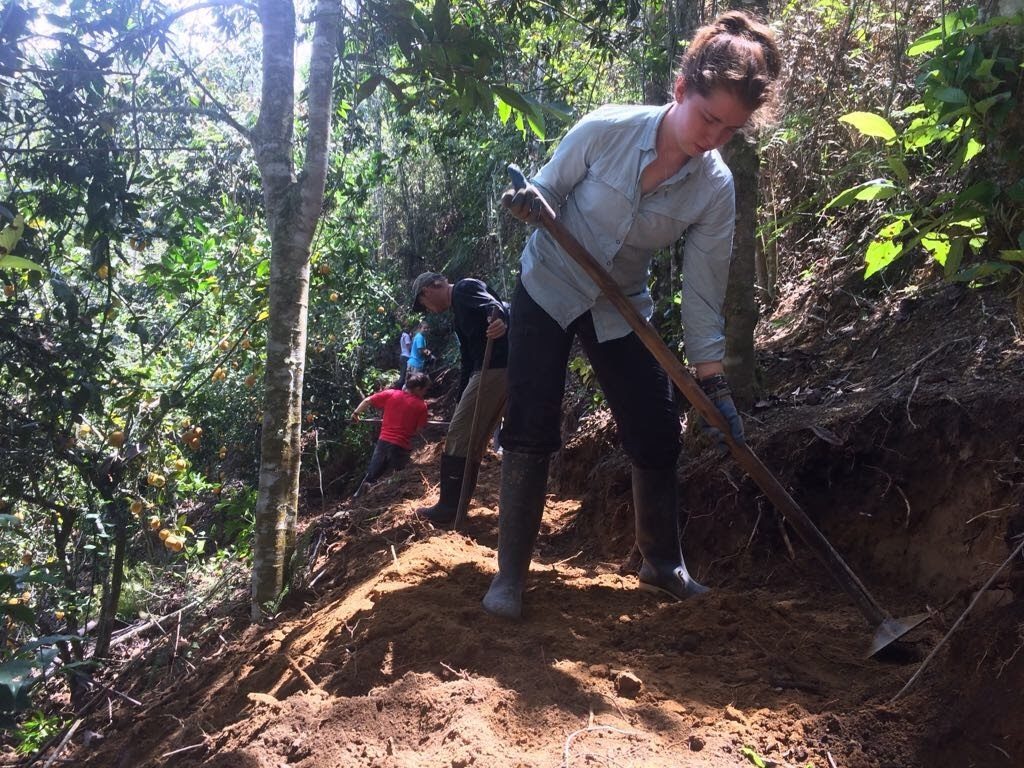 Claire, Christian, Matt, Anya, and Chris work hard on building a trail at Pete's for future eco-travelers.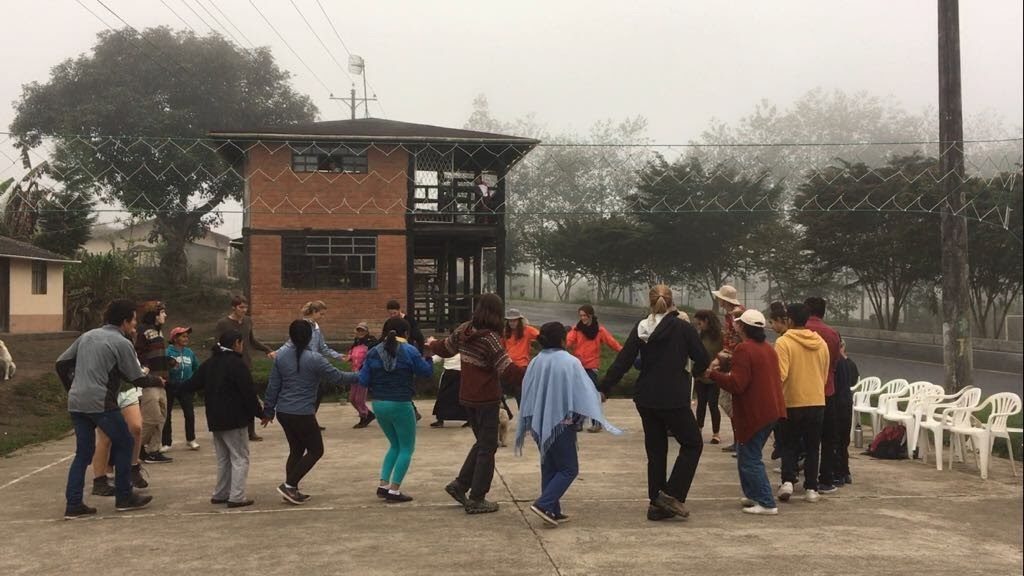 Sharing a favorite song from home, "Wagon Wheel," at the despedida.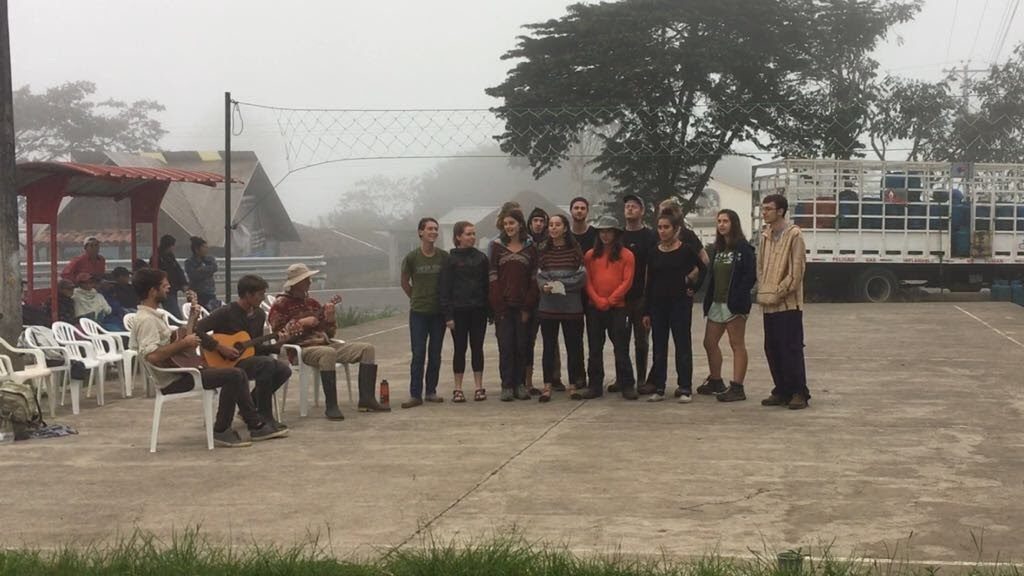 "Wagon Wheel"