By Jimmy and Jake
Hello to every one of our blog readers, it's Jimmy and Jake blogging here and we would like to inform y'all about all the fantastic activities and other experiences we had during the past week. Our journey during the past week started in the large and historic capital of Guatemala, Guatemala City. We entered by microbus coming from our fulfilling week at El Paredon, but we, being the dogs we truly are, did not take time off to simply rest. Instead, the group took an immersive bike tour with the hostel owner Marcos (shout out to him for being an outstanding tour guide with great English skills and understanding of Guatemalan history).
We ventured through town and first hit up the local street meat vendor and had "the best food during our whole trip" -Anna Parker. After our delicious lunch, the group visited the Guatemalan monetary museum and learned about the history of Guatemalan currency and the corrupt leaders behind the money. After that our people rode through a crowded street in which people were obstacles and the difficulty was turned all the way up as we made our way to a local Mayan restaurant where a few individuals such as Cate, Anna, Jake, Jillian, Jimmy, and Patricio ordered cocao drinks that were otherworldly. We headed back to the hostel after the bike tour, and the night was topped off with a chicken pepian (Guatemalan delicacy) and relaxation until we turned in early at night.
Our stay at Quetzalroo was short lived, unfortunately. We were up, packed and out the door all by 3:15 am. We had a smooth connection flight to San Pedro but all trips are not without hardship and we were long overdue for a bit of logistical turbulence. Our flight to Roatan was cancelled due a significant downpour that pounded the small island the night before. But with our strength as a group and the accumulation of travel skills we've picked up over our semester we kept level heads and went with the flow. We were promptly rewarded with a stay at the Inter Continental, a luxurious night of saunas, pools, a gym, hot water that didn't come out of a motorized can, buffets, sushi, fluffy white bath robes, and matching slippers.
We woke up the kind of rested you only get from a high-class hotel bed and took our last flight to our Central America destination. We moved our bags into our hostel, Bradley promptly called the bed in the kitchen and we haven't heard the end of his grimaces as it's our communal meeting place. After a morning of travel a normal group of people might need a day of rest but we, the carpe ride or diems, are no ordinary group, there is time to make up so we went straight to the ol' grind stone, settled into our scuba groups, knocked out the first of five chapters for the academic portion of the scuba course, and treated ourselves to baleadas, a local delicacy that as far as I can tell is a mix between a quesadilla and a burrito but whatever it is, it only costs you two dollars or less and is worth it in every way.
The second day of our Roatan adventure consisted of getting chapters two and three done while later in the day we also did confined water exercises and OUR FIRST OPEN WATER DIVE!!!! The group in the process of getting there open water diver certification during the course of this week includes Jon, PJ, Jimmy, Jillian, Katie, Cate, Tori, Bradley, Jake, and Anna. So while the group getting their certifications did their training exercises, the other people that already have their certifications did fun dives. Ellie and Doug saw turtles and an eagle ray while Anya and Dylan were training for their advanced and open water certifications respectively in different groups than the others. After the end of our diving day we split up for different dinner restaurants and most people mosied on down to the gelato shop to enjoy what Roatan has to offer.
The next day we woke up to a full day of diving as the divers in training finished the remaining chapters in the academic portion to be certified. We then proceeded to dive for open water training both before and after lunch. The group saw a variety of different reef-dwelling species and with every dive, the young group of divers gained valuable experience and advice from our instructors Christian and Courtney. They did a great job teaching and thoroughly explaining what we needed to do to pass so we want to thank them for everything. When we finished the dives, the group hung out for a little while before dinner, but then, at around 7, we made our way to the local Italian restaurant where we feasted on pasta and thick slices of bread.
Our last day in Roatan. With all of our objective dives UTTERLY DEMOLISHED we enjoyed the fruits of our labor with a fun dive, the capstone to our Central American gap year. We set anchor and entered the water as Carpe Diem, our first time doing so. Kal, one of our dive masters in training, brought the underwater camera and we spent a fair amount of time just hamming it up as any respectable Carpe member would do for the chance at a cool photo. We continued our dive through the aquatic wonderland, admiring lush coral, vibrant fish, eels, and rays, and possibly most importantly Toe finally got to see her turtle, two of them in fact! It was indeed a marvelous dive but it's not quite time to celebrate yet. We still have to take an exam, the dread of many within the group. However, to no one's surprise, we all passed with a few of us even receiving perfect marks, certified divers at last.
Our last night together was spent sharing gratitude and a delicious seafood feast before a closing ceremony that had us all reflecting on the amazing weeks and experiences we have shared together on this adventure. What a time it has been! We will see you all shortly.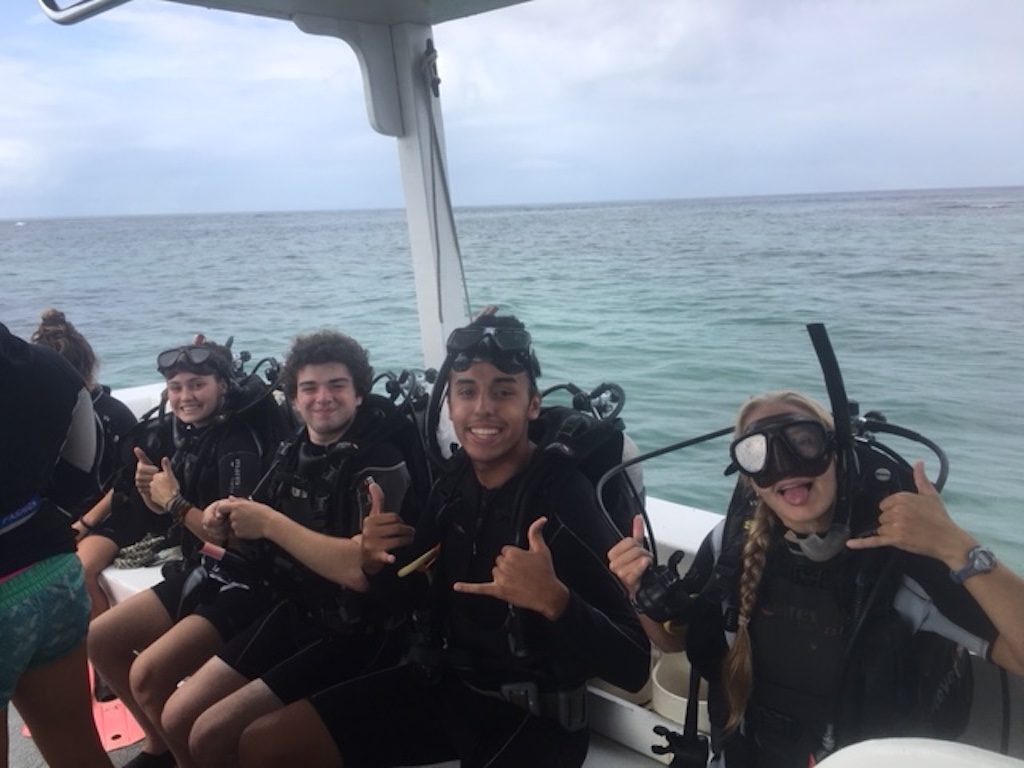 Anna, Jake, Bradley and Cate.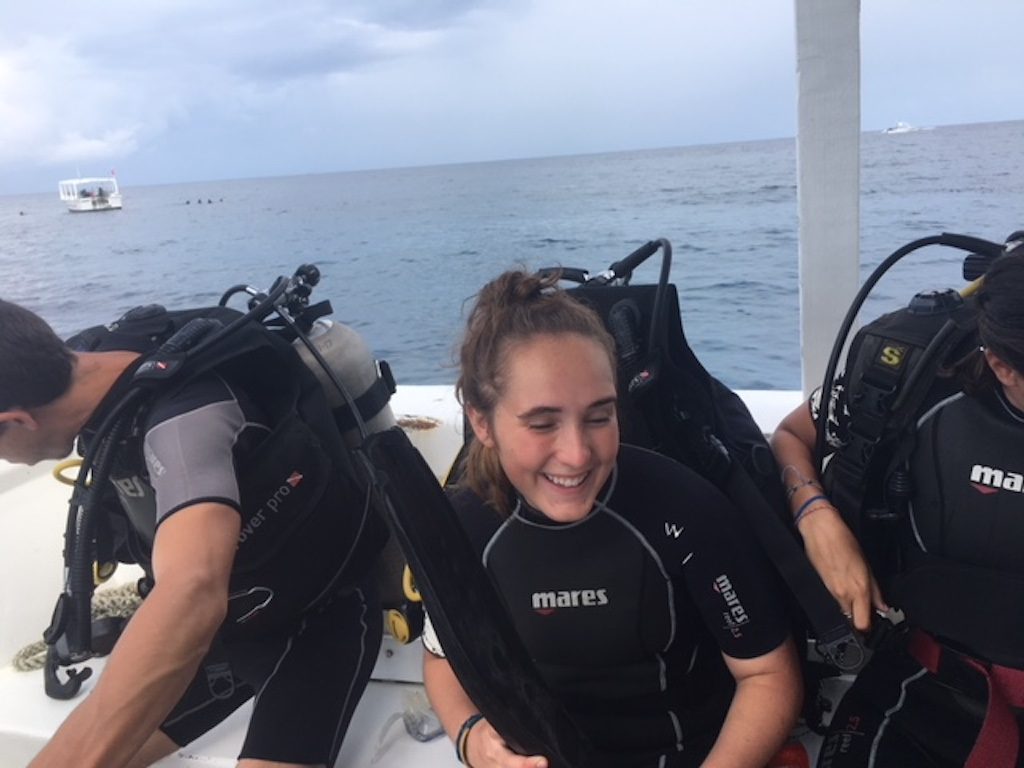 Ellie!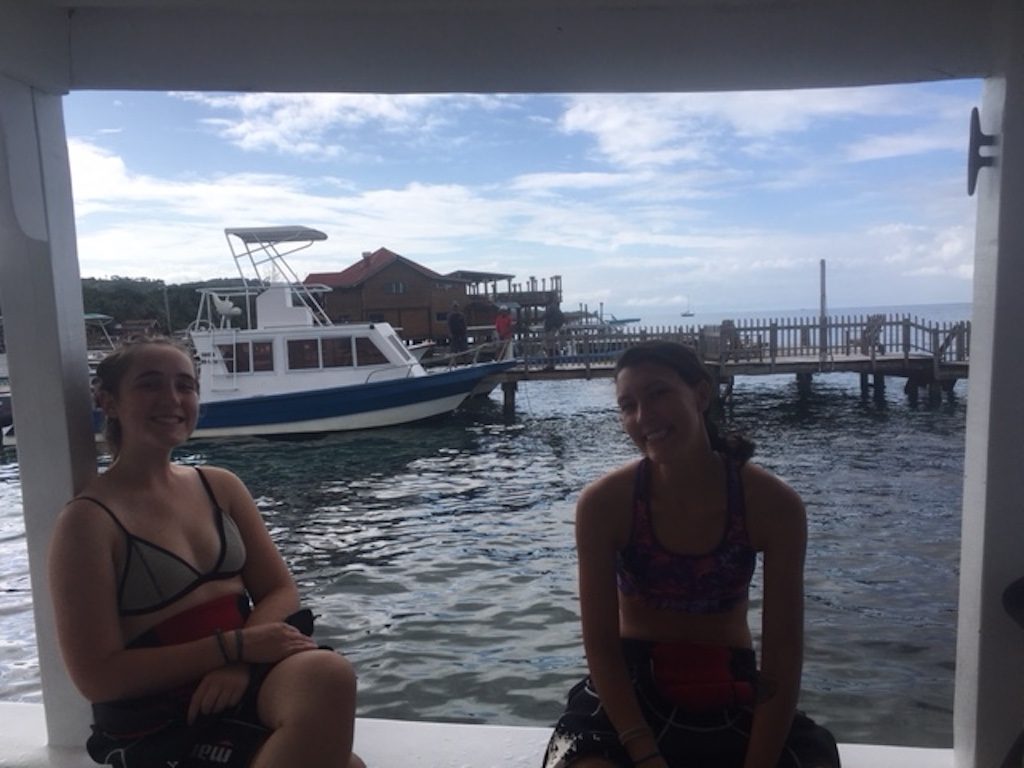 Ellie and Anya.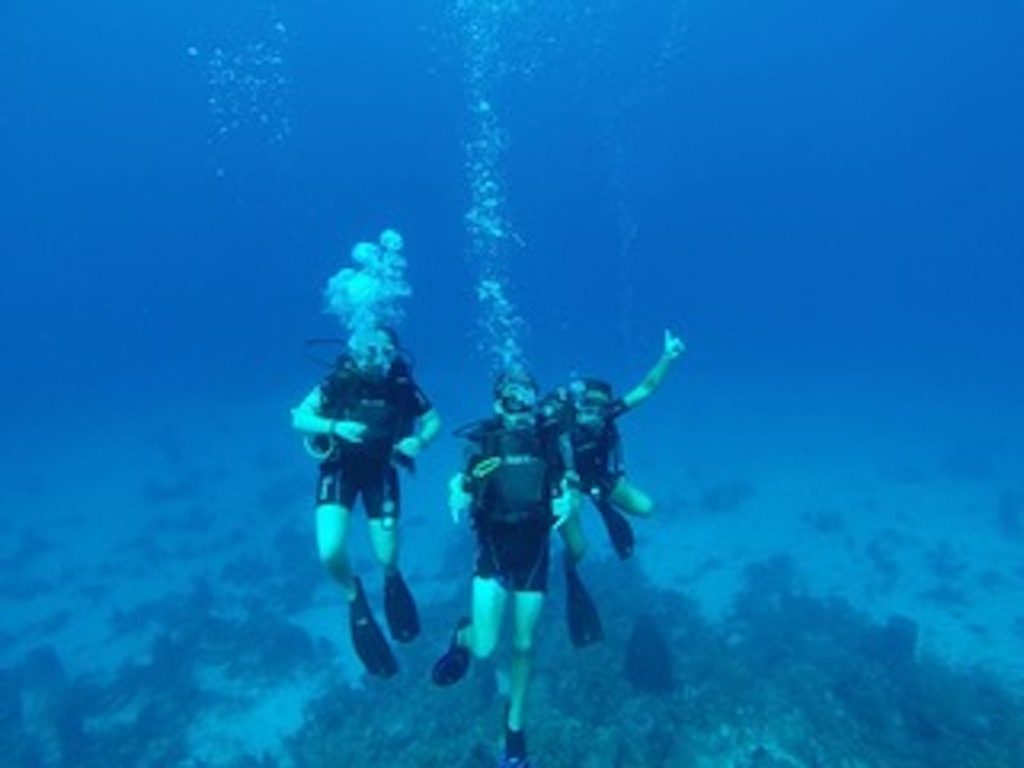 Ellie, Doug, and Anya.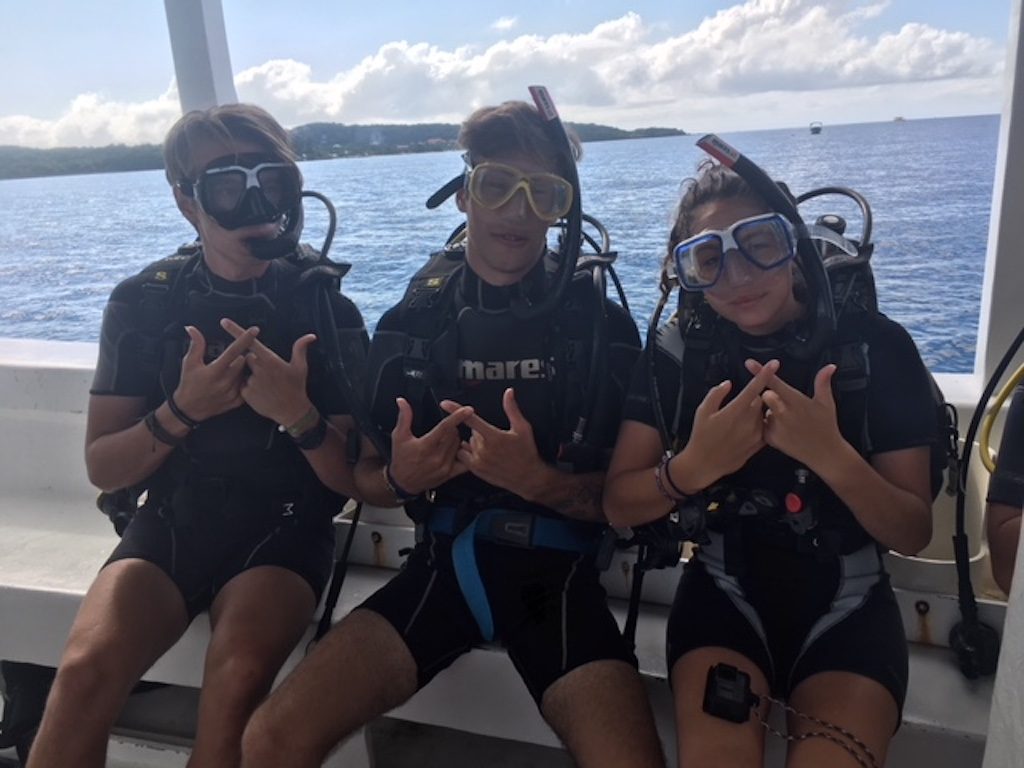 Jimmy, Dylan, and Jillian.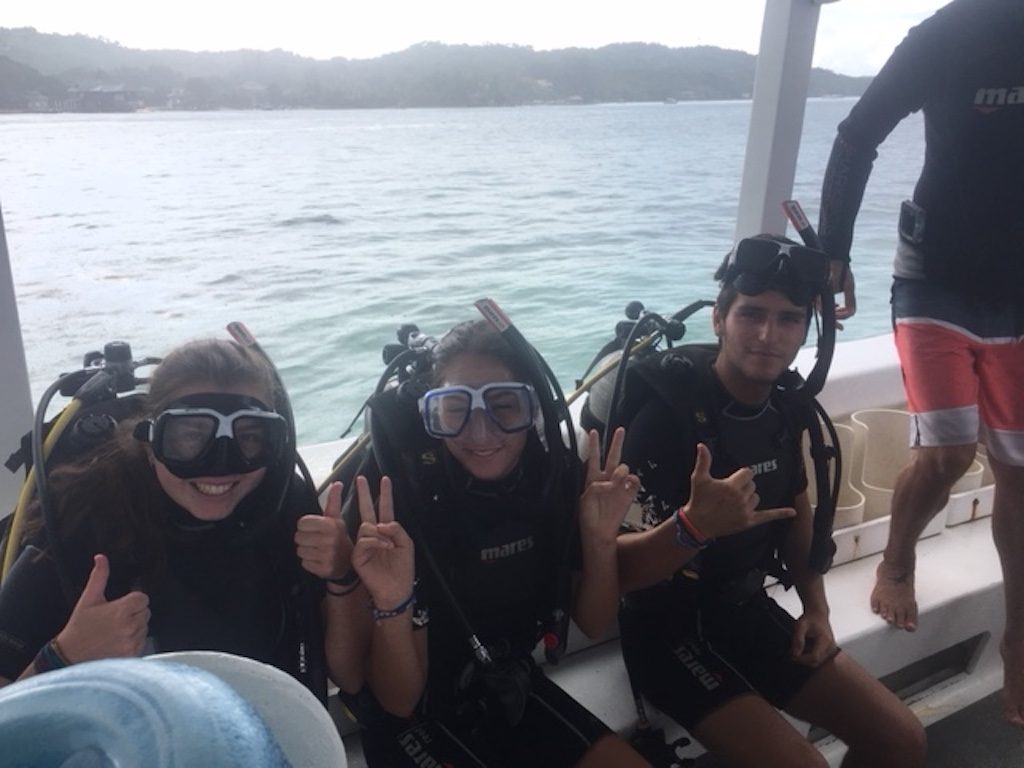 Katie, Jillian, and PJ.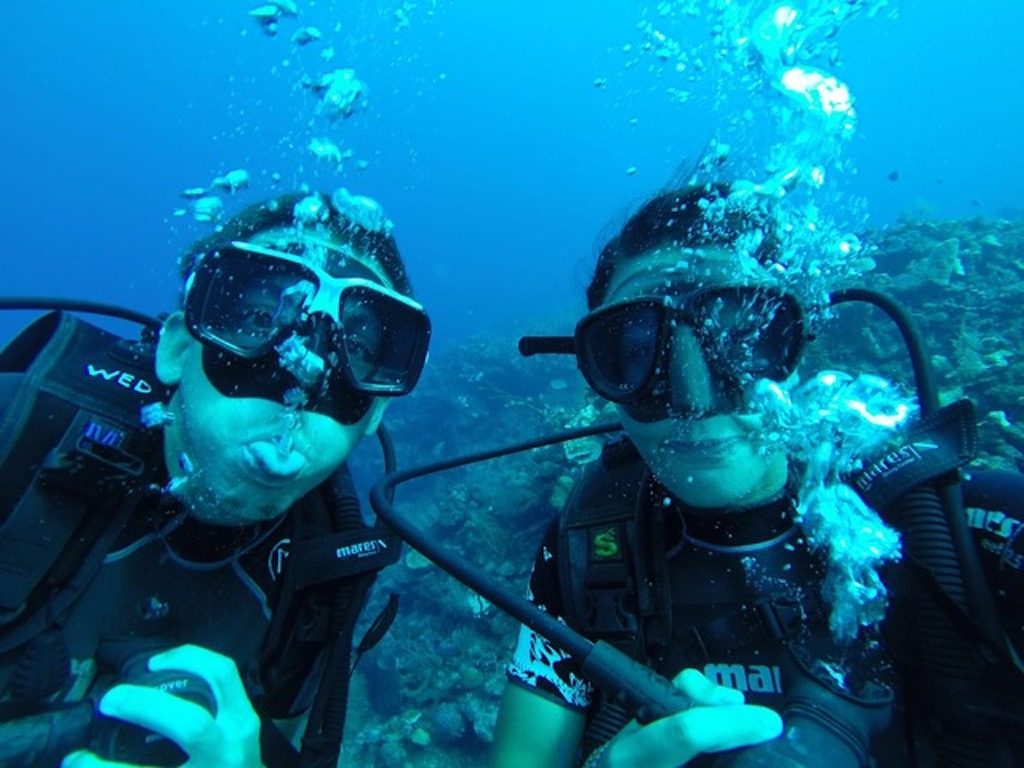 Your Central America OEs, Doug and Anya.
Jon and PJ.
Dylan getting the local treatment.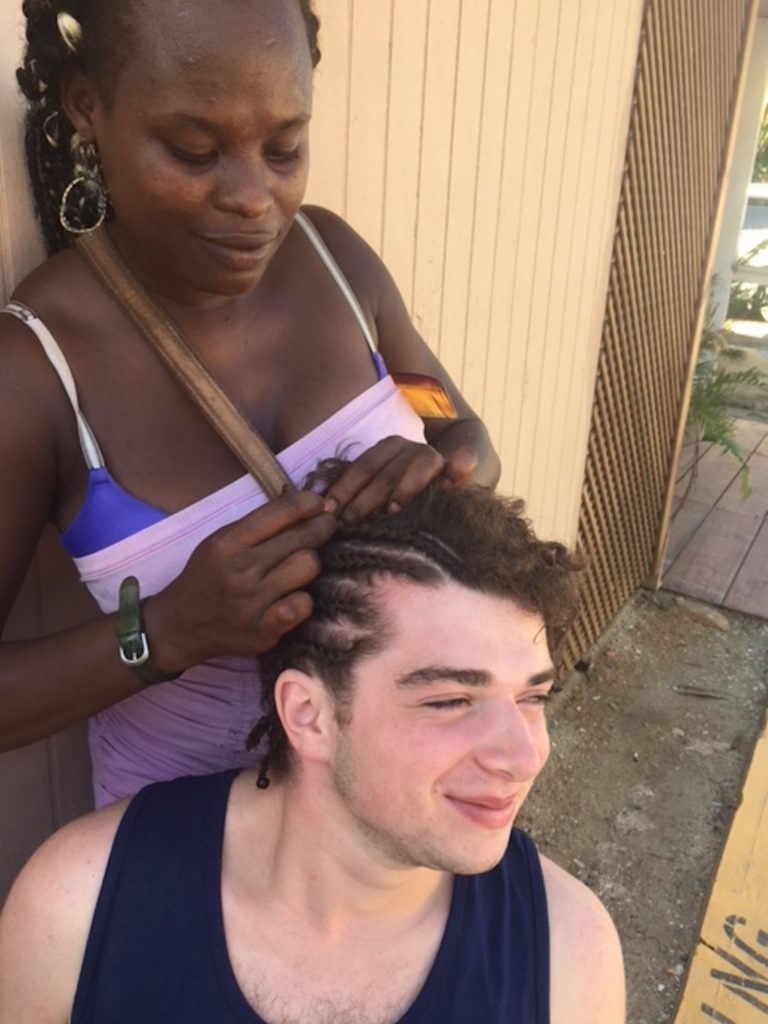 Jake, yes!!!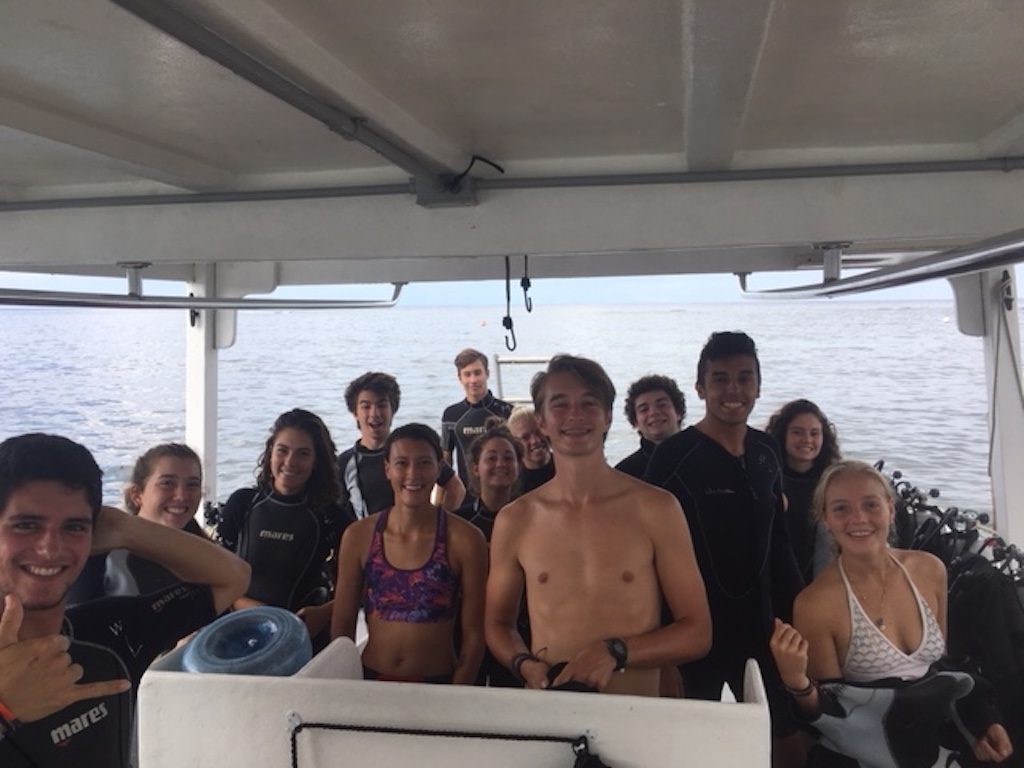 Team Quetzal off for a dive!