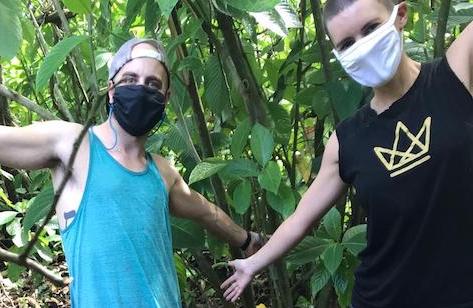 Hey Costa Rica Maya Crew and all who will be following and supporting us on this journey!
With the excitement of our semester just around the corner we are feeling so grateful to have this opportunity to travel, learn, and grow together in the complexity of today's world!  
Thus we begin our journey by writing this first blog!  Although the students will be the usual voice on the blogs throughout our adventure, you will be hearing from us periodically too.
Enter Rachael and Adam, the Carpe Diem Overseas Educators, mentors, friends, and guides on this new experience! 
So many things to think about: lush jungles, ocean sunsets, sustainable farms, gorgeous mountain trails, Spanish language, and 14 strangers coming together to spend two months traveling and growing together. 
We have spent the last couple days settling into a nice balance of work and play at Chilamate Rainforest Eco Retreat. It is a wonderfully lush & gorgeous setting. We are currently hammering out orientation plans and getting to know each other seated in the open air kitchen with a soundtrack of birdsong and the river that runs beside the property. We are so excited to explore the magic of the Costa Rican jungle with you soon! 
As we think about all these different experiences we'll have, and all the different material things to pack in our bags in order to best prepare for those experiences, we are also packing our metaphorical bags, preparing ourselves for the fun, the challenges, and the eye-opening, mind-blowing, and life-changing moments (no expectations…).
The physical, mental, & emotional preparation  is just as much a part of a trip as the trip itself, so enjoy your daydreams, those last minute shoelace purchases, those precious moments with loved ones, and even the lingering anxieties. 
We can't wait to share this experience with you, so stay tuned for more to come!
Your Carpe Diem Maya leaders,