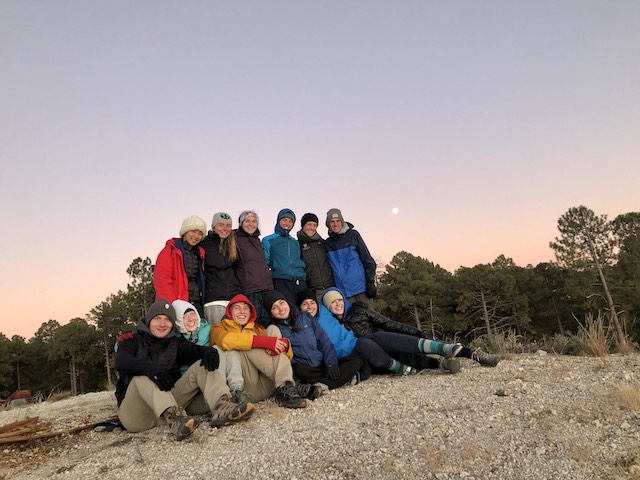 Written By, Elsie, Petar, and Eli
Hi family and friends!!
I'm Elsie, one of our captains of the week along with Eli and Petar. I'm excited to let you all in on what's been going on here in Arizona. What a week it has been!! After lots of preparation and anticipation, we finally packed up our bags Monday morning and dove into a 6-day backpacking adventure. For many of us, this was our first backpacking trip, and according to our resident pro backpackers, Adam and Kate, this was quite the intro!!
"That was the best meal of my entire life" – Sophie
On Saturday, we drove into Tucson to get geared up for our upcoming trek–but first, of course, we had to stop for tacos. My table ordered the special: tacos with pork, cabbage, and meat sauce. Leila and Sophie accurately described them as heavenly. Our resident vegetarians, Mari and Freya, found quesadillas that they loved too, and we ordered Mexican Cokes and Fantas all around the table (which we agreed to be much better than their American counterparts). Following lunch, we stopped at REI and Walmart, enjoyed a beautiful sunset on the van drive home, and went to bed with stomachs full of delicious poke bowls.
"It's not gonna fit!!"- Lily
Sunday was a day full of packing and cleaning. We got the dorm as clean as possible (let's just say it needed some work) and were able to head into town to get in one last ice cream run before packing. Freya, Lily and I also found some delicious dates at a local store that were a group favorite. Kate and Adam showed us how to fill our packs and then gave us time to practice packing our own bags. Those of us who did not have experience with backpacking had some doubts about fitting everything, but with lots of stuffing and some of Kate's expert packing hacks, we were ready to go.
"I can't believe people do this for fun"- Rachel
The day had finally come- the first day of our long awaited trek. As we pulled into the Douglas Springs Trailhead in Tucson, we finally got to meet our guide Trevon, whom we had high expectations for thanks to Kate and Adam's descriptions. Luckily, he went above and beyond our hopes and turned out to be an amazing guide with lots of knowledge of the area, wisdom on life, and a willingness to go along with the many strange nicknames we gave him. Due to COVID restrictions, we had to split our group in half throughout the trek. Today I hiked with Lily, Mari, Rachel, Kerri, Adam, and Treven. Before leaving, Treven taught us about the Hashañ cactus, a sacred plant to the local Tono O'Odham nation. The 6.3 mile hike was very challenging, with a lot of uphill, but we made it through with a variety of games, songs, and beautiful views of the mountains. (Though she still agrees this day was difficult, Rachel now says that she would consider backpacking for fun). Mari, adventurous as usual, tried a banana yucca fruit which comes from a cactus and has a yummy custard taste. We were exhausted by the time we reached Douglas Springs Campground, but after some time to rest, we set up camp and collected water from a nearby stream. We learned how to sterilize water with a Steripen and later how to clean our dishes with dirt (you heard that right!). Learning from our past experience with the cold nights at the Grand Canyon, we decided to team up in tents, sleeping in pairs and trios to keep warm–it was definitely a helpful tool!!
"Thank God we made it!!!" -Eli 
Our second day on the trail was no joke. We hiked 6.4 miles to Manning Camp, again with lots of uphill climbing and a pretty fast pace. On a water break, Lily shared some insight that helped motivate my group to push forward: our minds tell us to stop at 40% of what we're truly capable of. Meanwhile, the more experienced backpackers of the group, Jacob and Petar, kept a strong pace that inspired us all to keep going. We saw a significant change in scenery on our way to camp, starting with lots of cactus and desert terrain and ending in a New England-esque forest with pine trees, dark soil, and SNOW! When a cabin finally came into view, tears were shed and we hugged one another in celebration over an incredibly difficult two days and some very cold weather. As Jacob later described, a previously tired Eli started sprinting when he saw the site come into view. After some difficulty finding water (the spickets were frozen) we filled our pots and bottles and had some warm stir fry to end a long day.
"It's (w)rap day!" – Treven 
Wednesday was a day full of learning and relaxing at Manning Camp. After enjoying breakfast in a sunny spot to escape the cold, we pulled out some freestyle raps at my campsite (it was (w)rap day after all) and dove into a whole group lesson about compasses with Treven- we reviewed true north vs magnetic north and learned about declination. Then we headed out for a day hike around the area. Sophie, who had been a trooper with her injured knee the past couple days, stayed back with Adam at camp. Treven taught my group about lichen, the formation of granite, and the importance of geology. We hiked up Spud Rock, which had breathtaking views of the Sky Island mountain range, all the way to Mexico! My group spotted the other group in the distance on another ledge and we waved across at them. We learned more about the local indigenous nation, the Tohono O'Odham, and Treven underscored the importance of understanding the indigenous people who were here before us and what the land means to them. On top of the rock, Treven led us in a beautiful gratitude exercise, bringing Kerri, Leila and I to tears. Back at camp, we watched an incredible sunset from a ledge above the campsites and did another gratitude meditation with the group; we learned to appreciate every moment and feeling as a gift. Afterwards, we bundled up in our sleeping bags and went back up for a 'star talk' where we circled up on the ground and listened to Treven–we learned how to find the north star, Mars, Saturn, and Jupiter, and we also learned how our ancestors followed the stars for thousands of years. Mari couldn't get enough and insisted on sleeping up on the rock without her tent, even after being told about potential mountain lions and hypothermia. To her parents: don't worry, she ended up safe in her tent by Adam's request (it was very windy).
"Time to get lost" 
Thursday was another nice day at Manning Camp. Instead of carrying our heavy bags along with 8 liters of water each to our next spot, we had a quick change of plans and stayed back another day for more lessons and fun. Treven led us into the woods "to get lost" so that we could put our navigation skills to the test and try to find our way back to camp. Freya asked an interesting question about biomes which led us into a lesson about the 7 biomes that exist in the Sky Island Mountain range, and the impact of climate change on the forest and desert ecosystems. We used landmarks and triangulation to figure out where we were on the map and where we needed to go. Rachel led my group back to camp by holding the compass and following trees and rocks in the direction we needed to go, but we were unsure we were going the right way until Eli spotted the cabin's roof over the trees. We felt accomplished knowing that we could navigate using just a compass and a map! Back at camp, Treven taught us how to build a fire using a bow drill and a hand drill (ancient techniques that are not frequently taught anymore) and afterwards, Freya and Rachel gave it a try–they both got embers going!! At my campsite, Leila, Kerri, Rachel, Lily and I sang some Pitch Perfect acapella while cooking dinner. Later, we all enjoyed Kate's 'brownie sludge' for dessert before bed.
"Water's here!!" 
We woke up early Friday morning and prepared to leave Manning Camp, which had started to feel like home. We said goodbye and gave Treven a big thank you before heading out to our final destination, Happy Valley Campground. Our trek was downhill with some flat terrain which was a nice change, but harder on the knees and feet. We got to a junction and weren't sure which way to go, but luckily Petar and Jacob helped us with a map and compass and got us on the right path. We had an amazing view of Rincon Mountain as we ate lunch, and Kate's hiking group stopped at a lookout before heading to Happy Valley Campsite to enjoy the view. By now, many of us had gotten into the rhythm of it; we were now able to take in our surroundings as we walked and to enjoy the challenge. When we arrived, the campsite looked like a jungle with winding green trees and was much warmer (it's crazy how much a change in elevation can affect the landscape and temperature!) Before a warm dinner of rice and beans, Adam showed Lily and I how to carve a spoon (she's hoping to finish one before the trip ends) and as we were settling in for bed, we heard the announcement we had been waiting for– water had arrived!! James, Anya and two other Carpe leaders kindly hiked us ample water and some candy which was a nice surprise!
"It looks like the Sound of Music!!"- Mari
Our last day has finally arrived!! We hiked downhill again through sloping hills for about 4.4 miles with some beautiful mountain views and a taste of the Arizona heat we had been missing. Mari described the landscape looking like the hills in the end of the Sound of Music, which I thought was an accurate description. By now we were starting to smell ourselves big time and were definitely ready for a shower. Although, I was pretty impressed by how comfortable I had gotten with being dirty. When we finally saw the van in the distance, we looked up at the mountains behind us and took in all we had just accomplished over the past week; we could remember being on the top and looking down just days ago. We met up with the other group and loaded up to go back to the elementary school in Patagonia. We finished the night with some celebratory pizza and Halloween candy. Time to rest up and see what next week has in store for us!!
Here are some things we learned this week: 
Sophie: I learned to make fire with sticks using the hand drill method and to advocate for my needs, especially when it's about physical stress.
Leila: Every being in the desert is part of a delicate ecosystem and affecting/changing one thing can affect the whole ecosystem-every little thing affects many things
Mari: I learned how to make a fire without a lighter or flint
Kerri: I learned that Geology is really important aspect of our planet's climate and how it works.
Elsie: I learned how to find the north star, Jupiter and Saturn and the importance of using a compass (and some creative ways to clean dishes).
Jacob: Learning about how vegetation and animal scat can signify what elevation you are at from Tucson.
Eli: I learned how to navigate by using a map and compass.
Rachel: I learned that you can clean dishes with dirt and that we are way more capable than our brains convince us we are.
Petar: I learned from Treven that we are at a point of global heat maximum and we are approaching the next ice age. I also learned that Mount Everest is a major area of cooling on Earth.
Freya: I learned that nature's toilet is superior and focusing on what you're grateful for is something you can practice and strengthen.
Lily: To only focus on/put energy into the things you can control. Also the pee bandana is a great invention.