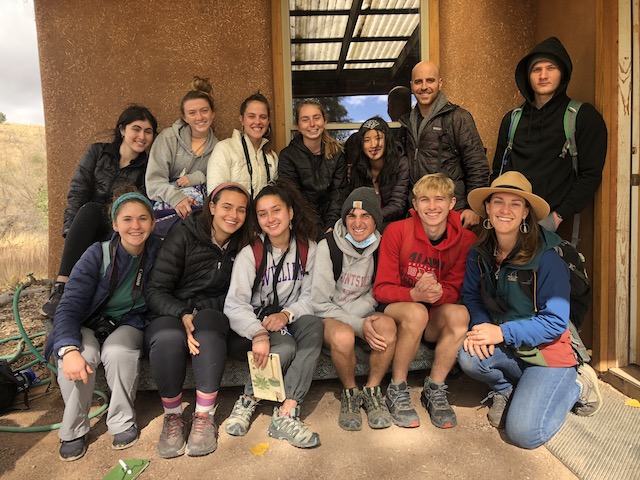 Written By Sophie & Petar
Hey everybody, this is Sophie, one of the current team captains! This week the group traveled to the Canelo Project in Elgin, Arizona. When we arrived, everybody got a quick tour of the property and took a look at the Main House, Guest House, Poem's House, Juanita's House, and the Portable Straw-bale House. Each member of the group got to stay in one of these houses–even Adam and Kate have their own rooms (they no longer have to tent outside!) After seeing what types of houses natural building produces, the group was so excited to start the week and learn from Bill and Athena, the founders of the Canelo Project. We then took the rest of the day off to settle in and rest up before the week of work ahead.
Day 1: Introduction to the family
Monday: Hi family and friends! My name is Petar, the other team captain, and I'll be telling you about what the group did today. We all woke up refreshed from a good night's sleep and indoor showers. After a hearty breakfast, we went to the Main House where we met the whole family that runs this small non-profit organization. The Canelo Project was founded by Bill and Athena Steen (founded in 1989) and their work centers on connecting people, culture, and nature. Bill and Athena Steen have three sons that help them keep the project alive and thriving. Oso (AKA Wood-Guy) mostly works on wood-based structures that display his carpentry and straw-bale-building skills. While Benito (AKA Dirt-Guy) prides himself in his blacksmithing skills and talent of sculpting with mud. Last but not least, Panther (AKA Mustache-Guy) has fine-tuned his skills in videography and now runs the family YouTube channel. The YouTube channel called The Nito Project covers a variety of topics ranging from how to build adobe bricks to how to make Dorodango balls.
At 9 AM we met the family in the Main House, introduced ourselves, and then discussed what we would do for today. To start off, Athena and Bill gave us an amazing tour of their beautiful property speckled with straw bale and adobe houses. During our first stop, Bill and Athena explained the history of the Main House, which they kindly let Jacob sleep in. The next stop was the Guest House where Sophie, Kerri, Freya, Elsie, and Eli are staying. We also took a look at the straw-bale house where Adam was staying. This straw-bale house had a unique structure, including glass jars in the spiraled wall. The outside windows employed a technique called 'passive solar' which uses natural sunlight to retain heat. On our way to the garden, we passed more straw-bale structures and saw some ducks that live on the property. We later viewed where Kate was staying, which spotlighted a metal awning structure covered in plants and hummingbird feeders. Next we saw the  Poem's House where Leila, Mari, Lily and Rachel stayed. Bill took a picture of all of us in front of it to capture the moment. The last stop was my straw-bale house. I immediately noticed a piano and was super happy to be able to play it. After the fascinating tour, we had lunch at the Guest House and started our first activity: making a spherical object called the Japanese Dorodango. Rachel was happy to mess with the mud that we were mixing to make the core. The Japanese Dorodango is primarily made of mud and must be carefully shaped by hand to be as round as possible. This core is left to dry, and then methodically and carefully dusted with finely sifted soil to create a crust several millimeters thick around the core. Finally, we had dinner and settled in for the night. Lastly, we went to the Main House before bed to see their YouTube channel called The Nito Project that showed all of what they have done through the years of their non-profit community.
Day 2: Trial Run of Stacking and Compressing the Bales
Tuesday: The second Day at the Canelo Project, we woke up, ate breakfast and met Bill and Athena at the Main House. We started the workshop by moving stacks of hay bales in pairs. The hay bales were made of three types of hay: wheat, grass and rice. Once we removed all the hay next to the floor foundation we stacked one column of the hay with a short box beam, four metal all-threads, nuts and washers for testing how well the hay can be compressed for a functional hay wall. We learned a lot about how to compress straw bales. We also learned what a box beam is, and how to use metal all-threads, nuts, and washers. After lunch, we worked with Oso to make measurements that were the right size for the hay bales. We then used power tools to cut, drill, nail and staple the lumber to make the box beams. We all volunteered to use the power tools, especially Eli, who was super excited to use the nail gun, but made sure to use the safety precautions. After we made the box beam, we met up with Benito and Amy, who taught us how to make Adobe bricks. We separated into two groups; one group mixed the clay, sand and straw with Benito and the other molded the bricks with Amy. With Benito, we sifted a clay soil with sand to filter any large rock or pebbles. We filled the mixer with buckets of water and straw to create the adobe. We switched groups after a half an hour in order to gain exposure to all aspects of the process. Leila and Lily really liked making the adobe bricks because they thought it was really cool that it was made of natural resources. Mari's favorite part of the day was also learning how to make adobe bricks as she had no previous exposure to earthen building. After making adobe bricks, we continued making the Japanese Dorodango with Athena. Throughout the day, we joked with the family and had so much fun learning about their practices and lifestyle.
Day 3: Day off from Working, Tour of Ranch
Wednesday: Hey everyone, it's Sophie again! Today we were taken on a little field trip to the friends of Bill and Athena. Bill introduced us to Dennis, who owned a ranch called the 47 Ranch. The group began the tour by listening to Dennis explain that he practices progressive ranching. For example, he talked to us about how of the 25,000 acres of land that the ranch uses, 95% of it is completely off grid. Some of the land is privately or federally owned, some of it is public, and some of it is theirs, however all of it is used to let the cattle freely roam and graze. Their cattle are a specific type of desert species, and can subsist on natural plants, without needing grain, GMOs, hormones, or antibiotics. Dennis then went on to introduce the group to his wife Deborah, his longtime-friend Jorge who is in training to take over the ranch, and the PHD student working with them, named Flavi. After introductions, Jorge and Flavi rounded up some calves and demonstrated how the branding process works. Despite being pescatarian, Freya was very open to learning and had lots of engaging questions for Dennis. This part of the tour was educational yet hard to watch, and had some of our group members walking away vowing to stick to vegetarianism. Others, like Jacob, decided they were sticking with burgers, but only doing so while realizing the importance to be intentional about where one's meat comes from. Lastly, we got to hear about Flavi's research on the cattle. She not only tracks the movement of the herd, but also tests the meat and identifies the percentage of intramuscular fat versus external fat. Her research is clear evidence that meat produced by desert cattle who require little to no care, is not only earth-friendly but also of a higher quality than mass-produced meat. Our last stop on the tour was at Deborah's workshop near Bisbee. She showed us the different types of blankets, rugs, and other products she makes with the wool sheared from their sheep. Then, the group got some time to explore around Bisbee before heading back to the Canelo Project. All in all, the day on Dennis' ranch was informative and exposed us to a new take on sustainability in the meat industry. Plus, after 4 ½ hours of Jacob and I cooking, the group was gobbling up golden brown shrimp and yummy coleslaw.
Day 4: Building Straw-Bale Walls
Thursday: During work today we finally began putting up the walls of the straw-bale house we're building. The group split off into 4 different teams, one for each corner. In one corner we had Leila, Kerri, and Sophie. In the opposite corner there was Jacob, Rachel, and Eli. The other two corners had Mari, Lily, Freya, and Elsie in one, and Adam and Kate in the opposite. Athena and Oso taught us how to choose the right bale of hay by making sure it had good corners and no crown. Then, they demonstrated how to thread a bale needle through each bale on the corner and tie them together. The tricky part was mastering how to tie the "magic knot", and Athena made sure to walk us through it so we'd know the secret to getting the knots to make a disappearing act into the middle of the bale. Kerri was a pro with the bale needle, and Leila and I got all the types of knots down quickly. We only had to redo our corner ties 3 times! Jacob, Rachel, and Eli managed to not only get their corner up, but fill in the surrounding walls near by them; so if this was a competition, then I might consider conceding the crown to them. Our day was filled with straw bale stacking and tying off corners, so it was a nice change of pace to finish the day with a girls' night. We were exchanging ukulele tips, and singing late night songs to recharge for tomorrow's day of compressing and plastering.
Day 5: Laying Box Beams and Compress 
Friday: The day started off with a delicious breakfast of burritos. The beans and avocado were the perfect combination with the typical eggs and bacon toppings. We all filled up and then headed out to meet Oso and learn how to drill the final touches into the box beams that we were gonna lay on our walls. In order to get each wall to fit into the other, the ends of each box beam needed to have a hole drilled through it so that an all-thread could be laid through and tightened to keep the beams together. Next all we had to do was lift the enormous and heavy wooden box beams way above our heads onto the three bale high walls (no big deal). Working in teams, we got each box beam up into its correct place with only minor injuries (a few splinters). We managed to lay them square and double checked by measuring the diagonal distance between corners. With a little girl power and elbow grease, the walls were compressed by wrenching and lowering the box beams, and the stability of the entire structure skyrocketed because of that one action. After lunch, we all headed back to the work site and spent the rest of the afternoon sifting clay and sand, and stockpiling enough to have our plaster mixture for the next day. Athena showed us all the formula of clay to sand to straw mix and we got up close and personal with the plaster while hand mixing it. I honestly didn't even feel  the freezing water and dirt all under my nails (sorta) because the experience of knowing I was making a difference, and I was learning a skill that would be all mine brought a new type of satisfaction.
Day 6: Plaster and Clean Up
Saturday: In a nutshell, today was all about plastering and rides in golf carts. The day started at 9 o'clock when we gathered next to our latest creation, the straw-bale house. But today our focus was not on that house, but on the small mobile hut which was a hop, skip, and jump away from the Main House. First we mixed a bit of plaster, combining clay, sand, water and straw together into a mixture that would cover the walls. Once there, Athena started us off with a quick demonstration on how to apply the plaster but then let go of the reins and left us to figure it out on our own. Impressively, the group picked up the technique quickly and within a couple hours we had used up all of the plaster that was made. With all of it gone, we broke for lunch and cleaned out the leftovers that accumulated in the fridge throughout the week. Once we had finished, we headed back out and made our second batch of plaster. Lily and Elsie were pros at touching up the uneven parts of walls, and Adam finished his wall with an almost expert technique. Soon we found ourselves without plaster again! Athena then moved on to show us how to create a skim layer out of a different mix of clay that seals in the base coat beneath to protect it from the weather. Jacob, Rachel, Petar, Freya, and Leila piled onto the back of Bill's pickup truck along with our tools and empty buckets. Once we unloaded everything and were back at the Guest House, Mari did Kerri's makeup and then Kerri and I went to meet with Panther, Bill and Athena's youngest son, to try and shoot a quick music video. Panther's specialty is all things digital, and took a beautiful recording of Kerri singing one of her original songs! The group gathered at the Guest House, and ended the day with a delicious dinner of portobello mushroom burgers, made by Kate.
Day 7: Final Day at Canelo
Sunday: Hi guys! It's Petar again! Today is our last full day at the Canelo Project, and it's finally our day off! We all got to sleep in a little bit, and some people had computer time to check in with friends and family. For breakfast, Lily and Elsie made a delicious quiche that everyone really enjoyed. After breakfast, we met up with Athena to clean up the workshop. Before lunch, we enjoyed hanging out some more with the family, playing games and cards in the Main House. For lunch we had Macaroni and cheese with bacon and green vegetables, which was phenomenal, thanks to Jacob and Leila. After lunch some more of us had computer time, and then we played a big game of volleyball with Bill, Athena, Oso, Amy and Panther. We took Bill and Osos' trucks to a big green field that had a volleyball net; it was the perfect location, surrounded by beautiful trees and plenty of space to run around in. The warmth of the sun on our faces and the wind blowing across our skin and hair was exhilarating. Interestingly, the field also is used by Rangers, Border Patrol and Firefighters to barbeque, play soccer, play volleyball, or just to hangout. Lily and Kerri were the team captions, and spit us into two big teams. We played for two hours! After a good match, some people went back to the house, while others continued to play volleyball and ultimate frisbee. Once we all returned to the Main House, Sophie, Lily, Leila, Rachel, Eli, Jacob, and Oso played a couple rounds of Taboo (although the game had to be cut short to make pizzas). During pizza preparation time, Elsie, Lily, Mari, and Freya wrote up lyrics to the tune of Don't Stop Building (aka Don't Stop Believing), to express our gratitude to the family with a special performance during the talent show, which we had planned for after dinner. Everyone was invited to participate in the show, and even Oso gave a surprise performance! A night full of laughs and fun was the perfect way to wrap up our time at Canelo.
This is Sophie back to share some of our final thoughts and takeaways. When reflecting on the past week, I saw that each day had a different focus, and a different phase of building. Then it occurred to me that each day was a great example of how to split up the phases of any learning experience.
For example, during our first official day at the Canelo Project we were introduced to the family, their property, and a hobby of theirs. This day of introductions reminds me of the classic "get to know you" stage of meeting someone, or starting a new phase of your life. We got a little taste of life at Canelo, similar to the first day of school when each class is an introduction of the teacher and explanation of what their curriculum will be. It was the perfect start to our time here, and got the group eager to do more.
The next workday we focused on a trial run of stacking bales and compressing them in order to learn and try natural building on a small scale. After stacking a single column of bales and measuring how far we could compress them, we learned the overall process and also fixed any mistakes we made along the way. By the end of the day we figured out that we were stacking the wrong ratio of straw bales to rice bales, and were able to plan on doing it differently when stacking and building for real. It was our equivalent of a scrimmage before the big game on Thursday.
The subsequent days each had a similar parallel; whether it was our day off which was like a 24 hour vacation, or the final work day that required as much teamwork as an end-of-the-year group project or tournament soccer game. Working with everyone at the Canelo Project not only taught me how to build with natural materials, but also taught me how to identify an important pattern of life.
Thank you for tuning in! Our next week will be filled with activism and learning about the U.S. and Mexico border.
-Sophie and Petar