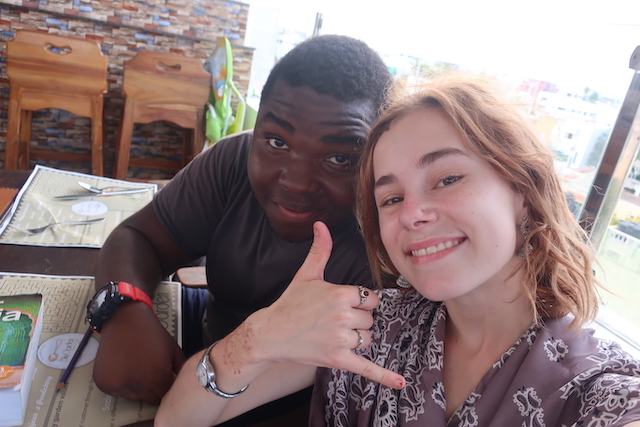 Written By Emma & Jahmeil
When we were told we were going to Sadhana forest, we had no idea where that was, and much less what it would be like. Naturally, our open-minded, optimistic group was so excited to be in an area for a full week (enough time to do laundry and actually get settled!) and we were looking forward to this majestic place which our OEs were describing. However, nothing could've prepared us for how we lived for the next week, and the lessons we would learn from it.
Sadhana Forest is a reforestation project as well as a fully sustainable community, practicing a zero-waste lifestyle, a fully vegan diet, and unschooling. The electricity is limited to the main hut and two bathroom stalls at night from solar panels. The whole community only uses biodegradable products, meaning all shampoos, body products, and even toothpaste, seeing as all of the water goes back into the forest to water the trees that they have planted. Every morning on Monday through Friday, everyone in the community wakes up at 5:30 am to participate in "seva", which is community service. Examples of the first sevas include going out to the forest and mulching trees, planting trees, uprooting invasive species of trees, watering the trees, cooking breakfast, and cleaning dishes from the dinner before. After about 2 and a half hours of work, the whole community joins together to eat breakfast, and then after an hour of eating, start the second seva for another 2 and a half hours. Examples of second sevas include sorting waste to be repurposed, cooking lunch, feeding the cows, feeding the dogs and cats, checking mosquito nets, and cleaning breakfast dishes. After second seva, the whole community joins again to eat lunch together, and then after that, everyone is free for the rest of the day to chill, go into town, or participate in the workshops offered by other community members, until dinner at 6 pm.
This schedule was quite the shock to our group; however, we adapted immediately and jumped headfirst into serving sevas and meeting the other community members. Sadhana was a melting pot of people from all over the world from all walks of life. It was fascinating to be able to talk to people and collect all different perspectives on the same concepts. Our group did struggle with the amount of bugs, (especially those bugs that were in our hut… there were ginormous beetles that were so loud we started calling them RC helicopters), the heat, the squat toilet (which is actually two holes in the ground, one for no. 1 and one for no. 2, seeing as they used the no. 2 waste as manure to plant more trees), and the hard work. However, we adapted fairly well and fast and started jumping into group activities and engaging with the community.
We enjoyed the mud pool, which is exactly what it sounds like, we loved the vegan food, seeing as it was a nice break from all the fried carbs we'd been getting in Kerala, and we played the community guitars every chance we got. Sevas served the purpose of "finding a greater sense of self through selflessness", and we all found this greater sense of self in our own ways. Some members immediately aligned with the community's values and therefore felt a sense of home right away, whereas some members struggled to connect to certain principles and values of the forest, but still found ways to connect to the community and push themselves culturally and emotionally.
We personally are grateful for our time at Sadhana because it was so far out of our comfort zone. We had never, ever done anything like this, and because of this challenge, we were able to grow as people and as a group. We definitely had to come together to support one another through this period of intense change which was unlike anything familiar to us at home. We grew stronger as a group, while also learning new perspectives and practicing having an open mind.
As a group, we learned not only how much we have to be grateful for at home, such as showers and laundry where we don't have to pump our own water, AC, and houses with walls so mosquitos don't come in, but also how much we don't necessarily need at home. We learned how to live minimally, and how we don't necessarily need these accommodations to be happy. We found joy in little moments every single day, from talking about world issues with new friends, to teaching a salsa workshop (Emma and OE Adam!), to having bananas and jaggery syrup as a sweet snack, to cooking and cleaning all together as a community, and then on the last night, getting all dressed up in makeup and new dresses from Auroville and serving food to the local community, followed by a dance party late into the night.
Sadhana gave us the biggest gift we could've asked for: a space to learn and grow. Although it wasn't necessarily easy, we were so fortunate to learn from our struggles. We have each had a belief of ours challenged by the forest, and we have had the opportunity to be out of our comfort zone, and push ourselves into a new realm of global awareness. We are so thankful for our time at Sadhana Forest, and are also ecstatic to be back in the city with AC, hot showers, and most of all, to still be sticking with each other.
Till next time!