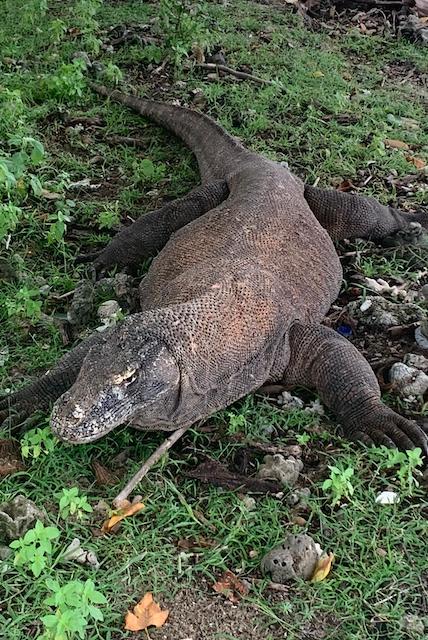 Written By Lucas, Latitudes Year '20 Indonesia
Sydney and I had planned to travel to Komodo during our time volunteering with the North Bali Reef Conservation, so we had the idea to ask Kyle, our coordinator, if he had ever been, and if he had any recommendations. He said that he hadn't been, but that in a few weeks, he and the founder of the organization, Ketut, were going to travel there. To our surprise and excitement, they invited us to go along with them.
We drove to Denpasar, and flew from the airport there to Labuan Bajo, a town on the island of Flores. It's the town where most tourists coming to visit Komodo stay. We planned our trip with a local dive shop, who offered one day of diving and one day of snorkeling, hiking, and dragon spotting.
We woke up at 6 the next morning and got on a boat. That day we did 3 dives, one of which at a place called Manta Point. Here we saw 4 giant manta rays. I had been told they were huge, but seeing them in person took my breath away. They were huge, and moved fluidly with the current, almost as if they were just an extension of the seawater that surrounded us. It was a long and eventful day of diving, and by the end I was completely exhausted. I went to bed early, full of excitement for the next day.
We woke up at 5 the next day and got back on the boat. Our first stop was Padar Island, a small, hilly island that attracts many tourists with its stunning viewpoints. Trekking Padar was incredibly fun, and I got loads of beautiful pictures, but all I could think about was the trek set for later in the day on Komodo. Ever since I was a kid and saw a picture of a Komodo dragon for the first time, seeing one in real life had become my top bucket list item.
We spent the next few hours on a pink sand beach, and then set our course for Komodo. When we arrived, we were greeted by a group of park rangers. They explained to us the protocol for the trek, and we began. First we passed by a watering hole. It was a small hole in the ground where animals like bore and deer came to drink. I missed the rest of the guides presentation because I wandered off a bit looking for dragons. To my disappointment, I found none. Next we reached the plains where the dragons came to sunbathe. Again, I was scanning the shrubbery for dragons the whole time we were stopped.
On our way to the cafe area, I saw movement in the trees. I got excited and got everyone's attention. We discovered it wasn't a komodo dragon, it was a dying pig, probably bitten by a snake according to our guide. It was mildly disappointing, but also made me feel like I was in a nature documentary.
By the time we reached the cafe, I felt utterly defeated. I had this funny feeling we weren't going to see any dragons after all. Then, as if triggered by my pessimism, someone shouted "woah thats a big one." And there she was. A gigantic female, laying in the sun. I was so excited and had to resist the urge to go and pet it. We got a bunch of cool pictures, and decided to try our luck at the beach. On our way to the beach, we saw another, sitting lazily under a tree. She was even bigger than the last, probably 8 or 9 feet long. We took some more great pictures, but had to keep moving towards our lunch spot. Then, right at the entrance we saw the third. This one was hungry, and I got a great video of it running towards us, before catching a glimpse of some deer and deciding they'd make a better meal. As we went to lunch, I felt indescribable excitement having seen my favorite animal in real life.
The rest of the day was made up of snorkeling and hanging out on the beaches in the sun. All in all it was probably the most amazing weekend of my life.