By Lauren Shelfo
Hola from the AMAZON RAINFOREST! We arrived here at Arajuno Jungle Lodge on Sunday, October 8th after two bus rides and a five minute canoe ride down the Arajuno River to our home for the week. We were kindly greeted by the owner Tom Larson, and his wife, Charo, who provides delicious, natural, and healthy meals three times a day.
This week consisted of four hours of volunteer work in the mornings, rinsing off in the river before lunch, and educational adventures in the afternoon. Most nights consisted of delicious candle-lit dinners and post-dinner card games, Bananagrams, bonfires, or star-gazing.
Monday was MATTEO'S BIRTHDAY! In the morning, we planted 75 canela (cinnamon) plants that hold great medicinal properties. In the afternoon, the group went on a Spanish-speaking guided hike through the Amazon Rainforest. We saw a bullet ant and big spiders. We tasted lemon ants. We found petrified wood in a stream and learned about a tree with the hardness property of a rock. We also learned that in this particular part of the forest, there is an incredible diversity of fauna and flora, yet the soil in the area does not provide sufficient nutrients to support diverse life. How does this selva thrive? Bacteria throughout the forest breaks up particles around plants and trees to provide nutrients and sufficient soil for life to thrive. After dinner, we celebrated Matt's birthday with not one, but TWO cakes because he accidentally stepped on his first one getting off the canoe the day before. We ended the night with a beautiful musical jam session on the small, sandy beach next to the river under the immensely star-lit sky. Brian, Will, and Julian played their guitars while the rest of us sang along.
Tuesday morning we took an hour-long scenic canoe ride down the river to an indigenous Kichwa-speaking community. We helped plant 24 canela (cinnamon) trees next to their school, and 25 bamboo trees by the river. The cinnamon trees will help their community self-provide certain medicinal aid and reduce their doctor visits and medical bills. The bamboo trees will help with the erosion of the land as well as many other helpful properties. We ate lunch in the community where we were fed full-bodied fish, grubs, and sugar cane. We also watched cultural rituals and cooking techniques. We danced with children dressed in leaf dresses and grass skirts, we used a blow dart gun, and Cole embraced cultural exchange by teaching the community how to slackline.
Wednesday morning we dug a giant hole for four hours to create a water reservoir that would collect rainwater and hold it for use around the Arajuno Lodge. In the afternoon, we visited an animal rehabilitation center where rescued animals are cared for until healthy enough to be released. We saw various monkeys, parrots, mini tarantulas, a giant frog, tapirs, and small jaguars.
Thursday, we hand-caught over 150 fish from a shallow water reservoir and threw them over a small hill into a larger water lake on the Arajuno property for them to live until needed for food. Miki impressively kept track of the number of fish caught. Naomi impressively made a point to always catch three or four fish at a time. The initial sight of our group diving into the muddy, shallow pool with a hundred fish flopping and splashing and slipping out of our hands was unforgettable. After the successful fish transportation, we finished the volunteer morning digging the giant hole for the rainwater reservoir. In the afternoon, Will, Matt, Miki, Anya, Josh, Brian, Julian, and Lauren went tubing down the river. It was unforgettable, peaceful, and beautiful.
Friday morning we cut down giant bamboo trees. We stacked the large logs of bamboo to store for construction and other uses. We also replanted the bamboo shoots to create a bamboo nursery. We learned that bamboo is a great sustainable resource. It is a grass; therefore, cutting down bamboo trees does not harm the land because the cut trees will just grow back. Bamboo also stores water, and it is a durable source for construction and tools. It provides habitats for animals as well, and a hectare of bamboo pulls 3x as much carbon out of the atmosphere as a hectare of native forest. In the afternoon, Claire, Dana, Cole, Christian, Renee, Chris, Matt, Will, and Kate went tubing down the river, and it stormed during their ride.
Saturday was a free day of bonding and soaking up our last experiences in the Amazon Rainforest. Dana and Christian, our captains for the week, did a great job leading and delegating our group. For the student-created group role of EG3K (Empathetic GameMaster 3000), Will led an intense and exciting group game of Assassin that lasted throughout the week. The ultimate winner was Chris. Josh, being the sweep and risk manager of the week, kept us safe, and Renee, being the floater, supported individuals mentally and physically when needed. Tonight at our group meeting Claire will update us on U.S and world news for her role of "Noticias". And tomorrow, we will sadly leave the Amazon and head to Peguche with travel logistics planned and led by the "Chofer" role, Anya. We love and miss you all 🙂
"What is one word that describes the Amazon?"
Brian: AMAZonING
Dana: Wild
Josh: Extravagant
Cole: Wet
Christian: Lush
Anya: Green
Claire: Vibrant
Will: Juicy
Matt: Magical
Chris: Reinvigorating
Naomi: Relaxing
Miki: Calming
Renee: Shrubbery
Lauren: Utopian
Kate: Diverse
Julian: Sweaty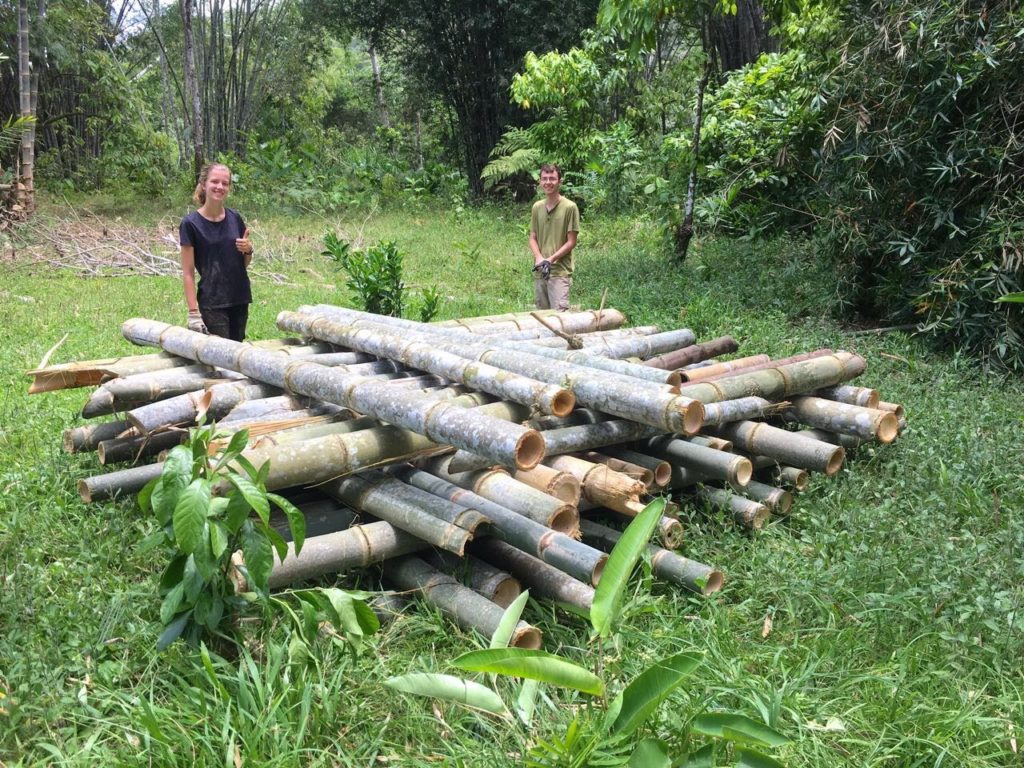 Giant bamboo pile!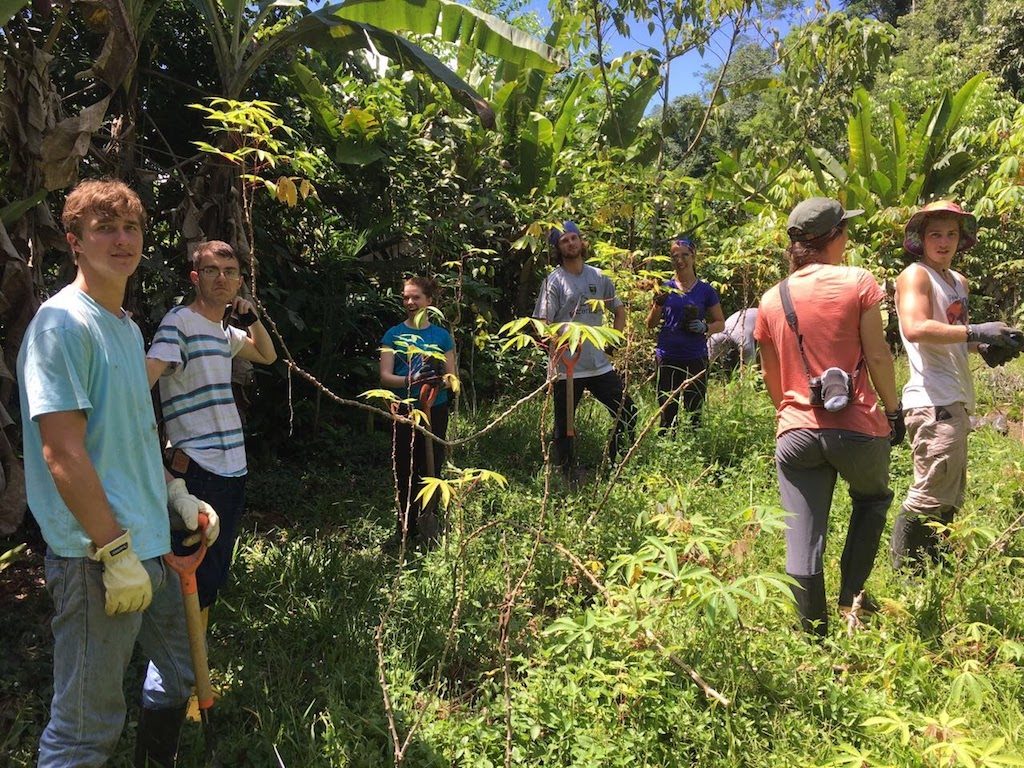 Planting cinnamon trees in the chakra (planting field).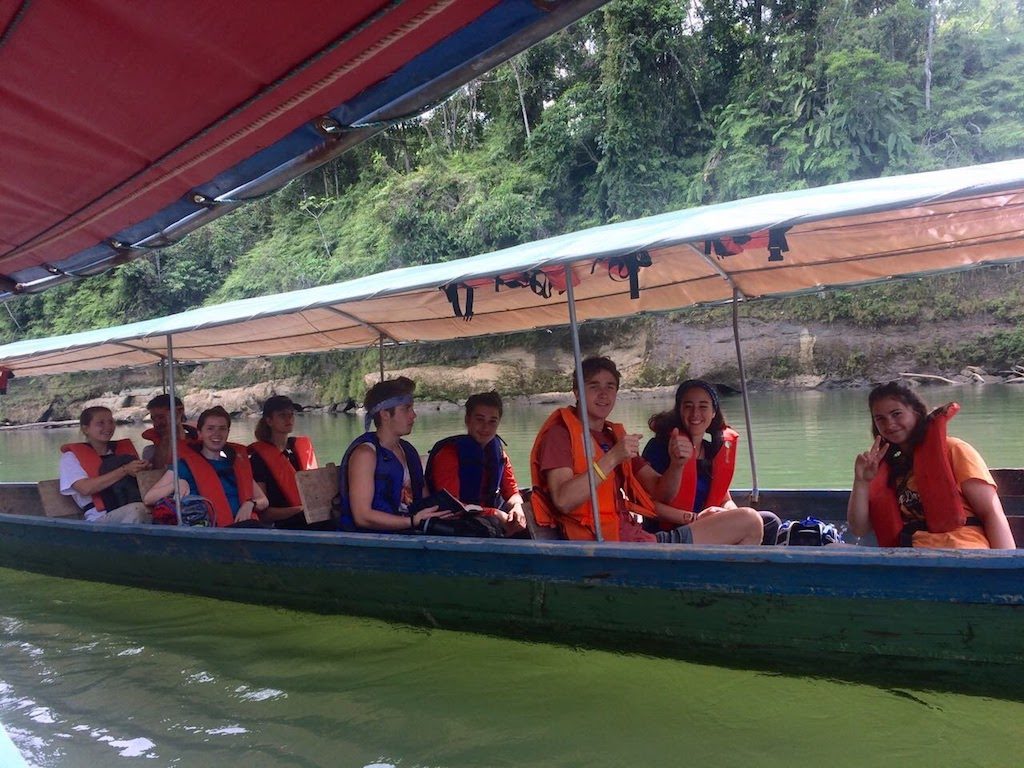 Commuting to work.
Cultural exchange! Cole teaches our Kichwa friends how to slack line.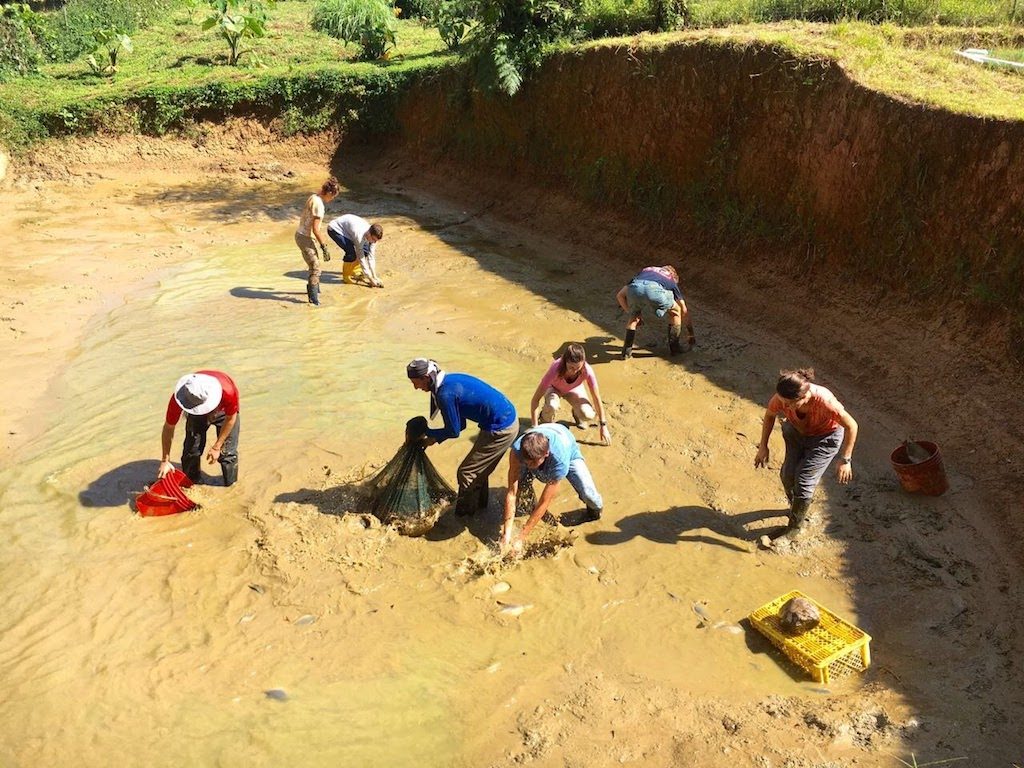 Another work project: catching close to 200 fish for transport to an adjancent fish pond and for the next day's lunch!
Inti family with Tom and Charo, our amazing hosts at the Arajuno Lodge.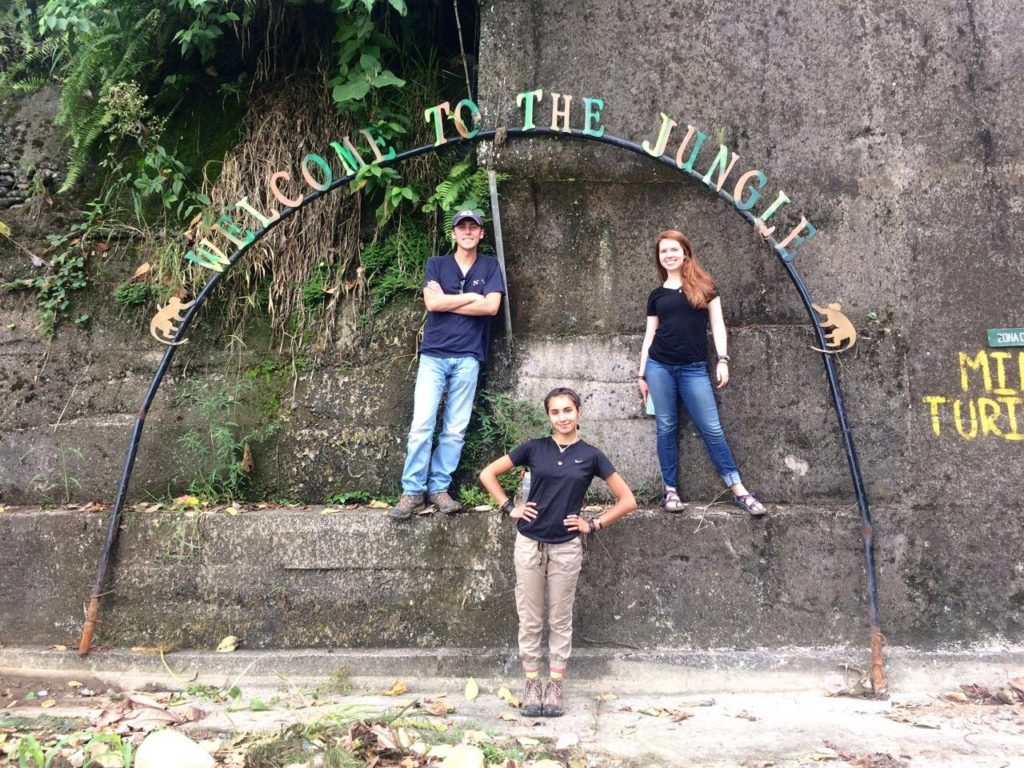 BIENVENIDOS A LA JUNGLA!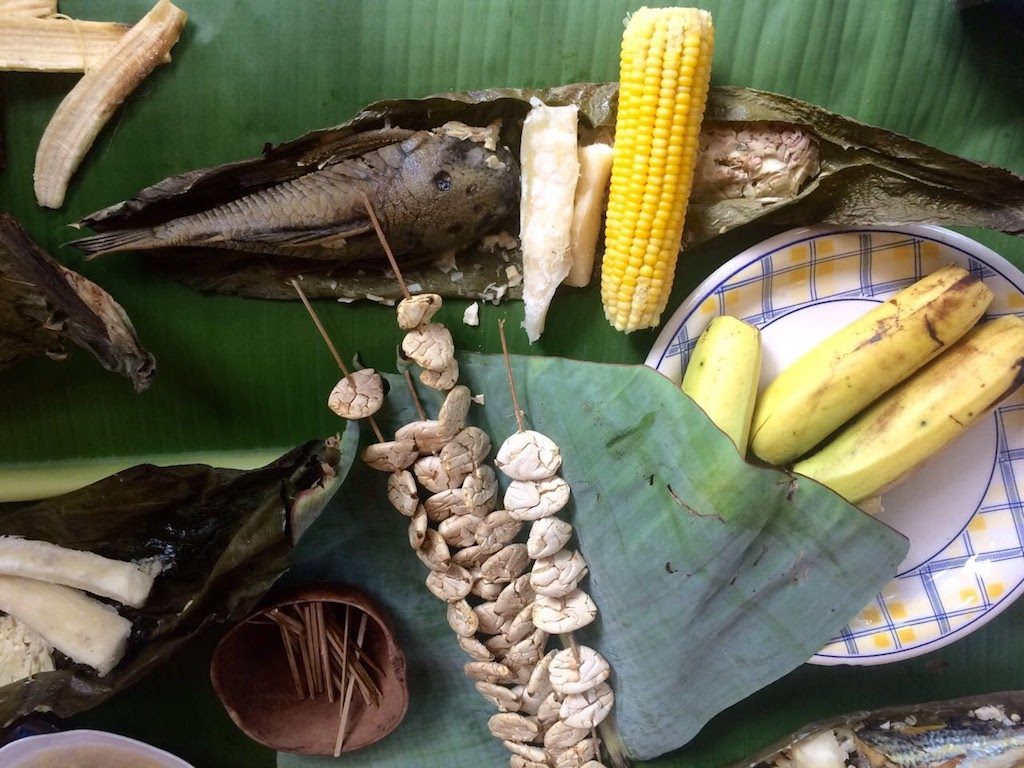 A typical lunch in the Kichwa community: River fish cooked in bijao leaf, white cacao, corn, banana, and sugar cane.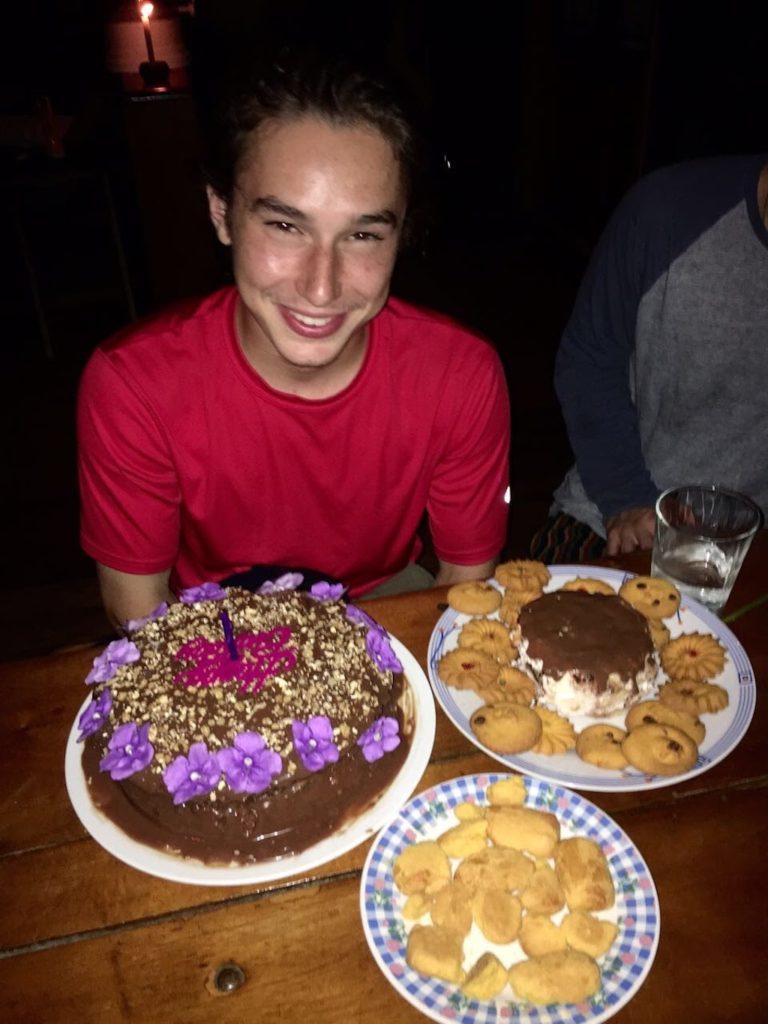 Mateo's 19th birthday with a delicious chocolate cake made by our host, Charo!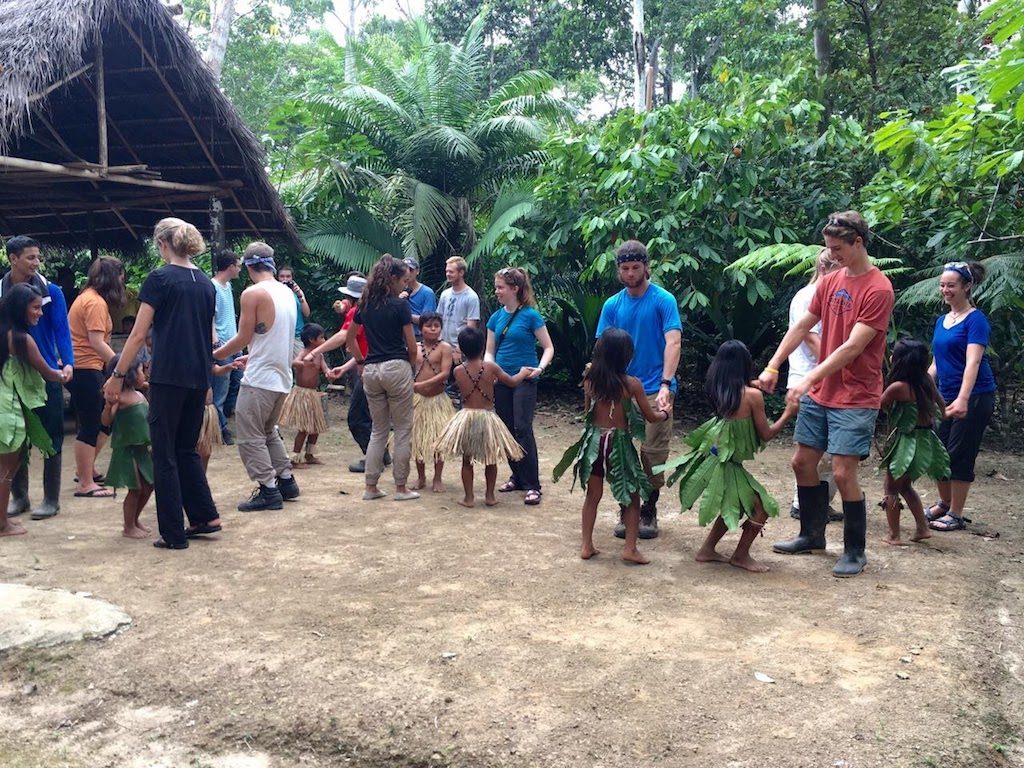 The children in Mirador performed a traditional dance and then danced with us!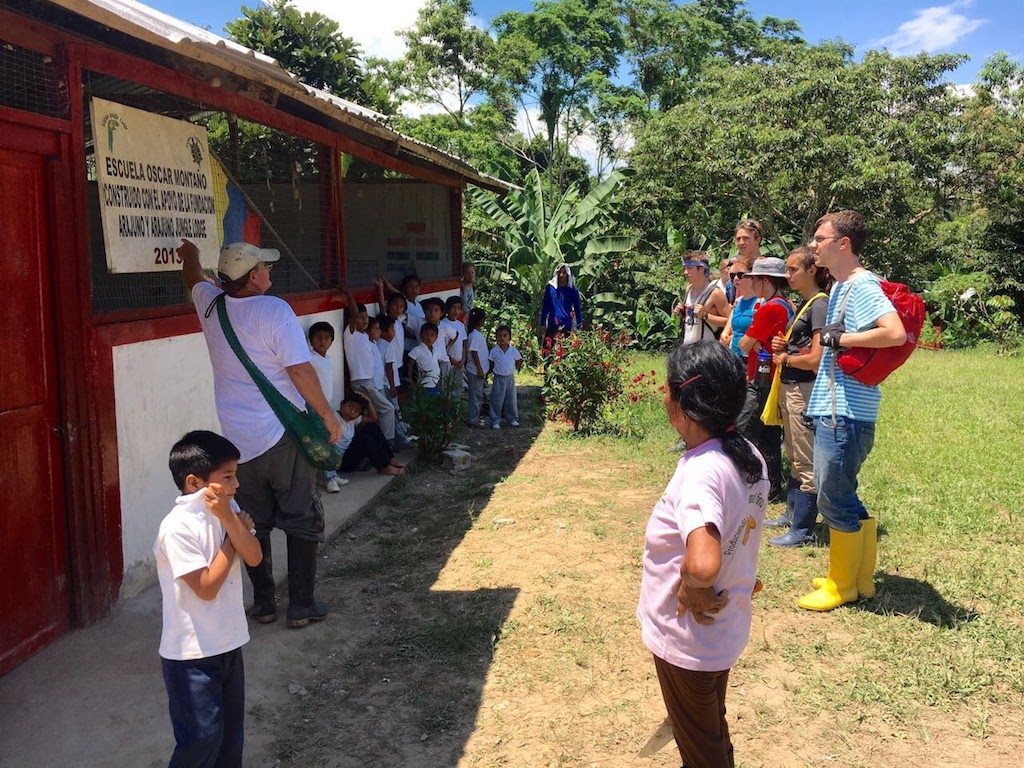 Our second day was spent working in the Kichwa community of Mirador, upriver from the Arajuno Lodge.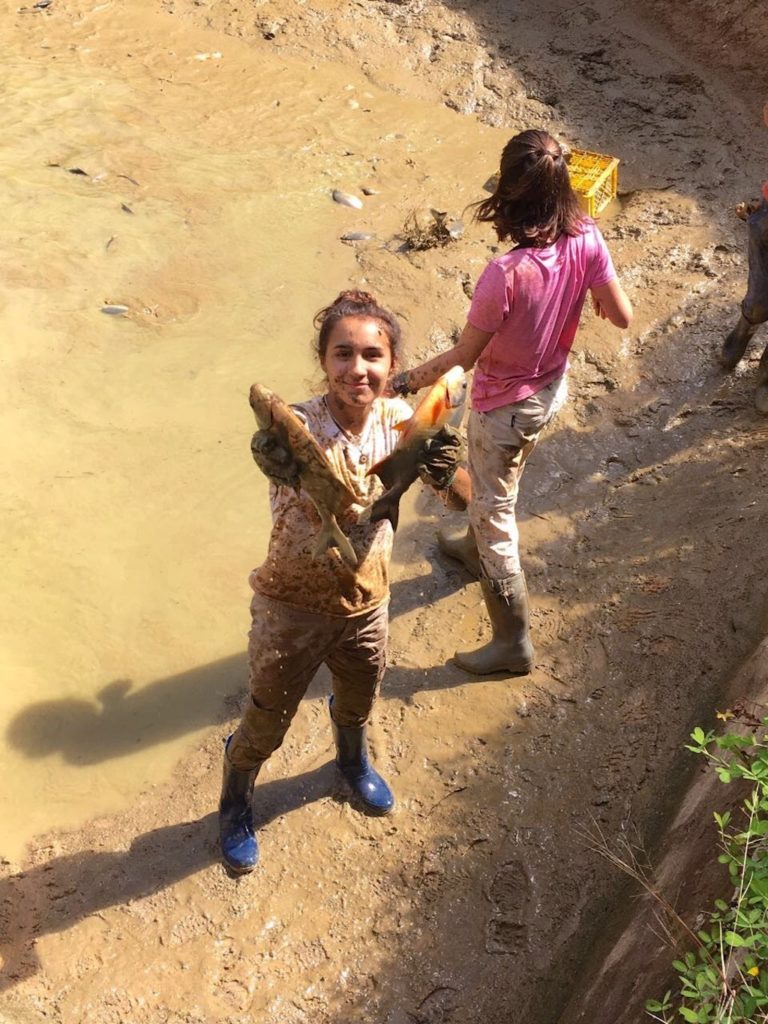 Naomi caught the most fish!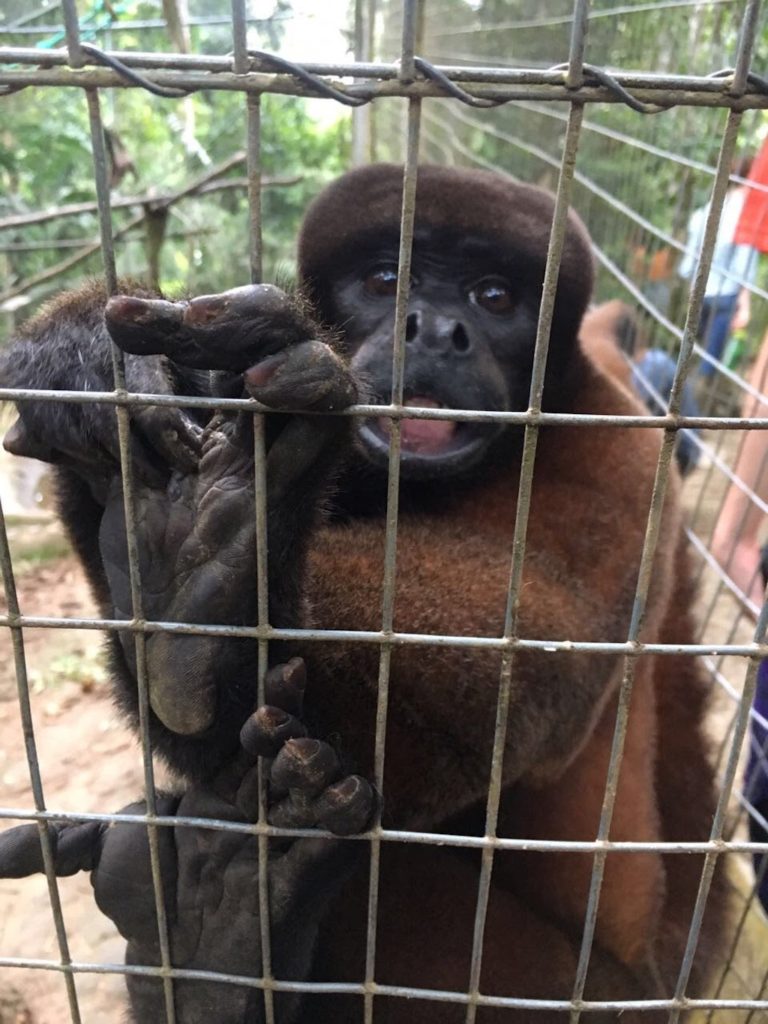 A new friend at AmaZoonico, an animal rescue center located near the Arajuno Lodge.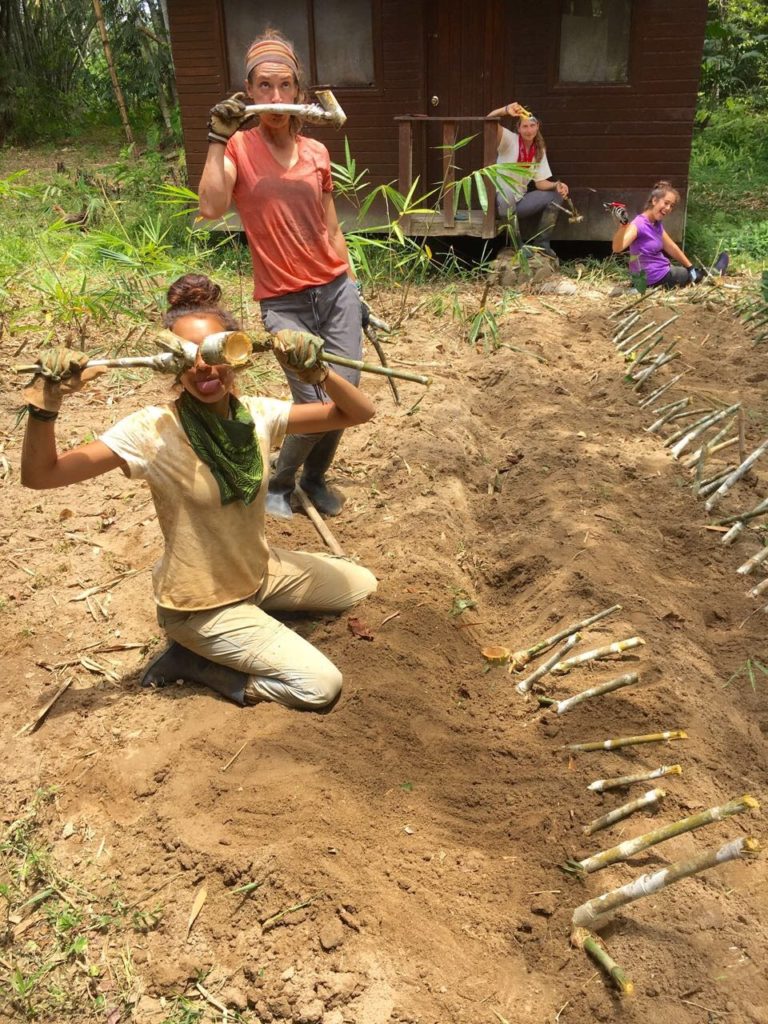 Stocking the nursery!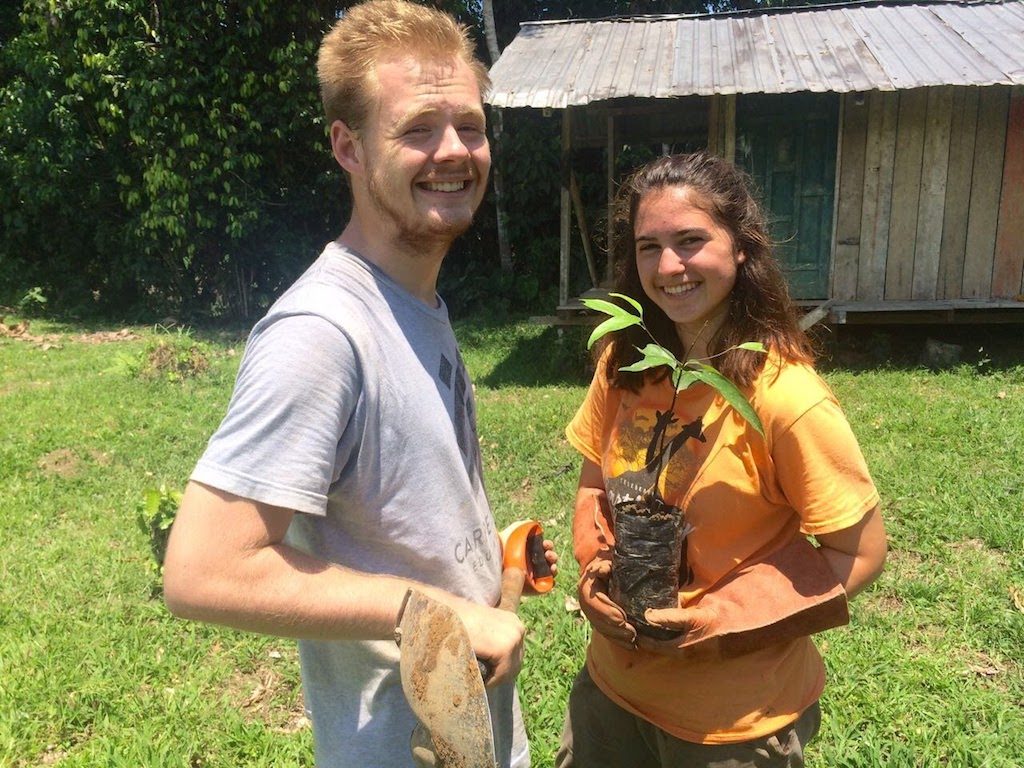 Christian and Dana plant cinnamon!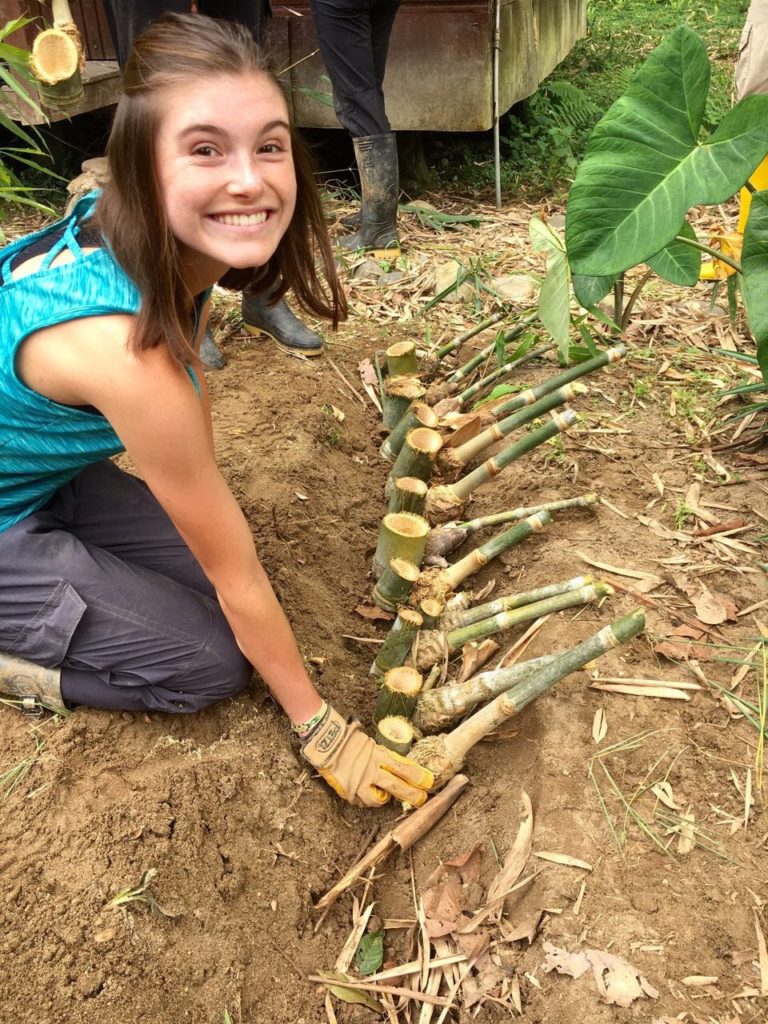 Lauren restocks the bamboo nursery that allows the Arajuno Foundation to plant giant bamboo along the river, greatly improving streambank stability.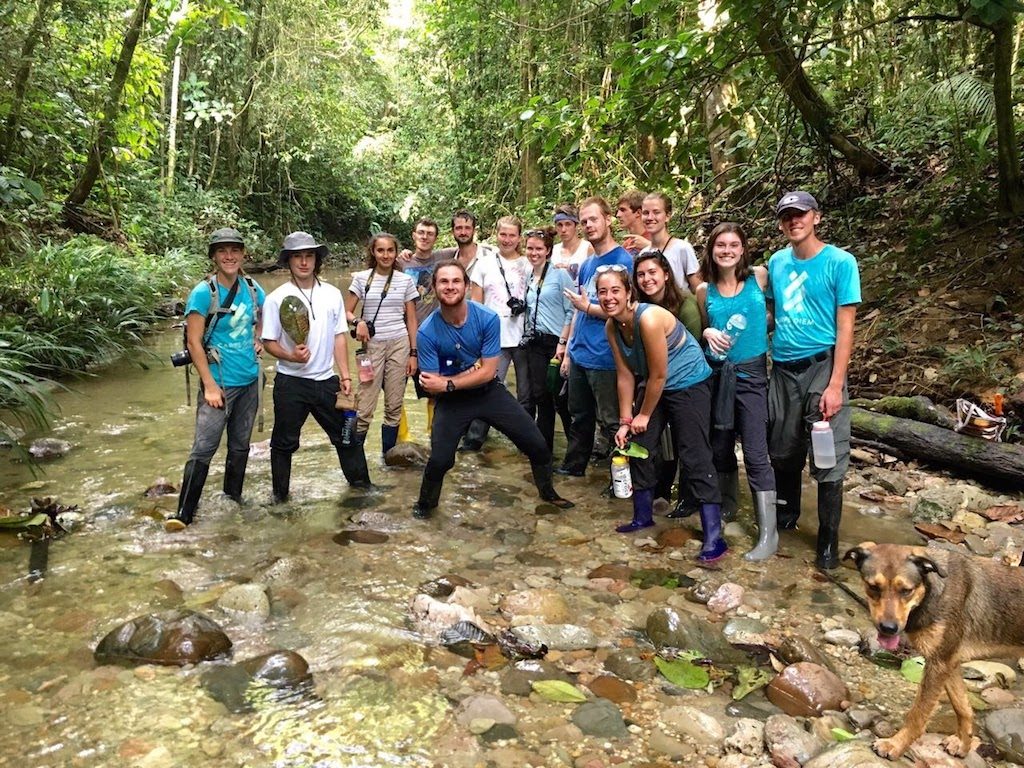 Our group reunites halfway through a guided walk through primary and secondary rainforest.
Brian rides a super strong liana through the forest!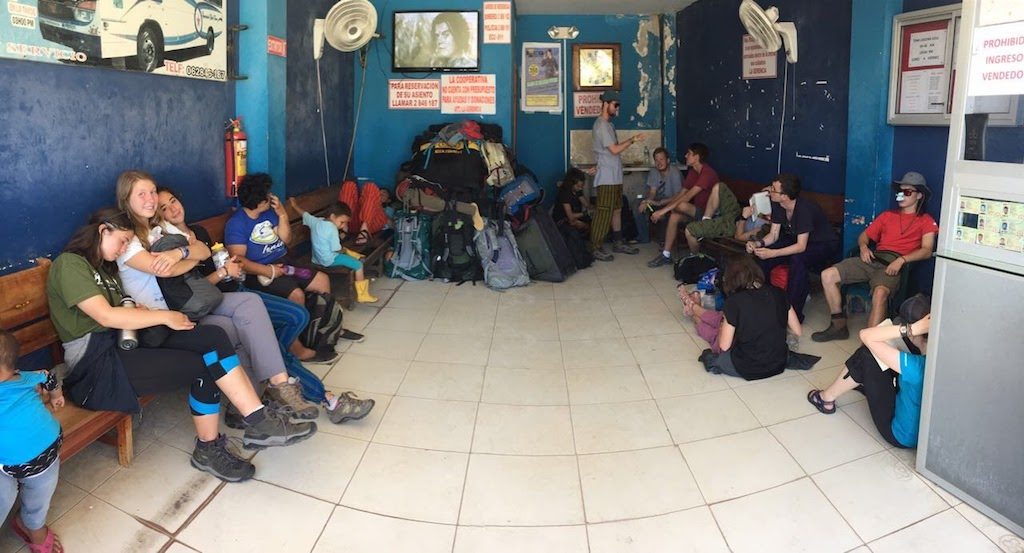 We love our bus layovers! This one was in Tena, en route to the Arajuno Jungle Lodge. Check out the beautiful bag pile!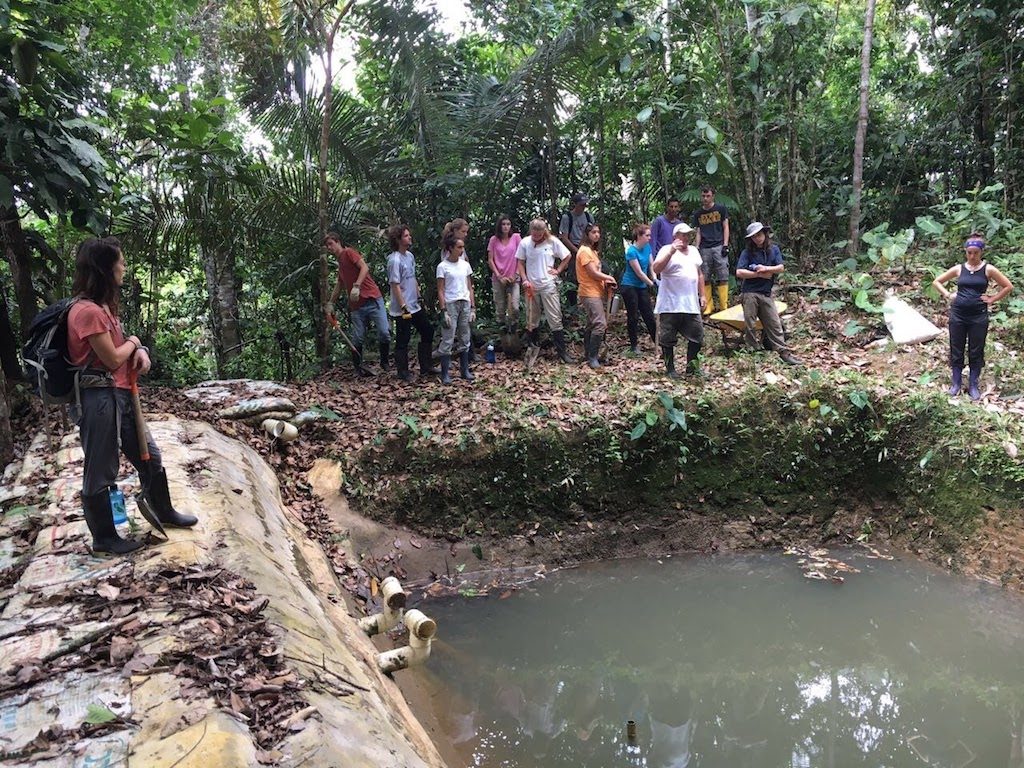 One of our work projects: deepening the upper reservoir of the Arajuno Lodge's gravity-based water system.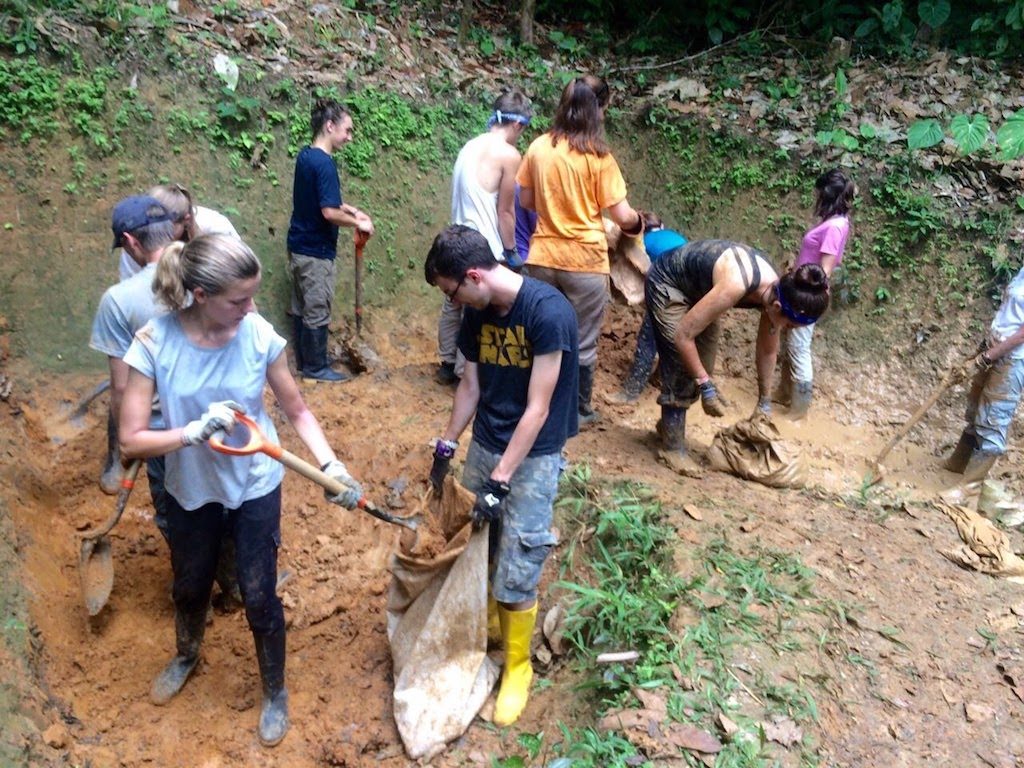 Two days of digging, sweating, and teamwork added a ton of capacity to the water system!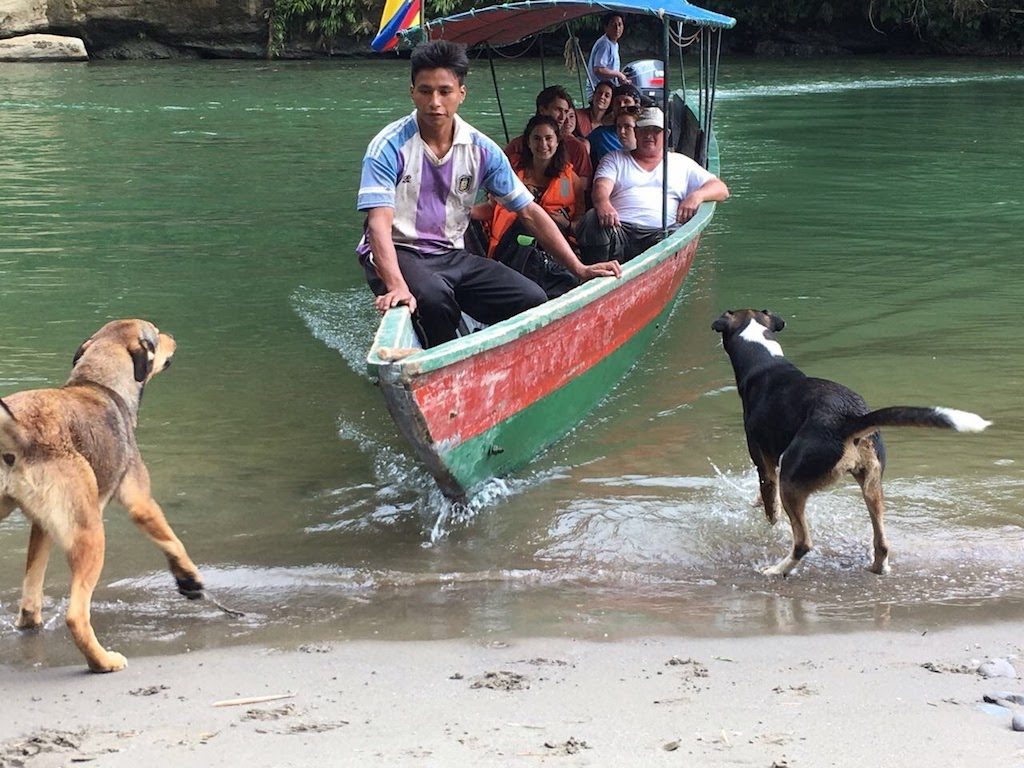 The welcoming committee.