By Naomi Garcia
Monday morning in Junín. High energy breakfast. Why? Biscuits, jam, AND cream cheese! A simple sounding breakfast for us back in the States but such a delicacy for us here (some even snagged jam-filled bread rolls in their pockets for later… Shhhh). After fueling up our bodies, we went on a five-ish hour hike through the cloud forest. Surprisingly, the clouds were so dense, we got to stand on them! Kidding, kidding… but we did get to walk on plenty of horse poop and mud, see breathtaking views, and a number of fascinating waterfalls. Sadly, within the past two years, people have abandoned their farms in this mountainous area to move to cities or to work for mining companies.
We actually walked through a mining concession and an abandoned farm; it was sad to see abandoned crops like naranjillas and interesting to often run into mining workers on the hiking trails. Something else we ran into was a snakeeee! Chris eagerly picked him up and carried him for quite a ways… I´ll leave it up to you to guess if the snake was dead or not. Anyway, the first waterfalls we saw were side-by-side, coming from two separate rivers. The waterfall on the left appeared to be clear and pure, whereas the one to the right had a bright orange tint to it. The reason is, when miners dug deep enough, the iron-rich water from underground aquifers was released by pressure and leaked into the river. Pretty contaminated water… on that note… two wild, shirtless Chris and Julians went for a dip under the waterfall. Good thing they did so under a completely different one, 100% out of harm's way. Cold and continuously being misted by the waterfalls, we all ate lunch together. So secretly, the guides had packed food for all of us into their packs without us knowing! Twas a pleasant surprise; we were all starving.
When we returned to the lodge, some went into Junín, the local town and some just relaxed before our upcoming travel day. THE NEXT DAY ARRIVES! TRAVEL DAY – EVERYONE'S FAVORITE DAY! Bumpy, bumpy, bumpy, butt-breaking bus rides to start off the day. The only thing that made up for us breaking our tailbones was the fact that the bus had entirely open windows that provided us with a refreshing breeze and a beautiful view of the landscape. When we arrived in Guayllabamba (look at that spelling!), everyone chilled, went to internet cafes, and searched for food. Unluckily, Brian, Chris, Cole, Will, and Josh got stuck with fruit smoothies filled with salt rather than sugar, while others lucked out on deep-fried street cart empanadas. Thank you, Matt, for the amazing empanada discovery.
After the food hunt, everyone returned to the hotel to TRY and get at least 3-4 hours of sleep before waking up at 1:30 am the next morning. 1:30 comes around – WAHOO ANOTHER TRAVEL DAY! Half the group hardly awake and the other half wide-eyed, we loaded into two vans and head to Quito to catch our flight for Lima. When we arrived in Lima, we all got off the plane and immediately started to sing and dance because we were so overjoyed to finally be in Peru. Will even pulled out his ukulele and started playing it in the middle of the airport! Okay… there was no singing or dancing, it actually didn't even hit us that we were in Peru because we were so tired, and Will, unfortunately, broke his ukulele on the flight. There's good news though. Matt and Lauren finally got the opportunity to buy new water bottles after weeks of being waterbottle-less, Dana bought a pretty rad shirt that says "Peru", and Naomi and Cole DIDN'T get sick after eating two raw eggs! Also during the layover, we all went on a food tour through Lima. We ate delicious potato-pie-looking-thingamajigs, fresh ceviche, fruit from a local market, chocolate from a cacao factory, and Peruvian donuts!!!!!
Sidenote about the group: we're slowly turning into savages when it comes to food, especially sweets. So please, don't be surprised if your child comes home and 1. Spoons pure sugar in their hand and slowly licks it till it's gone 2. Eats chocolate alone in the corner of their room or 3. Constantly whispers, "necesito un BonBon… necesito un manicho bar".
We returned back to the airport and took our second flight of the day to Piura. Quick and easy flights, and one long, bumpy bus ride to our final destination. Our final destination for the week? Los Lobitos! A surfing town on the coast. While we were all half asleep from the long day, we were welcomed by our new hosts and served dinner.
We started off the next day by visiting an ancient cemetery. The desert and mining zones surrounding the cemetery give it a depressing, abandoned feeling. Aside from the ancient cemetery, we also visited the new one that most people visit. On a brighter note, after walking around in the dry desert heat, we all checked out the beach for the first time! There was plenty of rad surfers hitting some gnarly waves and a crazy forceful wind that blew sand in every place you don't want it to be. The rest of the day consisted of lunch, hangout time, and zzzz's that we still needed to catch up on.
The next day, half the group split up and sketched mural ideas with energetic children at a local school while the other half was at a WAVES site cleaning up trash, cutting bamboo rods, and moving rocks. The heat was blazing, wasps were buzzing, and a numerous amount of Peruvian hairless dogs were accompanying us. For some, the sight of the flakey, dry, sunburnt type skin of the dogs was worse than the heat.
We all ate lunch together at the WAVES for Development Office and after, the first group of guinea pig surfers went out for the first time! WAHOO! Definitely was a challenge through the week with the huge waves and freezing water. While they were surfing, Me, Renee, Miki, Anya, Cole, Claire and Will, along with children of the town, painted the wooden panels for the mural white. The kids took the reins and were painting all of the panels while two or three of us were rushing around trying to fix the giant globs of paint that they didn't bother smoothing out. But, the stress of the uneven paint and our early-phase sunburns were quickly forgotten when we saw Will in a tree, throwing down fruit to the little open hands of children. When Will returned to the ground, he still ended up lifting up kids to grab the fruit themselves. Twas adorable. The afternoon came to a close with a beautiful sunset and we all made our way to dinner. Cole and Claire, our captains for the week, declared a Spanish-speaking only dinner which was very helpful for our Spanish. After that, the night came to a close with games such as jenga, solitaire, and bananagrams led by the bananagram queen, Miki.
The sun comes up, we wake up, and another day has started! Most of the group walked around the beach and collected trash while a few went back to the WAVES office to get the mural materials ready. After the trash crew finished filling their bags, they relaxed on the beach and read, sunbathed, talked with our new friends from WAVES, and watched surfers. Some tried to nap but the endless sandstorm was too much to bear. During the mural crew's work time, Christian bravely took on the task of Jedi-wasp-swatter and swung his shovel this way and that until all wasps were defeated and dead. No, he did not get stung… he was just THAT good. In other news, there was a soccer tournament among different youth teams of Lobitos. There were Olympic rings displayed, a boy with a torch, girls in gowns wearing crowns and flowers, a massive amount of cake, referees, and announcers. It was quite the ordeal. We left not knowing who won but I'll go with the team we all placed bets on: the blue and orange team. Again, surfers surfed, food was served, food was eaten and at the end of the night, a documentary about a champion surfer was played for us.
The strength of the champion surfer from the night before rubbed off on us and we became champion hikers the next morning! After breakfast and before lunch, we trekked through the desert and on the beach for hourrrsss. We climbed hills and hills of rock and sand and saw plenty of oil drills in action. On the beach, we saw (and smelled) a numerous amount of dead seals, surfing worthy waves, and our two unofficial tour guides (two dogs) playing in the water. We passed through big caves halfway through the hike, and the typical daredevils Will, Matt, and of course Kate, climbed up on a high ledge outside of one of the caves. It's said that one cave leads all the way to Ecuador if you walk through it, and the other is said to be occupied by ghosts and spirits.
After a short talk on the history of the two caves by our official tour guide, Henry, we did the deed of picking up trash. We've become experts. We picked up styrofoam, abandoned sandals, light bulbs, nylon ropes, bottles, wrappers, and plenty of other waste. With giant bags on our shoulders, we scaled more sand dunes and rock hills back to the main dirt road, which we followed back to our home for lunch. When we finally got back, we chowed down on guacamole-filled bread and chatted about our new Chaco tans. The rest of the day was the typical routine; the surfer crew surfed and the mural people continued painting. A GRAND recognition goes out to Josh, who generously bought a whole container of homemade alfajores cookies with his own money to share with the group that was working on the mural. It was greatly appreciated! Then when we all reunited, we had a group meetinggggg! Always a good time. Unfortunately, I cannot share too much information about our discussions during the meetings… highly confidential. However, I'm sure we will all be willing to exchange some of our confidential information for some homemade mother's cooking when we return to the states.
For nighttime activities, we all ate dinner and went to bed. Please excuse me if the nights don't sound interesting but this is truly all we did! Us young adults have loco dias that require us to recharge our batteries.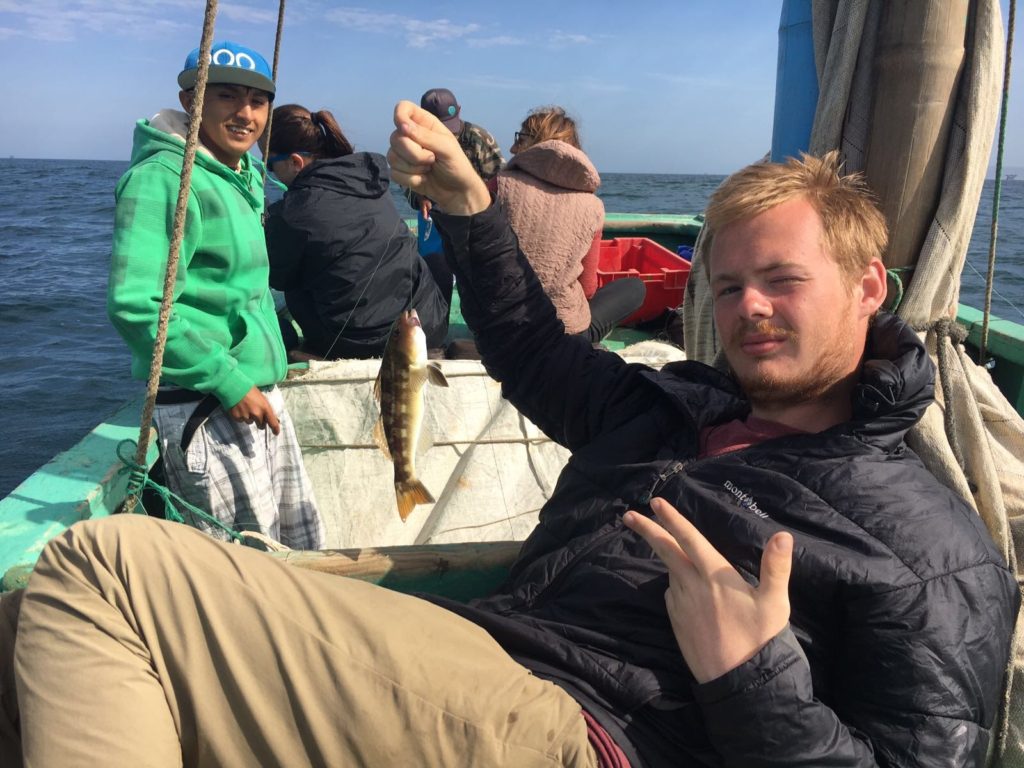 Christian displays his fish that was soon turned into fresh ceviche.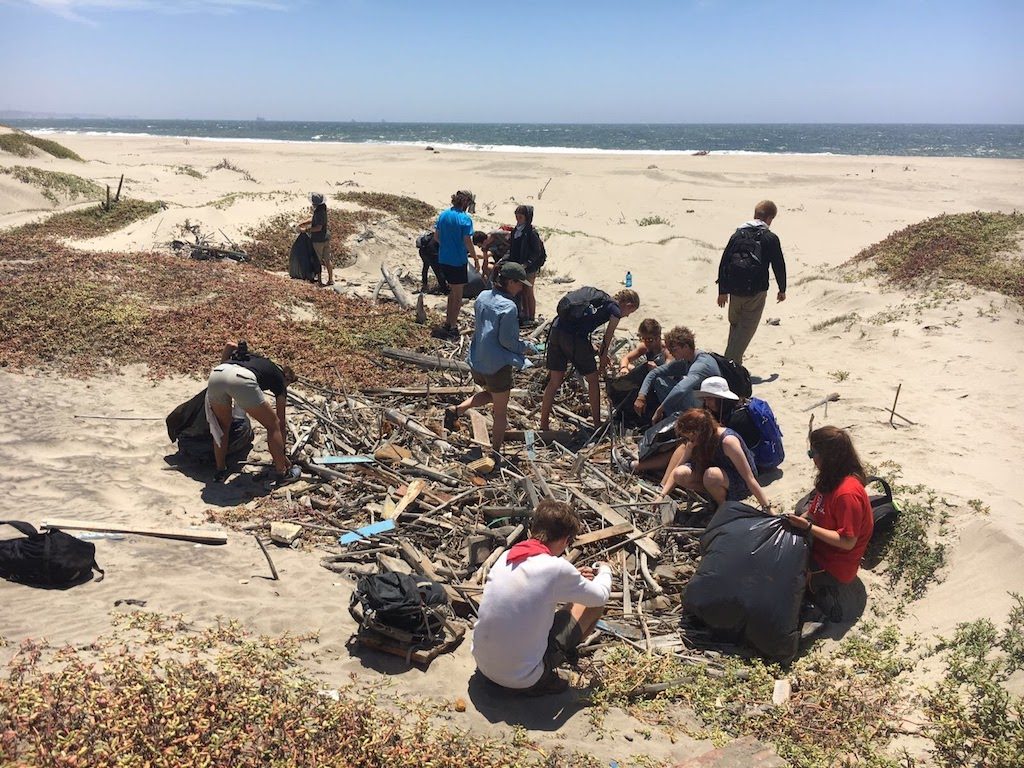 Each clean up during our hike to the caves.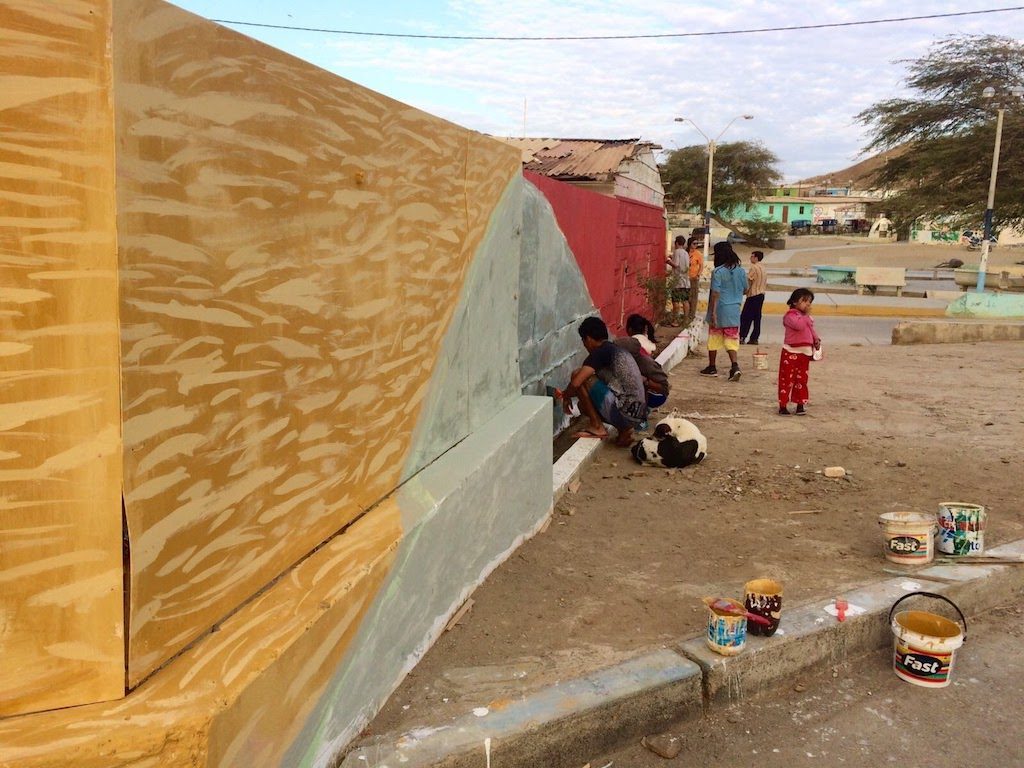 Working with local kids on the community mural collaboratively designed by the kids and our Inti group.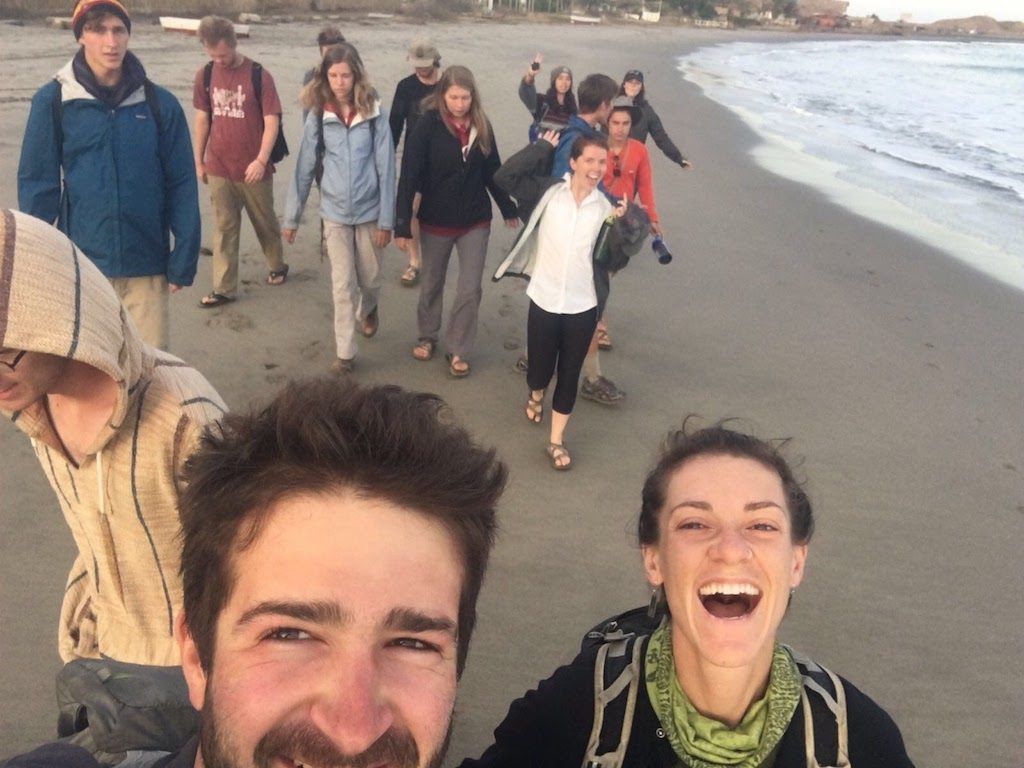 Enjoying beach life on an early morning walk.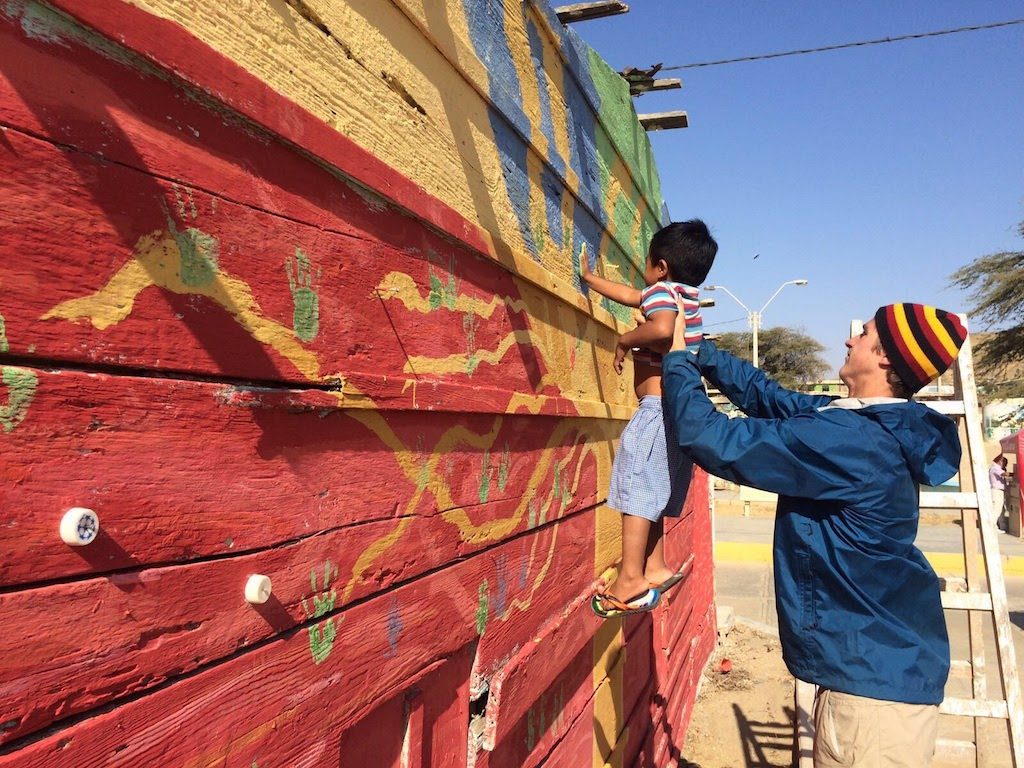 Will gives a lift to help a local kid paint the top branches of a tree on the mural.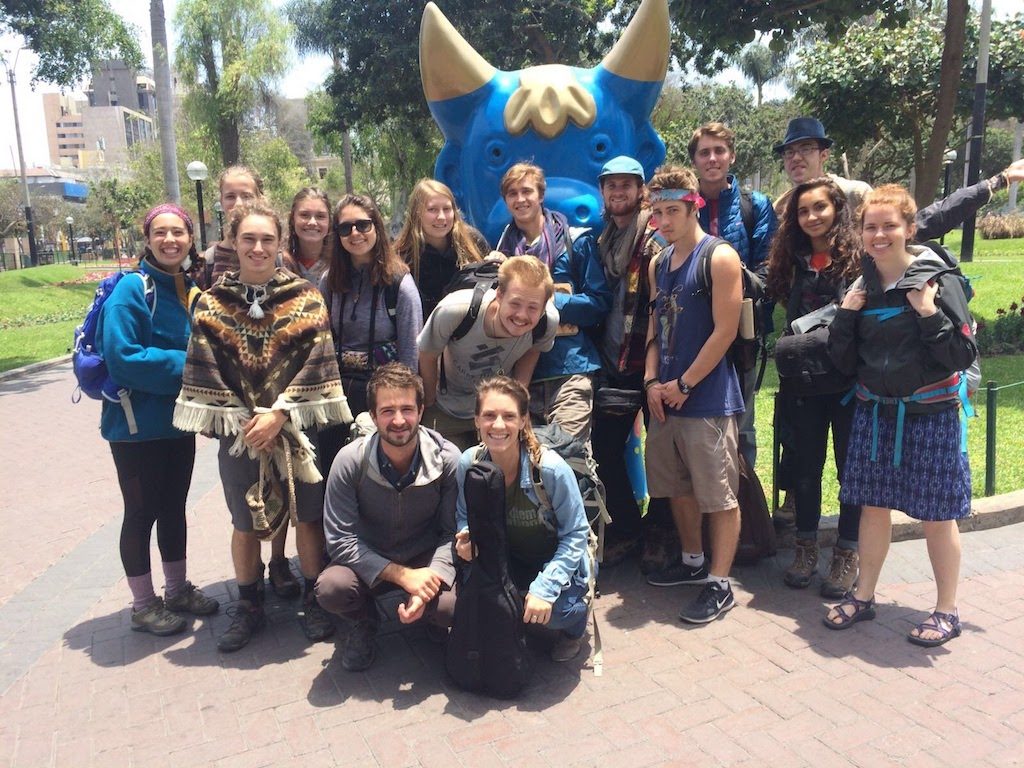 The group enjoys a food tour in Lima during a very long layover on the way to Peru!
Matt after one of his best runs, riding a long wave al the way to the beach.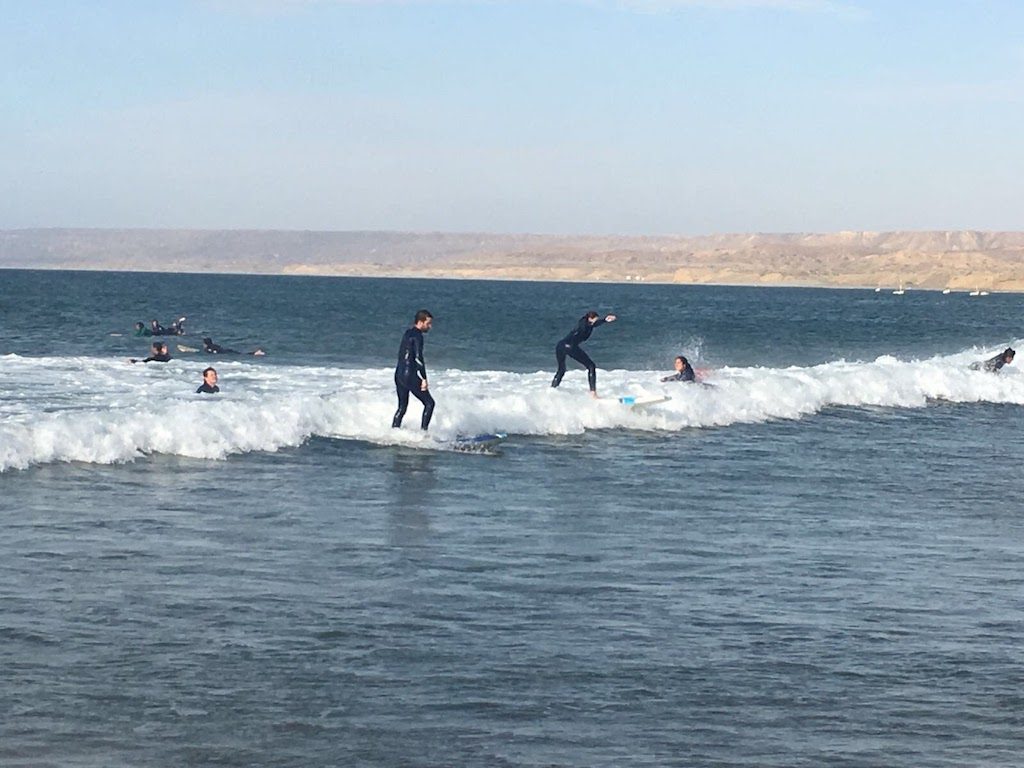 More surfing.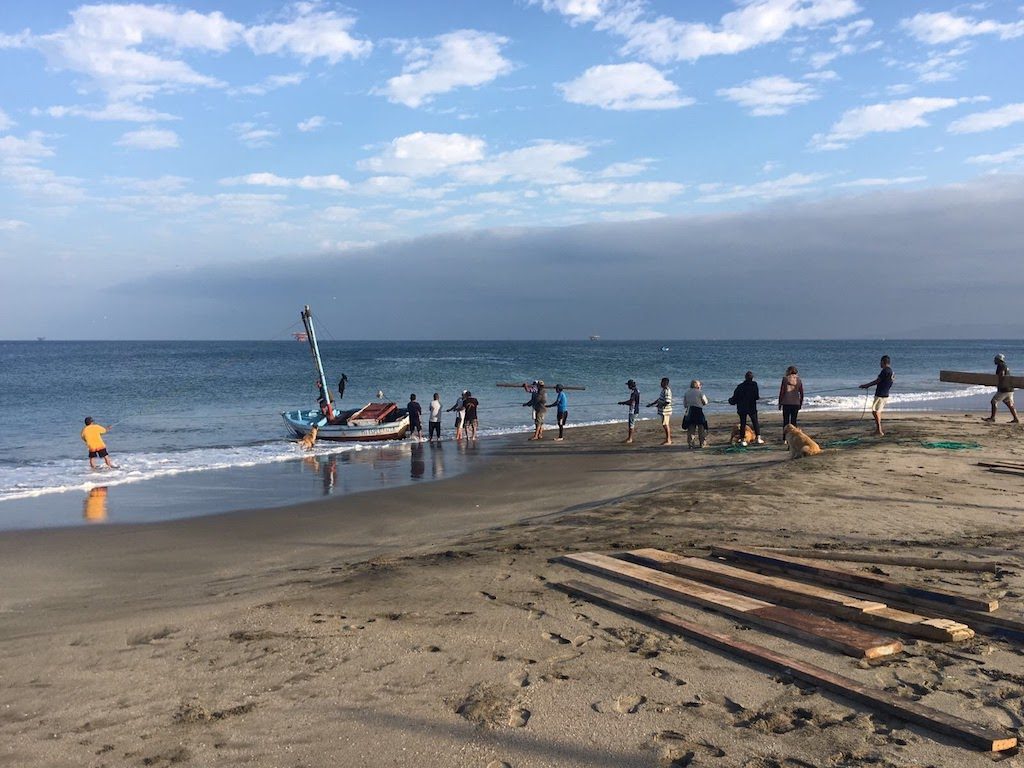 Part of our group woke up early to help some community members move their boat from the beach into the ocean.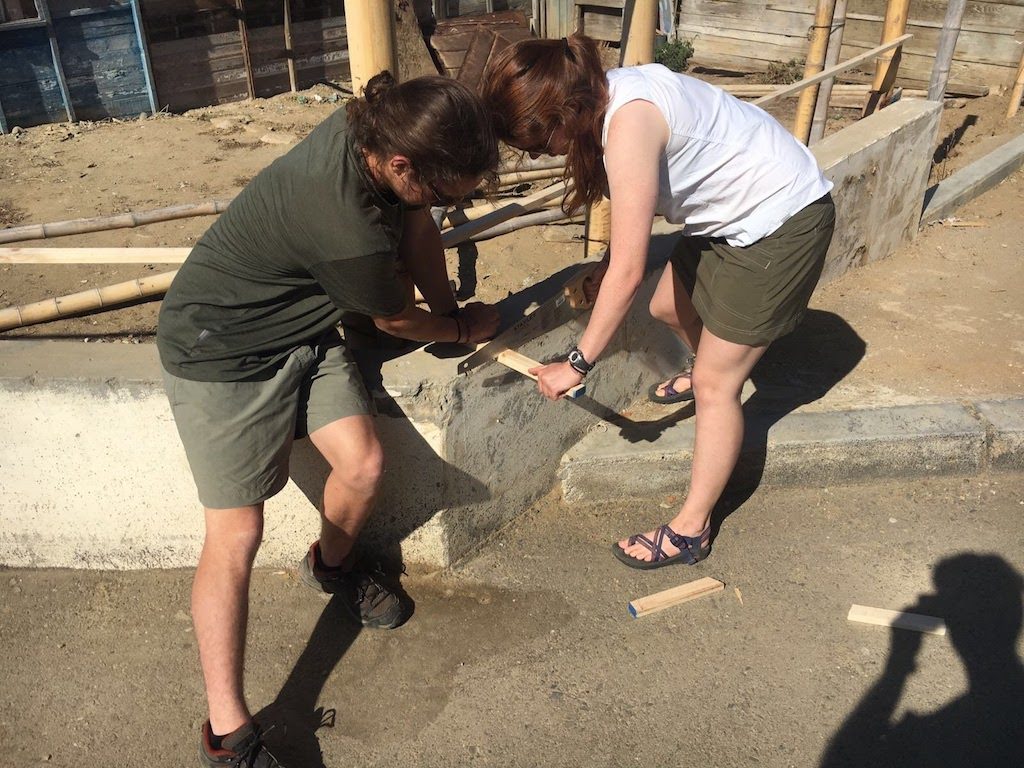 Matt and Claire constructing the wall that would become the mural.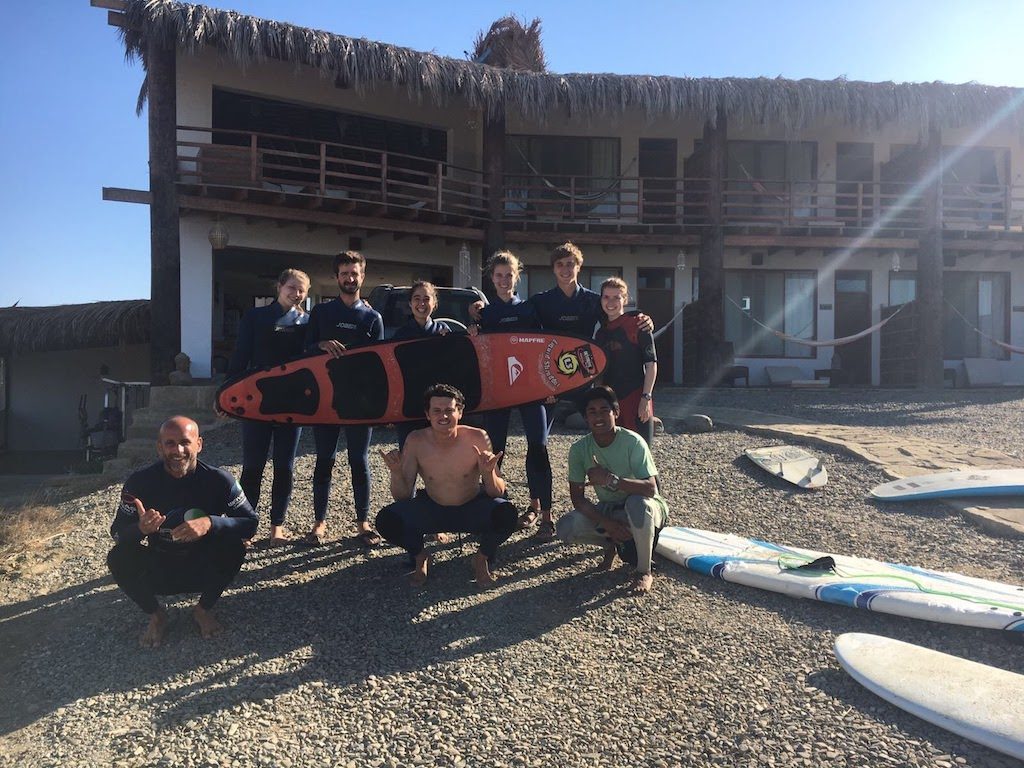 A crew of new surfers with our great teachers, Ben and Tony!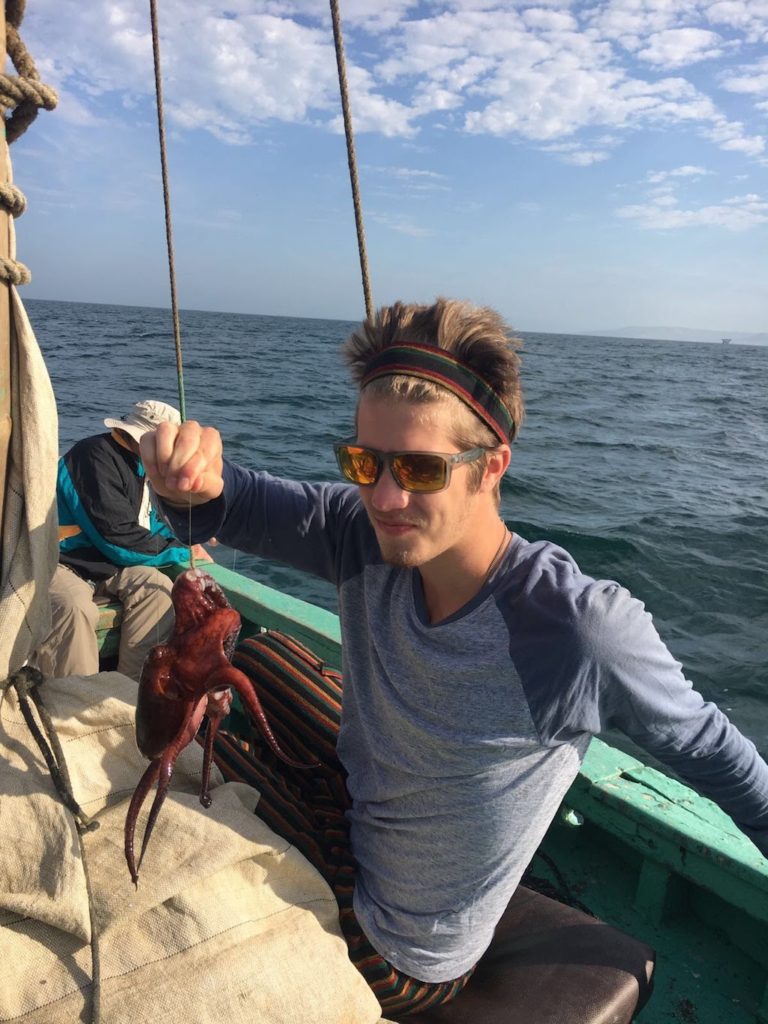 Cole catches an octopus!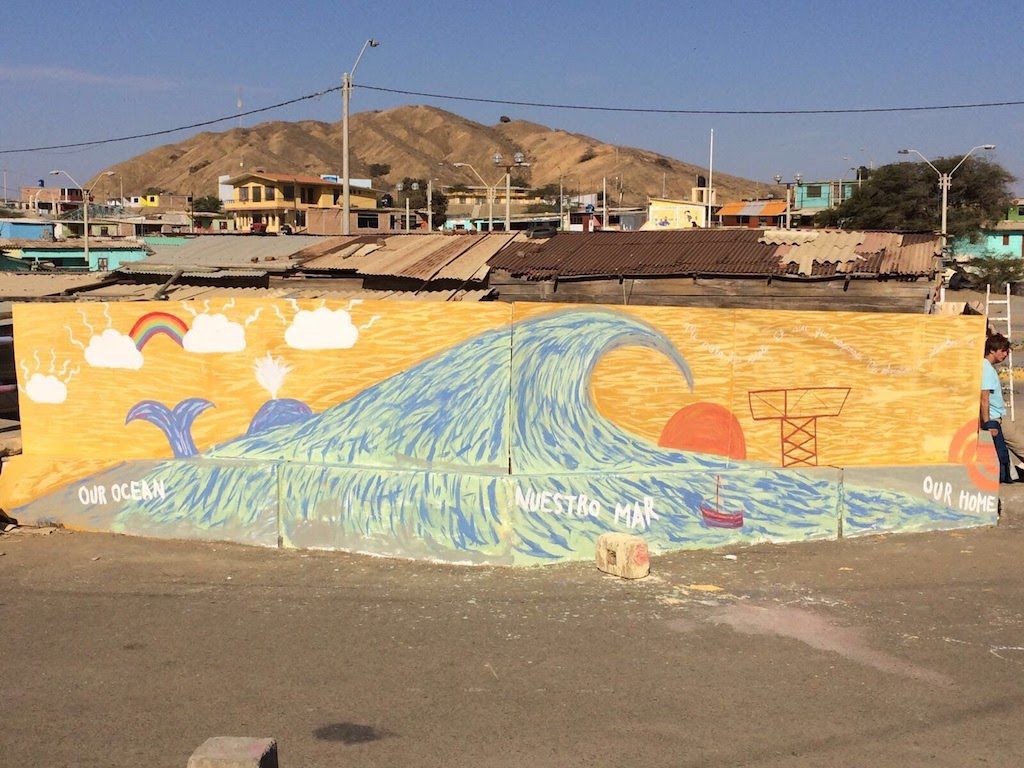 Part of the finished mural.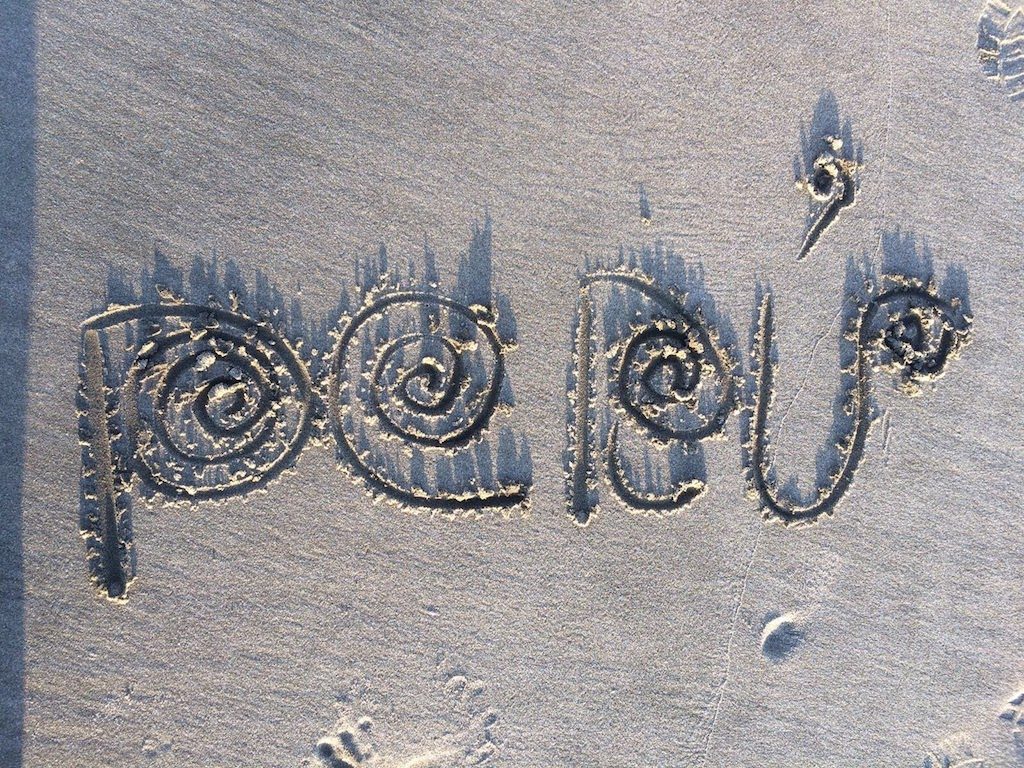 Welcome to Peru!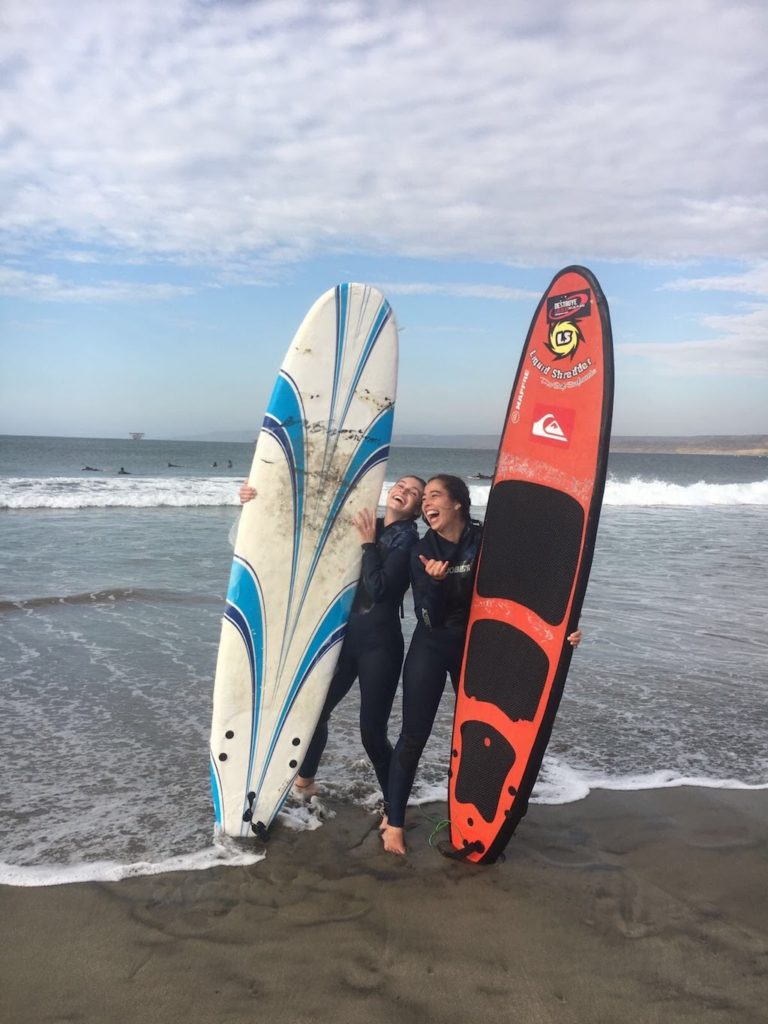 Miki and Lauren enjoying a quick break between waves.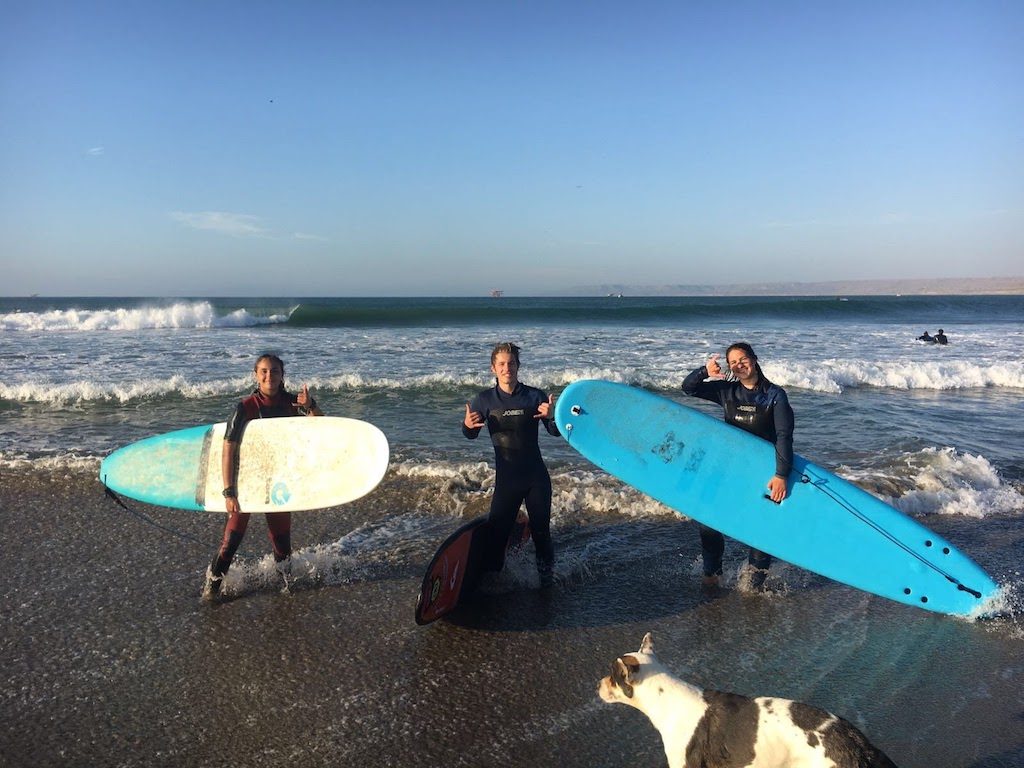 Naomi, Cole, and Dana overcoming the frigid water of the Pacific Ocean.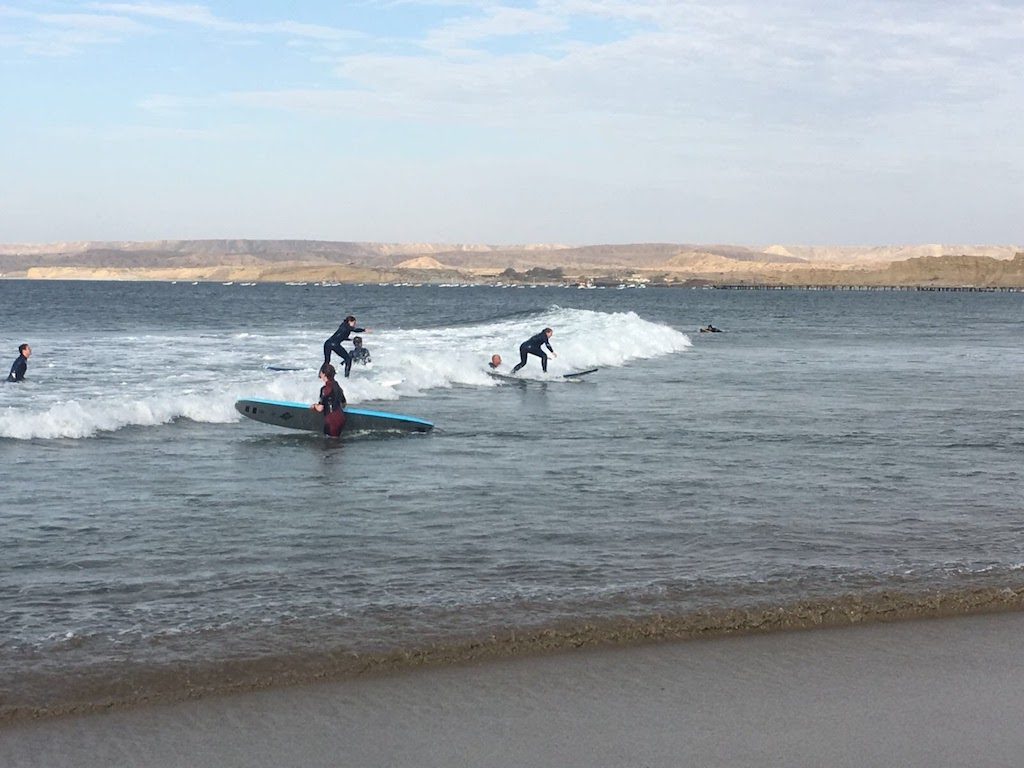 Surf lessons! Every person in the group was able to stand up on their board while catching a wave. Pictured: Lauren and Anya catching a wave as Claire heads back out with her board.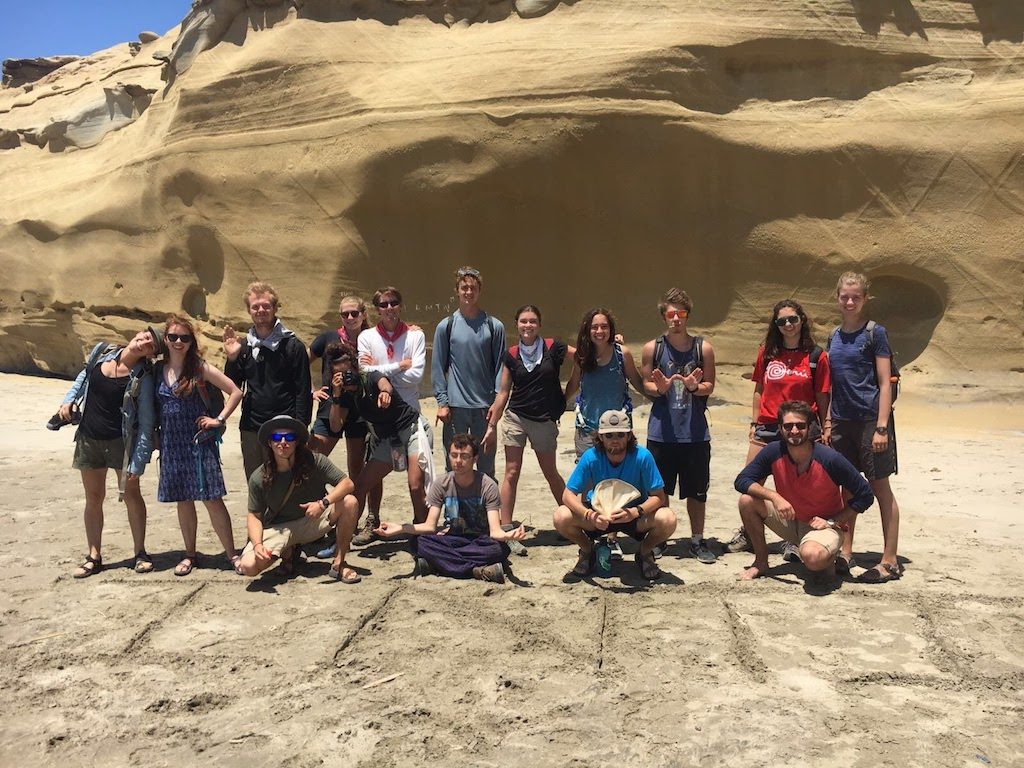 Inti vibes!