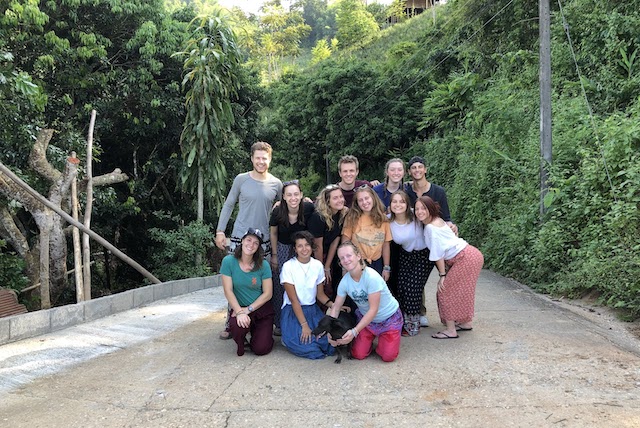 After an exciting yet exhausting week at our first homestays in Thailand, it was time to say la gon (goodbye in Thai.) We packed our bags, bought some snacks, and our families sent us off to our next adventures.
The leadership team, which consisted of Joe, Bryley, and Claire G., coordinated transportation and bought bus tickets to Chiang Rai. The four-hour long journey, although boring at times, was breathtaking the whole way up.
Once we settled at the hostel, everyone took some much needed rest time to journal, nap, or just play cards. We also enjoyed the short break from squatty potties and the copious amounts of rice. Later that evening, we attended a night market to, of course, eat more delicious Thai food, and shop.
The leadership team had also organized an activity for the next day; to explore the gorgeous, yet morbid, White Temple. We wandered about and around the temple, admiring and taking many photos, until we had some more down time at the hostel.
Once at the hostel, we got word from our OE's, Kate and Lucas, about a massive mall about a mile away. A mall in Thailand, how could we resist? We got our exercise in for the day walking there, walking around, and walking back from the mall (although Joe, Audrey, and Claire C. were lucky enough to flag down a tuk-tuk.) Everyone stocked up on snacks, toilet paper, and clothes, and engorged themselves on the beloved American food, McDonald's (aka the Golden Arches). Everyone was over the moon to get to reach out to their families and friends before the start of our next excursion in the Akha village of Ban Apa to work alongside the Mirror Foundation.
On the 25th, we were introduced to Manop, who works with the Mirror Foundation and lives in Ban Apa, where we stayed with homestay families. We had a brief orientation about Akha villages and the project we would be assisting with at the Mirror Foundation Headquarters. The orientation was lead by David (Thellie) Root, who works with the Mirror Foundation, as well as Manop. We then hopped back in the songthaew, and traveled to our homestay village. Here we split up, met our families, and toured the area. We scoped out the spot where we would be working for the next ten days. Our project assigned to us was to widen a frequently used road, in order to make it less dangerous and easier to drive two cars on.
In this Akha village, Ban Apa, the language spoken is the tribal dialect; Akha. A normal scene on the streets of this village may include noisy chickens running about, children playing with the local dogs or sprinting to the icecream man,and maybe a few elders dressed in traditional clothing sewing on the sidelines.
Our days started with a delicious breakfast around 7-8 am, followed by meeting up for a game plan on the project at 9. This was normally either tying foundations, building a cement brick wall, digging, or mixing and pouring concrete. Lunch was served by Manop and his hospitable family at 11:30, then back to work from 1:30 to 3:30. Dinnertime in this village was around 6 pm, which is the perfect mood booster after a much needed shower. Snacktime was also incorporated, since that is a precious time of the day for us. For example, Harrison put 3 padlocks on his snacks.
One night for dinner, Madi and Bryley tried fried bamboo worms, while Joe and Claire G. ate fish eyes. To end our days, a meeting at 7:30 was held at the Community Center. Manop and Kasa (a university student turned close friend of ours) taught us the Akha dialect. The group would also hold short meetings, discussions, and debates here, sometimes followed by aggressive games of Uno. Everyone would then head back home to read and journal before bed, and kill the massive spiders and centipedes for peace of mind at night. Kylie was the designated spider-killer at her homestay.
Highlights from this week would include the ice cream man who came every evening, a trip to a local waterfall (which also included a break from work,) and puppy therapy provided by Claire G., Paulina, and Audrey's host family. Sammi and Claire C. taught their host brothers a card game, and Madi and Bryley utilized their breaks for reading and relaxation.
As we prepare for the jungle trek, we look back at our time here and appreciate the friends made, the work done, the culture learned, and the laughs had. This group is full of warm-hearted, dedicated individuals, and we can't wait for what the next couple of months has in store for us.