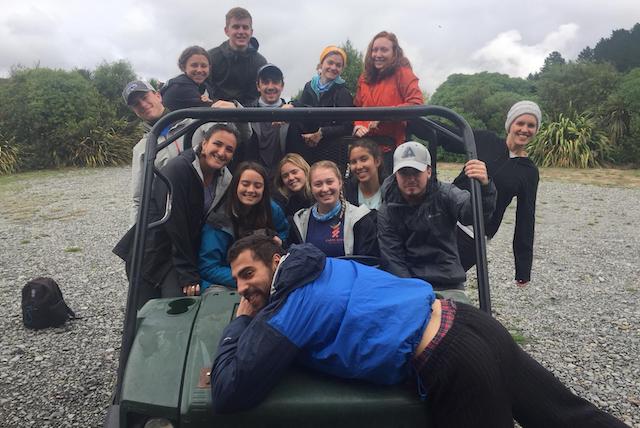 Written By Mia & Lucas
It's Mia and Lucas here to let you all know what we've been up to during the past week. We first were given the opportunity by our amazing overseas educators to explore the city of Rotorua. We started things off with a nice dinner at a local Vietnamese restaurant, sharing our excitement about the next few days of adventuring. After a great first nights' sleep at our Airbnb, we ventured off to the downtown area of Rotorua, exploring our new surroundings for a couple of hours. After shopping and grabbing lunch, the group decided to push their comfort levels and rock climb at an indoor climbing gym. Even though some of us were a bit fearful at first, we ended up having a blast and some of us even ended up touching the roof.
Our second day in Rotorua definitely fulfilled all of our nature cravings. We hiked to the great Huka falls and looked over the railings at a waterfall that can fill an Olympic swimming pool in just 11 seconds. After witnessing this tremendous feat of nature, we hiked back to the hot springs, enjoying the contrast of hot and cold water. Feeling refreshed, we hopped in the van and drove to Lake Taupo, where we chilled by and swam in the water. The night before we left, after two weeks of being a cohesive group, we finally got assigned our first week of group roles, marking the official beginning of our adventures together.
After several hours of trying to navigate with Shane's handwritten directions, we finally made it to the Hart Farm. While settling in to our comfy and cozy rooms, we played in the sunshine on the lawn overlooking the lake. Our competitive true colors came out in a soccer game and heated ping pong matches. Starting off strong, our first cook rotation worked with Rachel (Rachel Hart, not our OE) to prepare a delicious farm to table meal. After a great first night, the team was ready to tackle the farm work that Greg, Tim, and Zeb had laid out for us.
Over the past few days, we've settled into a routine. Every morning, while the cook crew prepares lunch, the chores group goes out with Greg to feed chickens and pigs, herd cows, sort eggs, and complete other miscellaneous tasks. After they return, we all go out for a group project. So far, we have fixed fences, gotten rid of invasive trees, collected pine cones for firewood, and trimmed trees for future timber. One afternoon, after a morning of chopping trees, four of us decided we couldn't be bothered to walk all the way around the lake, so we swam back. The lake was cold, but refreshing and made a great memory for all of us.
Almost every night after dinner, we all hang out and play games or watch a documentary. So far we watched I Am, Hunt for the Wilderpeople, and The Biggest Little Farm. We also experienced our first game of Werewolf, which is essentially just a more complicated but fun version of Mafia. This also allowed us to spend time with the Hart kids, which we all enjoyed very much. Even though our time on the Hart Farm is coming to an end, the fun times and important lessons we've learned will always have a special place in our HARTS.
Before we go, we would like to leave you with what we've learned about each other over the past week:
Claire is gaining granola points every time she does something a little bit hippy.
Hanna has the voice of an angel.
Lucas loves Ol' Reliable (clippers).
Conner is slowly getting over her fear of bees; she's saved three bees already.
Mia is still vegan, and it still does not define her.
Amelia loves to Koala.
Liz has yet to get past the first round of any Mafia/Werewolf game.
Shane got literally pooped on.
Xan + Royal = bromance.
Rachael loooooves yoga.
Nathan lost the H in his name.
Maggie has a plethora of random talents (eg. horse running, plastic surgery face, and a boy voice).
Ryker is almost 21, like tomorrow.
Chur, bro!