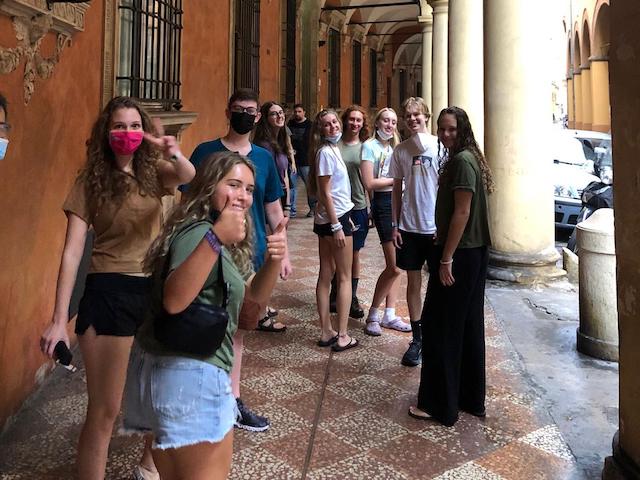 Written By Kendall
Over the past 5 days this group has accomplished many exciting and new adventures. After arriving at the hostel we enjoyed our first Italian meal together with a family dinner. It was full of laughs and conversations and this group clicked right away!
On our first full day we were thankful to have Andrea to take us on a walking tour of the town and share some interesting history facts about Bologna. We were able to see the courtyard of the university here along with the main square which we soon became familiar with. We then split into groups for lunch and continued to explore the beautiful streets here.
There is a beautiful park close to the hostel where we were able to do some orientation activities as well as playing some games. After taking the day to get to know the area we came together for our second family dinner. We went out for pizza and were amazed at how much better the pizza tasted here in Italy. Since we were basically pros at getting ourselves around, we navigated a scavenger hunt throughout the town in groups. This allowed us to talk to some locals as well as find some historical sights. Going back to the park we met up with Enrico to learn and discuss the effects of sustainability in our world and what we could do to help in our own communities at home. Enrico then brought us to a farm, Arvia, to assist with picking squash from the field and learn from the people who work there about the whole process. We enjoyed the hands on work and being able to help out on the farm. The Terra group is eager for our next adventure in Venice and look forward to exploring Bologna further!
Ciao for now!