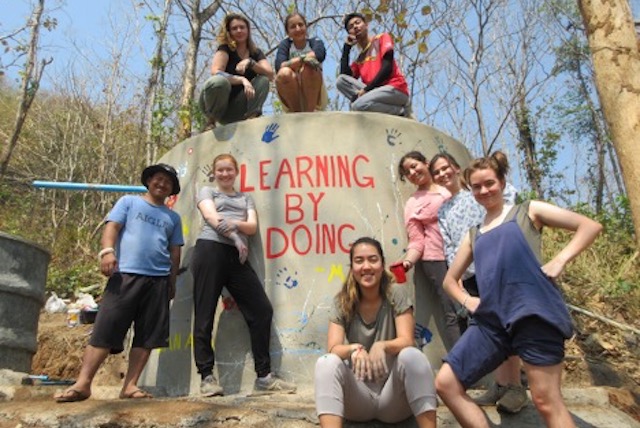 Written By Daniela
Greetings family and friends 🙂
We hope you are all doing well and enjoying life back at home.
This is Daniela reporting to you from a big porch with chickens bocking away and an incredible view of green mountains.
Last week, we had the opportunity to stay in Chiang Rai for a couple of days.
The city was filled with beautiful streets and a vibrant night market with delicious ripe mangos; by the way, mangos everywhere in Thailand are amazing if you didn't know. In the city, we got to do our laundry with an actual machine, visit the famous cat cafe, and visit Wat Huay Pla Kang and The Blue Temple.
From street lights to forest trees, our team has been in Ban Apaa village for the last week where we had the chance to work on our first service project. We have spent the week helping out the village build a water reservoir. We were all beginners at construction work besides our fabulous overseas leaders, Paff and Natalie, which really pulled the weight in physically tough situations (Thank you!). Despite our lack of experience, our local contact/guide kept encouraging us with the unforgettable words "learning by doing". This will be engraved in our hearts and minds forever. The local people also taught us how to work properly and efficiently.
The Hill Tribe people are a big population that moved from China nearly a century ago and have been dispersed throughout Southeast Asia including Vietnam, Cambodia, and Thailand. We are specifically working with a section of the Hill Tribe people called the Akha. Ban Apa was relocated by the government around 26 years ago. To this day, they continue to struggle with obtaining Thai Citizenship and possible future relocation.
I must say, they have been treating us to delicious and fresh food every day. The fruit wars have been dangerous and toxic back at my homestay where I share a room with Jordan, Whitney, and Rosalba. We have to all agree to start the fruit at the same time to make sure no one gets too much of their fair share. What can I say, the fruit is just that worthwhile. The other homestay with McKenna, Miku and Fields is much more civil than ours and doesn't experience our chronic issue. But, to balance out the beauty and wonders of ripe fruit, we all hear chickens and dogs every night and morning.
Time to get to the back breaking truth of this week… Each day has been filled with buckets of sweat while carrying actual buckets of sand and rock up quite a steep hill. But despite our shortcomings, we have all worked tremendously hard each day. Miku, McKenna, Jordan, Whitney, Fields, Rosalba: we have pushed our limits and I thank you for looking out for one another and subbing in when one of us were looking exhausted. This week has definitely been the week of perseverance. And it was worth it!! By the end of the week, we carried more than what we could have imagined when we started.
Alongside the hard work and yummy food, there has been time to relax at the nearby waterfall where we hopped and napped on rocks by the water, many games which brought loud laughter, and moments where smiles spread across local children's faces as Paff and Natalie played with them.
With love,
We will see you in the next blog post 🙂