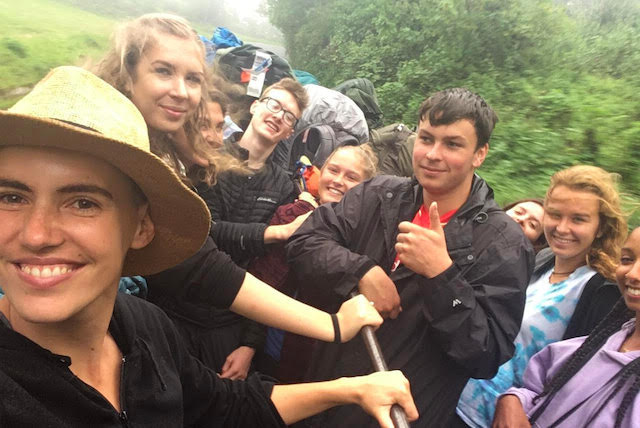 Hi everyone! This is Molly and Rachel signing in.
We spent this past week at La Escuela de la Montana, a spanish immersion school in a rural village in the mountains of Guatemala. The group was split into two groups, one with classes from 8am to 12pm and the other with classes from 1pm to 5pm. The classes were one on one and we ate our meals with host families, so we were able to practice our spanish a lot! We also learned a lot about the history of the town and participated in several activities throughout the week. These included guest speakers and we also took a cooking class in which we made platanos rellenos. There was also a newborn litter of puppies born at the school! Sydney parented them for the week.
On Saturday, we didn't have classes so we took a day trip to Santa Anita, a finca near La Escuela de la Montana. There, we took a rigorous hike and got to see a few waterfalls. Lukas, Annika, Harrison, and Lindsay decided to take a dip in the waterfalls too. We also got to see coffee plantations and were taken to see how the coffee was made and packaged during the hike. We also spoke with a woman who is an ex guerilla from the internal conflict in Guatemala. It was both interesting and inspiring.
Today, we rode in the back of a pickup truck to Xela, where we will be spending the next week. We are staying with host families in groups of two and we will be taking another week of spanish classes at Projectos Linguisticos de Quetzaltenango. Today was Rachael's birthday, so we spent the day in the city and went out for lunch. Good time!
Until next week! Molly and Rachel signing off.