By Alexander Nemzek
Greetings everyone,
Picking up from where Audrey left off last week, we had one last day of fun in Morochos before heading to Peguche. In our last day with Pete as our contact, we hiked a slightly grueling trail around the mountains that encircle Lake Cotacachi, but thankfully the beautiful views gave us motivation to keep going. Later that night, we had the opportunity to purchase 100% alpaca products from Morochos´ local artisan cooperative which was established a few years ago to develop their economy. After that, we attended a night of traditional music, dance, and games that the community members of Morochos invited the group to earlier in the week.
A group of community members played multiple songs for us with classical guitars, mandolins, churangos, violins, flutes, and a rawhide drum, which are the typical instruments used to play music here. Then, we watched a group of girls perform a traditional Quechuan dance.
What came next was not expected by anyone, to say the least. When the community members told us that we'd be playing a traditional game, all of us were enthused. That enthusiasm quickly turned into confusion as two men laid down on woven mats and took turns rocking back and forth and slapping each other's butts with long towel-like cloths. However, about half the group members tried it out and had a blast. While it looked painful because of the loud noise that resulted from the slap, it really wasn't. We ended off the night by dancing around in a circle with kids from the community while the band played a few more songs.
Early the next morning, on Monday, we headed off to Peguche, a suburb of Otavalo. Once arrived, we met our homestay families and walked to our new homes for the next week. Everyone loved their homestay families as did I, as I had a grand, old time full of cosechas with Eliza, Addy, Dan, and Laura at Casaleman. We hung out until language classes that evening which we followed up with an herbal plant presentation and textile making demonstration from Liam, Audrey, and Ellen´s host family. The next day, we had 2 hour Spanish classes before heading to the local school, ¨Cascada de Peguche¨ (Waterfall of Peguche), to play with the kids there followed by a free afternoon.
For the rest of the week (Wednesday-Friday), we had language classes for 4 hours in the morning from 9 am – 1 pm. But don´t worry, there were breaks. On Wednesday, we attended a local music presentation by Tatum, Daphne, and Brynlee´s homestay family inside of their home. They showed us how they make the bamboo flutes that they sell and then proceeded to play 4 of their fantastic original songs. Before ending the presentation, everyone danced to the music in a big group circle similar to the one in Morochos.
Thursday afternoon following classes, we all went back to Liam, Audrey, and Brynlee´s homestay family for a bread making lesson. We all got to make our own different shaped dough and bake it in the stone oven. We all ate a lot while it was still wet, leading to some stomach aches afterward; a grand cosecha. However, that did not prevent some of us from eating even more. It was probably the best bread many of us have ever had, and that's a FACT. Later in the evening, Patrick broke his water bottle throwing it at a dog who charged him, just proving as an example of the feistiness of these dogs at night. While they were aggressive at times, no one in the group was harmed.
The next day, after our final day of Spanish classes in Ecuador, we said our goodbyes to our teachers and now friends, Jimena, Alejandro, Marieli, and the Great Marcelo. Then, Patrick, Sarah, and Kaela´s host father, Diego, took our group to La Cascada de Peguche to pick up trash along the water banks. Some of us got the opportunity to wade in the water that feeds into the waterfall and explore the small rock structures surrounding it.
On Saturday, half of the group participated in a traditional ceremony at a local sweat lodge. A sickness kept some from coming and has been slowly making its way around the group, but thankfully most of us have recovered quickly. At the sweat lodge, we draped thermal blankets on top of a bamboo frame to create the space in which to sweat. Then, we added hot stones inside the structure and then poured hot water on top to create the immense heat in which we sat for the next 2 hours, leaving us feeling cleansed, mentally and physically.
On Sunday, our last day in Peguche, we hiked to the ¨Parque Condor¨ where we observed a variety of local and foreign birds, before watching an hour show with a bird handler telling us about different types of birds, bringing them out one at a time and letting them fly around, one of which was the Bald Eagle. Afterward, Sarah and Patrick attended a local wedding with their host family. Tonight we pack up, and tomorrow we head off to a town one hour outside of Tena in the Amazon.
Welp, that's all for now. Please tune back in next week for more information about our wonderful trip. Seize the journey!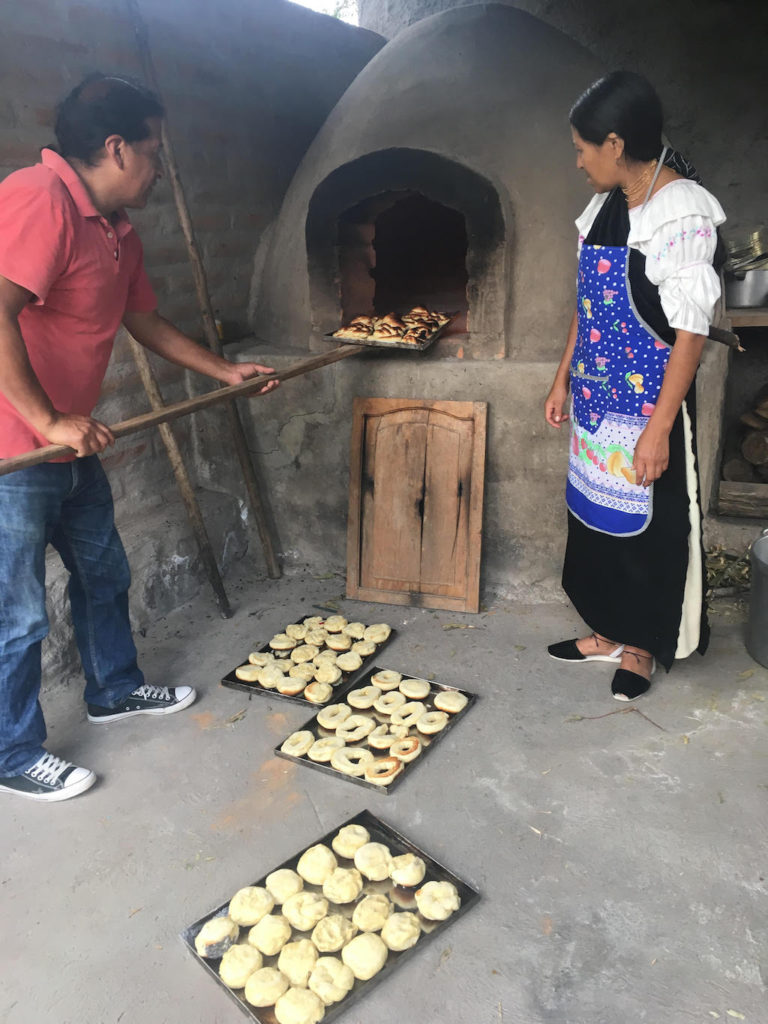 Host parents putting formed dough in the oven and taking out the delicious result: fresh bread.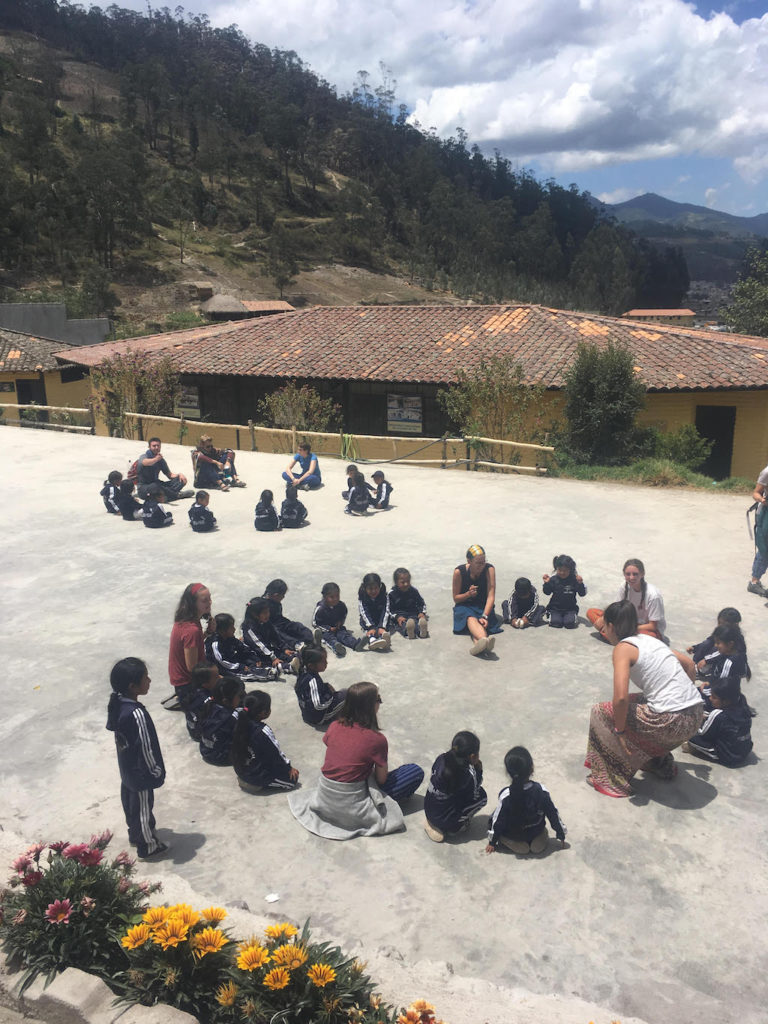 Playing with the kids at the "Cascada de Peguche" school.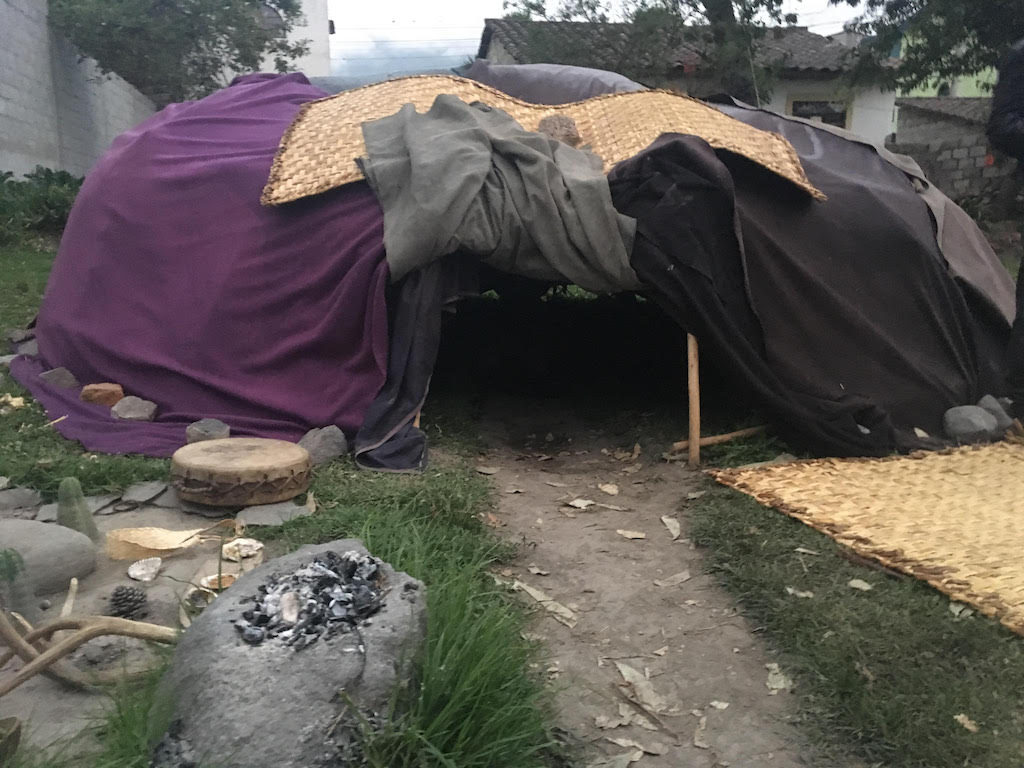 The finished construction of the sweat lodge.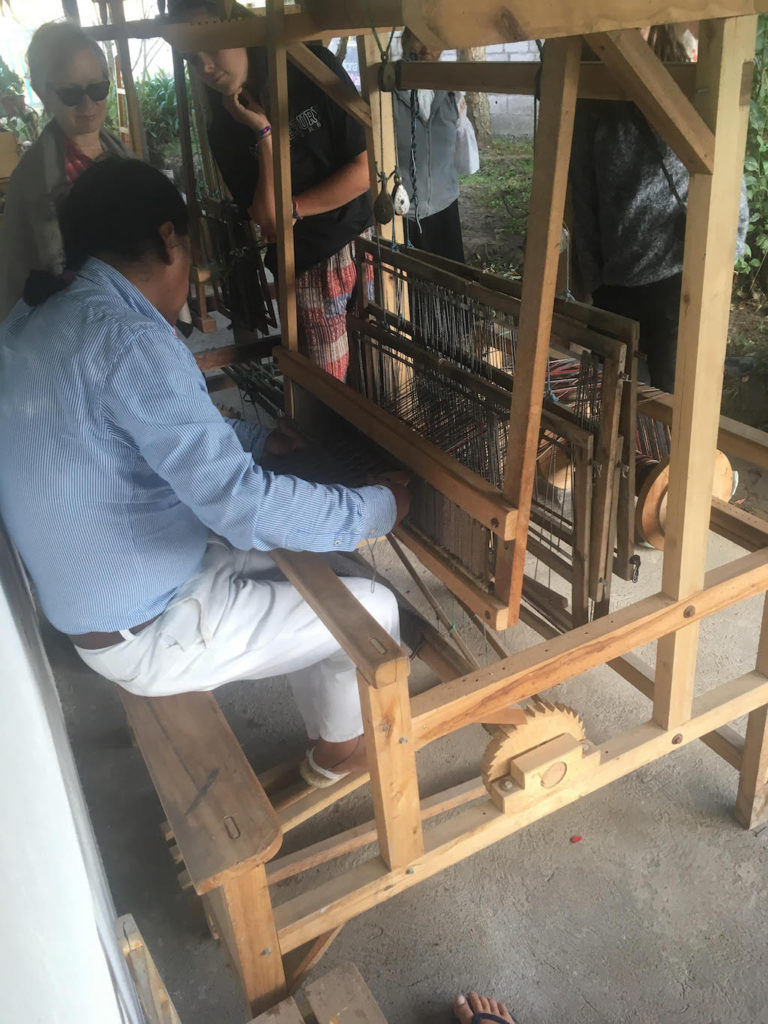 A host father shows us how his family weaves textiles using this machine.