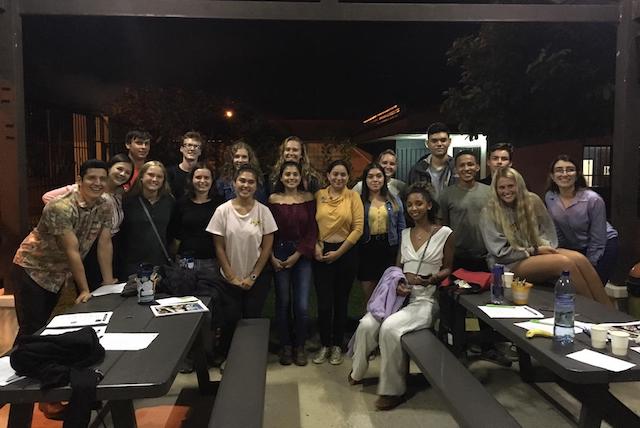 After our six week adventure in Guatemala, we were finally able to make it to our first week in Costa Rica. Our first stop in this small Central American country starts in a small city called Turriabla. Smack dot in the middle of Costa Rica, Turrialba offers a whole variety of fun things for the gang to do. For the past few days the group has been obsessed with eating at the one of what feels a hundred Chinese restaurants that are littered around the Central Park area. The most popular of them all, named Nuevo Hong-Kong, is a fun place for the gang to devour tongue sandwiches, some odd looking wonton soup, and mountains of fried rice that could feed a family for weeks.
Besides the Chinese restaurants, the group has just finished their last day of Spanish school at a fun place called Spanish by the River. Spanish by the River is a cool spot hidden in the woods on the outskirts of Turrialba, where the group has (hopefully) extended their knowledge in speaking español (Spanish). In addition to the four hours of class each day at the school, the group was also able to see a cool sloth that likes to hangout around the school property!
Also instead of staying in hostels, the group has moved finally moved back to staying in homestays. This is our last time that we will be staying with a host family, quite sad. The homestay families in Costa Rica are a lot different to the ones we stayed with in Guatemala. Although still welcomed with happy smiling faces, it´s easy to tell that the homes in Costa Rica are a lot more developed, and a little less rustic. We have been told by many of the host families that their house is our house, and that we will always be welcomed to stay with them in the future. To all of the host families Carpe Diem students love you.
Just entering our 10th day in Turrialba, the students are getting ready to say goodbye to their host families, pack their bags, and leave for Nicoya. Turrialba has been a beautiful place to stay, and has been a really nice place for the gang to extend their spanish. Although the weather has been quite rainy for our stay, I am sad to say goodbye to such a welcoming and beautiful place. But it seems that's how things go around here, right? As soon as we finally get comfortable and settled in somewhere, we are off to the next place. Adios Turrialba, you will always have a special place in my heart.
– Lukas Ridgeway