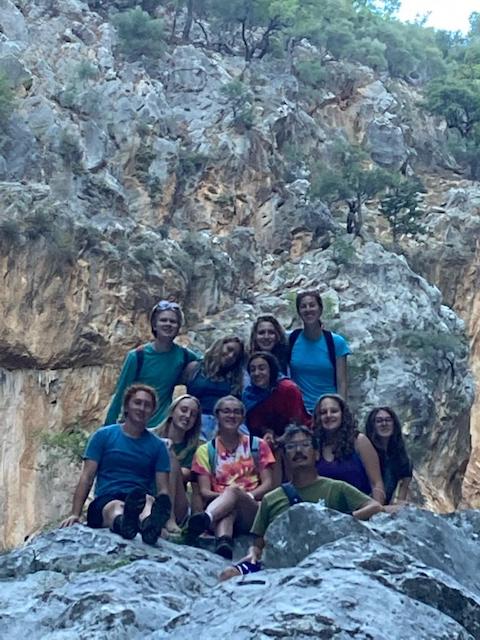 Written By Sebastian
Waking up early and being on time for transition days has not been our group's strong suit and our transport day to Crete was no different. We rushed to the subway station near our Athens hostel 15 minutes late and crammed into the train just as it pulled out. We took a very small plane to Crete and met our local contact Xeno. We spent the afternoon in the city of Heraklion, before driving to the town of Agios Ioannis which would be our home away from home for the next 10 days. Over the next few days, we freed vultures from captivity at a wildlife refuge station, went to beautiful beaches and swam in the Mediterranean (including at Xeno's favorite beach), had Greek language and dancing lessons, visited ancient Minoan archeological sites, and visited an ancient monastery, that had a side business of producing wine and olive oil. During this time we became accustomed to Xeno's interest in shazaming songs while keeping one eye on the road, while Sheldon's driving of The Millennium Falcon wasn't fast enough to complete the Kessel Run in under 12 parsecs (sorry Han Solo).
Our relaxing honeymoon phase with Crete had to end some time, and so we transitioned to working at a farm called Folklore Estate. They had a weird yet charming collection of items ranging from unwanted toilets and bathtubs to haunted house doors, some of which served as decoration, while others served as actual doors. There, we repaired nets and used them to harvest olives, fed the ducks, donkey, and mule, and smashed carobs to prepare them to make a kind of honey. While working with Tom, the younger son of the farm's owner, we had many conversations about life in Greece. He explained how students are required to choose a track in school at age 15 that sets them up for certain professions with little chance to actually realize those dreams. We traded stories and imagined what life would be like had we grown up in Greece. Later, we returned to the wildlife sanctuary to weed and help insulate and waterproof a house with manure. We also managed to fit in cooking lessons, pottery making, and a devious trip up a mountain to salvage a sign.
Agios Ioannis is also the home to numerous cats and their arch enemies Xeno's Dogs – Patootie (as named by the Meraki group), Victor, and Susie. While we ate our meals at the local taverna, the dogs and cats were constantly in a state of war. Sometimes one of the dogs would provoke a cat or sometimes it was the reverse, either way, every five minutes there would be a fit of barks and hisses as the dogs chased a cat either up a tree, under a car, or up the stairs. Rarely did this end in anything more than someone in our group yelling at the animals to calm down. Although on a few occasions Baby Cat, as named our group for its small size and naïveté, would end up in the mouth of one of the dogs. This along with their constant attempts for food off our table prompted Baby Cat to be gently tossed, pushed, or shooed away. One's preference for dogs or cats (or if you strongly disliked one) became apparent in different people's attitudes and treatments of the animals.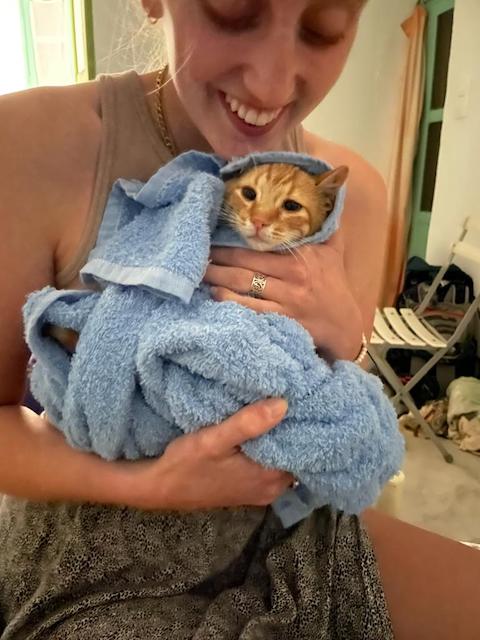 Big shout out to our intrepid guide and host Xeno! Our time on Crete was made only more impactful by his love and curiosity for what we were doing He urged us to dive deeper (both literally and metaphorically) into everything we did and was always willing to go the extra mile for us.
We now head back to the mainland to ReGreen, a yoga retreat center and permaculture community in the mountains west of Athens, for a chance to reconnect with each other and the earth before saying our goodbyes.