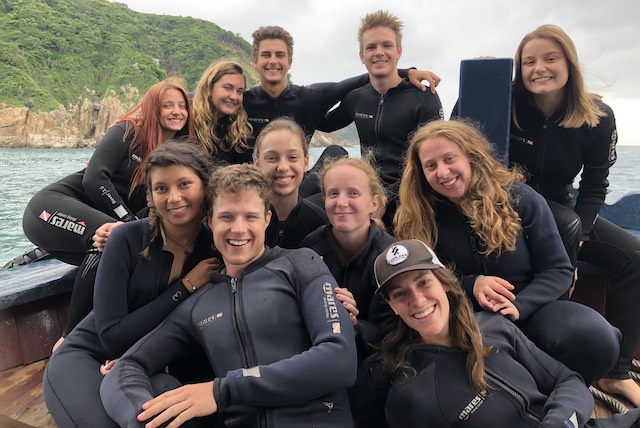 Hello everyone. Since we talked last, we've been working hard on student presentations, catching up on sleep, and learning how to SCUBA dive in the beautiful waters of Nha Trang. On November 19th we spent our last day in Ho Chi Minh City where we went to the Vietnam War museum and learned about how the war affected not only the Vietnamese, but also many US soldiers and their families from agent orange and the protests that followed because of the war draft.
After the museum Audrey and Bryley enjoyed some quiet time working on student presentations in the local library, while the rest of us caught up on rest and napped in the hostel. On November 20th we said goodbye to Ho Chi Minh City and headed to Nha Trang on an 11-hour bus ride down the coast of Vietnam on a very comfy sleeper bus which is quite popular in Vietnam. For the shorter people in the group it was even more comfortable, but for myself and Lucas it did feel quite cramped for our long legs.
After the long 11-hour bus ride we got to our hotel in Nha Trang where we have been staying for the last five nights while learning how to Scuba Dive. We were in double rooms this week, which was an exciting transition after over two weeks of being in 10 person dorms and not getting enough sleep. Soon after getting settled, we headed over to Rainbow Divers which was the dive center we would be working with for the next week. We met Matt, who is a lead dive instructor. He gave us the rundown for the week, leaving us very excited and nervous for what was to come with our diving experience. We were all going to attempt to become PADI Open Water certified divers which means we can dive to 60 feet below the surface in open water. The following day was a classroom and test day where we watched 15 videos about diving and the skills we would need to complete the course. After each video we would take a quiz and test. At the end of the day we took one final exam to sum up everything we learned. On this day Paulina and Claire C. had the day off because they are already PADI Open Water certified and were going to do the advanced course the next three days. Kate and Lucas with more than a handful of dives under their belt went on the boat for their first day of diving. After class Kylie, Joe, Madi, and Sammi enjoyed some time relaxing on the beach trying to get rid of their farmers tan from the last two months. Bryley worked hard on presentations, and I enjoyed watching Holes in our hotel room.
The next day we put the skills we learned in the video to use on our enclosed water training day in the pool. Audrey, Sammi, and I had dive instructors Simon and Maisey and Bryley, Joe, Madi, and Kylie had Matt and Vita. At the pool we put on our scuba gear for the first time and took our first breaths underwater. Some skills we had to do in the pool were sharing oxygen with a buddy, fetching a lost regulator, and inflating our BCD's orally (which is what keeps us buoyant/makes us sink). One of the hardest tasks for the group was fully flooding our masks with water and clearing them while underwater. That was my favorite task but the group can agree on how hard it was. After 8 hours of pool time in our SCUBA gear we all came out looking like prunes, but we were ready for our first open water dive the next day and felt much more comfortable in the water. Claire C. and Paulina worked on their navigation and peak performance buoyancy for their specialty dives while others were at the pool.
In the evening, Audrey, Sammi, and Madi started student presentations off with a bang. Topics were about Buddhism/Animism, environmental sustainability, plastic in our oceans, and globalization in Southeast Asia. After long dives Joe and I have managed to find the cheapest and best Banh Mi stands which are at every corner to satisfy our hunger.
On the 24th we finally all headed out for our first open water dive. Bryley and Kylie were amazed by the beautiful coral, and Madi realized how fast time flies underwater. The day was a bit overcast and rainy, but the visibility underwater was better than expected which calmed our nerves. Between dives Sammi and Audrey enjoyed laying on the boats sundeck and hanging with our dive instructors.
After our first day in the open water we were quite tired and took the afternoon off to nap and relax. Later that night we had round 2 of presentations by Bryley, Kylie, and Claire C. who presented about the Cambodian Genocide, permaculture, and Buddhism. Today was our last day in the water SCUBA diving and we were all excited to get our certifications. For our first dive of the day we finished up our open water skills, putting us one step closer to being certified. Shortly after, as a reward for completing all skills, we had a fun dive at Rainbow Reef where we saw more incredible coral and fish. After, a little party with all the instructors was a perfect way to end a week of diving.
Tomorrow, our bus departs early to our next destination, Hoi An, to kick off Student Directed Travel. It wasn't until now that everyone has started to realize how fast the past 3 months have gone by. We are all heading into these next 9 days with great appreciation for each other, Carpe Diem and cultural exchange. And to everyone reading at home… see you soon!
– Harrison