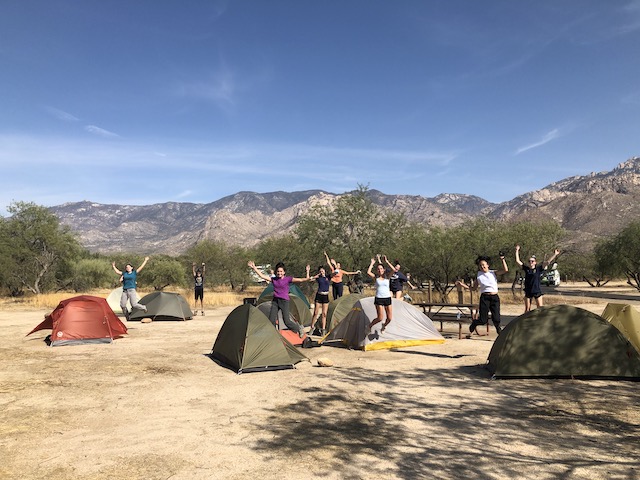 Written By Kerri, Jacob, and Leila
Greetings from sunny Arizona!
We have been spending this first week camping at two different sites, exploring, and bonding. Our first site was based in Tucson, where we set up after arriving and had a nice dinner of pizza. We spent the first four days getting to know each other, and getting used to the heat. We hiked around to find some good shade filled spots and made friendship bracelets. We also went on a small hike to the Romero ruins, where we explored the ancient rocks and pottery of the Romero people.
We then packed up for a surprise trip to the Grand Canyon! We spent the long car ride playing music and stopped off a few times to get a look at the stars.
Our first day at the Grand Canyon was spent on the North Rim driving to the different vista points. We ended the day at Cape Royal where we caught a gorgeous sunset and ate a yummy grilled cheese dinner cooked by Sophie and Lily. The next day we headed back to the North Rim to hike on the North Kaibab trail, ending up at the Supai Tunnel. It provided some spectacular views and some mules. We are soon headed to the Borderlands Restoration Network to continue the journey. Having fun and staying safe!
-Kerri, Jacob, and Leila
We also got the group to write haikus about the Grand Canyon!
REDDISH ROCKS AND DUST
HIKING BY THE CANYON WALL
I AM SO TIRED
MILES AND MILES
LAYERS OF ROCKS TELL STORIES
MAKING ME FEEL SMALL
I LIKE THE PLACE WE
WENT TO BECAUSE IT WAS COOL
YAY CARPE DIEM
MAJESTIC CANYONS
SUN CASTS SHADOWS AT SUNSET
IMMACULATE VIEWS
WENT TO A CANYON
I ENJOYED THE GRAND CANYON
IT WAS PICTURESQUE
SWIRLING AMBER LEAVES
SHIMMERING CATCHING WARM LIGHT
CANYON ASPEN TREES
CANYON FEELS LIKE MARS
DINOSAUR WALKING THROUGH IT
BEFORE I CAME HERE
LAYERS CARRIED BY TIME
EACH ONE A CAPSULE OF LIFE
WRAPPING ME IN IT
VAST CLIFFS RISE AND FALL
SPECKLED PINES CONTRAST BURNT DUST
SHEER SCALE ASTOUNDS ME
SUNSHINY AUTUMN
A SPINNING, COOL MULE HIKING
BETRAYED BY THE ROCK