Hello! This week was student directed travel, four days of travel and experiences fully designed by all the students on the semester!  Since this week was planned by everyone together, the blog will also be written by everyone together. You will hear from each of our captains-of-the-day teams as they tell you about their day and the activities they planned.
Rachel and Elsie – Saturday 11/21:
Hi all! This is Elsie, one of the captains of the day, here to tell you all about our first day of student directed travel. Today was a heavy day full of learning and reflection; we packed up our bags and met Pancho and Cathy, our contacts, at the border wall in Nogales. One thing was strikingly different this time: instead of chatting face to face (although through masks), we listened through the steel wall, leaning in close to hear every word. Pancho is a medic who provides medical service to migrants who are unable to access public hospitals in Mexico. Kathi is an activist from Patagonia who has been working and living in Mexico alongside Pancho since the start of the pandemic. After introductions, we met two women who were kind enough to share their stories with us; both have undergone long, difficult journeys to get to the border and have been waiting for many months to officially seek asylum in the U.S. One woman fled from oppression and the government in Cuba; the other escaped corruption and threats to her family in Mexico City. They spoke, in Spanish, (our more experienced Spanish speakers translated and spoke for us) of their search for peace and tranquility in the U.S. and expressed immense gratitude for our interest in these issues and for listening to their stories. It was a heartbreaking and eye-opening experience, but in my opinion one of the most important parts of our trip. Getting to hear stories firsthand allowed us to truly understand and process all that we have been learning about since we arrived here, and also motivated us to push for justice for these two women and the millions of asylum seekers who share similar experiences. We spent the next hour or so reflecting within ourselves and sharing our thoughts with one another; an important comment that was brought up outlined our immense privilege and duty that we all have to make a difference.
Hi, Rachel here. When we arrived at our AirBnB, "The Experience Scottsdale", we were thrilled with the immaculate kitchen and many beds. With our tendency of making our living spaces very dirty very quickly, we made a no-shoes-in-the-house rule and made sure to point out our perfectly white sheets. The group settled into the house and took their first dip in the long awaited hot tub while Elsie and I went to the grocery store, making a special stop at H Mart, the local Asian food market. After dinner, we all settled onto the couch for a movie night. Inspired from our visit to the border earlier in the day, we decided on an activism movie: The Trial of the Chicago Seven. For those reading this blog at home, we 10/10 recommend you watch it. Before falling asleep, we talked about how inspired we were to make a difference.
Sophie and Eli – Sunday 11/22:
Today the group went on a day hike! It was a short 4.4 mile hike with only a 600 something foot increase in elevation. After the big backpacking trek, it was a piece of cake. We took a few water/snack breaks and took long looks at the desert scenery. Freya and Adam practiced some Spanish during the hike; Elsie and Lily chatted about embarrassing childhood stories; Kate talked about next semester plans with Mari and Rachel. We blasted through the trail and finished in time for a little hot tub and pool action back at the AirBnB. The pool was frigid, but Kerri and I decided to take the risk and hopped in. Totally worth it. Then the day wrapped up with a group effort to make udon noodle soup, dumplings, and sushi from scratch. Mari mastered her sushi rolling skills quickly, while Lily, Elsie and Freya cranked out some delicious dumplings. While the kitchen was crowded, we were still able to break out into several dance offs. Kate even whipped up some amazing homemade sriracha mayo sauce, which was the perfect cherry on top of a great day.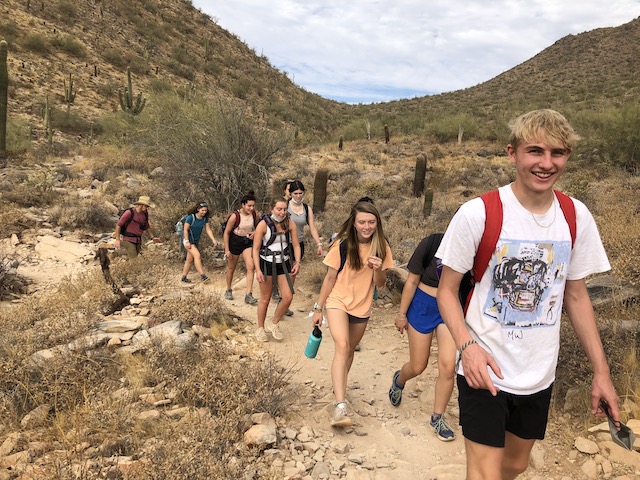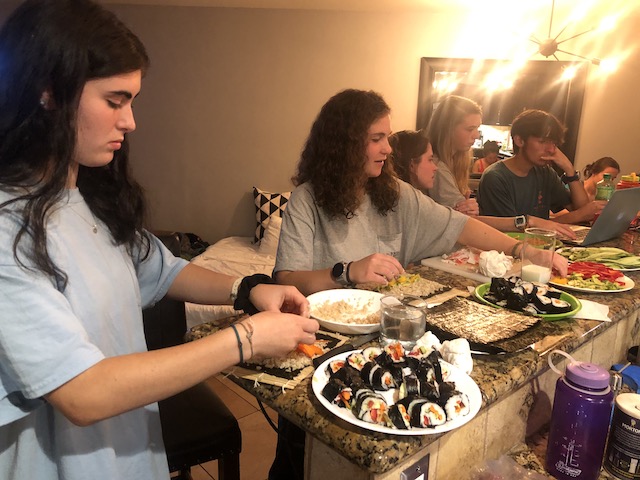 Mari, Leila, and Jacob – Monday 11/23:
Hey guys, it's Mari, one of the captains with Leila and Jacob! This morning we woke up to a healthy breakfast of delicious crepes made by Elsie, Lily and Rachel, using Elsie's special recipe. It took some practice but after a few failed attempts the rest were restaurant quality. We had a variety of fillings spread out including nutella, sliced bananas and strawberries, whipped cream, blueberries, and chocolate sauce. Petar, Elsie, Lily, Freya, and Rachel went on a small sunrise hike before breakfast. When they came back, they told the rest of the group about the beautiful scenery and all the yummy Waffle House they missed out on. After a chill morning with music and dancing, we decided to go to a park for the rest of the day. Kerri and Jacob played soccer and basketball while the rest of the group took long naps in the warm sun. Once the naps were over, Freya, Jacob, and Petar played a hardcore game of frisbee monkey in the middle, while the rest of the group finished our lunch of Poke Bowls. We then left to order a warm dinner of Burgers and Thai food from a few takeout places around the area. Afterwards, we went out to have a bonfire and roasted delicious s'mores, while Freya, Jacob, and Leila relaxed in the hottub for the last time. Eli hosed down the fire and we went in to discuss an action plan for further goals for after this semester is over. We are all so excited to implement our new ideas and knowledge of the border wall and the mistreatment of immigrants for the greater good.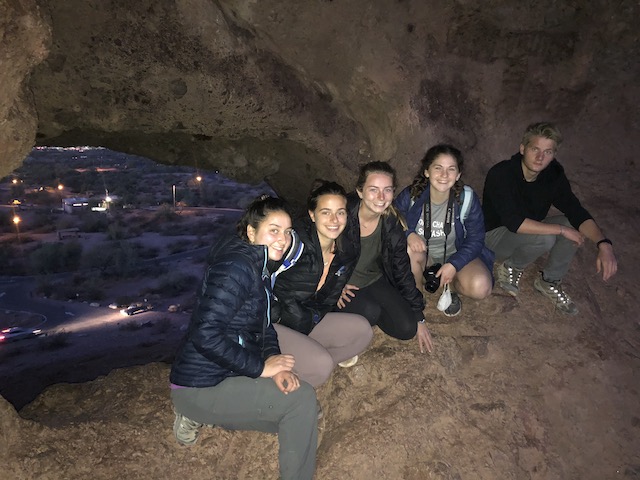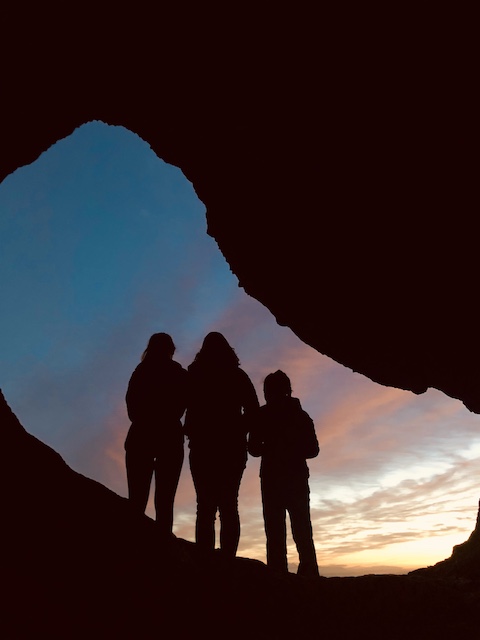 Petar and Freya – Tuesday 11/24: 
Hello again! It's Petar. This morning we woke up and had a delicious breakfast of smoothie bowls made by Jacob and Freya. After breakfast, we cleaned up and packed our stuff to leave Scottsdale. We headed to the Heard Museum, which displayed art made by Native Americans. There was a new exhibit, Larger Than Memory, which highlighted poignant contemporary art. The incredible artwork provided powerful insight into the culture, stories, and the perspective of Indigenous people. Kerri and Leila's favorite exhibit was the large display of famous Indigenous art from all over the globe. Another group favorite was the exhibit about Native American boarding schools, which Elsie and I had never heard of before. This display was particularly shocking to us because we weren't aware that Native American children were ripped from their families and forced to be assimilated into American culture via these federally created boarding schools. After the museum, we drove to Arcosanti, an experimental community created in 1970 that focuses on arcology – a mixture of architecture and ecology. Our tour guide was very engaging and shared facts about how the community started, and what people currently do there. To fund their organization The Cosanti Foundation, the residents make bronze and clay bells which they sell all over Scottsdale and online at their store. The Foundation's main source of income comes from creating these bells, which they have been making for many years. After our tour we headed to our campground for the night and ate a quick dinner of tortellini, which was a great treat after a long day of exploring and learning. Jacob, Kerri, Rachel, Sophie, and Mari decided to take a moonlight gaze at Lake Pleasant before heading to their tents.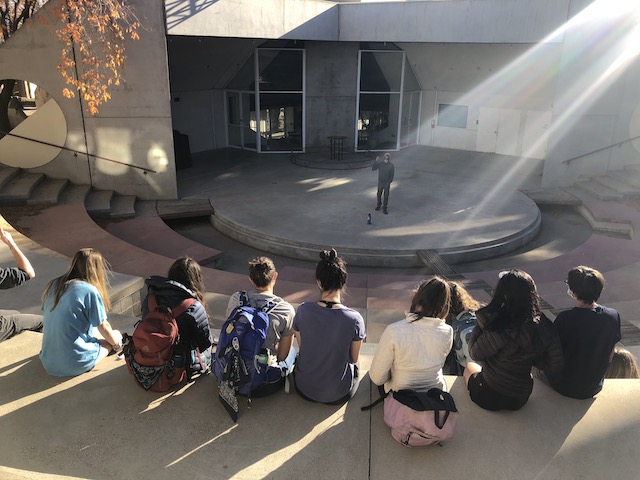 Lily and Kerri – Wednesday 11/25:
Hello! Our last day of student directed travel was pretty relaxed. We had an easy breakfast of cereal, packed up camp, and headed back to our bed and breakfast for Thanksgiving. We sang along to Soulja Boy and the first rap song ever created by GrandMaster Flash. Thanks for the information Jacob. Once we arrived the group had a reunion with our favorite pups Stanley, Jackson, Pearl and of course, Bubby. Tonight our group is celebrating Adam's Birthday with a dinner of spaghetti pie and birthday cake!