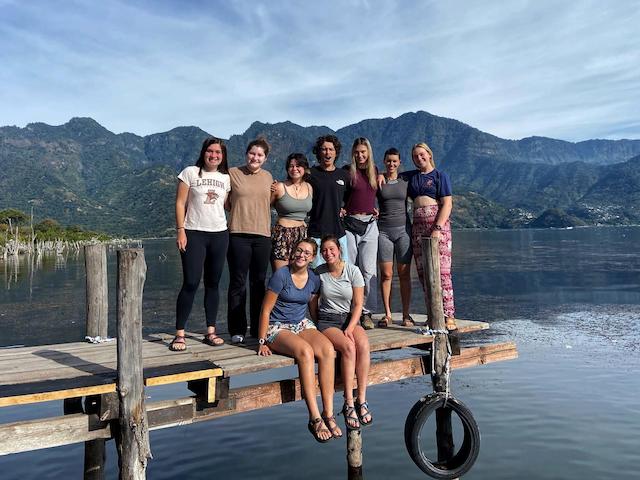 Written By Rachael & Ryan
Hello friends and families! We are Rachael and Ryan, the Quetzal OE's writing a final blog. First we want to extend big gratitude to you all for supporting your kids in joining us for this adventure. The support and love from home has been felt and relied on during this trip, it is clear the solid, loving connections these people are coming from that has enabled them to embark on a trip like this.
We have seen so much growth in every single one of them! They have navigated all types of challenges, taken on big responsibilities in planning travel, and we have a group of Spanish speakers! Every single one of them can hold conversations with local people and take care of all their basic needs in Spanish. They have become smart, capable travelers.
It has been a pleasure to guide your loved ones through this semester. We met three months ago and have transformed in that time individually and as a community. We started deep in the hot jungle of Costa Rica where we spent a few days talking about what we want this trip to be for us, setting goals and expectations, and getting to know each other.
We swam under waterfalls, hiked treacherous trails, spent many hours doing dirty labor in the heat and getting to know the tropical environment as we worked alongside locals. We had challenging conversations with each other and also shared many laughs. We cooked together and shared many meals. We danced and worked out and stretched. People became dear friends.
We learned about sustainable farming in a tiny community in the mountains of Costa Rica and explored the processes of growing and producing coffee and chocolate. The group made compost, dug trenches, planted fruit trees, and learned about permaculture principles all in Spanish! We walked late at night and early in the morning on a remote beach searching for turtles laying eggs to bring them to a hatchery and give them a chance at survival protected from predators and poachers. We tried to surf and did some yoga and reflection as we entered the midway point of our semester.
On to Guatemala! We started the second half of our trip with a full day exploring the beautiful, historic city of Antigua. The group appreciated the cooler temperatures and comforts of city life such as Indian food, cappuccinos, and clothing stores. The next day we headed to the artistic city of Comalapa to work with Long Way Home, an organization that focuses on green building, education, & employment. The group killed it building walls out of tires and cobb! We were sad to leave our new friends. We moved to the beautiful city of Quetzaltenango (Xela) where the students took one on one Spanish classes and spent their free time exploring the offerings of this indigenous city in the mountains.
From Xela we moved to Pachaj, a small town on the outskirts of the city, to work on a grassroots reforestation and environmental project. We stayed in host families, indigenous Mayans who spoke Ki'che as a first language and Spanish second. After several days in Pachaj the group trekked through the mountains, arriving the Lago Atitlan to watch the sunrise over the volcanic lake the third day of the trek. Woohoo!
We moved to the coast to learn about sustainable development in El Paredon, a small fishing town, where we did workshops on global economics, helped out construction projects at the local school, & tried some surfing in our free time! We could hear the waves of the pacific ocean crashing from our rooms and were treated to beautiful sunsets over the water. For our last week of program & student directed travel we went back to Lago Atitlan to explore the lake and enjoy our remaining time together.
It has been a joy and an honour guiding your students through these last three months. We feel fortunate to have shared the company of such bright, energetic, loving young people. They are inheriting a difficult global reality full of political divisions, environmental crises, rampant inequality etc. They are approaching this responsibility with deep care and inquisition and we are honored to have played a part in their journey.