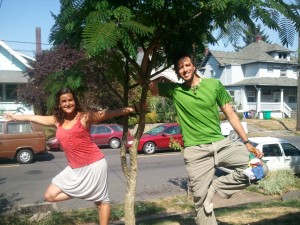 Namaste, from your very enthusiastic leaders, Simone and Ole!!
This blog is a place for you to post photos, tell stories and share your experiences with friends and family back home. Send your loved ones this link so they can see and read about the places that your adventurous spirit is taking you.
Throughout our semester, each of you will have the opportunity to post to this blog, documenting our journey for the world to see. Blogger is one of many group roles that each of you will fill as the semester progresses and we are very excited to see what amazing writing and photo uploading you will do.
Sharing the responsibility for success will help our group build a tight-knit community, and help each of you develop great travel skills.
Reminder: We will all be meeting at the Cathay Pacific Check in counter at SFO at 9pm on Wednesday, Sept 14th.
We're looking forward to an educational journey with you; full of adventure, smells, toil, sights and laughs. Hopefully you've already had a chance to read through the itinerary, but if not, go for it and start getting pumped. For now, eat the foods you love, hug your families and pets, and pick up those last minute travel-essentials. Next stop, India!
For now we will leave you with this quote from Keith Bellows from the National Geographic Society.
"There are some parts of the world that, once visited, get into your heart and won't go. For me, India is such a place. When I first visited, I was stunned by the richness of the land, by its lush beauty and exotic architecture, by its ability to overload the senses with the pure, concentrated intensity of its colors, smells, tastes, and sounds… I had been seeing the world in black & white and, when brought face-to-face with India, experienced everything re-rendered in brilliant technicolor."