Written by Emma & Spencer
Hi guys! Emma and Spencer here. We have now successfully finished our first week at Long Way Home in what is known as the "Florence of Guatemala," the vibrant town of Comalapa. Our first night in Comalapa we settled into the innovative and beautiful Long Way Home Lodge, only a stones throw away from the Heroes School which is the main focus of the Long Way Home project and our volunteer work. The lifestyle is definitely one worth replicating, with walls built from hay, soil, sand, water, and 'eco-bricks' (plastic bottles stuffed tight with any waste produced), and strategically decorated with inserted glass bottles to provide artistic value alongside brilliant works from the Perén family.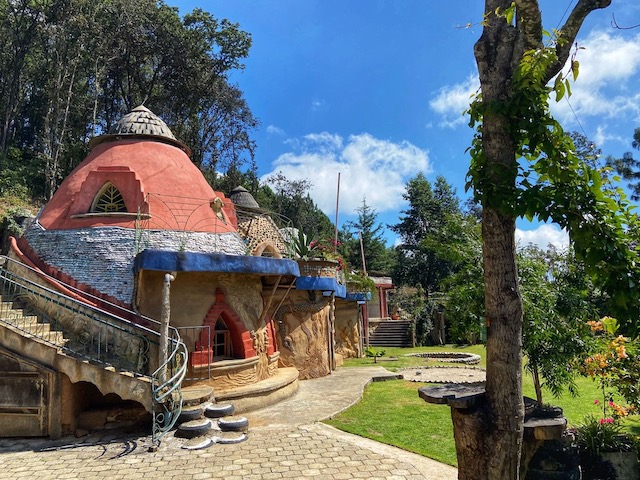 We started bright and early our first full day at 7:30 am, touring the town of Comalapa, including their detailed historical mural, colorful cemetary, and visits to the gallery of the famous Oscar Perén, as well as each of the galleries belonging to his grandsons, Tony, Ande, and Roberto Perén. After lunch we began to get our hands dirty by creating cob, and nailing tire walls in order to hold said cob. The rest of the week entailed of full days; starting with breakfast at 6:45am, manual work (making cob and cement in order to implement walls an floors for new classrooms) from 7:30am to noon with a half hour break at 10:30am, lunch from noon till 1:30pm, more work again until 3:00pm, and then an hr break for showers, snacks and rest before finishing the day with 2 hours of Spanish class until 6pm. Needless to say, collapsing on our beds at 8:30pm or 9:00pm was a regular occurrence.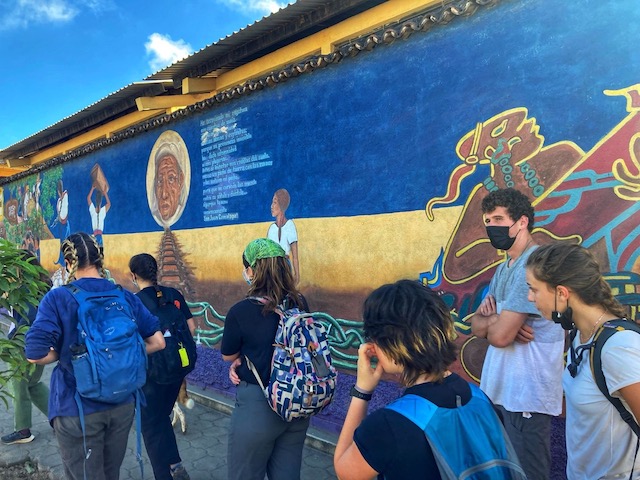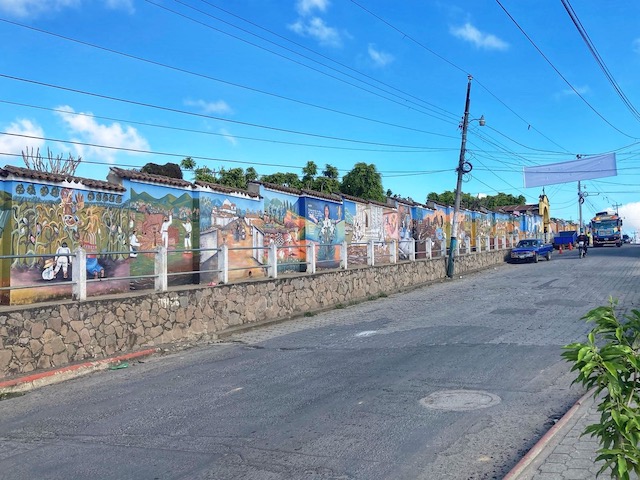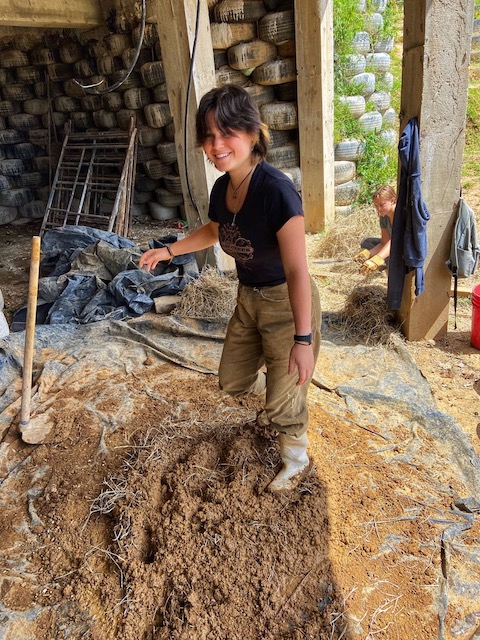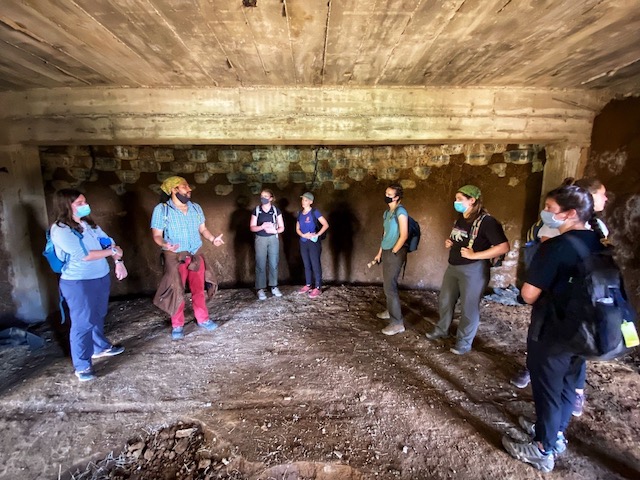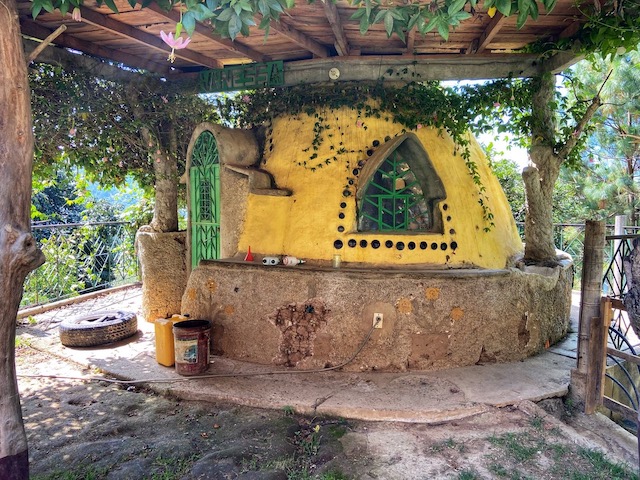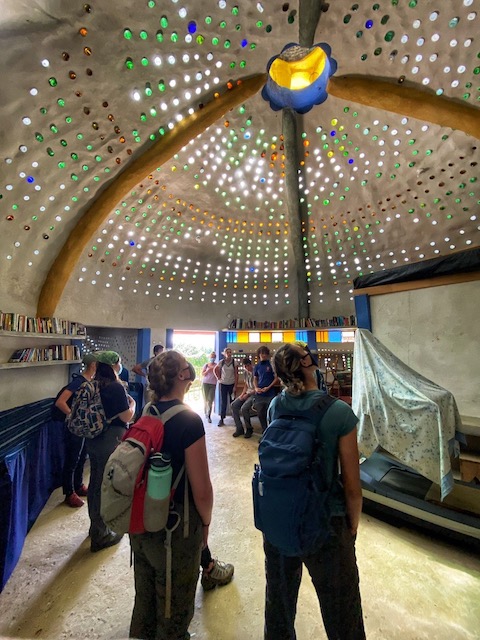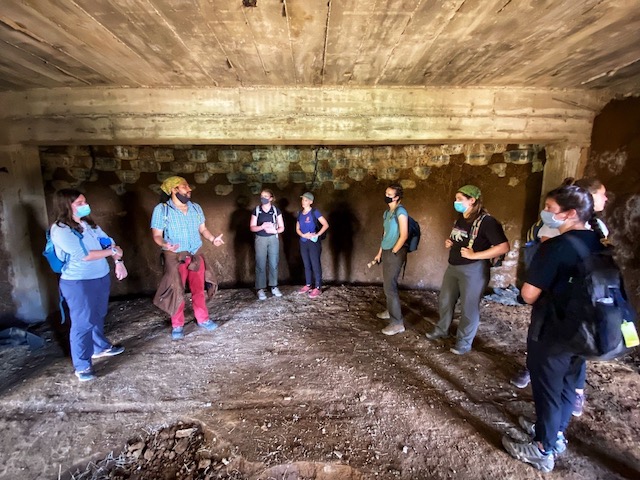 We only strayed from our usual daily schedule on Wednesday, when, instead of Spanish class, we participated in a class for traditional Mayan weaving (much harder than it looks). We also have our weekends off! This past Saturday we left at 8:30am to drive an hour and a half away to the amazing Iximche Mayan Ruins, where we learned about those who settled there in 1465, and their systematic hierarchy and mimicked intricacy to the placement of each settlement (or their remains). Unfortunately, we were only able to see the remnants of a population of about 400, consisting of only the most important families, since the conquistadors destroyed and utilized the materials from the additional 4,000.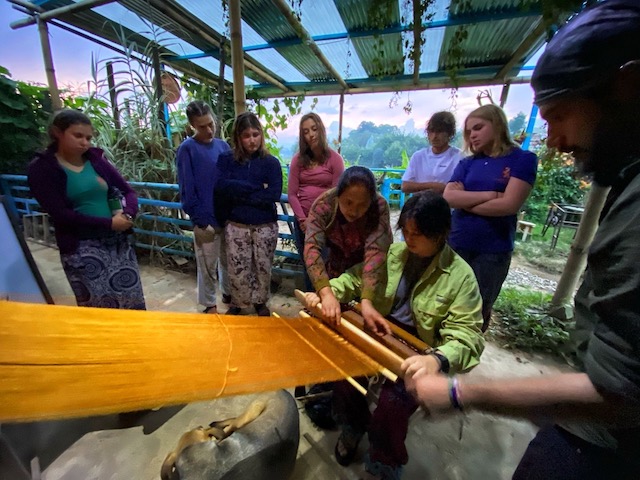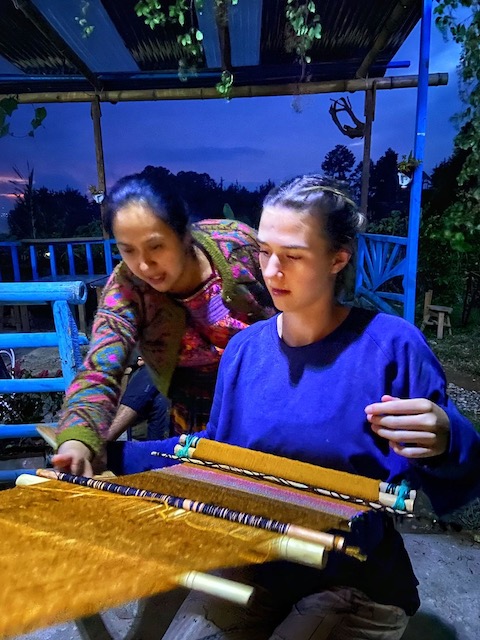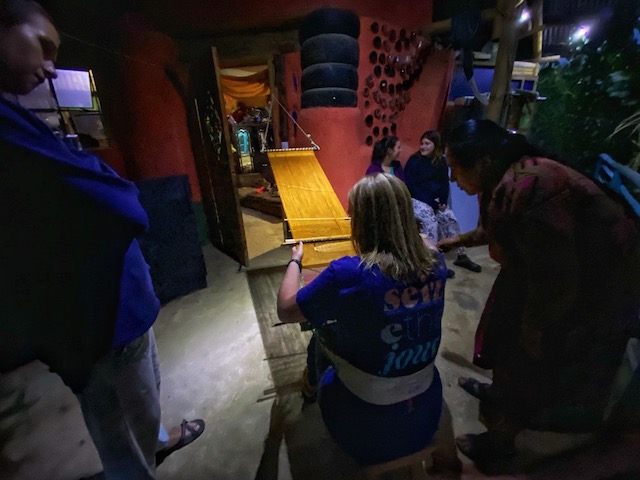 Within the ruins, there exists 5 sectors: A, B, C, D, and E. Each of them divided the population of 400 into identical layouts, however differentiated families. Sectors A and B belonged to the most important families, C to the second more important, D to the third, and so on. Each section contained, a temple to the moon, the sun and the wind, each aligned to where the sun rises and falls. Each temple contained an alter for human sacrifice (mainly prisoners of war), and centered between existed two smaller alters for animal sacrifice. One of the smaller alters contained two sides, symbolizing the duality of nature and mayan culture: day and night, right and wrong, love and betrayal, etcetera. The latter had twenty sides, symbolizing the number of days in the month in the Iximche calendar, based off of the number of fingers and toes each person has. Furthermore, thirteen is also a very important number because it replicates the amount of joints that exist in the human body (ankles, knees, hips, shoulders, elbows, wrists, and neck), as well as the number of months there are in a year in the Iximche calendar. Thirteen multiplied by twenty also just happens to be the amount of days it takes for gestation.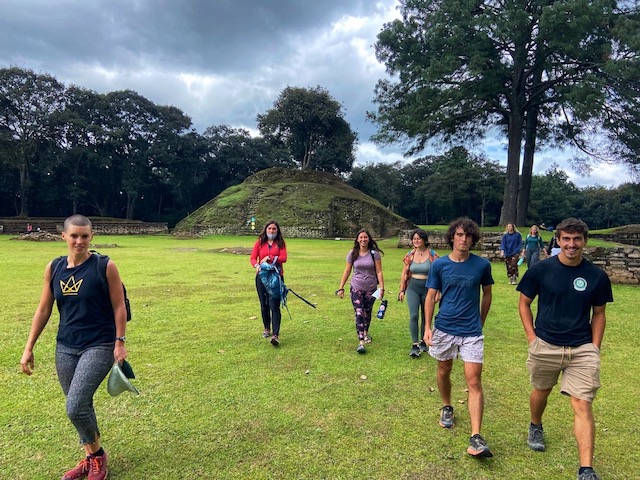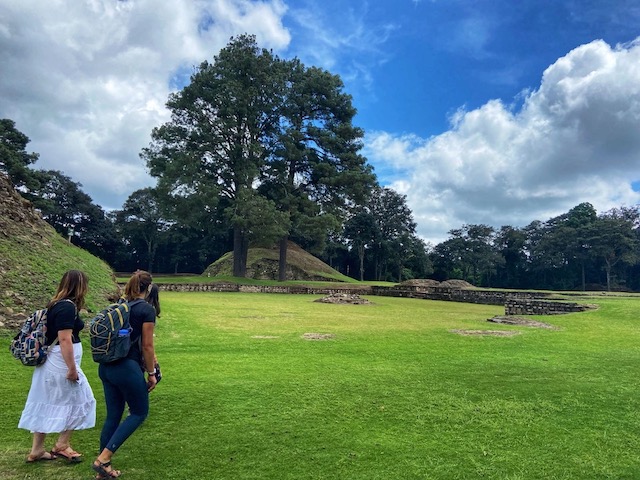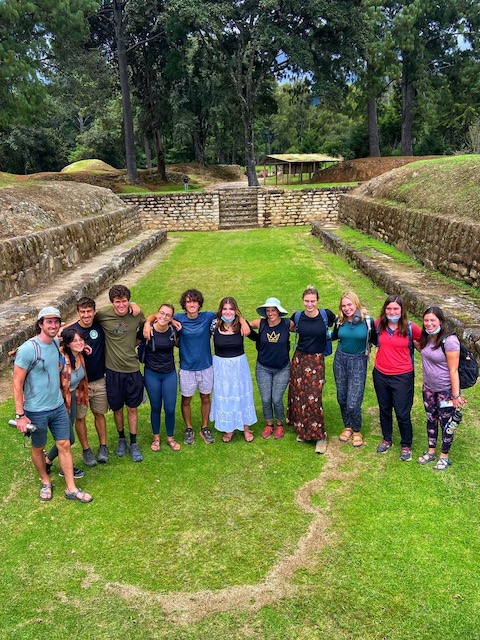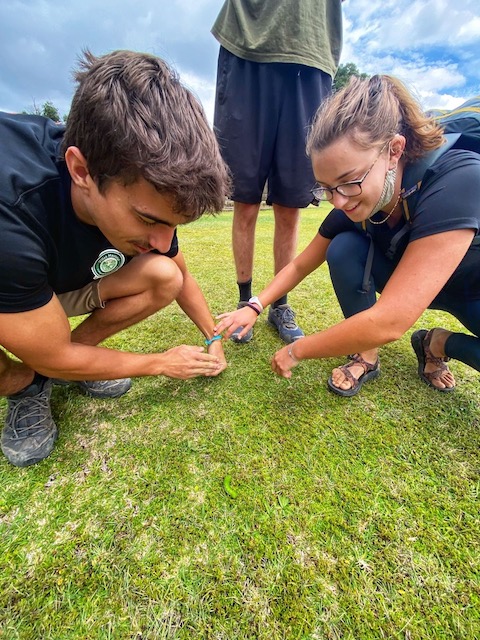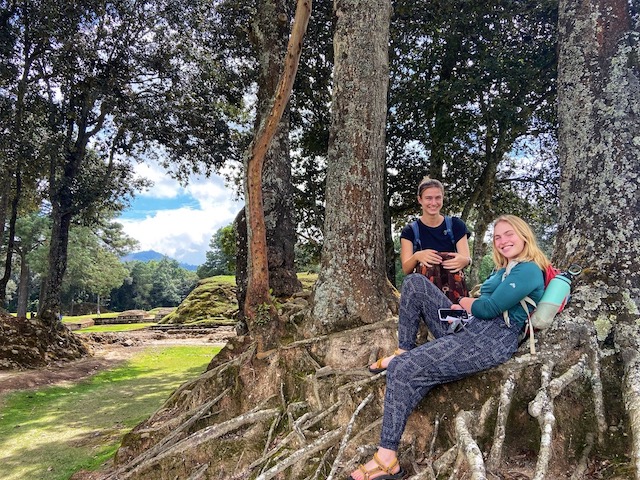 Next to the square, there is court for their juego de pelota, played with an eight pound rubber ball that was bounced from the knees and hips in order to score a goal. Lastly, each section contains and additional square, behind the large accommodation for the principle families (usually containing twenty-five rooms as to house multiple wives and children), that displays three more alters for voluntary human sacrifice, for ridding yourself of betrayal or grief, and become reborn as something or someone else, free of burden. We were also lucky to witness mayan ceremonies within the ruin compound.
This Sunday we participated in a painting class directed by the very talented Tony Perén, learning how to combine nature, paint and creativity. With our free time throughout the week and more extensively in the weekend, we have been able to explore the town of Comalapa, some of the highlights were the busy markets, hidden cafés, vibrant street art, and delicious 'choco-frutas.'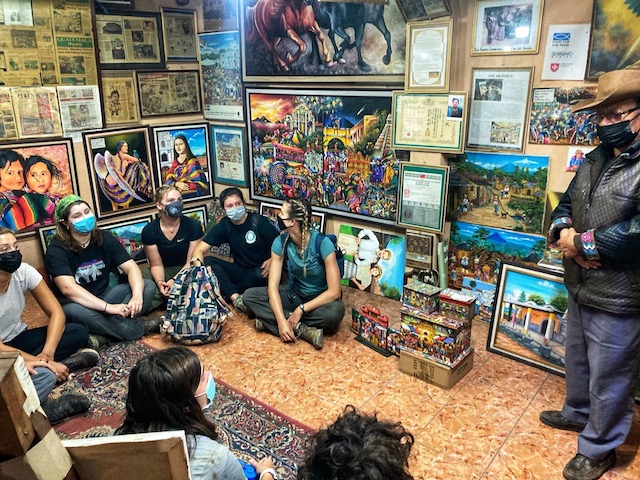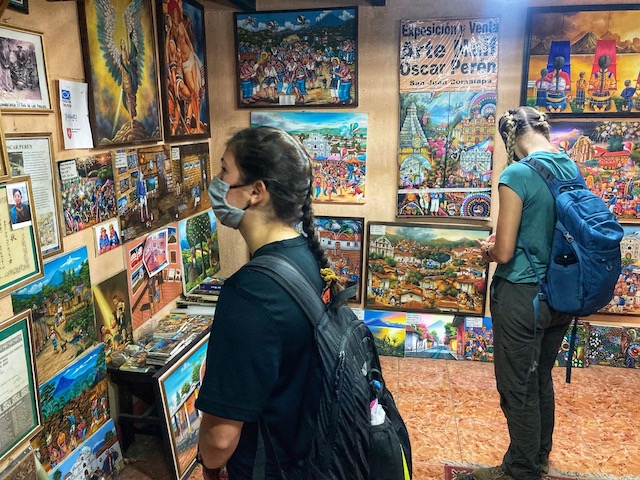 We look forward to participating in kite-making for the Day of the Dead, and jumping back in to our last week with Long Way home!