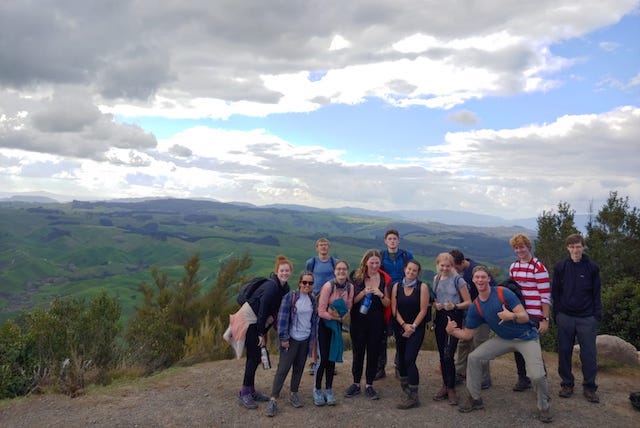 Greetings from New Zealand,
So far our trip has been amazing! We have all been having a great time exploring the country, getting to know each other, and learning the ins and outs of the Kiwis.
Orientation was jam-packed and we were able to learn a lot about each other and establish a baseline for the coming trip. Being based in Raglan gave us a lot of opportunities to explore the local area. We traveled around town, hiked down to the beach and interacted with the locals. We also learned how to shop for and cook our own meals.
The morning after finishing orientation we all got up and went to the beach for an early morning surf. The waves were rough (but fun) and it was a great way to start out our two day journey to the Hart farm. We spent each day driving a couple hours and then exploring. On the way we hiked up "Rainbow mountain", went swimming in a hot spring and ventured around the local area. The next morning we began the final stretch of our journey to the Hart farm by visiting a beautiful white water river.
Once we reached the Hart farm we quickly settled into life on a farm. We have learned how the owners of the place, Greg & Rachel, take care of animals in an environmentally regenerative way. We have helped him prune trees, remove weeds, and even learned how to milk cows. His wife, Rachel, has helped us cook food (which has been delicious with all of the fresh meat, eggs, milk and veggies). In the evenings we have been able to kayak on their lake, play frisbee, hackie sack, play cards, have dance parties and watch from Greg's huge selection of documentaries.
Getting to know everyone so far has been a big treat and it seems like we all are getting along really well. We are all looking forward to the trip ahead and excited to continue exploring and getting to know each other.
– Josh