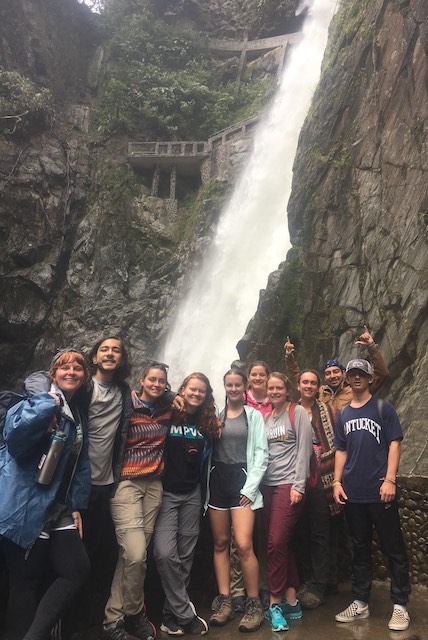 Hello from the Highlands of Ecuador!
This past week we took an 8 hour bus ride from Tabuga to Baños in the mountain region of Ecuador. We had our first hot showers since arriving, as well as access to restaurants, nightlife, and as we are sure most of you know, the internet and telephones.
Baños is named after it's thermal baths, natural hot springs that flow from the volcano at the the top of the city and we frequented them more than once (our Overseas Educators visited them almost every night).
We met our first home stay families, and learned how to live with an Ecuadorian family, where food and cooking is the pinnacle of the household. It was an interesting adjustment. We began our second week of Spanish classes, as well. We have all improved exponentially and if you didn't already know us, you could possibly mistake us for a group of really light-skinned locals. Our teachers were patient and skilled, and taught us more about the country and kept us up to date on local news.
Part of this news included a nation-wide protest that led to just a slight militarization of the country. On Thursday, our Spanish classes took a field trip around Baños to see its famous waterfalls. They were breath-taking and exciting, with one where you could crawl on your hands and knees through a cavern to be directly behind the cascade itself. On our journey home in a double-decker bus, we suddenly hit a traffic standstill. Cars after cars had parked and completely blockaded most major roads in to the city. We ended up having to get off our bus and walk the rest of the way back to Baños, and along the way watching cars parked in the middle of the street as far as the eye could see. As we neared the end of the blockade we even saw a few people lighting tires on fire. The protests were in response to the President raising gas prices, which many Ecuadorians felt they could not afford. By that evening, martial law had been instated. Everything was calm and relaxed in the small town of Baños, with the major issues occurring in large cities like Quito.
On Friday night, we all danced through our first salsa class as a group. Almost everyone had a great time, and we have decided to continue classes as we make our way through South America.
On our last day here in Baños (Saturday), we made an exhausting hike to the Casa del Arboles, the swing at the end of the world! It was great Machu Picchu training, and the views were incredible from the swings that went out over the vast mountain vista.
All-in-all, we had an exciting and adventurous week. We still cannot find an area of this country without chickens (even at the very top of a mountain). Will keep you all updated on this imperative aspect of our journey.
Krysia and Tasha out!