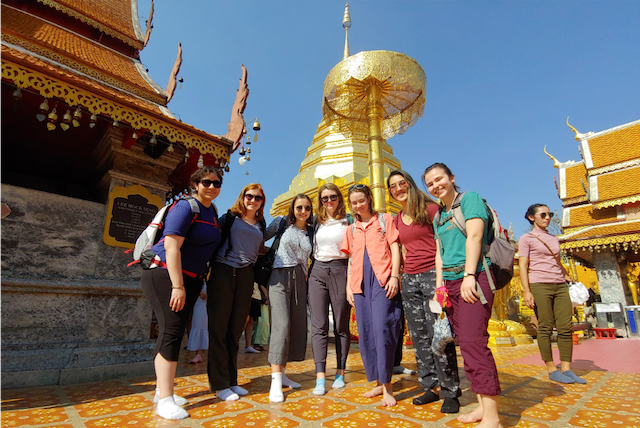 Hello from the land of smiles!
We are excited to be reaching out for the first time together as one and hope this blog entry finds you well. We are wrapping up orientation in Chiang Mai and are about to depart for our initial homestay experience in Mae Rim. The crews (Team Free Boyfriend, Lost Wanderers, and Mango Vibes) just returned from their scavenger hunts filled with stories. Here are a few of the highlights.
Jordan and Daniela…Lost Wanderers
Our first returners, team Lost Wanderers wandered so far they thought they were lost until they took a tuk tuk back from their long journey home and discovered they were a short five minute ride from their starting point. Their long sweep of the city took in a high school campus where they saw a few young 'uns booting the ball at each other, which may or may not have been a game; selfies with a helpful soul who let them borrow his phone to contact us, and the observation that flowery pants were indeed a popular fashion choice in the cafe they rested in.
Miku and McKenna…Mango Vibes
Miku and McKenna started off their scavenger hunt by coming out on the wrong end of a bargaining session, paying approximately five times the price of what a post card should cost (in other words, about $2.00 extra, so enjoy that beauty of a card Mom and Dad), and thus feel better prepared for future bargaining sessions, perhaps for a pair of those aforementioned flowery thai pants. Their long wander of the city included a head raising visit to Wat Phra Signh, a beautiful Buddhist temple on the other side of the city, and a slew of delicious local snacks highlighted by mango gummies.
Fields, Rosalba and Whitney…Team Free Boyfriend
Crossing the finish the line at the last possible second at a quick trot, Team Free Boyfriend returned full of smiles and laughter. Besides the interest they drummed up on the streets, highlights of their adventure include a long and entangled conversation with multiple people helping them attempt to translate the difference between shampoo and conditioner, artistic snapshots of one another consuming the world and/or each other, and a delicious lunch of pad thai and khao soi.
Moving forward, our group journeys north to experience village life with our host families and Ajarn Petchara, our mighty and wonderful contact through Ban Rai Tin Thai Ngarm Eco Lodge. There we will be sinking our teeth into the Thai language, exploring the natural world, taking our first steps in Thai dance, and, most of all, appreciating the chance to exchange stories and experiences with our first homestays. In between all this, were one to spot a group of backpack laden travelers with cards in hand and squeals of laughter escaping mouths, that would almost most certainly be us, as we continue to strengthen the bonds of our newfound traveling community.
Keep your eyes peeled for another blog post after our weeklong stay in Mae Rim, this time written completely from a student perspective.
For now, happy trails wherever you may be and thank you for supporting us along this journey.
Natalie, Paff, McKenna, Fields, Rosalba, Jordan, Daniela, Miku, and Whitney 🙂