Written By Tyler & Cece
Hola from Turrialba! We're Tyler and Cece and we're so excited to share with you some highlights from our two weeks in this beautiful place.
Our first notable excursion was to The Tropical Agricultural Research and Higher Education Center (CATIE). We not only learned about many of the unique plants native to and present in Costa Rica, we also learned about CATIE's mission and role in sustainability. We were all thoroughly impressed by their commitment to agriculture, and preserving and creating new species of plants, including a world seed bank they have with thousands of different types of seeds.  As participant Sasha puts it "I am definitely a sucker for plants and I loved learning about the seed reservations. I think it is important to have these organizations that are focused not only on conservation but on education. I think this pandemic has shown us the need for forethought and preparation when it comes to things like health and food security." After some time spent learning about the horticulture of Costa Rica and the work of CATIE, we were able to explore their lush botanical garden, galavanting beneath the deep shade of the Kapok trees and tall bamboo.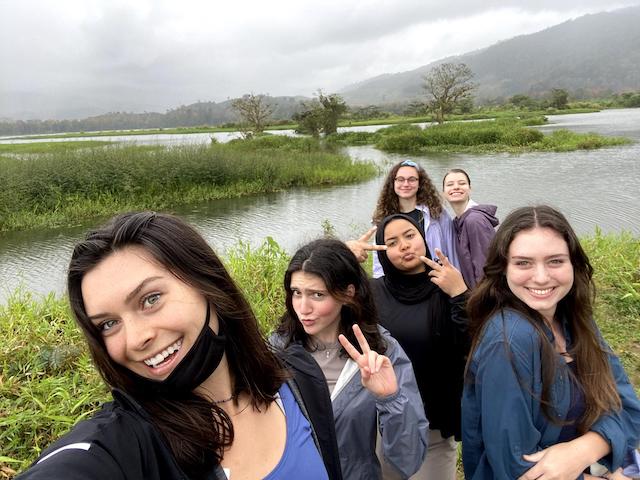 Our next great learning experience came in the form of a Zumba class led by a local instructor, who skillfully infused Salsa, Merengue, and Cumbia dance styles into an invigorating workout. This vigorous exercise was unfortunately preceded by a delicious Chili dinner, which made for a rather comical situation. Mia says "Zumba was thoroughly enjoyable, in part due to the fact that it felt so spontaneous and unexpected."
Next on our list of adventures, we were able to visit Guayabo National Monument, one of the most significant agricultural sites in Costa Rica. The monument is home to the largest pre-Columbian ruins that have ever been discovered in Costa rica. We learned about the amazing feats of engineering achieved by the indegenous Guayabo people who built the city approximately 3000 years ago. At its height, the city is said to have been home to 10,000 people. It was abandoned a century before the Spanish arrived, in 1400 BC, for reasons that to this day remain a mystery. Walking around the ruins we were able to see the aqueducts, stone foundations, a cemetery, and a 9km long paved road. We were able to view petroglyphs, and envision what the conical thatched roof houses may have looked like when they were standing. The ruins were well maintained and the experience was highly educational. As Maggie put it, "I felt that the indigenous presence and culture is well preserved and appreciated by Costa Ricans."
Our group is filled with people from different backgrounds and cultures, and in addition to learning about Costa Rican cultural practices, we enjoy learning about each other's cultural traditions. There are quite a few a jewish participants on this trip, and they decided to include the group in their celebration of Purim on the 25th of February. As the group learned, Purim is a celebration commemorating the deliverance of ancient Persian jews from persecution. We spent the evening making Hamantaschen, a traditional Purim cookie. As is traditional, the group got in costume for the occasion, and we had a particularly fun time dressing up our male participants in dresses in makeup.
Due to COVID, we have occasionally felt a little cooped up in our hostel. Fortunately, being in Turrialba allows us to easily access the beautiful forests that Costa Rica has to offer. A short drive away from our hostel is La Marta, an expansive wildlife refuge with many miles of hiking trails. While not everyone was up for a seven mile hike, we were able to split into two groups to better fit the pace of everyone. The squad of individuals that were feeling more courageous sought out to find scenic views of a waterfall and stretch their legs. Sadly, the waterfall view was a little underwhelming, but that did not put a damper on the day. According to participant Veronica, "Although we didn't get to see a waterfall, it's more about the journey than the destination. The hike brought the girls closer together and made me appreciate walking in the rain, which I haven't done before."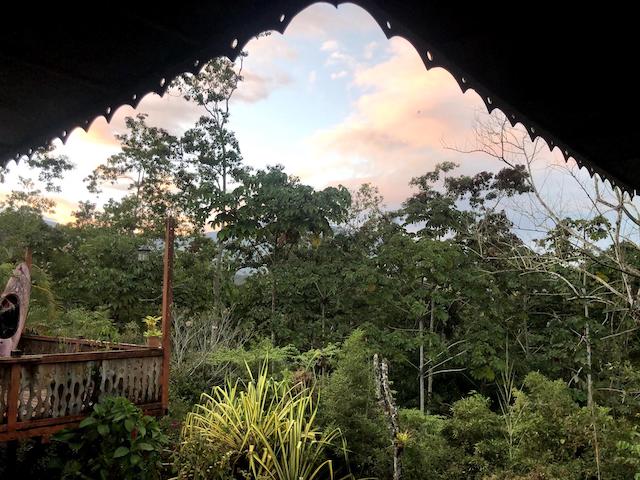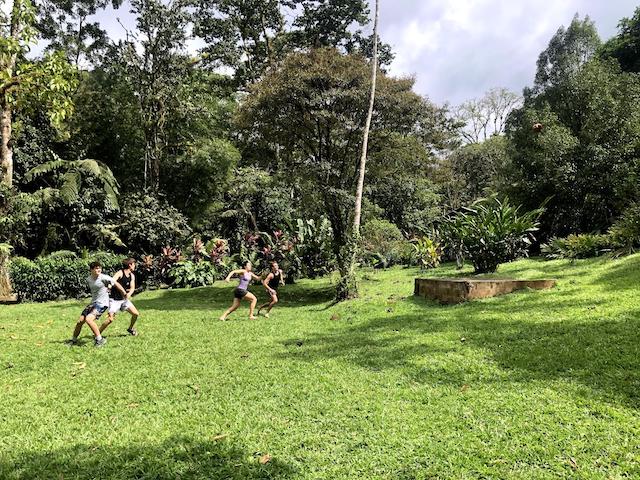 The group that was feeling a bit more easygoing that day decided to plant themselves by the river to relax. Unfortunately, the weather in Costa rica is completely unpredictable, and the group was met with chilly weather and a bit of rain. They were nonetheless determined to go swimming despite the chilly temperatures, and in doing so pushed themselves out of their comfort zones. The group found themselves bonding over their shared shivers, and made the most out of the day. Hank describes the experience as such: "It was fun, less fun when I watched my tennis ball float down the river, but refreshing nonetheless!"
Our next adventure came on a much more balmy day, when we set out to find a waterfall. We were led to a local spot by Camila, the daughter of the hostel owner. After a short walk through some eucalyptus- lined cacao groves, we reached our destination, an awe- inspiring fifty foot waterfall with an idyllic swimming hole beneath. We eagerly jumped in, our desire to swim magnified by the hot sun and aforementioned walk. After a few hours of swimming and relaxing on the riverbanks, we made the journey back to our hostel. This excursion made us realize how incredibly lucky we are to be on this trip in this beautiful place.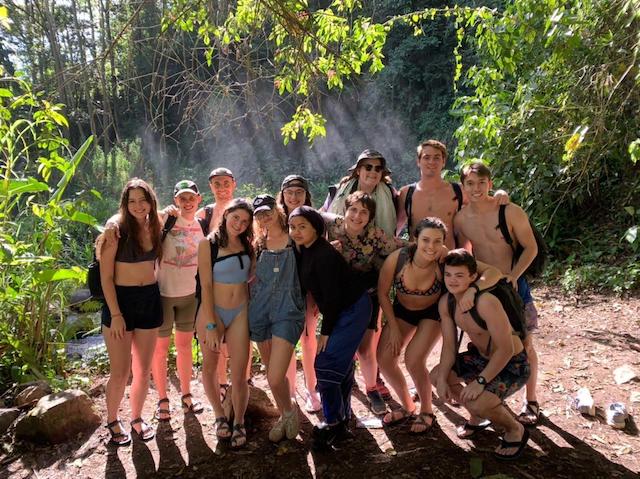 Today (3/05) we had our last day of Spanish classes, which we celebrated with a presentation from each class. The beginner class gave us all a show in the form of a hilarious skit, the intermediate class showed off their skills with a spanish rap, and the advanced class led everyone in a game of learning Costa Rican colloquial phrases. Each group gifted their teachers with a parting thank- you note, and the teachers brought delicious chocolate cupcakes for everyone to enjoy. Tomorrow we will bid goodbye to this hostel and to our generous host, and make the drive to our next location, Rancho Mastatal.  Safe to say we all miss this place, but we look forward to a change of scenery. Cole says, "I have enjoyed living so close to an actual town that we can go into and explore. I also really like seeing all the animals that are right outside, like sloths and toucans." When asked about what she is looking forward to at our next location, Alma says she "is excited to learn about permaculture and sustainable farming."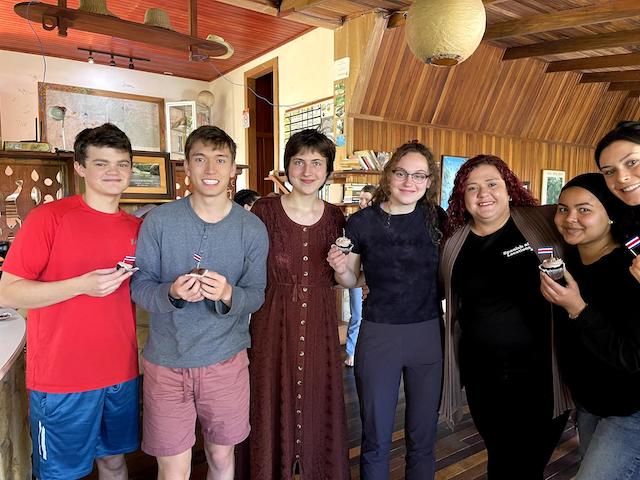 We are almost halfway through our trip, and we are so pleased with all the amazing memories and friends we have made. We are eager to see what the next few weeks will hold.