Huge thanks to Claire for her work compiling these reflections and photos from her Spring 2020 South Pacific group!
"I asked the group to share a few pictures, their favorite memory, and how they experienced the evacuation and return. I hope this sheds some light on what we as students were feeling during the evacuation time and also to share some great memories we made even though the time was cut short. Thanks again for the amazing job you guys do at headquarters, we could not do any of this without you!" – Claire
Highlights from Claire:
Visiting Xtreme Zero Waste which is a startup to clean up the landfill that developed into a green movement in Ragland.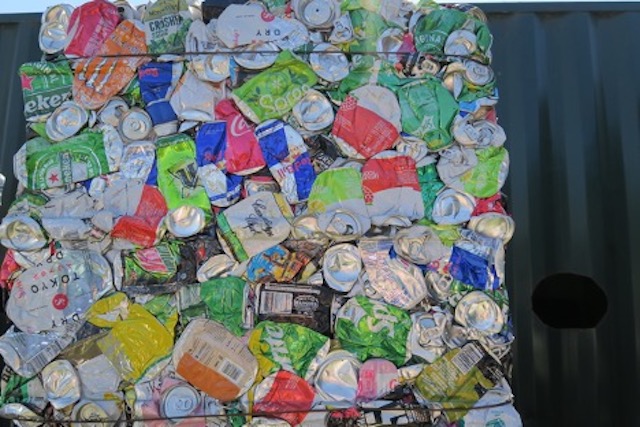 Backpacking the Abel Tasman. This time really bonded us as a group. We supported each other in the highs and lows.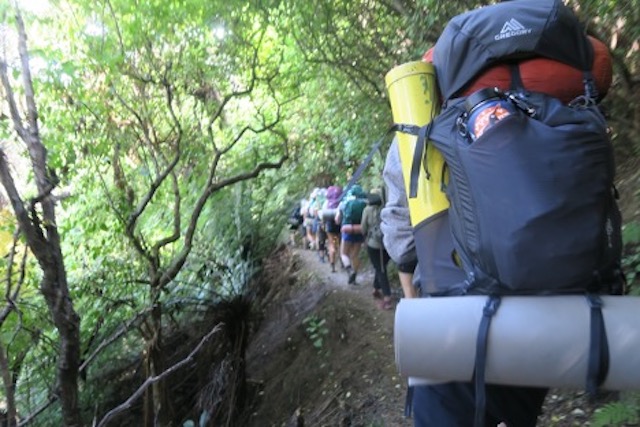 This photo (below) was taken the morning after the night hike that was really challenging for our group. Hiking till 12:30 at night isn't what we call fun but we stuck together and came out on top. Waking up from the sun the next morning was one of the best feelings, reflecting back on what we just endured and had overcome as a group.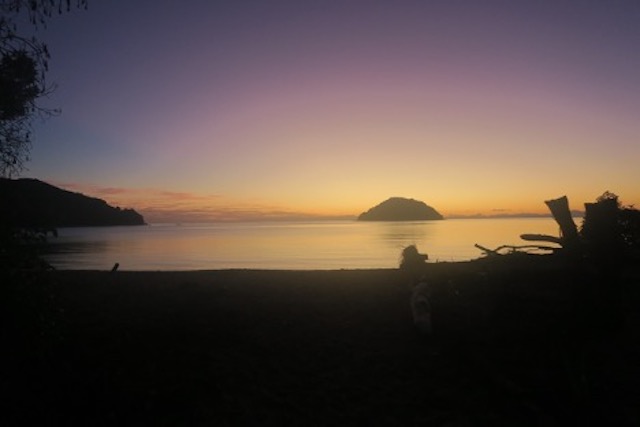 Claire's favorite memory of the semester: My Favorite memory had to be when we went caving and in the middle, our group turned off all of our headlamps and were surrounded by the extreme darkness. When looking up the glow worms lit up and made the ceiling look like the night sky. We then sat there for 5 min in pure silence.
Claire's reflection on the semester ending early and returning home: When we were told that we had to evacuate and that our trip was being cut short because of the pandemic I had an immediate rush of emotion. Realizing that the time I took aside to find myself and my why was taken away in a blink of an eye. Quickly our group had to switch off our sea kayaking mode and had to switch to packing up and leaving mode. The only way I can explain it to people is that it's like you were having an amazing dream and then were woken up in the middle by reality.
Coming back into this weird reality was a shock, to say the least. Because we were disconnected we had no clue about the severity of the pandemic. Only knowing a handful of things from the conversations we had with our parents and that it was bad enough that we had to be sent home or else we would be stuck.
Once I arrived back home I was immediately hit by many conflicting emotions; relieved, sad, annoyed, confused, lost, and grateful. We came back to a time where using technology has become a must to connect with people, to occupy time, and to work. So right when we came back we turned that light switch right back on which was annoying because one of the goals was to disconnect and find yourself on the trip. Now that I have endless hours to think about what is next, I take time to reflect on the amazing life changing experience Carpe Diem gave me. During this trip although it was cut short, I was able to step outside my comfort zone and to discover many new passions.
At the start of the trip, we were told to find our why. My why was to become more independent and to find the fire and passion within me. By coming back I have discovered that not only should we take time to find our whys but we should also seek the how. How we are going to accomplish this why. Lastly, during this time we must remember that we are all in this together and that we don't stand alone. Even if it feels like we are alone and hopeless we must seek the light that's shining bright on the other side.
Highlights from Mia:
Caving with Joe!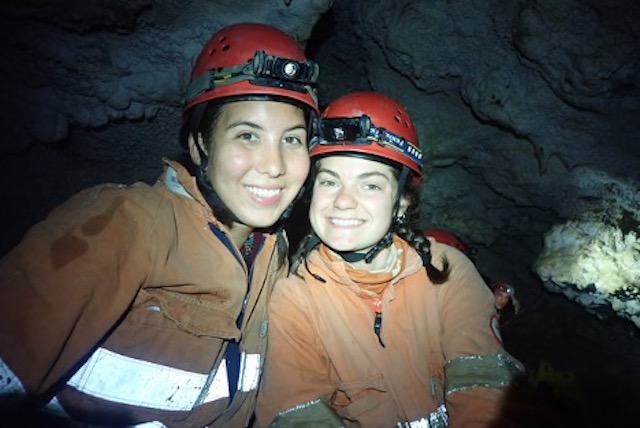 Backpacking in the Abel Tasman National Park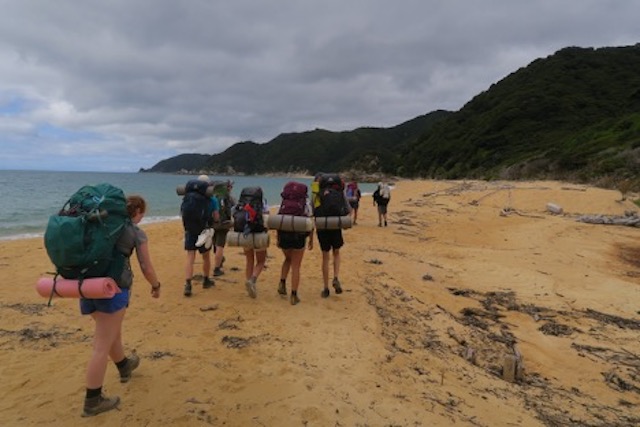 Sunset walk on the Marae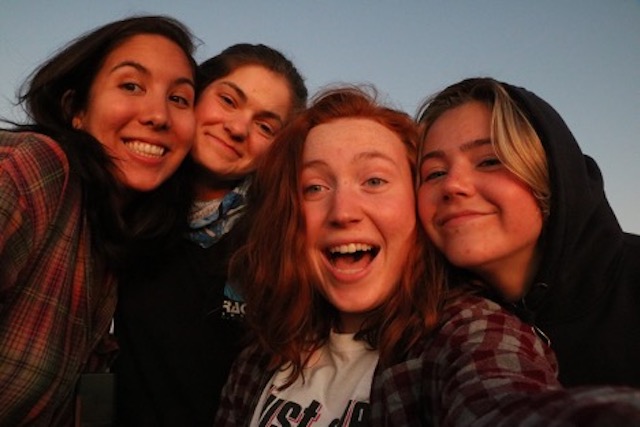 Mia's favorite memory of the semester: One of my favorite moments was getting a tour of Liz and Rick's sustainable permaculture farm in Raglan. They grow a significant amount of the food they eat and live off the land they own. Not only are they kind people, but they showed us how fulfilling it can be to live life in a sustainable way.
Mia's reflection on the semester ending early and returning home: I am grateful and happy I went on this trip. I have opened my eyes to so many new things that will undoubtedly change the way I go back to school and what I want to do with my life.
Highlights from Shane:
Sleeping at Anchorage after sea kayaking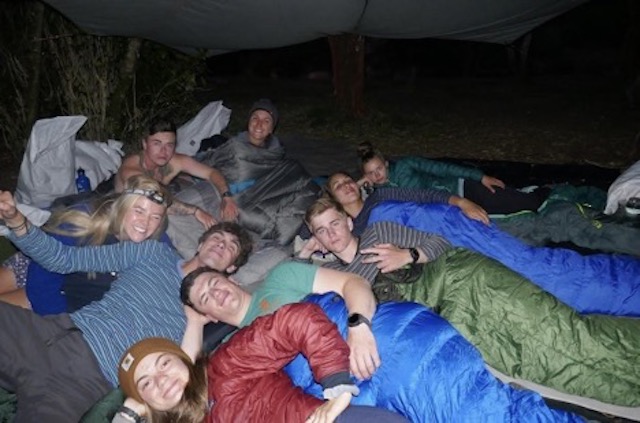 Hoka Falls in Rotorua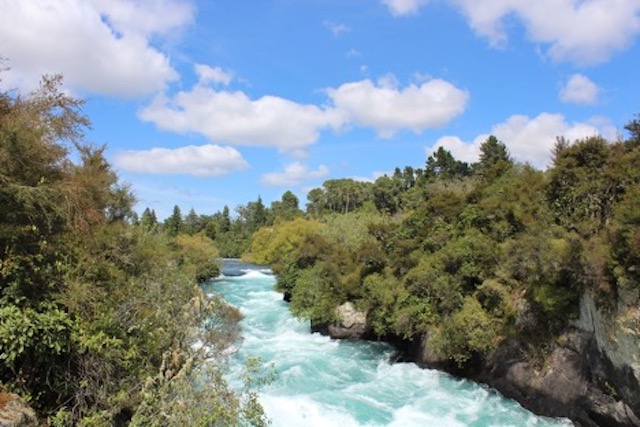 Sunset in Raglan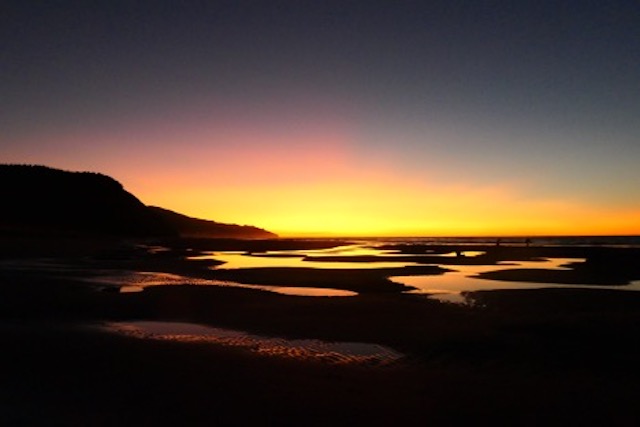 Shane's favorite memory of the semester: One of my favorite memories is from our first-night backpacking with Whenua Iti. After a long day of caving and hiking, the group set up camp, ate dinner, and finally sat down to have a debrief of the day. As we sat there sharing our highs, lows, and heroes of the day, all of the Wekas (birds that steal things) began to attack our stuff. We began sporadically jumping up and running after them or throwing shoes at them. It was an odd combination of having a serious conversation and being so annoyed by these little birds.
Shane's reflection on the semester ending early and returning home: I knew coming home after my trip with Carpe would be different. I wouldn't be with my friends anymore, I'd be home. I wouldn't be doing these once in a lifetime opportunities anymore, I'd be home. I wouldn't be able to learn about myself through the world around me, I'd be home. And now I'm home and the transition is nothing like I expected it to be. It has been challenging navigating the place I call home through the lens of Corona. Having to leave early due to COVID-19 was really upsetting. Probably due to the fact that one day we knew hardly anything about it and the next day our itinerary was changing, eventually leading to us coming home. Although I am still sad that our trip had to end early, I am so grateful for the people I met and the memories I share with them. I wouldn't change the 6 weeks I got with them for anything.
Highlights from Hanna:
Sunrise on our last day kayaking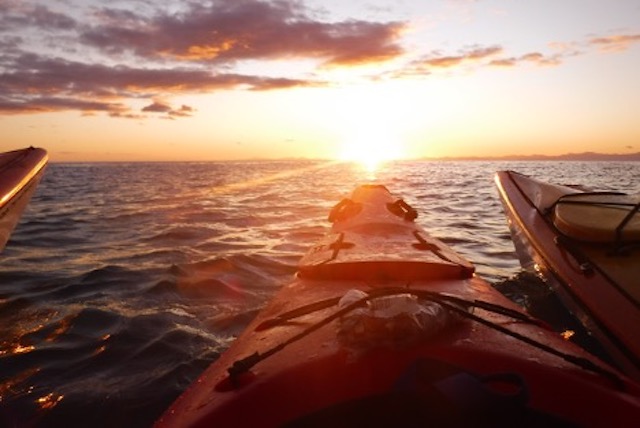 Exploring Cleopatra's Pool and going down the natural rock slide!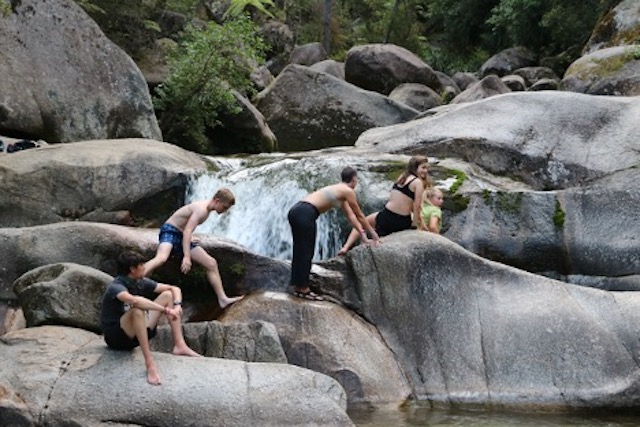 Sunset on the beach during our stay at the marae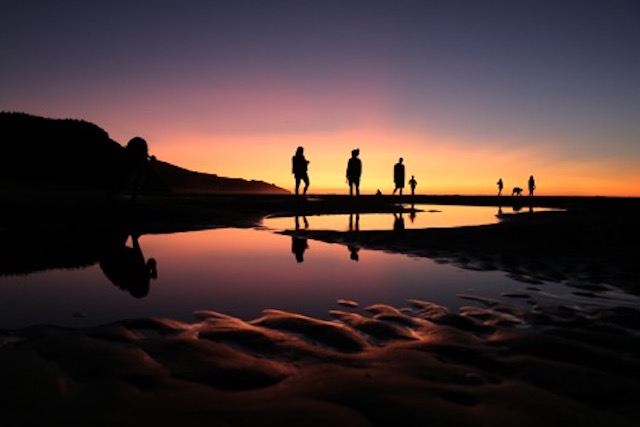 Hanna's favorite memory from the semester: My favorite memory is of the first real day that we spent with Tiaki during our stay in Raglan. We woke up early, before the sun rose, and hiked down to the base of Bridal Veil Falls. It was raining lightly, the first water the land had seen for a while since the country was experiencing a drought. Once we reached the great big pool at the base of the falls, we clamored onto the rocks along the shore and let our feet hang down to the water as Tiaki and Maddi performed a cleansing ceremony in Maori. Afterward, we were welcomed to dive into the pool. Many of us were hesitant at first, already cold and shivering in the rain, but after a few moments Conner unflinchingly plunged into the pool, and one by one we made our way down to the water's edge and did the same. It was a beautiful thing- we were still getting used to this unfamiliar land and only beginning to know each other, and at that moment I think we all felt a sense of solidarity and excitement in what we had just done. I believe that day with Tiaki sparked a theme that lasted for the rest of our time in New Zealand- of seizing the moment and just doing it!
Hanna's reflection the semester ending early and returning home: The evacuation was a whirlwind of events. It was after spending four days trekking through the Abel Tasman, completely disconnected from the rest of the world, that we emerged only to find that the rest of the globe had changed completely. It was hard to believe, as things in New Zealand were still, for the most part, normal, while from home came stories of toilet paper shortages and people receiving misdemeanors for even leaving their house. In a matter of hours, we had our few remaining days in the country planned out and transportation arranged to get us home. For a few days, a looming dread hung over us all, the realization that there was the possibility of us not being able to make it home. Nathan and Rachael, as well as our Whenua Iti guides, remained positive and did their best to keep us focused on the present, and did a good job of staying level headed during those crazy last few days.
Looking back, I almost wish I'd gotten stuck in New Zealand rather than have returned home to this strange new reality. I knew it would be hard enough returning back to the states, but returning home to face a pandemic and forced quarantine made it much harder to leave behind the adventure and the group of people I'd begun to call family, especially after such abrupt goodbyes. It feels unfair for something like this to have happened, to have taken away something so great; many of us went on the trip as part of our own individual journeys to find ourselves and our purpose, and now that I've had time to reflect I know that Carpe certainly helped me discover some of those things. Now is a time of contemplating my next, and I am very grateful for the tools given to me by my OE's to help me figure out what those next steps in life may be, an anchor I cling to during these uncertain times as a reminder that we will indeed make it out the other side.
Highlights from Liz:
Backpacking and sea kayaking on the Abel Tasman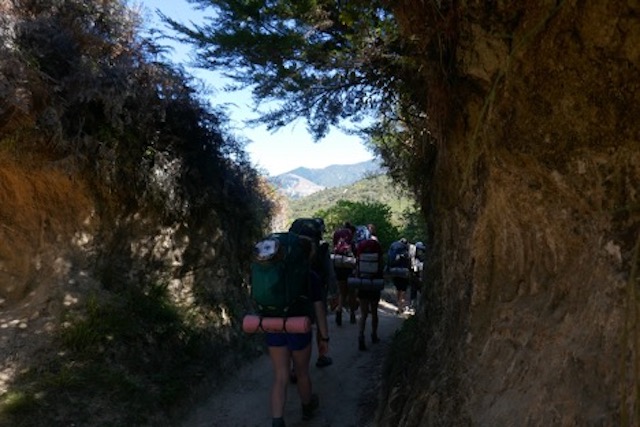 Working on the Hart farm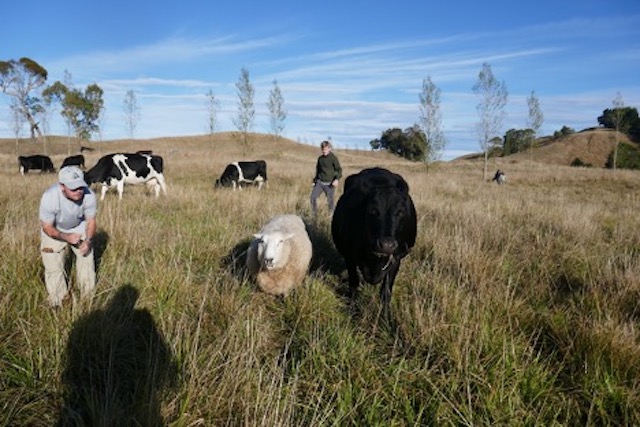 Walking 300+ steps for a beautiful ceremony in this waterfall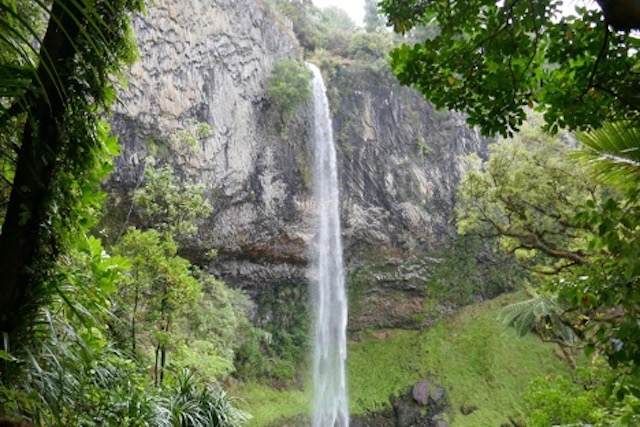 Liz's favorite memory: One of my favorite memories is through one of our contacts, Ngarangara. She was such a wonderful and insightful woman whose character really drew us together more as a group. She became like our group grandmother! We were invited to her home to make traditional herbal medicine from plants that we picked ourselves on a very unique nature walk! Then we made homemade sunscreen which also acted like a bug repellent! This was such a cool experience and I am so happy that we got to meet such a lovely and wonderful woman!
Liz's reflection on the semester ending early and returning home: While I am very sad to be home so soon, I am incredibly grateful for the few weeks I had with my group! We shared so many amazing experiences and although there should have been more, I am glad that we got what we did!
Highlights from Ryker:
Celebrating my 21st birthday at the Hart Farm!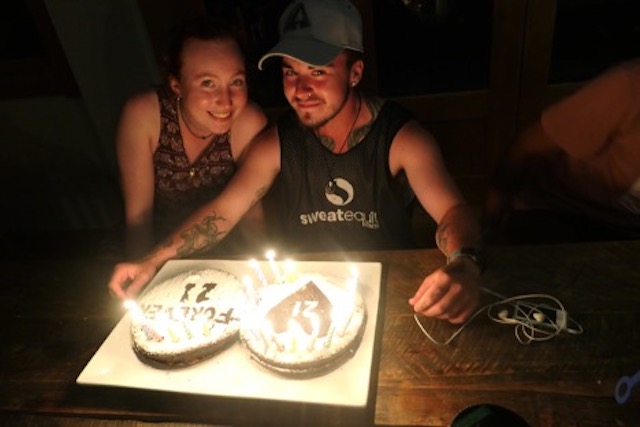 I am constantly sharing this photo and the story of the sweat lodge ceremony with everyone I come into contact with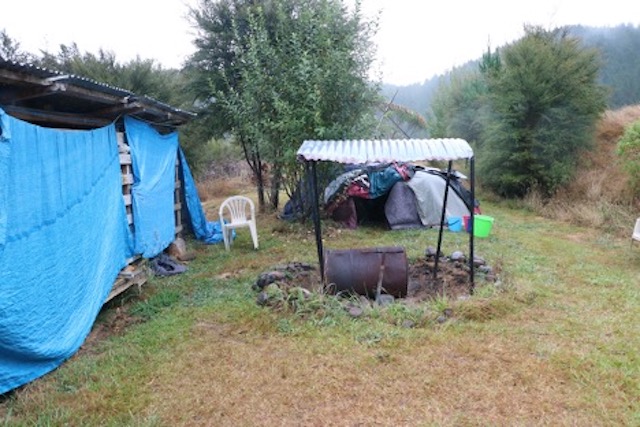 A monumental moment of me starting to not wear socks (sorry Nathan!)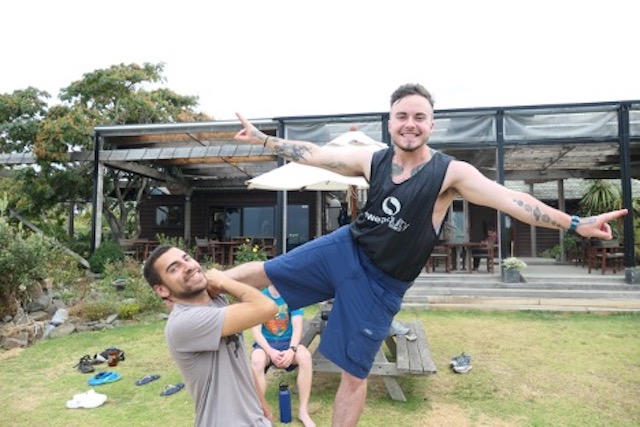 Ryker's favorite memory: At the Hart Farm, we were doing a chore of walking around the lake and trimming weeds. As we were walking on the outer banks, there was this large segment of tall reeds and as everyone began walking up a hill and around the reeds, I started to walk through them, claiming this was indeed a shortcut. Conner followed me, albeit hesitantly. These reeds were massive and to avoid the marshy water, we had to push the reeds down and climb on all fours across them to make our way out. What was even better, the resident dogs followed Conner and I, stampeding their way through, but constantly looking back at us to make sure we were still alive. I remember laughing uncontrollably when we kept hitting patches in the reeds where they weren't the most supportive and falling straight through. As we came out, Amelia commented that she was surprised to see only Conner and I coming out because, by the sounds of it, she expected most of the group to be in there. Definitely a moment that helped me relax and breathe a bit.
Ryker's reflection on the semester ending early and returning home: Coming back to the United States showed how far back we are on so many scales: environmentally, socially. It's sad but they applied to me as well as I am an American citizen. Before the semester I knew nothing about preserving our environment or the importance of farming and permaculture, I have lived in many places where I never truly witnessed or felt a sense of community.
In Raglan, they worked as a community to start composting with cyclical systems of disposing waste correctly, reusing and reducing as much as possible that benefits humans and our soils the most. It was also humanitarian work, creating jobs and opportunities for people. I've been thinking a lot about how to take the inspiration I experienced and pass it on to the communities around me. I was very heartbroken to see our trip end so soon, that the learning experience was over. But learning is never truly over. Now I get to learn how to start making healthy changes here!
Highlights from Maggie:
Greg, the Sheep, at the Hart Farm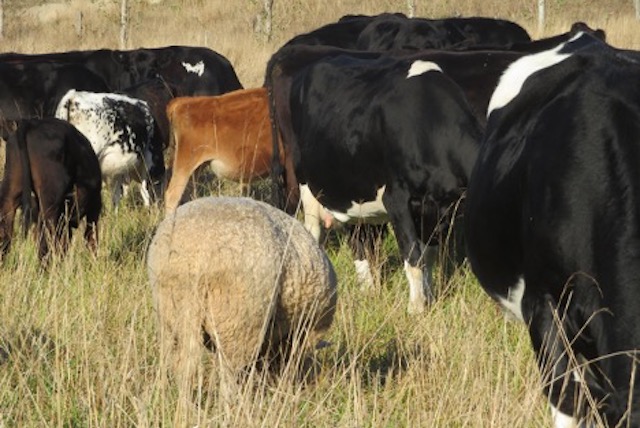 A Weka lurking around at one of our campsites in the Abel Tasman. These birds aren't afraid of anything and they will steal all of your things.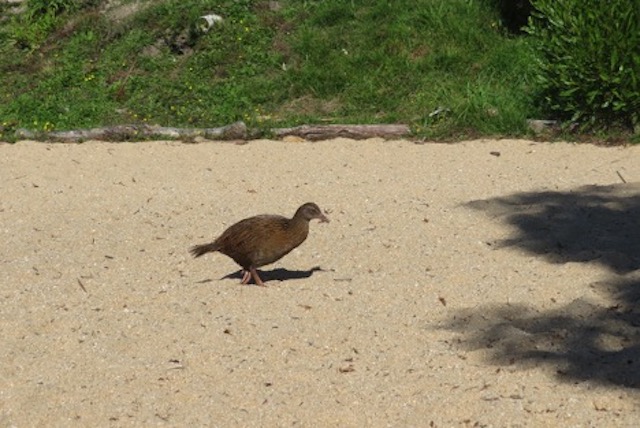 One of our first nights in Raglan at a very cool beach.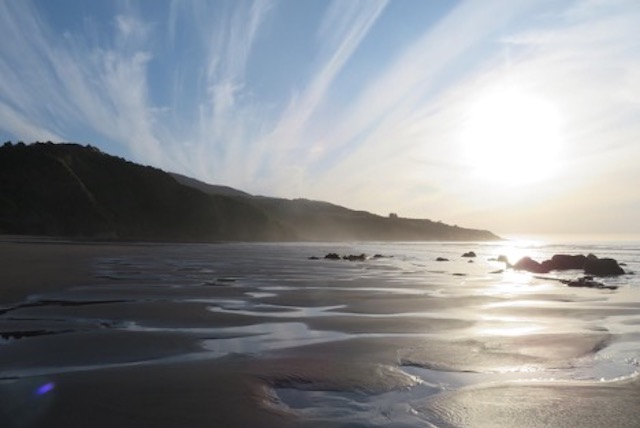 Maggie's favourite (that's how favourite is spelled in Canada) memory: One of my favourite memories during our time in New Zealand was caving. Gilby was excellent at leading us through the cave and teaching us about the different "rooms". We were all a little scared and uncomfortable at first, but we leaned on each other for support and got through it! We saw glow worms and climbed up a little waterfall and it was a great time.
Maggie's reflection on the semester ending early and returning home: Although I'm sad that our trip ended early, I try to keep reminding myself that I was lucky enough to spend 6 amazing weeks in New Zealand with some pretty fantastic people. I'm grateful that everyone is safe and with the people that they love.