Written By Ian & Eli
Hola from Camaronal National Wildlife refuge! Ian and Eli reporting from the scenic Pacific coast of Costa Rica.
We wrapped up our second week in Turrialba after 4 more Spanish classes. The group got their chef on as we had another cooking competition. On Sunday we planned meals and traded leftover foods between groups before going to the supermarket to get fresh ingredients. Ana and Maya put extra effort in to defend their best breakfast title while Matt and Soumya had confidence that they could secure another first place finish in the dinner category. Our eating was done in the communal living room of Spanish by the River. Not only did we eat here, we also practiced our dart throwing skills, had impromptu dance parties, and played some of our favorite games such as Dutch Blitz and Mystery Box. The cuisine this week was diverse, consisting of everything from lentils to smoothie bowls with granola. The winners of the contest are to be determined, but everyone produced tasty and creative meals.
After sitting in class for four hours, we utilized our time in the afternoon by getting active, whether it was yoga class or playing frisbee in the nearby park. We had so much fun during our Zumba class last week that we asked our instructor Elberth to come back and get grooving with us! We worked up a sweat by practicing salsa, samba and dancing with partners. The highlight of the week was hiking Las Trillizas waterfalls. We swam in the freezing cold swimming holes and stood under the falls before basking in the sun to dry off.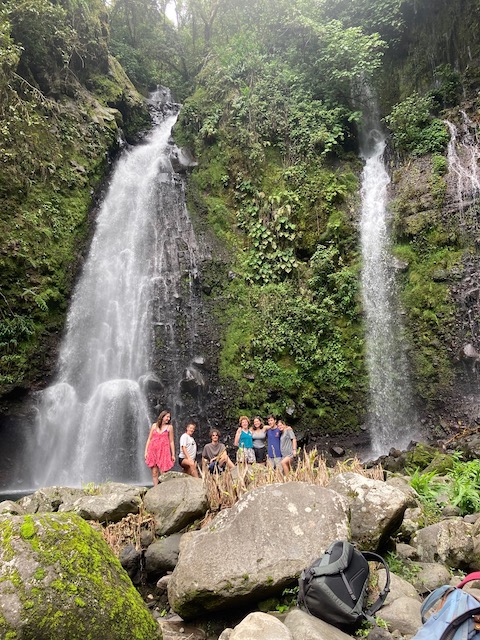 Lots of learning was done during Spanish class, even when it was occasionally interrupted to look at sloths in nearby trees. On Thursday we said farewell to our Spanish teachers by playing a game in Español and making shaved ice. Some of us even showed off our new dance moves. We ended class by having a water balloon fight between the two groups. (Although it was more of an ambush). The next morning we said goodbye to Jam and Spanish by the River and drove 6 hours northwest to get to Camaronal National Wildlife Refuge. Our time here was kickstarted by a group game and a turtle release on the beach during the sunset. After dinner, we got right into turtle conservation by going on a night beach patrol from 8:30 to 10. The group came across 43 turtle eggs in the sand which they brought to the hatchery. We do more than just help the turtles, however. Saturday we helped clean the trails in the parks and picked up plastic trash on the beach. During our time here we will be learning about the life cycle of a turtle and how to protect these precious creatures and help them thrive. After dinner the group went into the hatchery where we gathered baby turtles and released them under the bright moonlight. This was followed by another late night patrol on the beach to protect the turtles from poachers.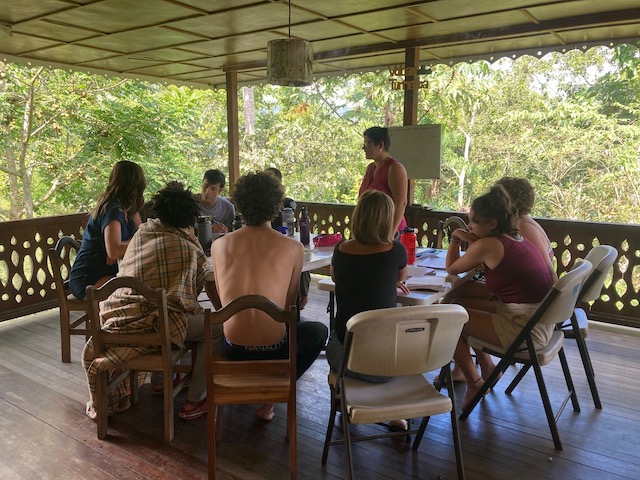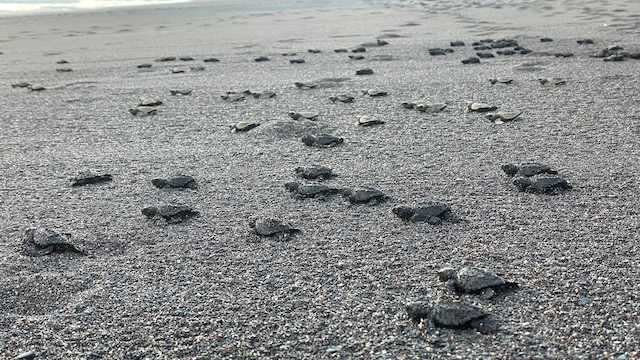 As our time in Central America winds down, we are still living in the moment and learning something new everyday. All of us are excited to continue onto our next stop in Mastatal and to continue volunteering here at the wildlife refuge.