By Annie
Our week and a half at Colibri Spanish School came to a close with some final juegos and all of us attempting to absorb our last formal Spanish lessons of the trip. We said goodbyes and thank yous to the amazing teachers, excited for one last weekend in Matagalpa. As it is Good Friday, the main cathedral off of Morazan Park was hosting a special annual service and procession. While the cathedral was built in the 1600s, it was not widely used until the 1800s when the Spanish forced Catholicism on the locals. Now it is uncommon in Nicaragua to find someone who does not practice Catholicism, Evangelism or another form of Christianity. A few of us peaked our heads into the service but waited for the grand spectacle of the evening. Men and women carried life-size figures of Jesus laying to rest and Mary and Joseph through the streets as a reenactment of what happened in the Bible. For any reader who might be confused, Good Friday is when Jesus dies on the cross and Sunday, Easter, and the end of Semana Santa is when he resurrects. As captivating as this experience was, we were packed like sardines with the churchgoers, exhausted, and could all agree the meeting time should have been later.
The next morning we were in for a real treat. Prior to this excursion, we were given an article titled "The Tyranny of Convenience" (https://www.nytimes.com/2018/02/16/opinion/sunday/tyranny-convenience.html) that exposes a truth many never come to face. According to the author, convenience has shaped our entire culture. It affects every decision we make and robs us of our individuality. Through convenience and efficiency, we have been rewarded with an abundance of leisure time, which, by logic, people would use to pursue passions or interests that help define them. However, once people get used to this convenience, they actively avoid the inconveniences. Contrary to what people think, it is the inconveniences, what one might go out of their way to do, that defines people.
We explored this idea of our convenience culture through the lens of waste management. When it comes to trash, most chose to throw something away rather than repairing, reusing, recycling, donating, etc., because it is easier. We were about to come face to face with the consequences of our wasteful tendencies. Welcome to the Matagalpa Dump! Carlos, an employee at our go-to food and hangout place, Cafe Barista, guided us on our journey of understanding the full extent of this ever-growing problem. Imagine a neat landfill one might find in the states, one that consists of a huge hole that will eventually be covered. In Matagalpa, it is the exact opposite.
Heaping piles of trash in the open with nothing to keep it contained. Locals stirred through the piles of fresh trash that was replenished every few hours by the incoming dump trucks, setting aside old trash to burn. They looked for plastic bottles, glass, metals, and other valuable resources they could sell back to the owners of the dump. Only a mere two years old, this dump has had no trouble acquiring a surplus of plastic bags that Carlos even referred to as flowers on the trees because of their invasive presence. I came across broken sandals, torn jeans, a bike tire, a decent-looking backpack, a rubber duck, a cracked CD container, hangers, a milk carton, and most ironically, Paige pointed out a kid's tote bag with a smiling turtle and the phrase "Cuidemos el medio ambiente hoy para tener vida manana" (Let's take care of the environment today in order to have life tomorrow).
Back in the city center, we reflected on what we had just witnessed, feeling small and hopeless, but inspired at the same time to look towards solutions. Kaitlin commented on how, when growing up, taking care of the environment was considered "extra- credit." If one has the time, money, and desire, then good for them! As convenient as this mindset is, it is no longer acceptable. No matter who you are or where you come from, each of us plays a role in the fate of the world. While Nicaragua's waste problem is much more visible, Americans, in fact, waste more than double the amount. As a group, we committed to an agreement that terminated our usage of plastic bags and straws (pajilla, in Spanish, if you are wondering), that was enacted immediately.
We happily said "Adio" to Matagalpa (Nicaraguans consistently fail to pronounce the "s"), and traded batidos and colinas for cicadas and white cliffs. Peñas Blancas, our current residence, is situated inside of a Biosphere. Biospheres can be found all over the world and are designated by UNESCO. This Biosphere, designated in 1991, covers 7% of Nicaragua's landmass and spreads into the edge of Honduras. Penas Blancas was originally dotted with coffee farms and had plenty of open space for cattle to roam, but once designated, the forest was allowed to grow back naturally in most areas instead of usually being cut down. After being introduced to our homestay mothers, who we would be living with individually later in the week, we jumped right into the first activity: hiking to Cascada Arco Iris. Now, hiking has gotten a bad rep these days within the group after our experience at Acatenango and we were all a bit suspicious when it was described as a "moderate" hike. It was all worth it when only after an hour and a half we were rewarded with a gorgeous waterfall that collected in a small pool with a brilliant rainbow spanning across the base. Talia and Kaitlin, along with hypists, Siohban, Annie, Hanna, and Juliette, performed an original rap about contraceptives with the waterfall as the background.
So began the week of digging. Digging four-foot holes, trenches through cobblestone, you name it, we could dig it. Why were we digging, you might ask? To install composting septic tank systems, of course! Juliette was glowing and exclaimed, "I never thought digging holes could be this fun!" Here, in Peñas Blancas, we continued to explore the theme of waste after our visit to the Matagalpa Dump. From what we throw away, to now learning about how to sustainably deal with human waste. Abram and Orlando Cruz are brothers who live across the street from each other and are going to share a tank. The Maya group assisted in digging the paths for the pipes as well as a filtration system, where a Carpe Mundi group completed the hole for the tank and other trenches only a week before. Prior to this modern waste system, most homes had a latrine located outdoors. The new toilets, now indoors, provide an eco-friendly way to deal with waste. The waste is collected in a tank where the liquid is filtered into another tank where it goes through one more thorough filtration process through rocks. Once the waste is the big tank fills up (approximately two years), it is filtered. Both forms of waste can be removed from the tanks and used for fertilizer. Eighteen homes in Peñas Blancas have had toilets installed in the past year.
While the mornings mainly consisted of shovels, pick-axes, and listening to music from Julian's jam bag, we participated in a variety of unique workshops in the afternoon in Artesana's art studio. Founded in 2014, Artesana brings locals together to share skills and create sellable goods. Peñas Blancas' population is extremely spread out and Artesana works to connect locals to build a stronger community. Locals shared their knowledge on how to make bracelets, paint, and printmaking. We made some way too colorful bracelets and started a mural of trees, mountains, and meadows that looks quite impressive. None of us had much experience with printmaking and wood, other then Maddie it seemed, who expertly carved an Egyptian eye within the first half hour. Highlights of the finished products include Elliot's dragon-like creature and Grace's thirteen forget-me-nots that each took five minutes to carve.
Thursday's day hike was filled with muddy steps, rickety ladders, and progressively better views through Peñas Blancas' cloud forest. Not as strenuous as Acatenango, but enough to make us breathless by the time we reached the top of the cliffs. Don Chico, with a machete in hand, led us like it was just a walk in the park for him, with Jorge, our other guide, and Chloe just a step behind. At 10:30, we stopped for an early lunch that was packed in a Tupperware, which Hannah greatly approved of. Nearby was a swimming hole that only a few chose to enter its icy waters. The walk down the cliffs mainly consisted of comments like, "Wait, why are we still going uphill?" and sliding down the path while grabbing onto flimsy trees for support.
After three nights of staying as a group in Orlando's home, we parted ways for the very first solo homestay experience. Some nervous, some excited, but all eager to experience our last homestay of the semester.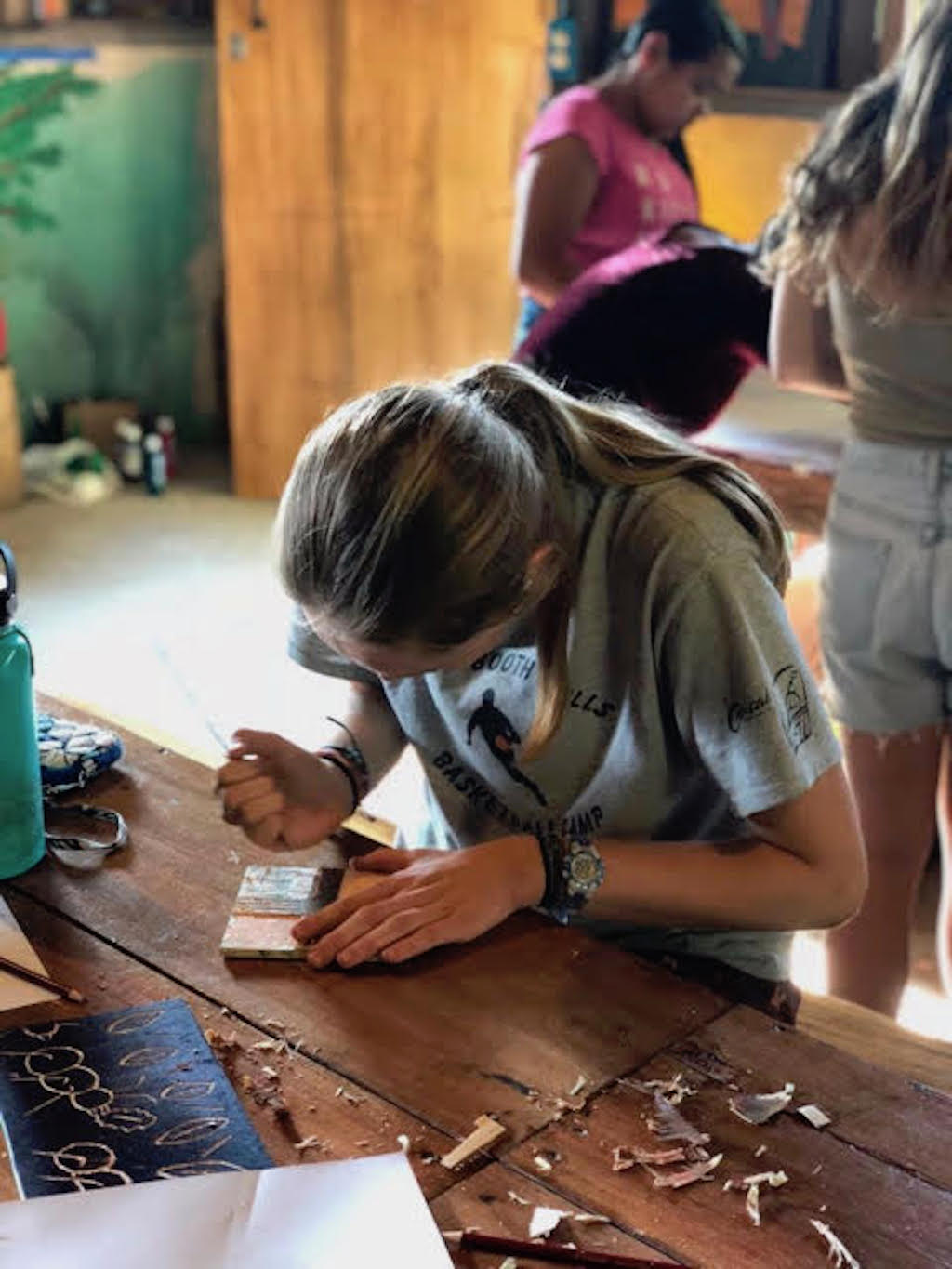 Annie during print making working on carving her design.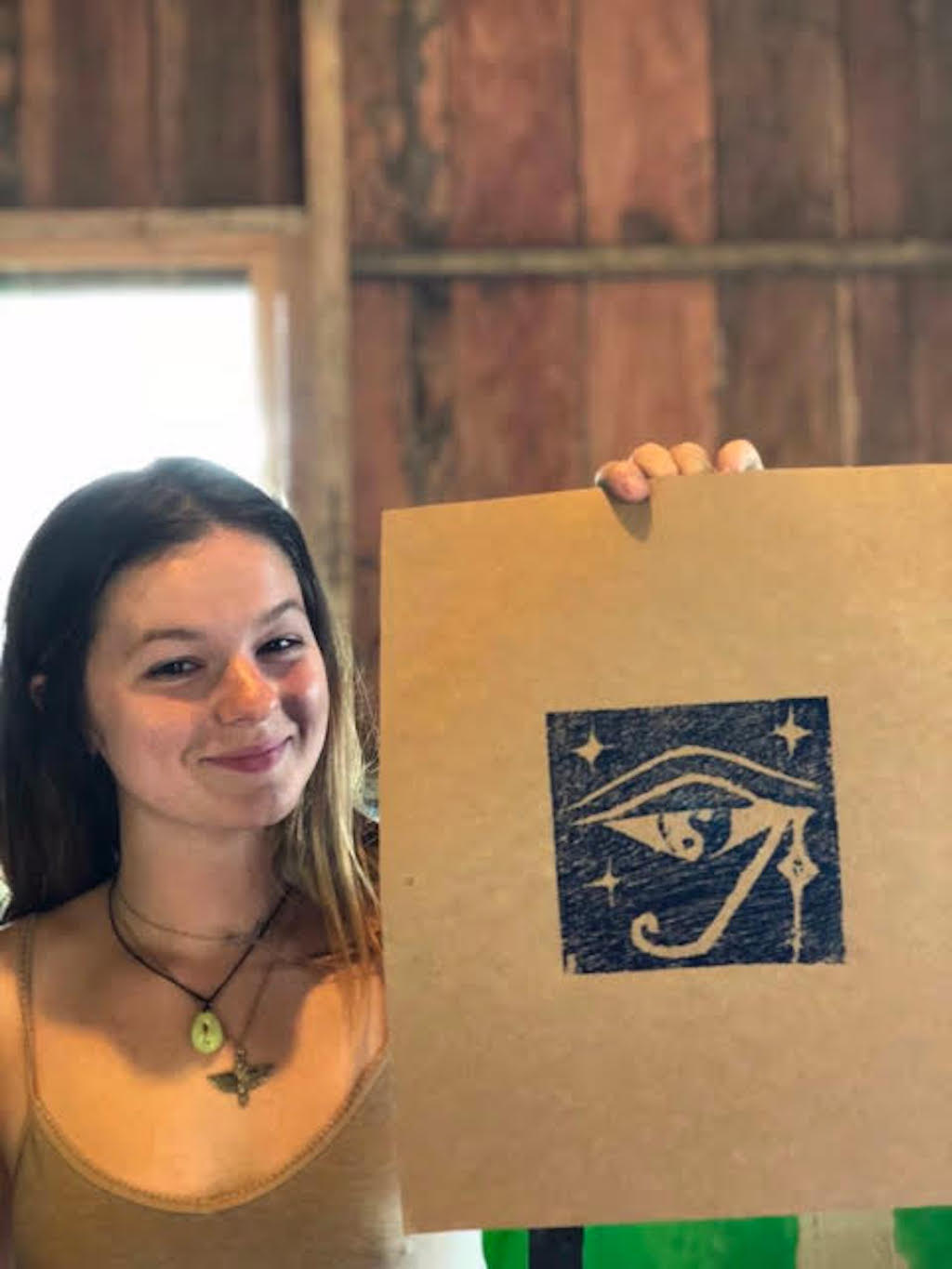 Maddie with her Egyptian eye print.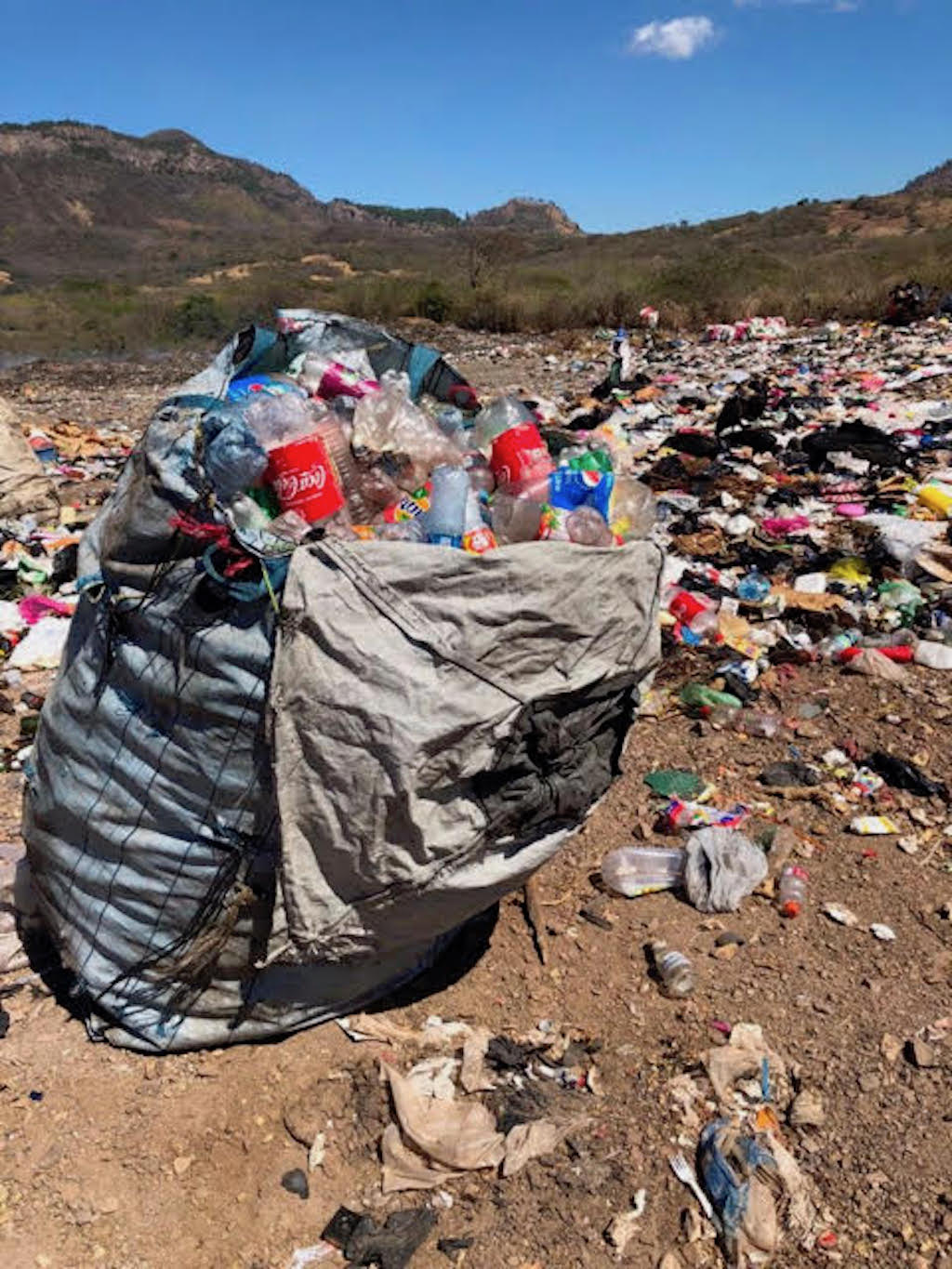 A scene from our impactful visit to the Matagalpa dump.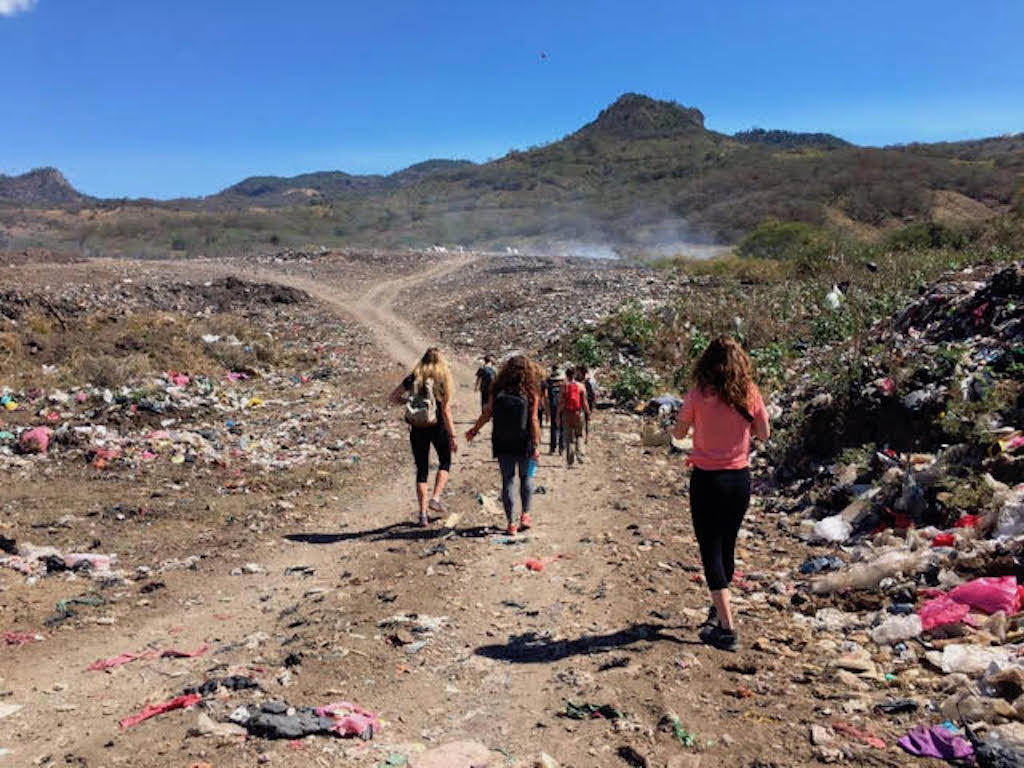 Entering the Matagalpa city dump.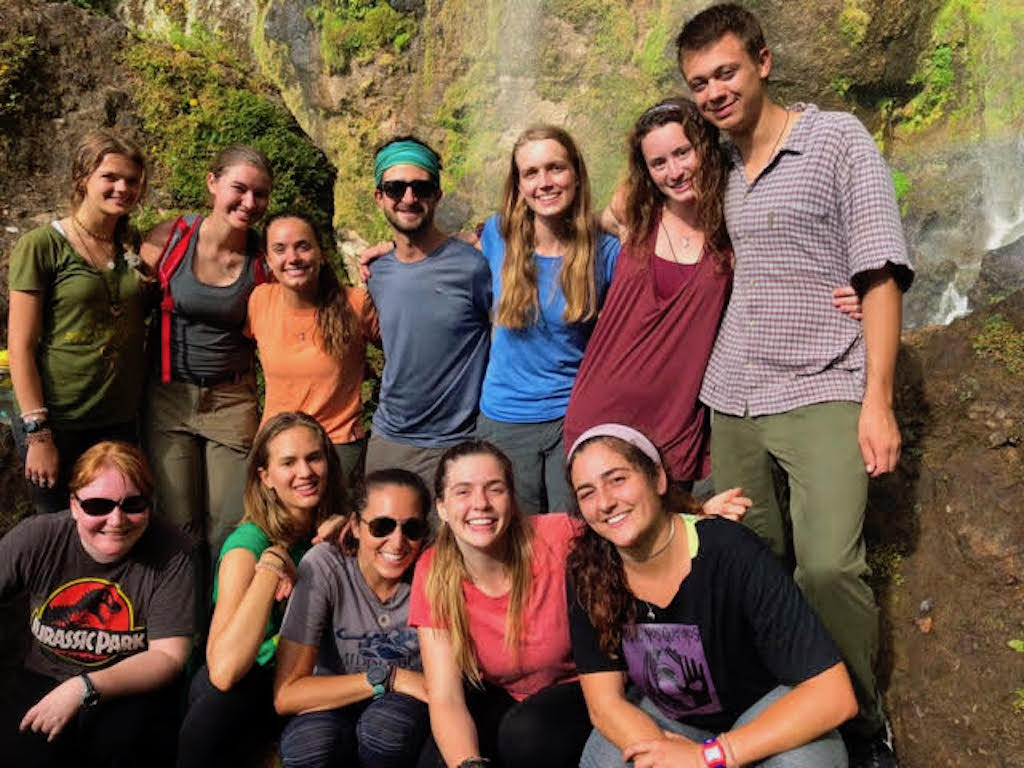 Group photo at the waterfall.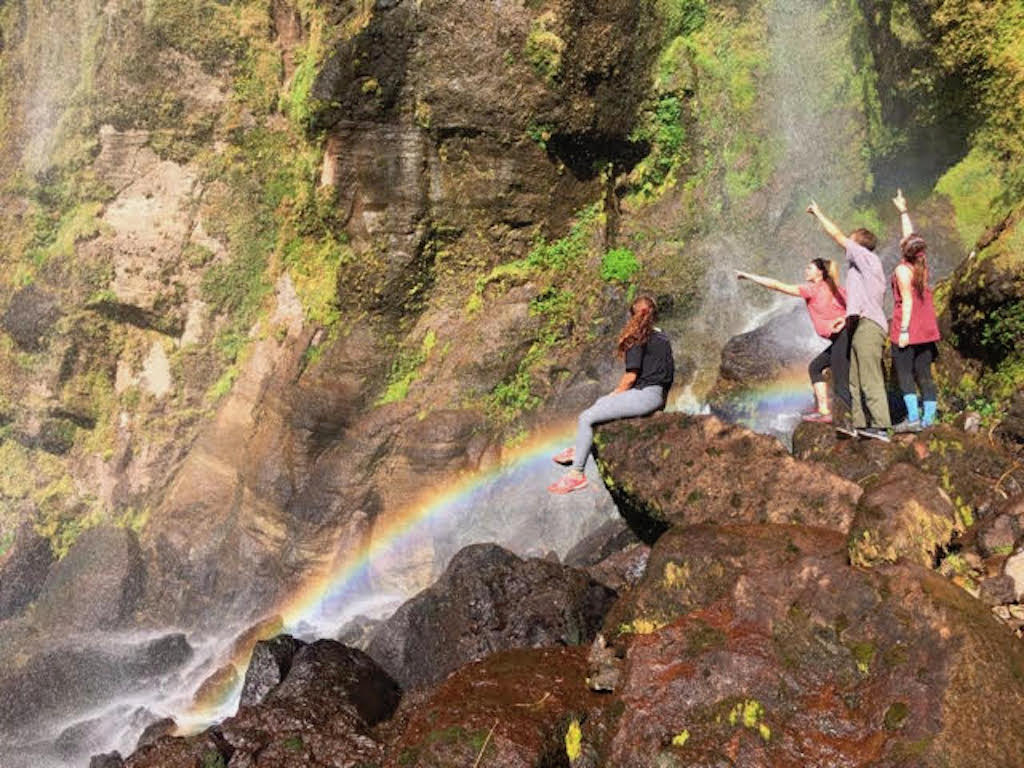 Cascada del Arco Iris, Peñas Blancas.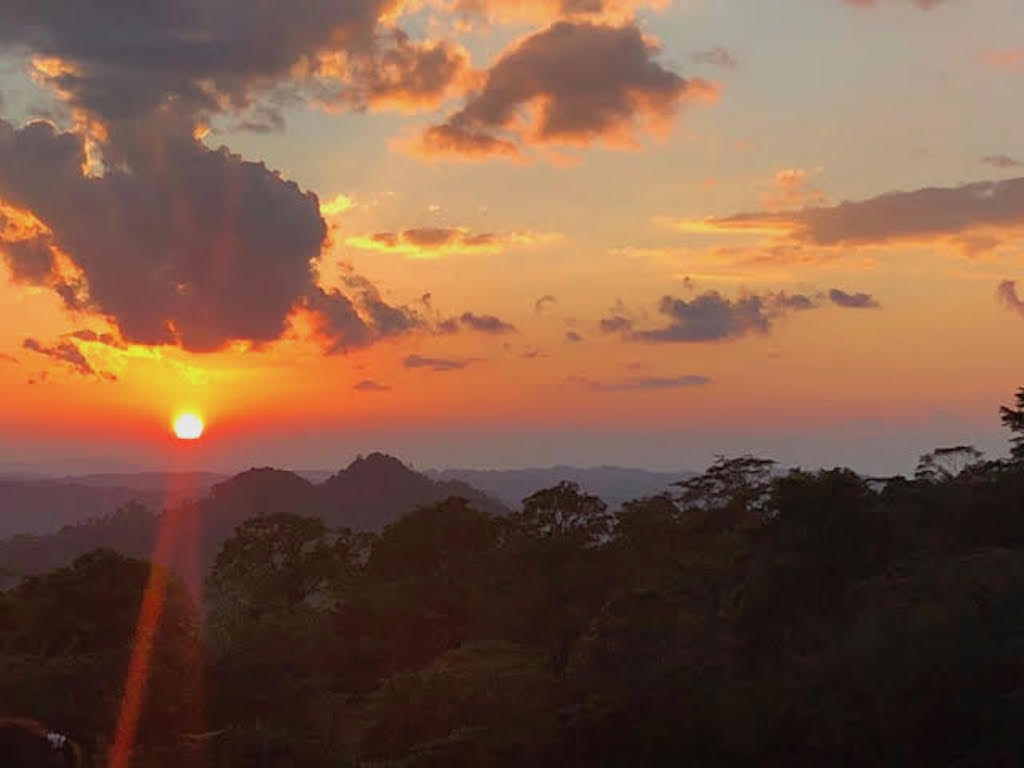 Sunset in Penas Blancas.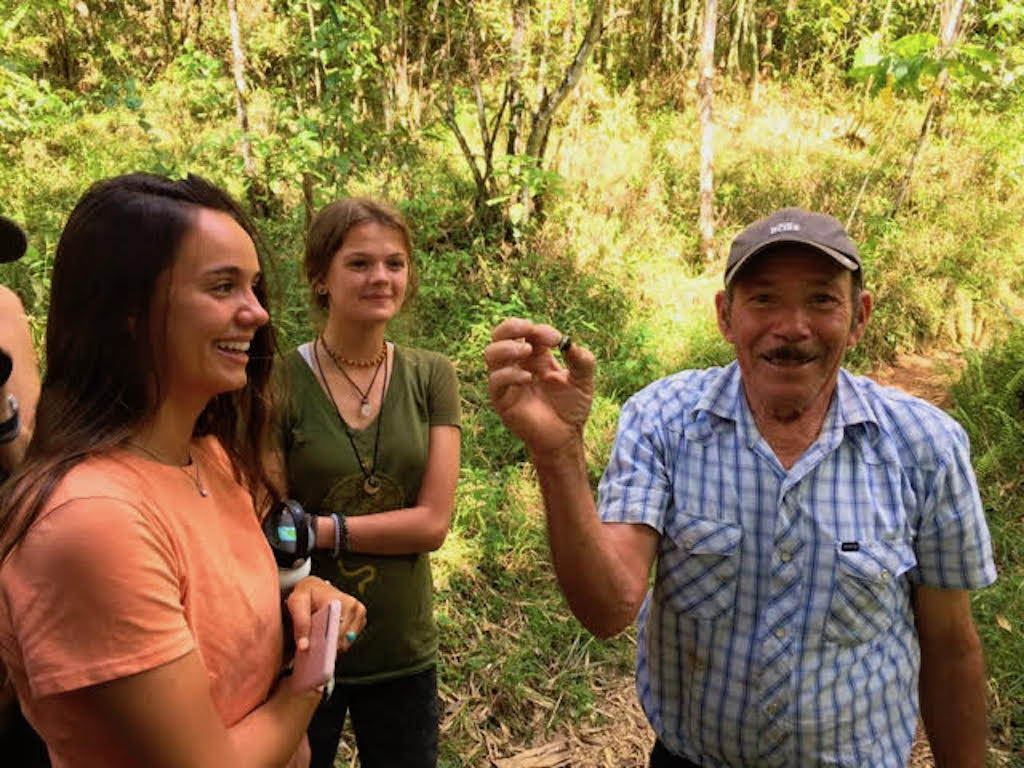 Don Chico, our forest guide in Peñas Blancas, holds up a loud cicada.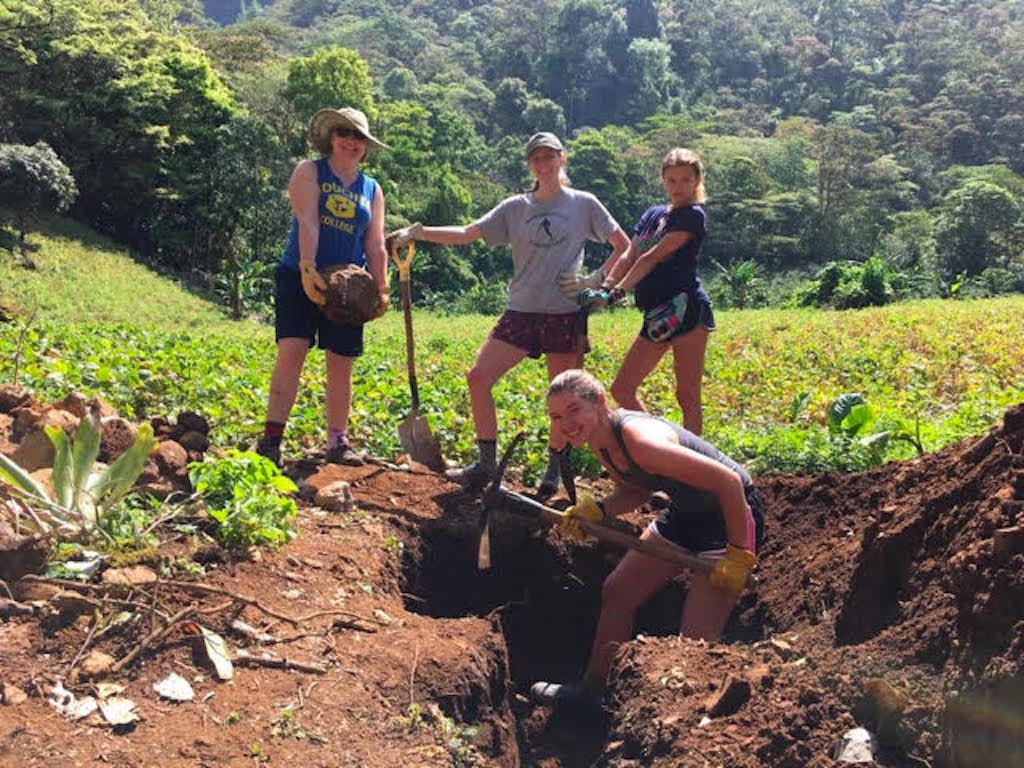 Digging a trench for a new sewage biodigester at a house in Peñas Blancas.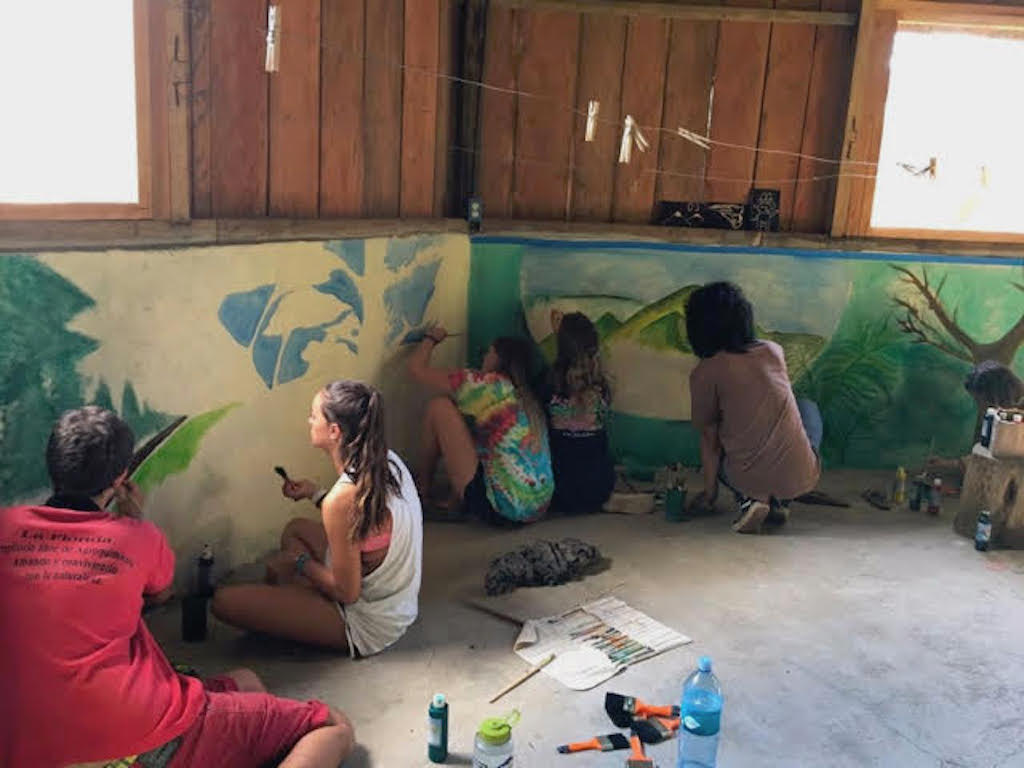 A painting project at Artesana headquarters.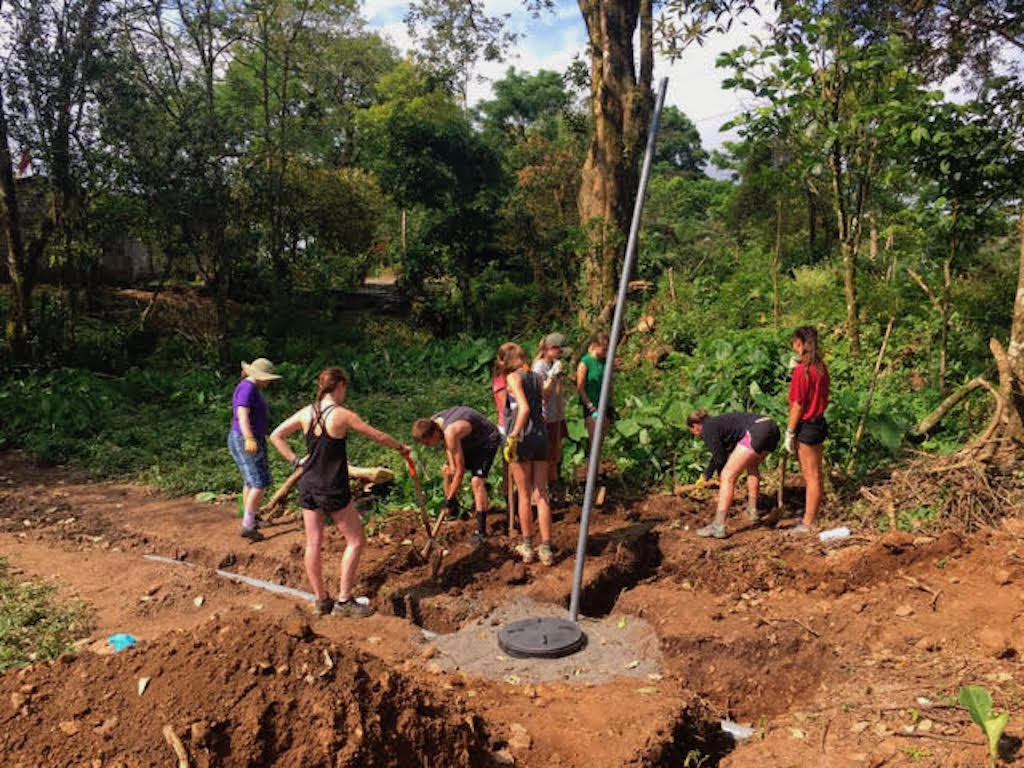 The hole digging continues!