By Anya Cocowitch
Hello Inti blog readers!
This week we spent our time in Peguche, a small, artisan town right outside the city of Otavalo. We took Spanish classes all week and did a variety of activities to better understand the culture. Peguche is known for its waterfall which has a spiritual significance to this town of only consists of 300 families.
After a long travel day on Sunday, we arrived in Peguche around 9:00 pm where we were split into groups of three and four for homestays. We walked home with our families to our new homes for the week and settled in with a delicious home-cooked meal. On Monday we started Spanish school lasting from 9am-1pm and then each returned home to eat lunch with our families. In the afternoon we had free time to go to Otavalo to catch up with our families at an Internet cafe, do laundry, or whatever else we needed.
On Tuesday after classes, Brian, Chris, and Matt worked in the protected forest to help redirect runoff water flow into the river by digging canals. Lauren, Miki, Claire, and Kate picked up trash in the surrounding area while also learning a bit of Kichwa (the indigenous language) from one of the host moms, Maria. In the evening, we did an activity led by Kate to better get to know each other and our selves. After dinner, we had a bonfire in the park and exchanged ghost stories (trying to translate ours into Spanish the best we could).
On Wednesday we visited the house of Pacifico and Elena, where Claire, Naomi, and Chris stayed this week. They showed us the entire process of hand weaving different textiles. First, they dyed the yarn with using fruits from the trees from their backyard, then used a revolving wooden structure to place the yarn in a specific pattern. Afterwards, they showed us how to hand weave using a foot pedal machine. Finally, they used a "cardon", a dried flower that makes the texture of the wool more soft and even. After dinner, we were all invited to watch a documentary on the history and culture of Peguche and Otavalo at the house where Miki, Josh, Dana, and Matt were staying.
Thursday was another morning of Spanish classes followed by an activity at Christian, Renee, and Brian's house. Their family showed us several instruments typical to the region and performed songs while we danced. Also, Brian did a solo on the guitar while Naomi sang House of the Rising Sun. Afterwards, we did an activity on how we like receiving love and picked a person to "give love" to for the rest of the week.
On Friday afternoon Estella, the host mother of Lauren, Will, Cole, Kate, Julian and I, hosted all 16 of us for a feast of "cuy" (guinea pig), a typical food of Ecuador, and especially in this region. We each took a turn to help roast them over the fire and all tried some…it was delicious!
Saturday was a market day. We woke up early to see the best of the animal market. At the animal market, they sold live pigs, chickens, guinea pigs, rabbits, and cows. Then we went to the artisan market which has been around for more than 1,000 years and is known worldwide. Handmade crafts are sold such as clothing, jewelry, paintings, and much more. After exploring the market we did an activity about American values and had a discussion about how they compare to Ecuadorian values.
On Sunday, we went to Cuicocha Lake which is an active crater lake close to Peguche. We walked around and saw the amazing views of the beautiful blue lake and took a boat ride around.
This week has been filled with lots of adventure and learning. Next week we are off to the Intag region in the town Pucara! Thanks for reading!
Adios!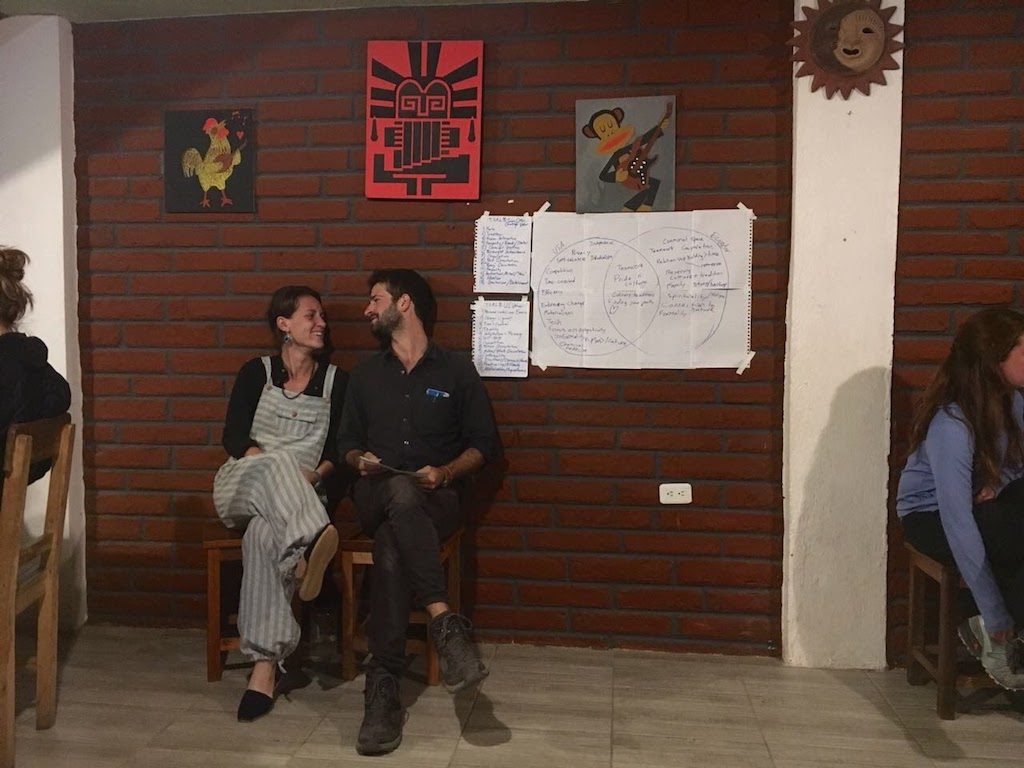 "Mom" and "Dad" during an activity comparing American values and Ecuadorian values.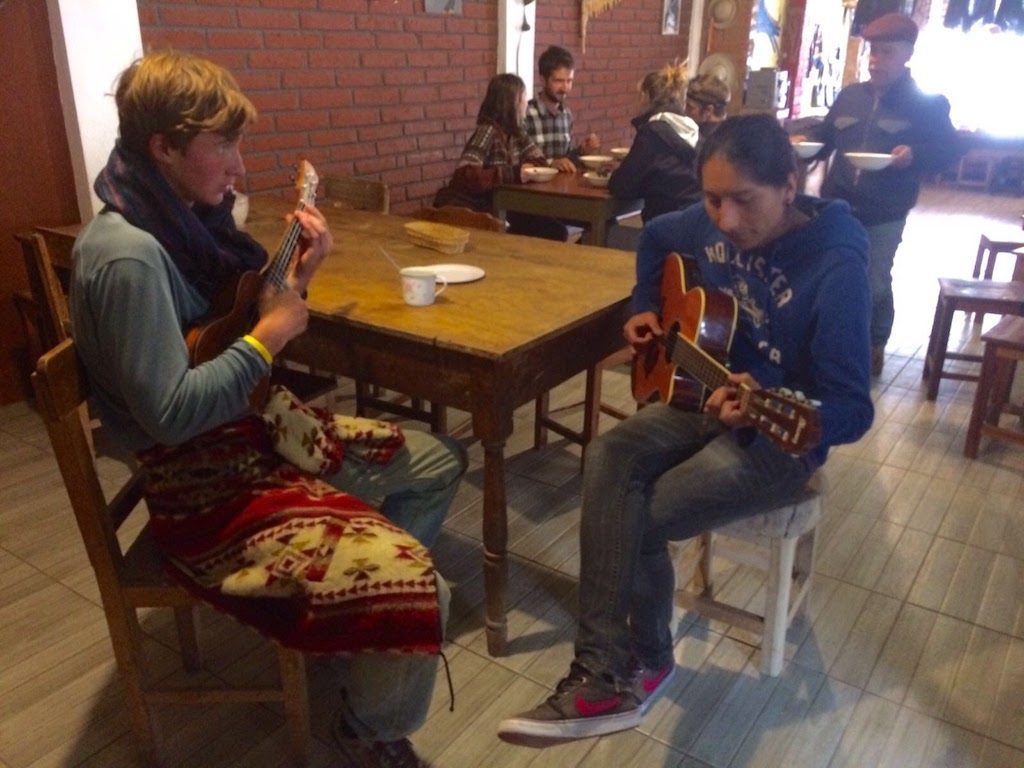 Learning traditional Andean strumming patterns with host families.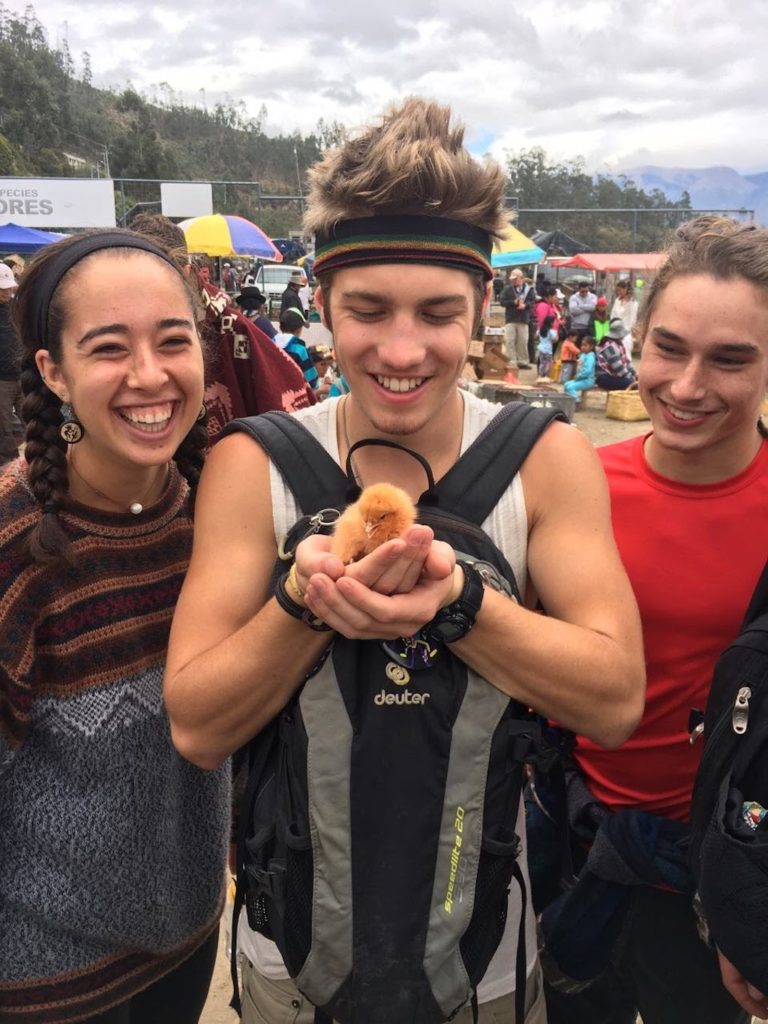 A pet baby chick in the animal market.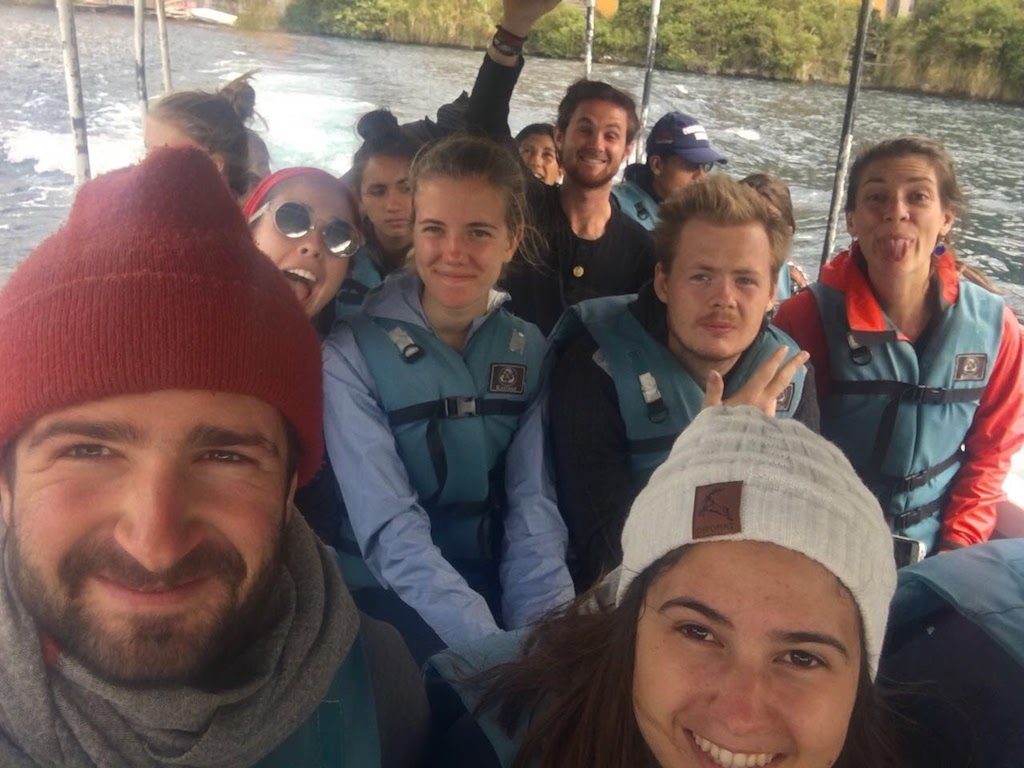 Life is best in a boat!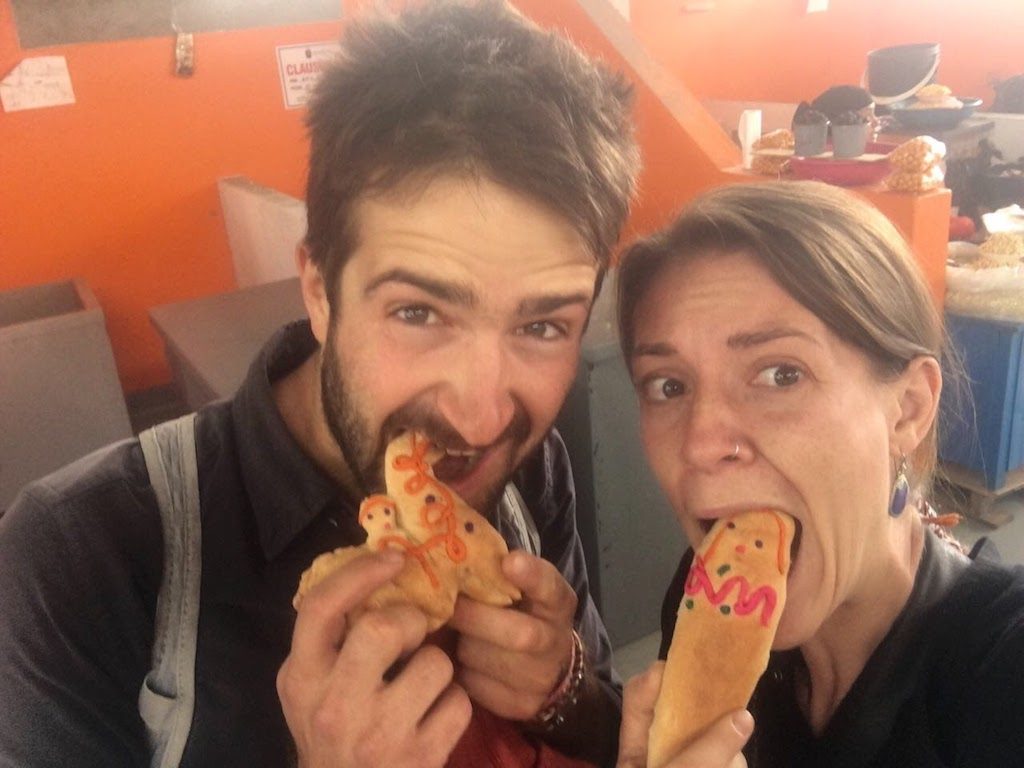 Beautiful bread purchased by our host mother while in the large, local market in Otavolo.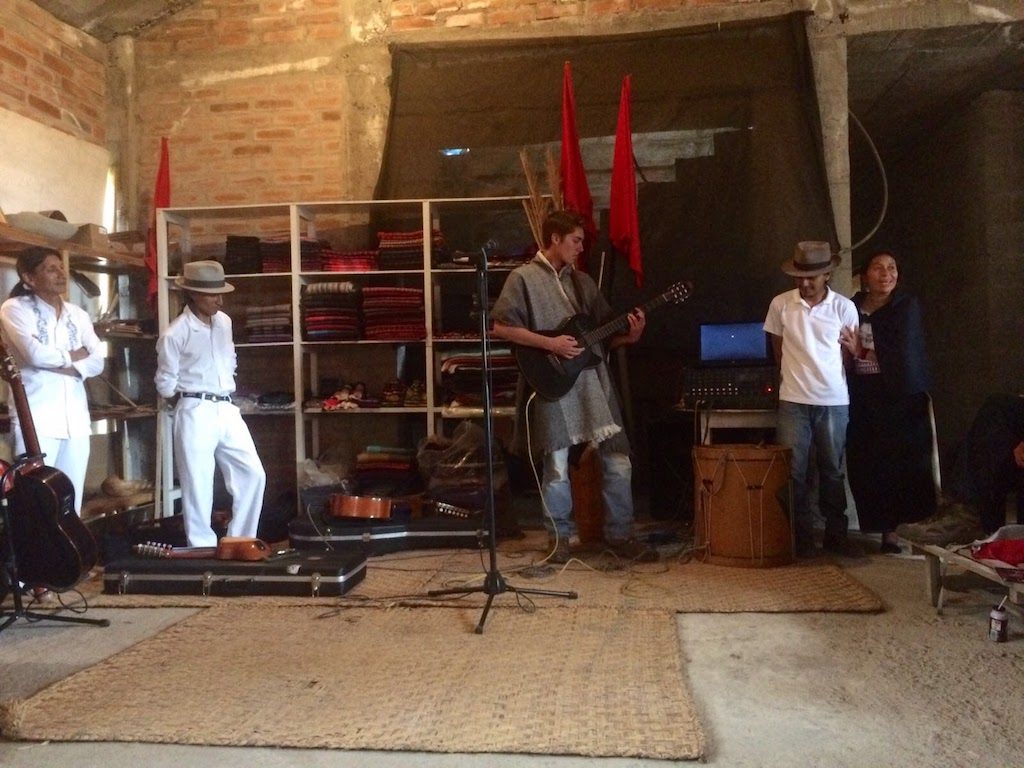 Brian plays electric guitar for us and our families. We joined in singing and with flute.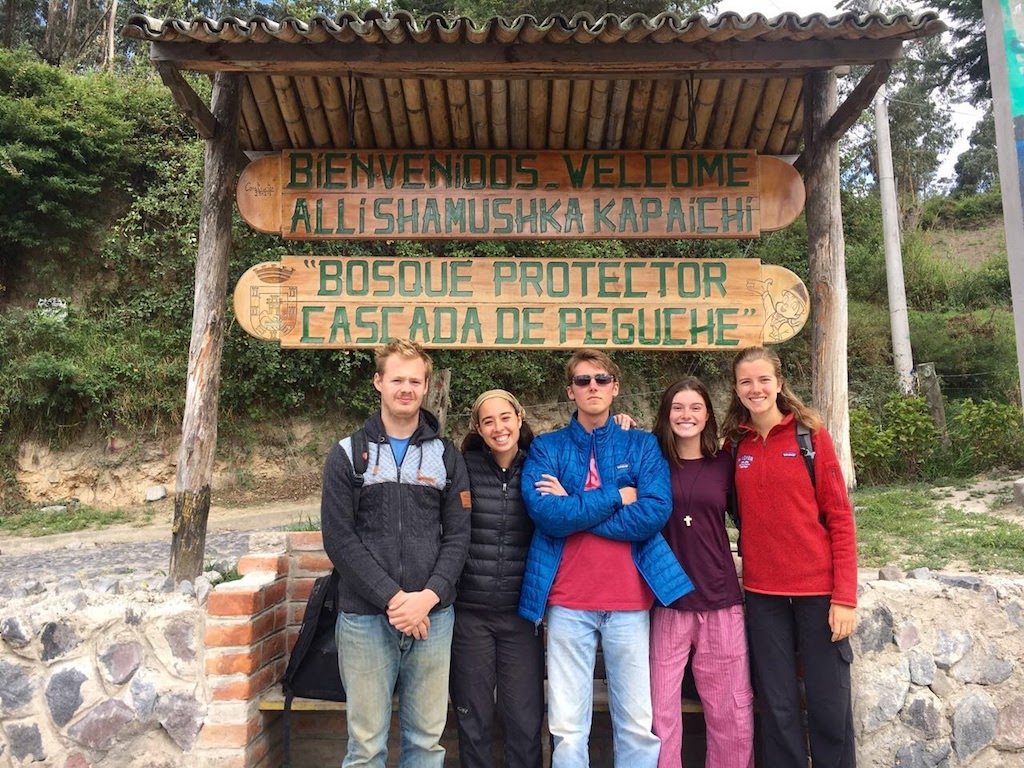 Waiting for the bus to Otovolo, the large town that Peguche is outside.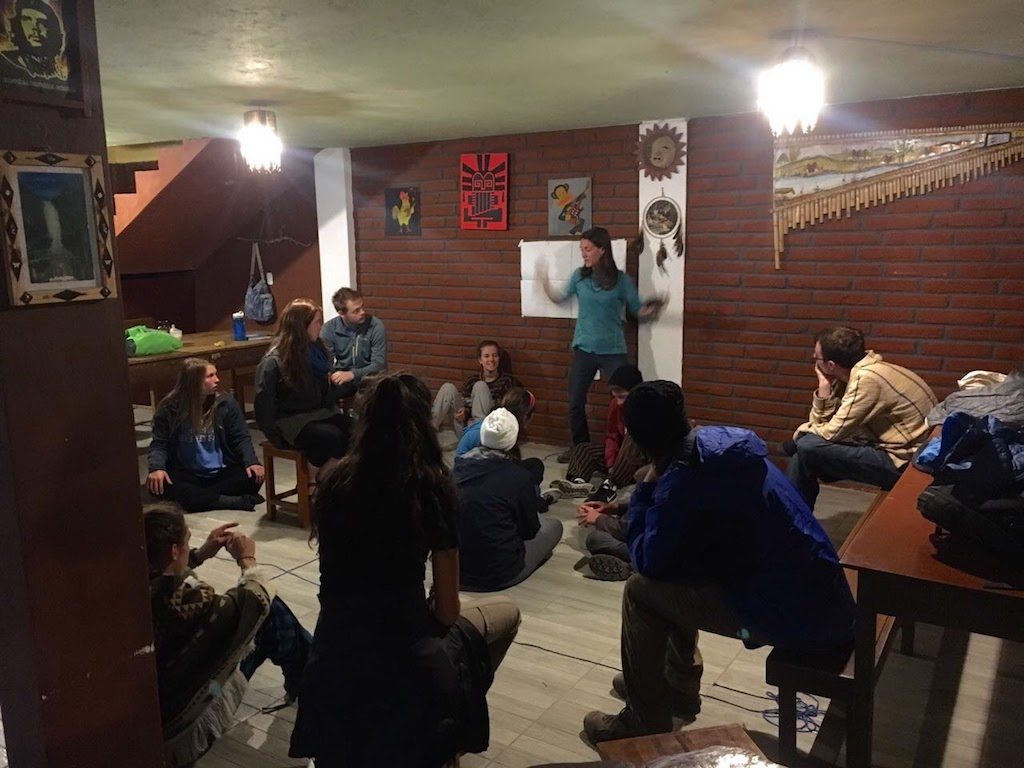 Classes to learn about self within a community.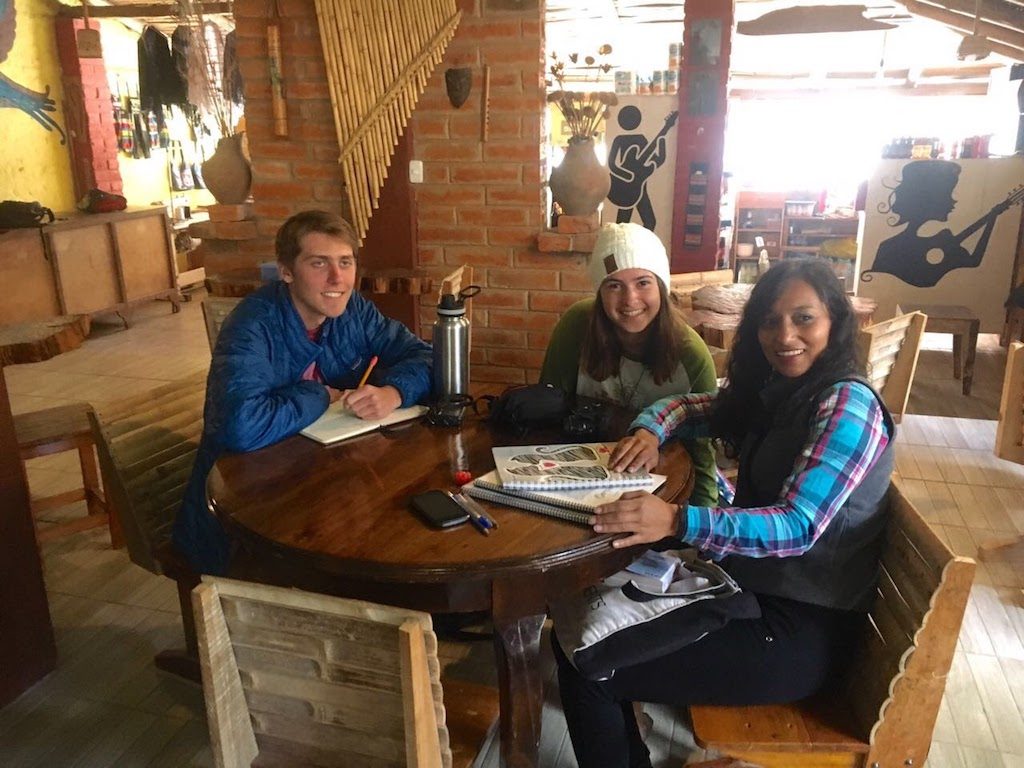 Dana and Brian have Spanish class with their teacher.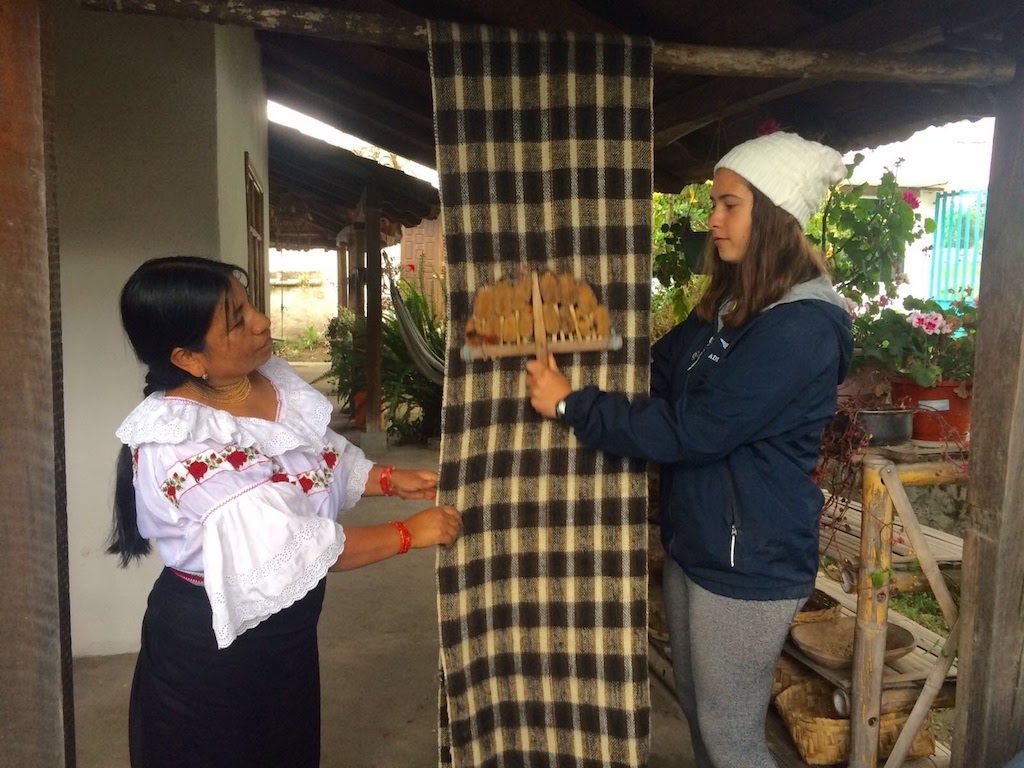 Dana helps to make the wool soft to the touch.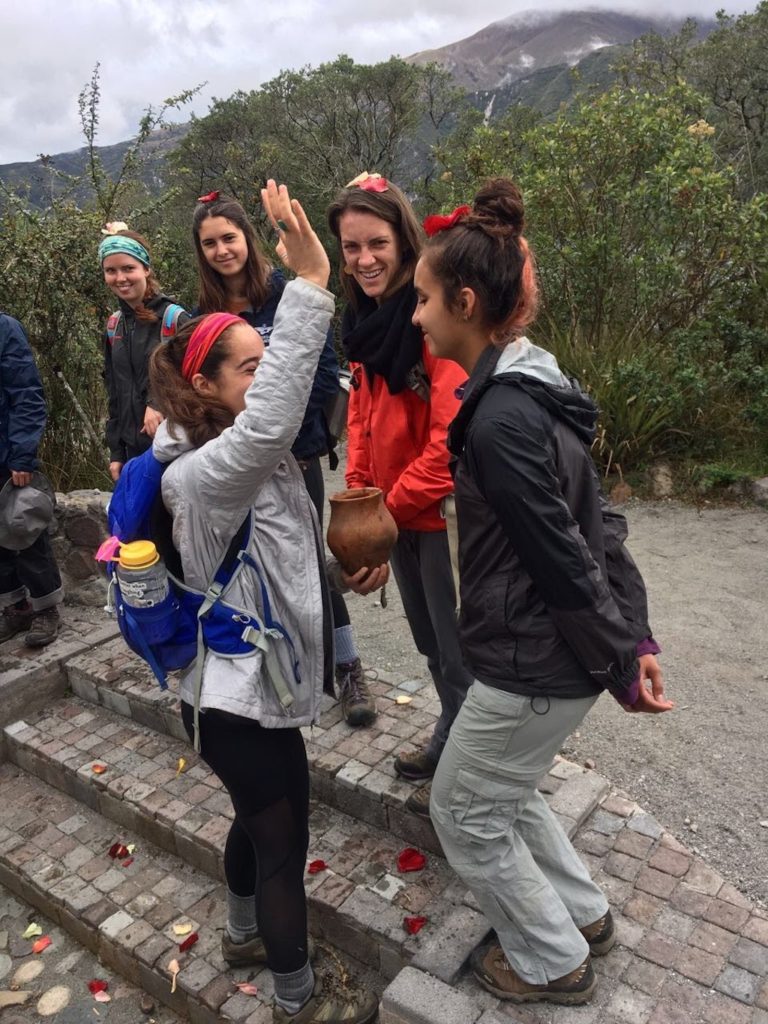 Gratitude for each other and the earth.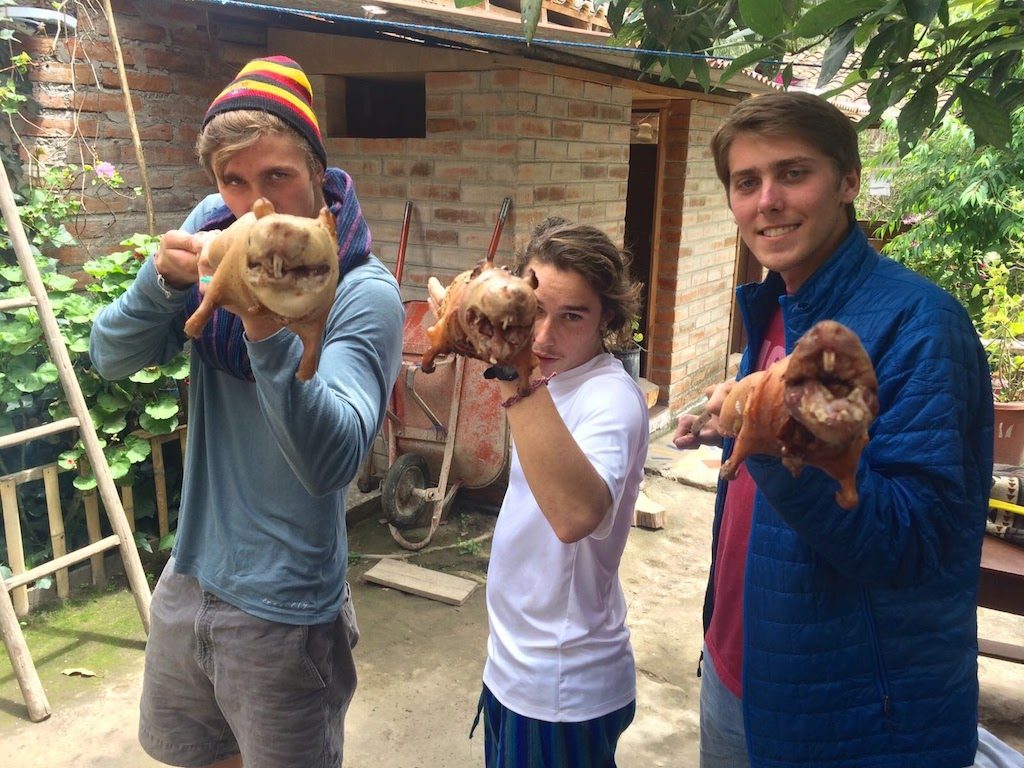 Guinea pig for lunch!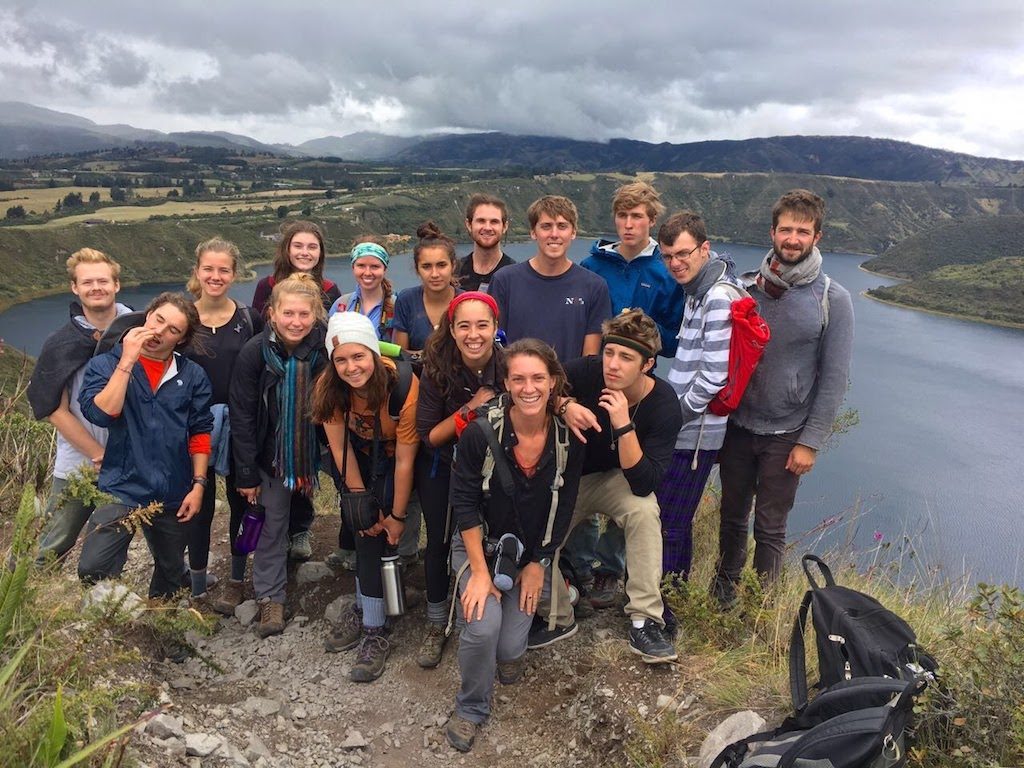 A hike with the view of Lago Cuicocha.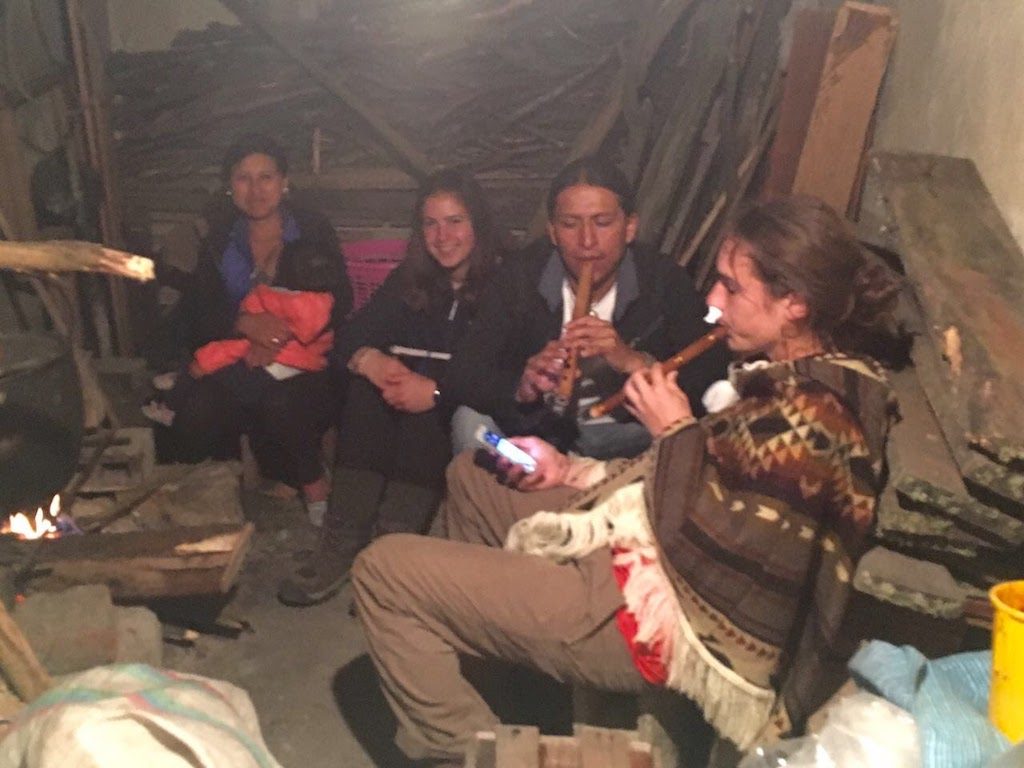 Matt learning flute from his host family while Dana listens.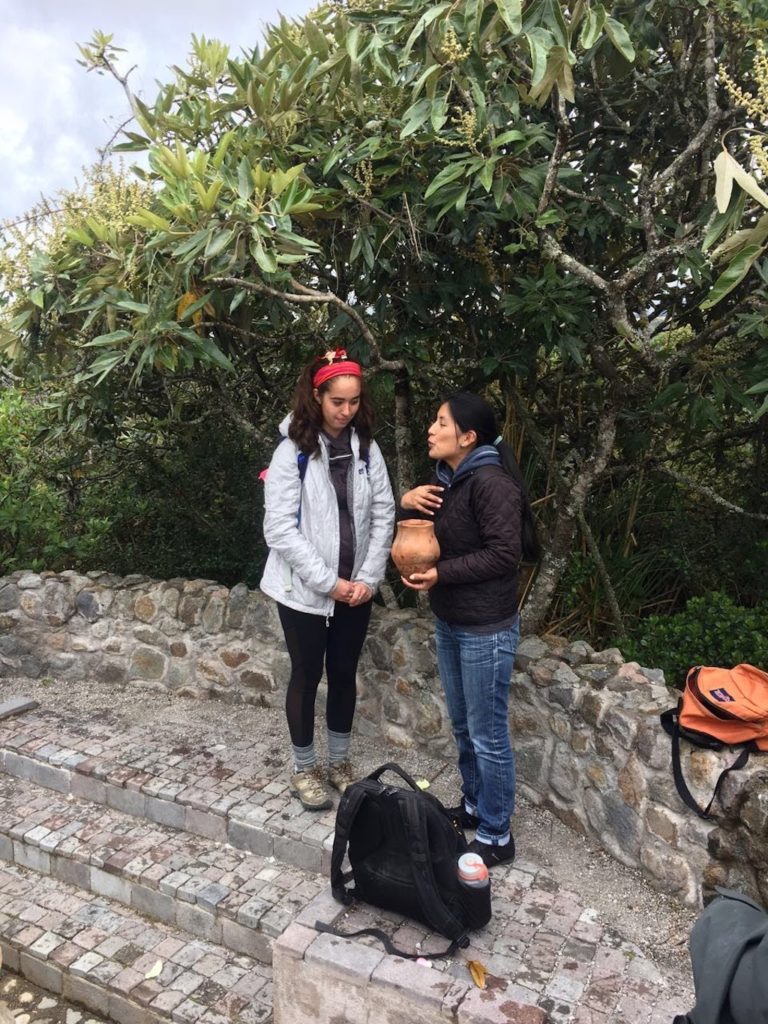 Miki prepares to help with a ceremony that honors the earth and all it gives us.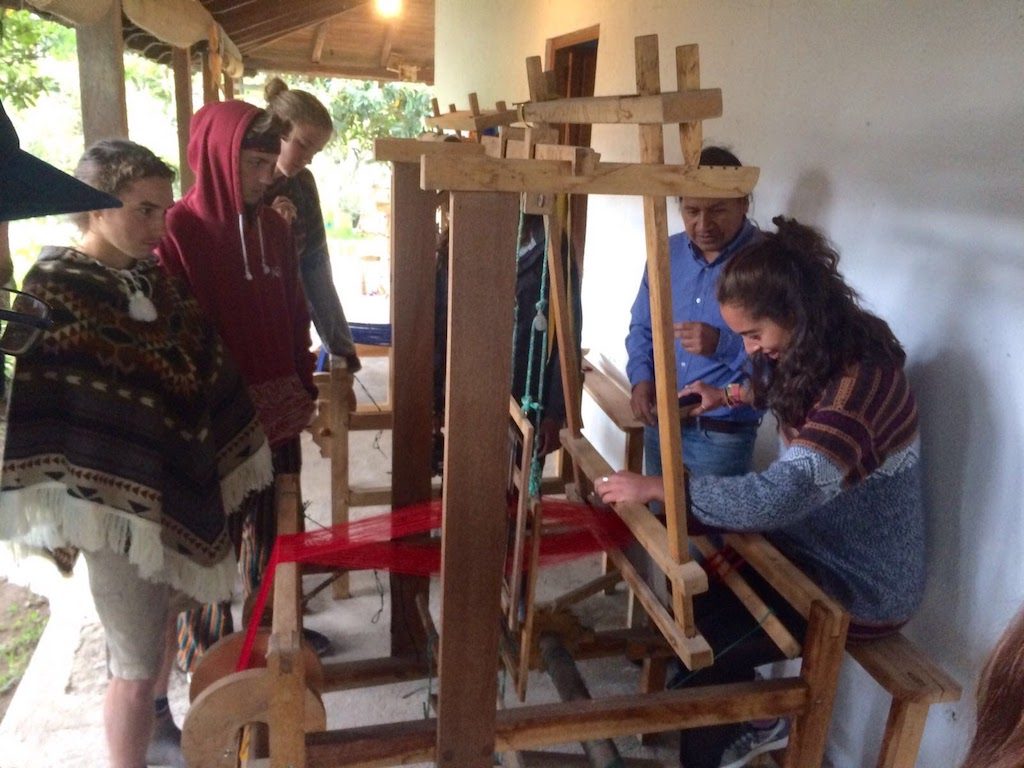 Miki learns to weave on a peddle machine during our hand weaving demonstration.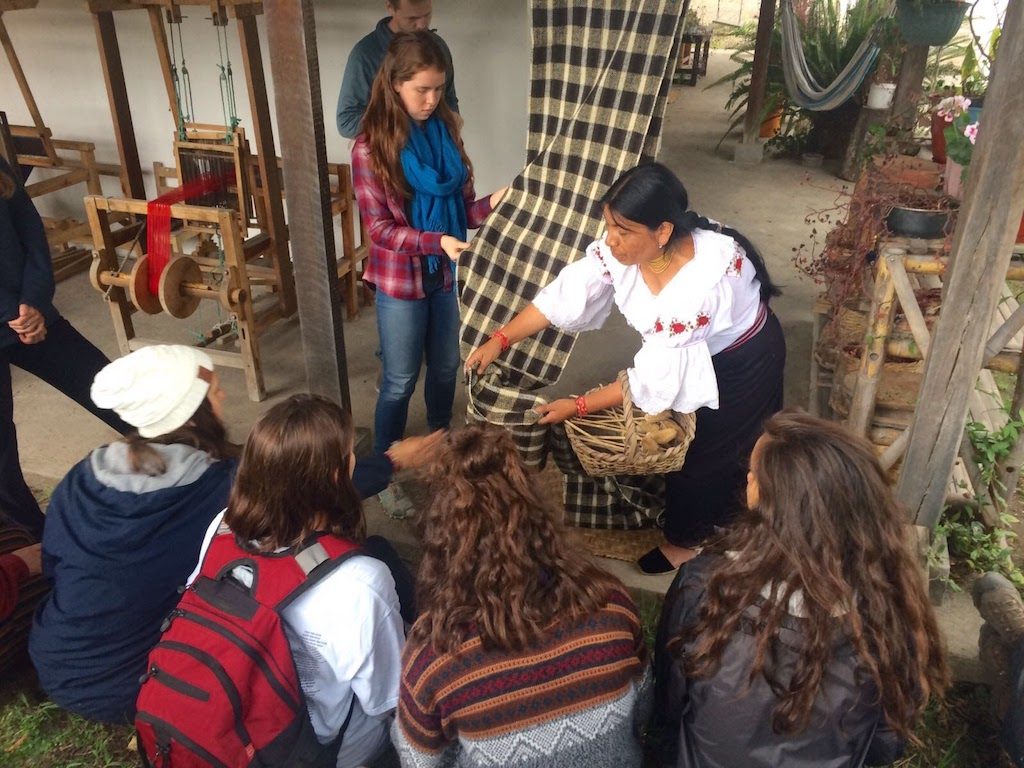 Learning about natural dying and weaving techniques.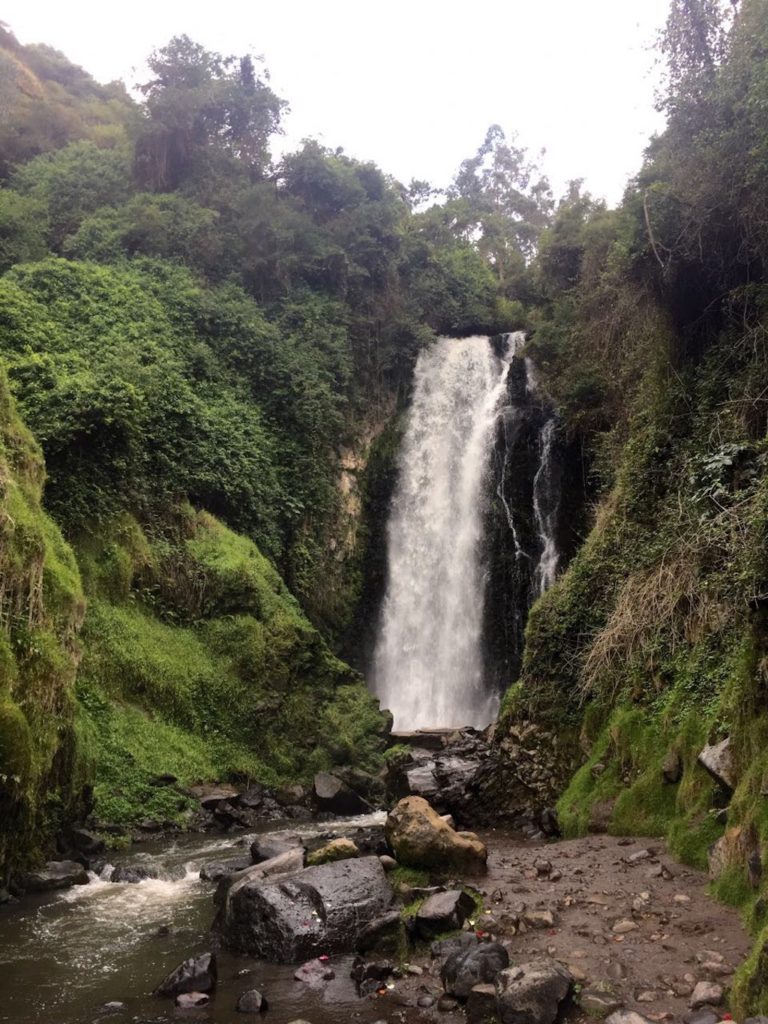 The beautiful cascada Peguche is famous for.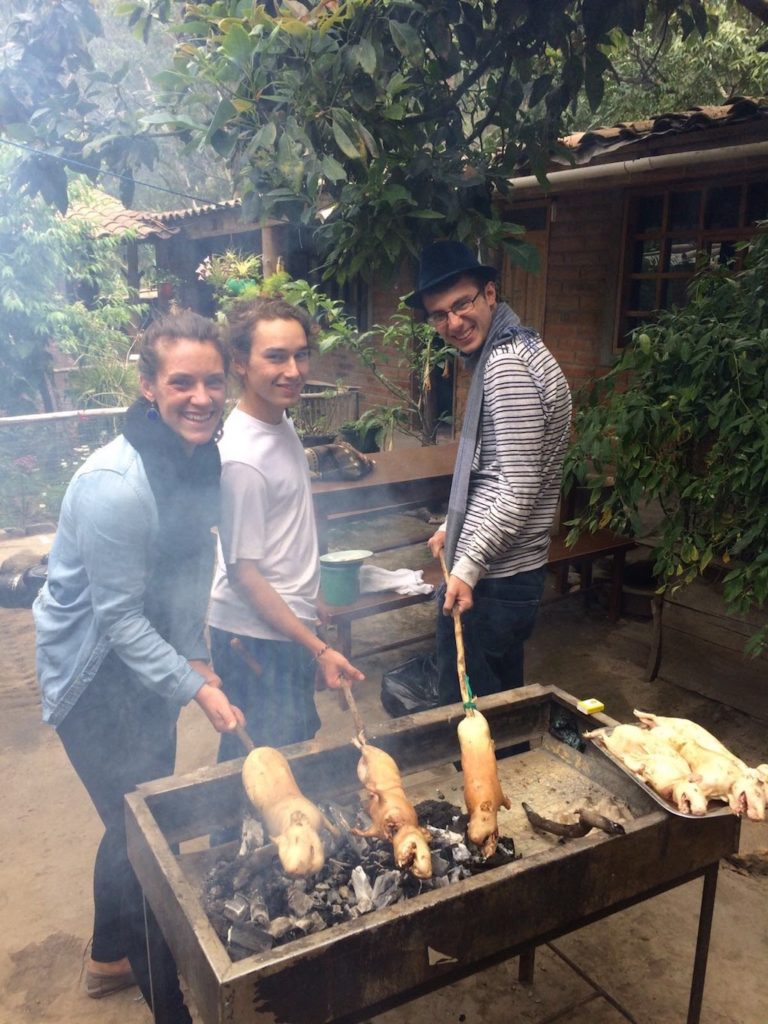 Roasting cuyes over the open fire.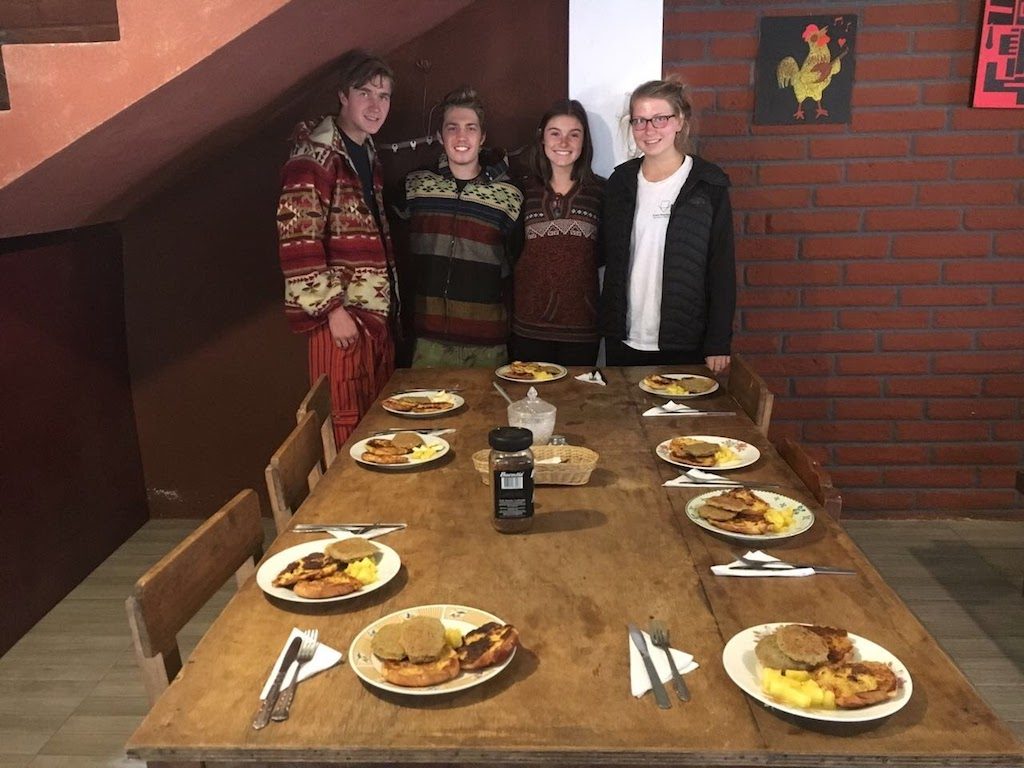 French toast prepared by the students as a thank you to their host family for the week of care and great food.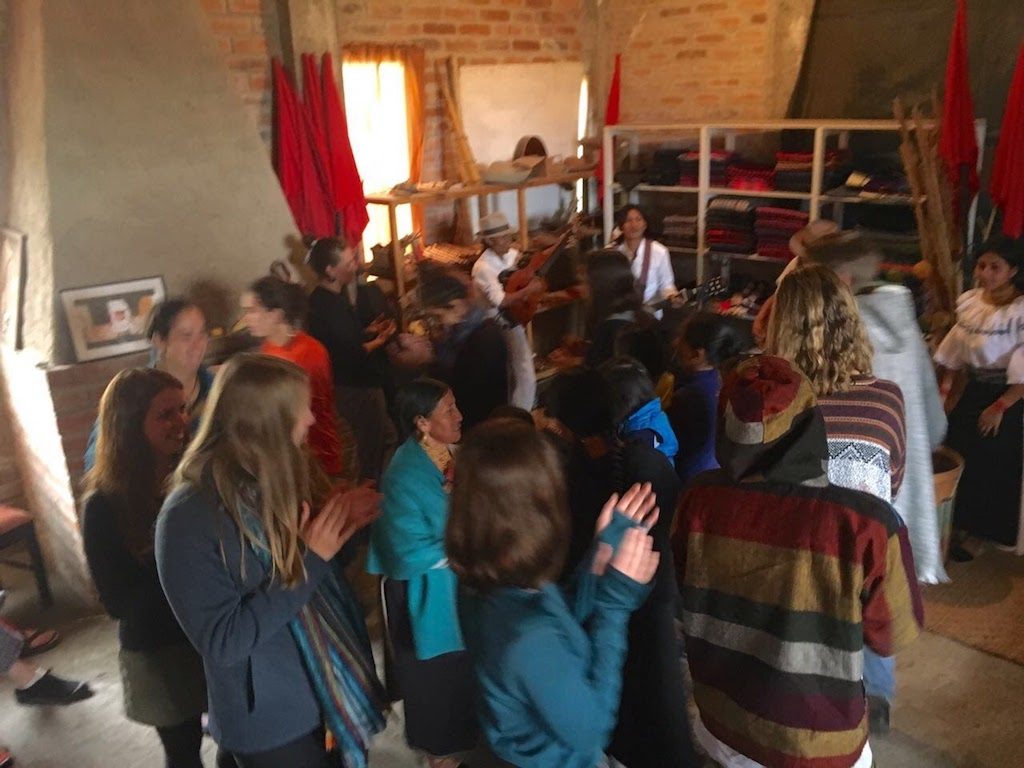 Traditional dancing with the musicians.