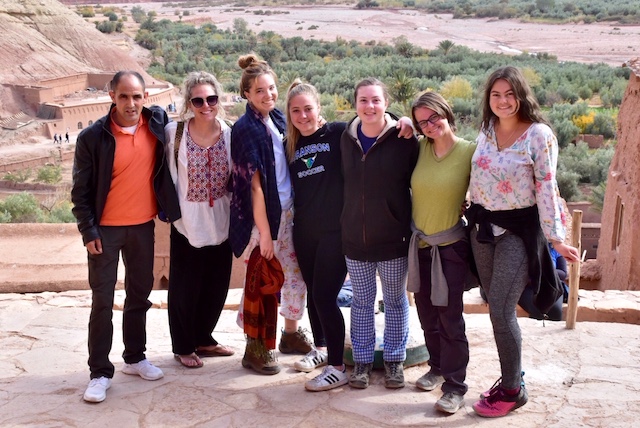 It's hard to believe it's over.
Our final week in Morocco was spent on an adventure from the trails of the High Atlas, along the Route of 1,000 Kasbahs, to the dunes of Erg Chebbi, through gorgeous Todra Gorge, over the Moroccan Alps at Ifrane, into the ancient medina of Fez and eventually to bustling Casablanca.
This week of Student Directed Travel encapsulated much of the semester. We made new friends and reunited with old ones, sang and danced, explored and got lost, questioned and learned, ate tagine and drank tea, haggled and bargained, enjoyed some favorite snacks and tried new ones (steamed sheep head, anyone?) and laughed and joked more than we have all semester.
Thank you from the bottom of our hearts for giving us the opportunity to experience Andalucia and Morocco with you in a totally unique and engrossing way. We learned a lot about the history, culture and lives of the people we met along the way and learned a lot about ourselves and each of you individually. We weathered adversity, supported one another and shared lots of laughs together. We celebrated birthdays, walked miles of Camino, drank gallons of mint tea, ate loaf upon loaf of bread, made dozens of local friends, engaged in hours of debate, and now, finally, we find ourselves saying farewell.
We are so very grateful for your compassion, your patience and your courage along the way. We started this journey as an apprehensive bunch of strangers at JFK airport in September and part company as a family of seasoned, savvy travelers with bonds likely to endure for years to come. We wish you all the best and thank you for all you've given us this semester. Keep in touch– we can't wait to hear about all about your future successes and travels.
With much love and affection,
Cari & Shan