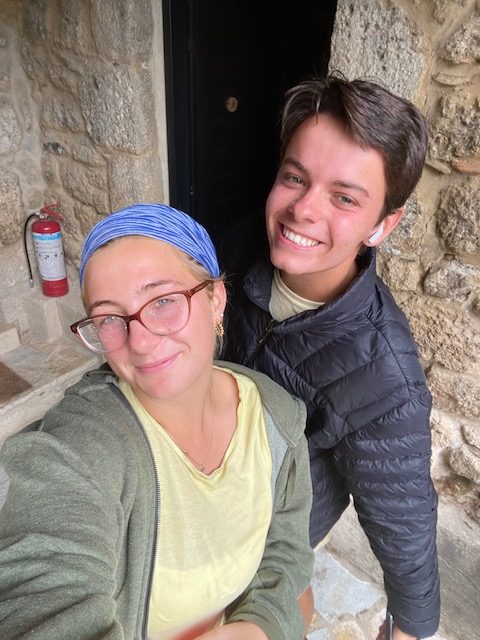 Written By Clemmie & David
Kalimera from this week's group leaders, Clemmie and David! As we type this, we are on the train back from Re-Green and off to Athens, practically holding in our tears. Out the window, we can see mountains on one side and a glistening ocean on the other, with islands in the distance. This week has presented a threshold of emotions including: joy, serenity, and gratitude. Through some enlightening reflection, we learned to deepen our connection with ourselves, others, and the planet. We started our life-changing week off by getting straight to work. We soaked up the jaw dropping surrounding flora and fauna before heading to the garden. There, we harvested tomatoes with Mill, a lifelong sustainable farmer who currently resides at Re-Green, which would be used that very day for either a fresh salad or a tomato sauce. After harvesting them, we learned how to create a new bed the organic way. We all were extremely inspired by how dedicated this community was to living sustainably and living in the most organic way possible.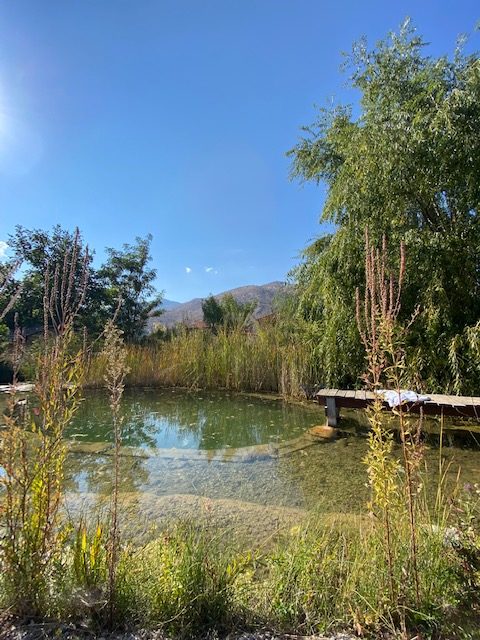 We started off each of our mornings in the most energetic way possible. We were either dancing around to music or practicing yoga with an instructor. When we danced, the idea was to let go of any sort of judgement and move as freely as you wish. We kept our eyes closed and danced to types of music with instruments that none of us had ever heard. After dance, we ate the typical breakfast, which I think we can all agree was some of the best breakfast we have ever had. The freshest homemade bread and locally sourced honey and oats topped with a never-ending jam selections, all made locally from the garden. Vivi began some insightful political conversations with a few of us over coffee and tea in the mornings and shared her passionate well spoken perspectives. Viv's intelligence and ability to connect with anyone (and debate respectfully) shone through these discussions. She fit right in with Re-green's vibe, staying long after each meal to just slow down and chat.
Once we finished our satisfying meal, we headed to our daily morning meetings. Many fascinating topics were discussed. Christos and Fleury normally lead the discussions, which further elaborated on the importance of knowing where your food comes from and how to apply this lifestyle back at home. One morning at our daily meeting, Alex brought barbecue chips. As they were somewhat quietly munching, the conversation shifted to focus on this foreign concept of processed food. You could tell everyone's mouth was watering. So much so that Alex offered to share and we passed the bright orange plastic bag of salty sweet treats around the circle. Nobody dared eat one of these magical addicting chips so we all took a whiff and passed along which made for a lot of laughs.
After the meeting, as a group we would do our daily activities. These activities shifted everyday, and each one was equally as exciting! After the activities, we were rewarded with an amazing lunch cooked by two of our group members guided by Bijan, a German chef who beautifully cooked all of our meals, which were all 100% vegetarian! Some of the food highlights from this week included curry, roasted stuffed tomatoes, curry cauliflower, basil orange salad, sautéed cabbage and mushrooms, warm squash and eggplant soup, and sweet potato celery root.
Across multiple mornings, the wise Mill (with the most contagious wheezing laugh and chuckle) taught us practically everything we need to know about creating our own compost and garden at home. We got our gloves on and dove into a combination of donkey poop, soggy cardboard, left over tomato plants, comfrey leaves, and olive tree leaves, as well as pee filled hay from the outdoor toilet(pee is full of nitrogen) and toilet paper, to build our wonderful life giving mix. We learned about the importance of layers of greens and browns and how the soil needs carbon. We learned tips on how to get rid of pests without spraying chemicals. Also, something like 90% of soil consists of yummy nutritious worm poop. We each got to plant our own kale and garlic. I think we are all inspired to get some kind of gardening going at home now! We got to try a tiny piece of a stevia leaf which made our mouths burst with sweetness.
Two words that come to mind when thinking about Kai this week are : Coy Pond. A few of us were courageous enough to submerge ourselves in Re-green's notoriously frigid coy pond on the sunny days after lunch. We focused on our breathing and were able to manage a few minutes in the spine chilling water. One rainy cold day Kai spontaneously decided to jump in and the love story began. She happily stayed in there for 30 minutes with ease amazing us all.
We also hiked a short but steep distance to the water fall around the corner from the farm. A few us wore bathing suits yet the weather was most definitely not warm. As we all stood around procrastinating the cold, all of the sudden we hear a splash and wouldn't you know it, Chloe jumped, in fully clothed, came up for air and swam right under the water fall shouting with joy. The rest of us whipped off our clothes and immediately found the adrenaline within to follow in her footsteps.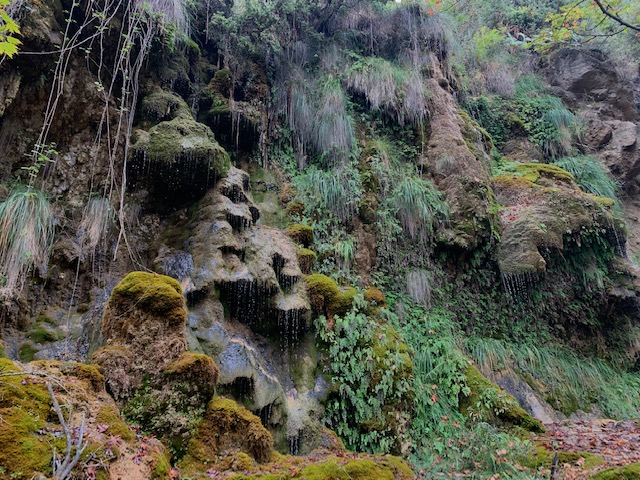 When we hiked up to the source of Seliana's freshwater, I think the whole group can agree it felt like we were characters in a fairytale. The massive cliff in front of us was coated with ferns growing on stalagmites and a range of steady dripping to fast pace rushing water. It was irresistible so David got his head under the stream fully drenched himself Despite the chilly autumn Air. We found three black and orange spotted salamanders amid the damp moss.
Content after our filling and wholesome lunch, we march on to drumming. Our teacher, Nikos, has been greatly inspired all of his life by the West African drums. He happily shared his passion and skill with us throughout this week in order to prepare us for a fun end of the week celebration with everyone in the village! We are all so excited that we can say we know how to play a song on the drums now! During our final drumming performance Liam bravely conducted everyone, including the audience in the drum circle to make monkey noises on each quarter note drum beat. Soon we were all jumping up and down like a room full of monkeys, screeching and making low "hoo has". It was refreshing to return Back to our instincts and the way of our ancestors. Aidan killed it in drumming this week and last minute decided to solo. When it was his time he blew us all away. Our whole audience began clapping along and wildly cheering which brought up the group's intensity. Chloe and Liam also soloed and demonstrated their natural talent.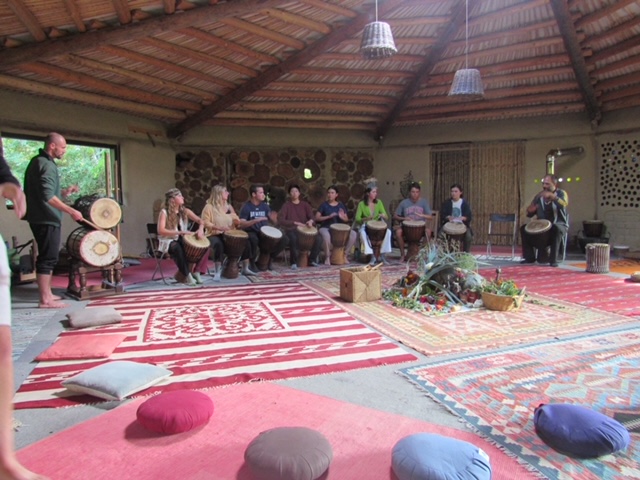 After drumming, we had some time to ourselves to enjoy the nature and bond with other people at Re-Green. We got to hear the amazing life stories of these people and learn more about their peaceful way of life. It was a very eye-opening experience that we will cherish with us for years to come! Then, we had yet another amazing meal cooked by the never disappointing Bijan. The conversations and laughs kept on coming, over a warm cup of tea and the sound of birds and other various animals in the background. We can't help but get emotional remembering these precious evenings!
Wednesday and Friday were movie night! We ended some of our nights with an educational documentary that pertained to the morals and values Re-Green supported. The group's favorite was Fantastic Fungi, which described just how pertinent fungi was in our everyday lives.
On one of our last nights we had the privilege to experience a Re-Green Pizza Party. I mean, who can turn down a greek farm pizza party. I swear the pizzas just kept coming. watched Christos, good old Scottish Kyle, and Giovanni (a real Italian chef) make us wood fired pizzas with homemade dough and selection of farm fresh tomatoes, oregano, pumpkin, zucchini, onion, pesto, mozzarella, feta, arugula and more. As American kids we never forget to bring the party so obviously we turned on the speaker and started jamming out with everyone. The energetic and majestic Makenzie was whipping out some pretty creative interpretive dance moves left and right in accordance to the story of our time at Re- Green. Jumping around and singing in the dark with our beanies and sweaters on made for an amazing ambiance and our stomachs were most definitely thankful (and FULL.)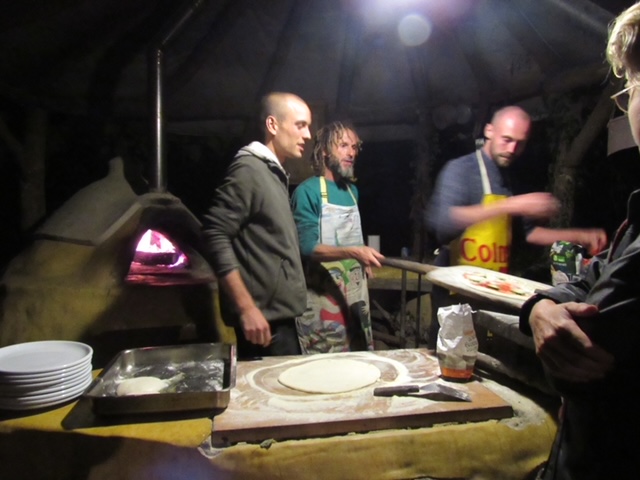 On our last full day, we created an alter in the middle of the decorated, cozy communal space we called the Maloca. This alter was made of an abundance of foods and flowers around the garden and was made to represent the plentiful harvest that Mother Earth graciously provides to us time and time again. Clemmie and Kai wrote and performed a song about thanking the earth and the beautiful landscape which beholds Re-green. We eventually got everyone singing "thank you Mother Earth" in unison. Gabi, one of our spiritual mentors, introduced some songs in Spanish, Greek, and indigenous American languages which we sang along to as well. We ended this extremely special ceremony by giving back a few of the items from the alter and burying it in the soil. That afternoon we participated in a two and a half hour long game relating to climate change and just how vast and complex this issue is. Our group worked really well together to discuss these issues and make the connections that must be made to be able to wrap one's head around this topic.
As we transition into Italy, we've had to say many heartfelt goodbyes. The hardest by far was to Meredith. We will miss her passion and knowledge for architecture. We are not ready to say goodbye to anyone or anything in Greece, including Maya the donkey, Mocca the horse-dog, and Linda.
We are currently heading back to Athens for a couple of days before flying to Bologna, Italy! While in Athens, we hope to see a few more attractions including an awesome view point at sunset and doing some thrift shopping! We also may be taking a day trip to the beach town of Glyfada to take advantage of our last opportunity to swim in the ocean. We will also be having a final goodbye dinner with our guide from Crete, the beloved Xeno!