Written By Ally and Sarah
Aloha!
We left off last week's blog with one more free day before our last work week at the refuge. We took the opportunity to finally see Iao Valley, which is a popular site. It was a very short "hike" to see the "Iao Needle." A brave few, Sarah, Dani, Chloe, Doug, and Anya, jumped into the frigid river. With time to spare, we went to a Japanese, Chinese, and Portuguese garden to walk around and take some time to ourselves.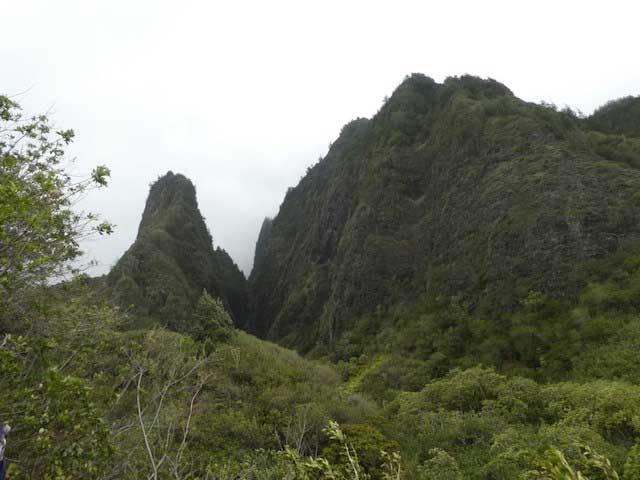 Monday we finished up our riverbed project. We cut down some invasive trees to make stakes. Once we'd made enough we installed our last coil rolls and re-staked some that didn't stay put from last week. We looked to our left, to our right, and saw all the progress we had made. We were thankful for the work we had done, and especially to be out of "Mosquito Land."
Tuesday we started our new project of restoring an ancient Hawaiian fish pond. We spent the day switching off between heavy lifting of logs and weeding.
On Wednesday we continued our work cleaning out the weeds with a new method of rolling them like tumbleweeds, which was very satisfying. Once again, we saw how much progress we had made and could see the impact of our hard-work.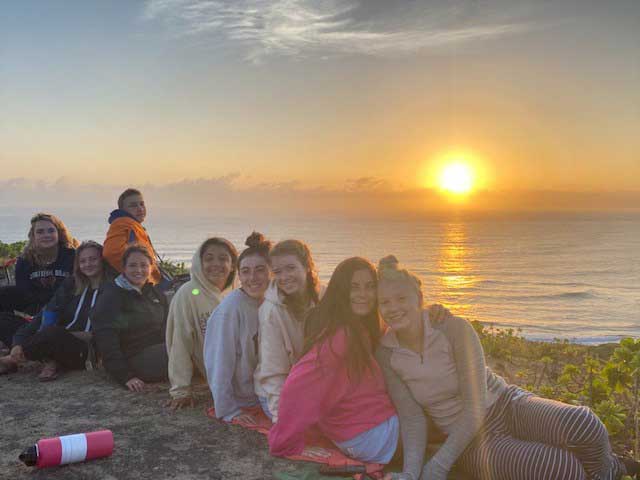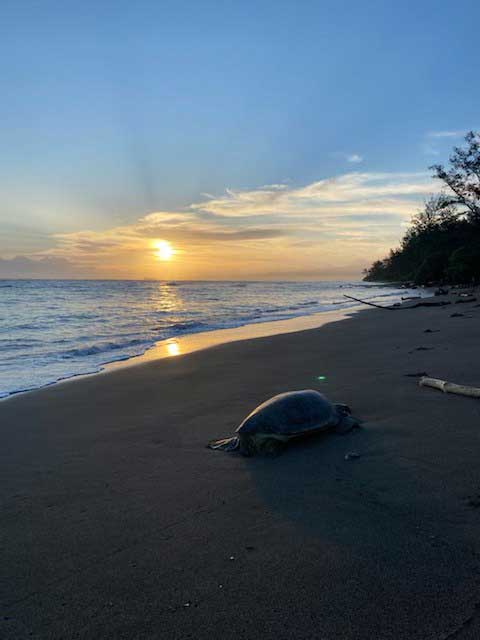 Cock-a-doodle-doo! At 5:45 AM we awoke to meet Kia'i to head up to his favorite sunrise spot. We hopped in his truck bed, our favorite event of the day, and headed up to Mauna Ike. It was a 10/10 experience. The rest of the day nearly killed us. We arrived at the beach to find an enormous fish net buried in the sand. It was at least a ton! Every time we cut off a piece, we needed at least 4 people, or just Kia'i, to drag it up to the truck. A beautiful turtle decided to keep us company by sunbathing near us while we worked to protect its home.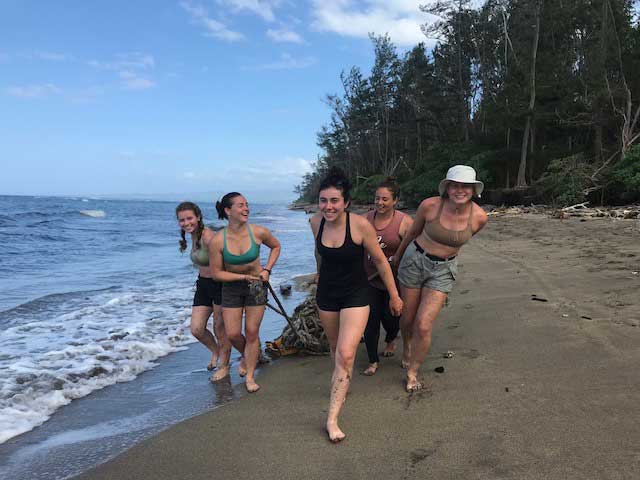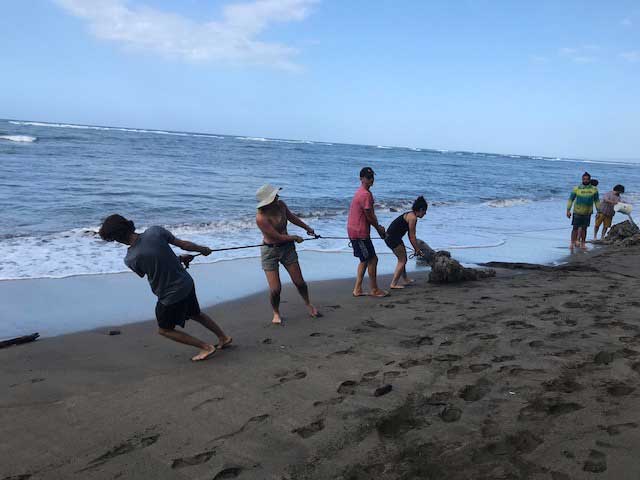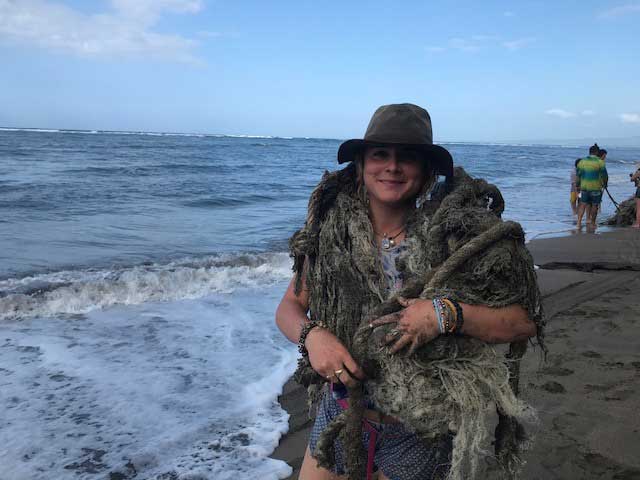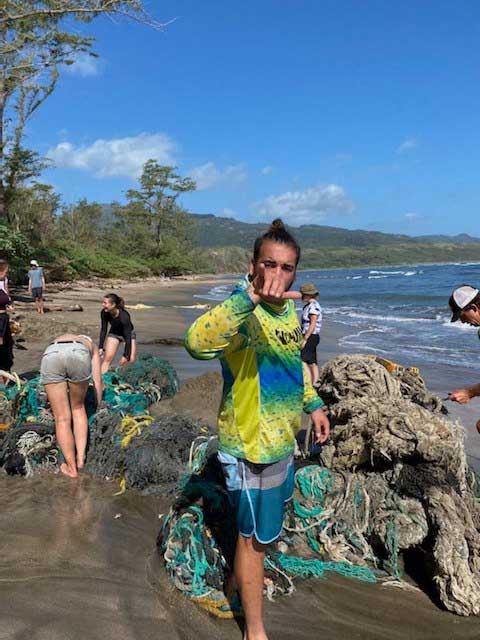 8 hours later, we needed all hands on deck to get the last big chunk of net up to the truck. We worked later than usual because Dani and Justin, our captains this week, encouraged us to finish the job that day. We ended our day with pizza and a fire pit.
Friday we cleaned up the base yard and Sarah vacuumed Kia'i's truck and our van. Best day of her life (not sarcastic)! We organized the tool shed, moved trash, and untangled some insane knots. Ashley had the best time weed-whacking.
After lunch and a river swim, Anya taught us about our impact on the environment through trash. Did you know that plastic trash bags take 10-100 years to decompose!
We had a short afternoon with Penny on the Loi learning about taro.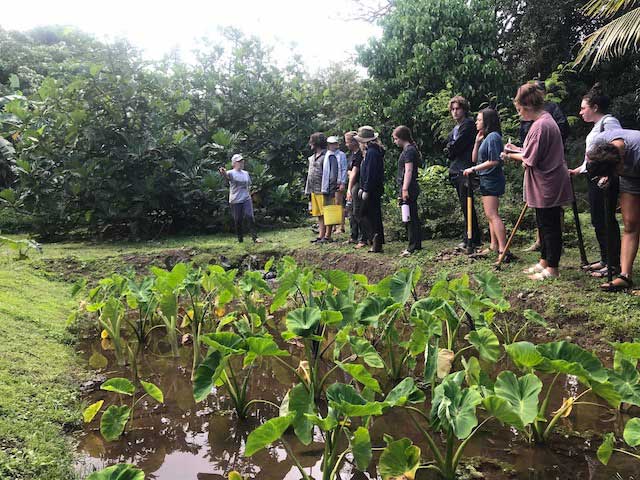 As our farewell, Kia'i grilled up some amazing steaks and Portuguese sausages and Cook Crew killed it on the sides. We played Portuguese Horseshoe and there was a lot of dancing. We prepared a song for Kia'i, which was masterfully written by Alexa and Justin.
Saturday we packed up and headed to the meditation retreat for a change of pace and our first time sleeping indoors.
As Kia'i would say, "Heard Dat!"
XOXO, Ally and Sarah