By Hadley Olivia, Latitudes '18 Uganda
When I found out that I would be spending three months in southern Uganda teaching at a special needs school, I was equal parts excited and terrified. I had the opportunity to visit my placement during my East Africa group semester, so I had a vague idea of what I was getting myself into… but in the end, I truly had no idea what I would be doing for three months.
Now that my time at Kitanga Primary Special Needs School (SNEC) is finished, I realized that I learned much more than I taught. My Carpe Diem peer (Daisy) and I were thrown into a Primary 2 classroom by ourselves. I didn't speak either of the languages that were used in my classroom which were Ruikga and British Sign Language, and my students spoke little to no English. Upon entering my placement, I knew that I would be receiving much more than I was giving…but I never imagined how much I would learn about happiness from teaching primary students the alphabet. During my group semester I had begun to learn what I needed to be happy but after the last three months, I feel like I have truly started to solidify those ideals that I began to formulate during the beginning of my Carpe Diem journey.
Nothing brought my kids more excitement than getting check marks on their completed work. Seriously…imagine a 10-year-old coming up to you every day demanding more work be put on the board so that they could obtain more checks…(just make sure to use the right colored red pen or else you might get angrily clacked at). Now the excitement of daily check marks did little to compare to the last week where we traded out check marks for scratch and sniff stickers…mayhem broke out. My kids, as well as the 25 other special needs students, were covered in stickers for two days. While I was busy teaching the alphabet and counting to children who barely understood what I was saying, they were constantly reminding me to be joyful about the little things.
Here are just a few of our children covered in stickers.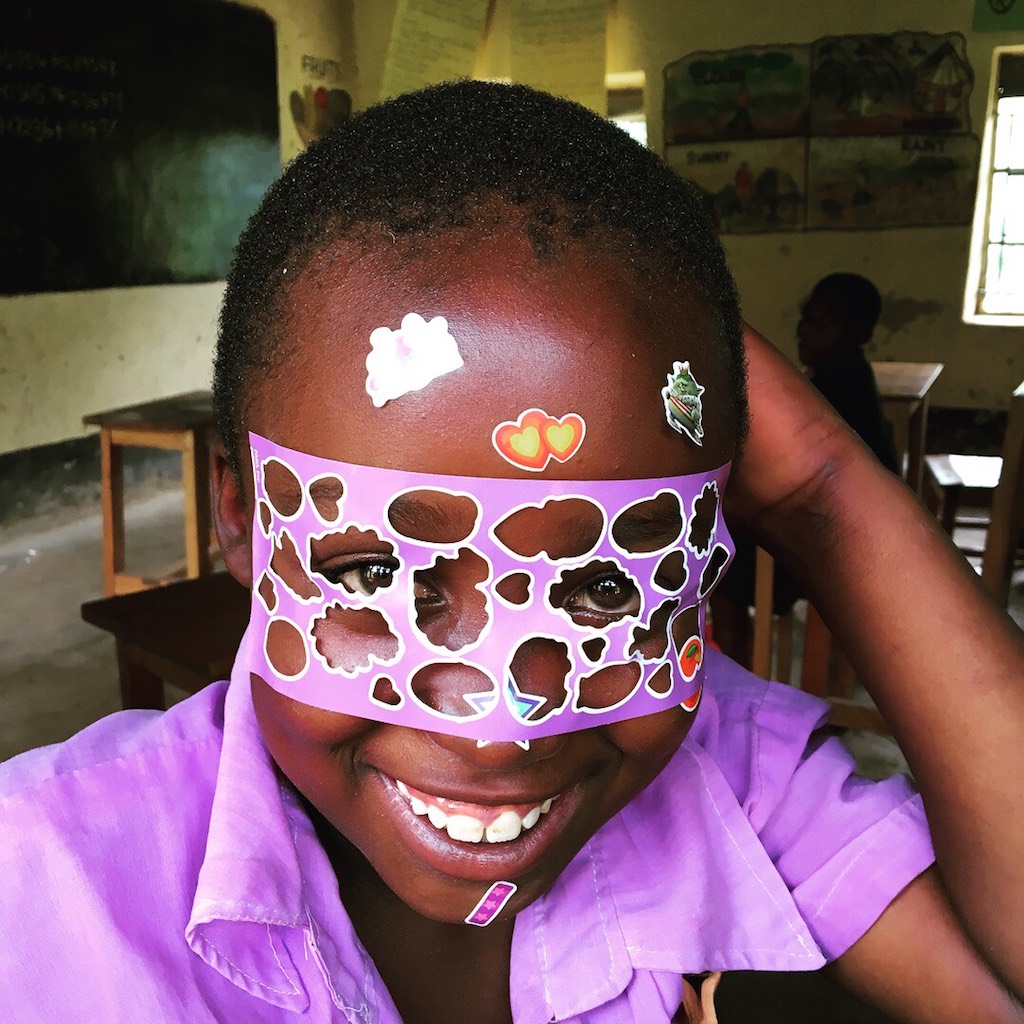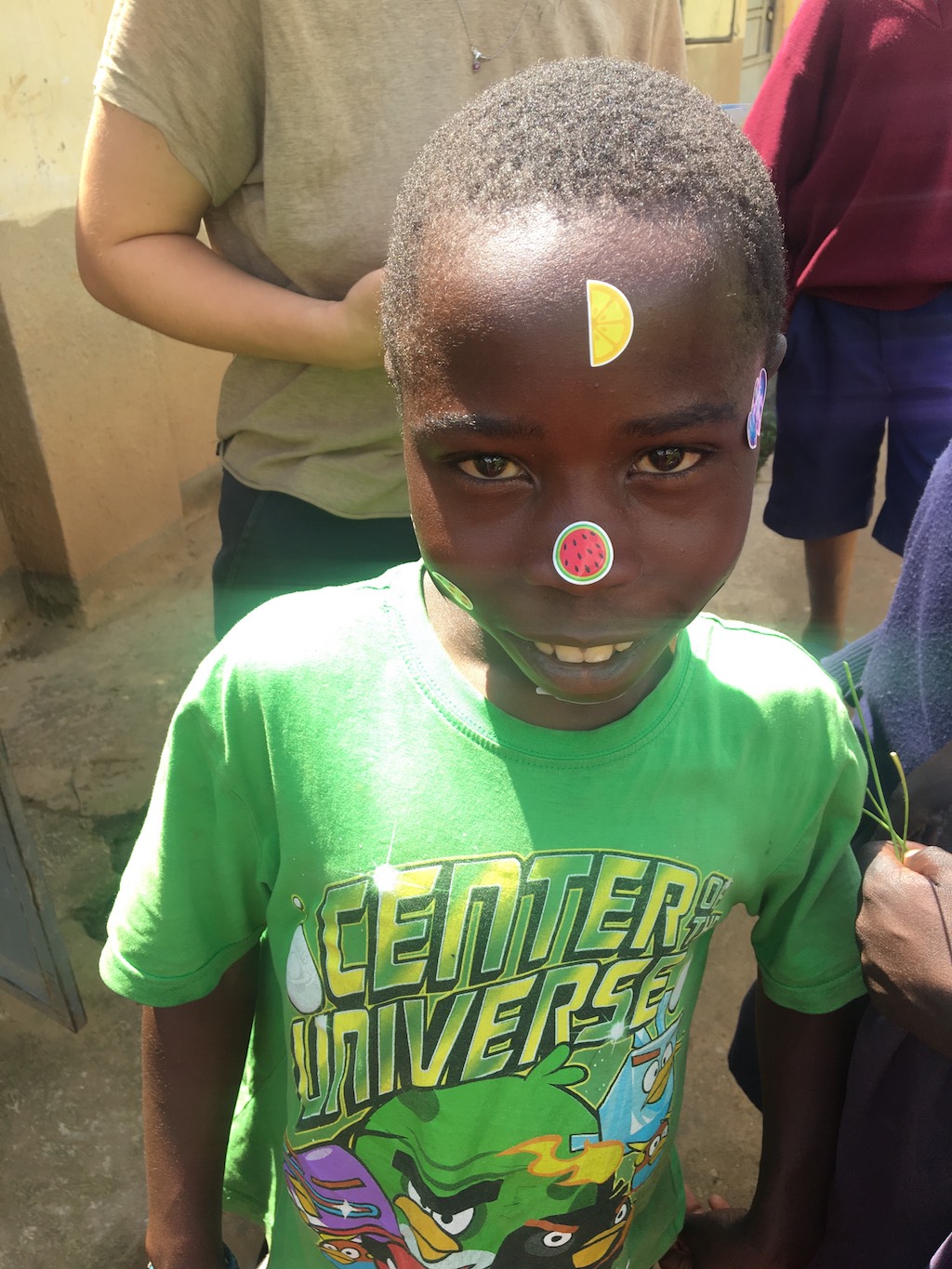 Reminders to be joyful were constant. Whether it was giving stickers, having unexpected dance parties almost every day, splattering paint outside, or playing with playdough for the first time, the kids were always laughing. I laughed more during my Carpe experience than ever before. Even now, just a few days after leaving SNEC, I already have very few memories of actually teaching classwork and, instead, many more memories of baking lessons with all 40 of the kids and teachers, art projects that lasted all day, and laughing through having to translate something from English to sign language (and then another child translating from sign language to Rukiga). Walking to school every morning turned out to be the best reminder to be joyful, as the second my kids saw me walking toward the classroom I was bombarded with hugs and kids jumping into my arms to be carried the rest of the way to class.
Baking lessons turned into a trust exercise as most of the food we cooked the kids didn't recognize and they would hesitantly take a first bite before deciding that they loved it.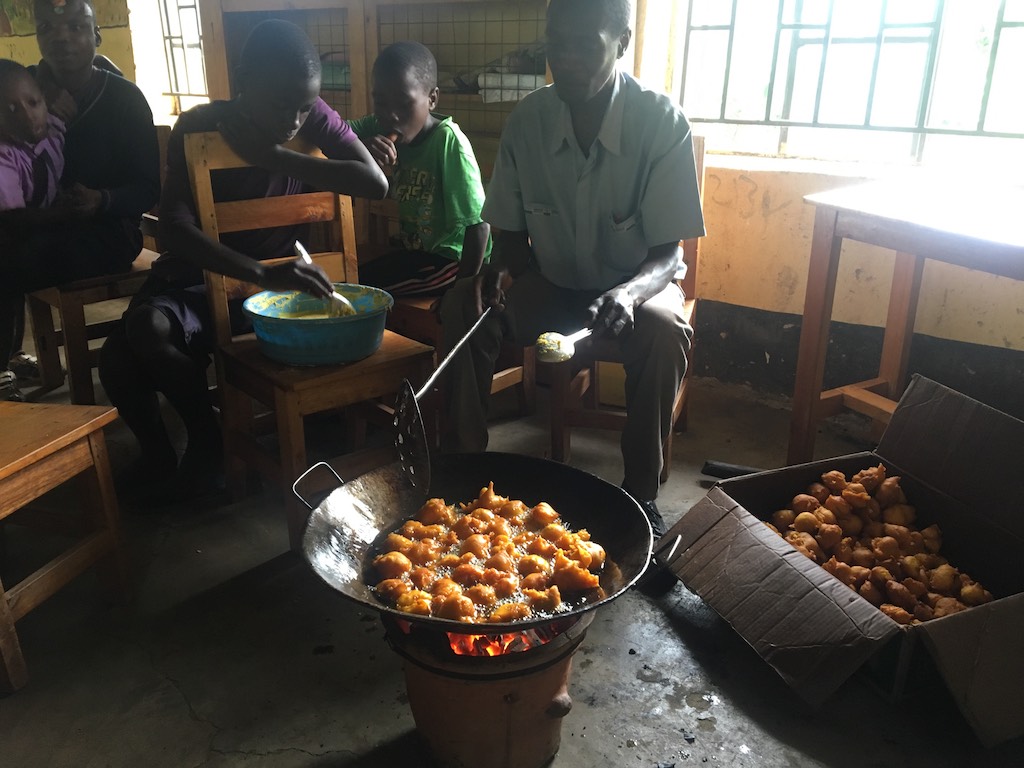 These kids love painting but splatter painting turned into a very messy, very fun activity.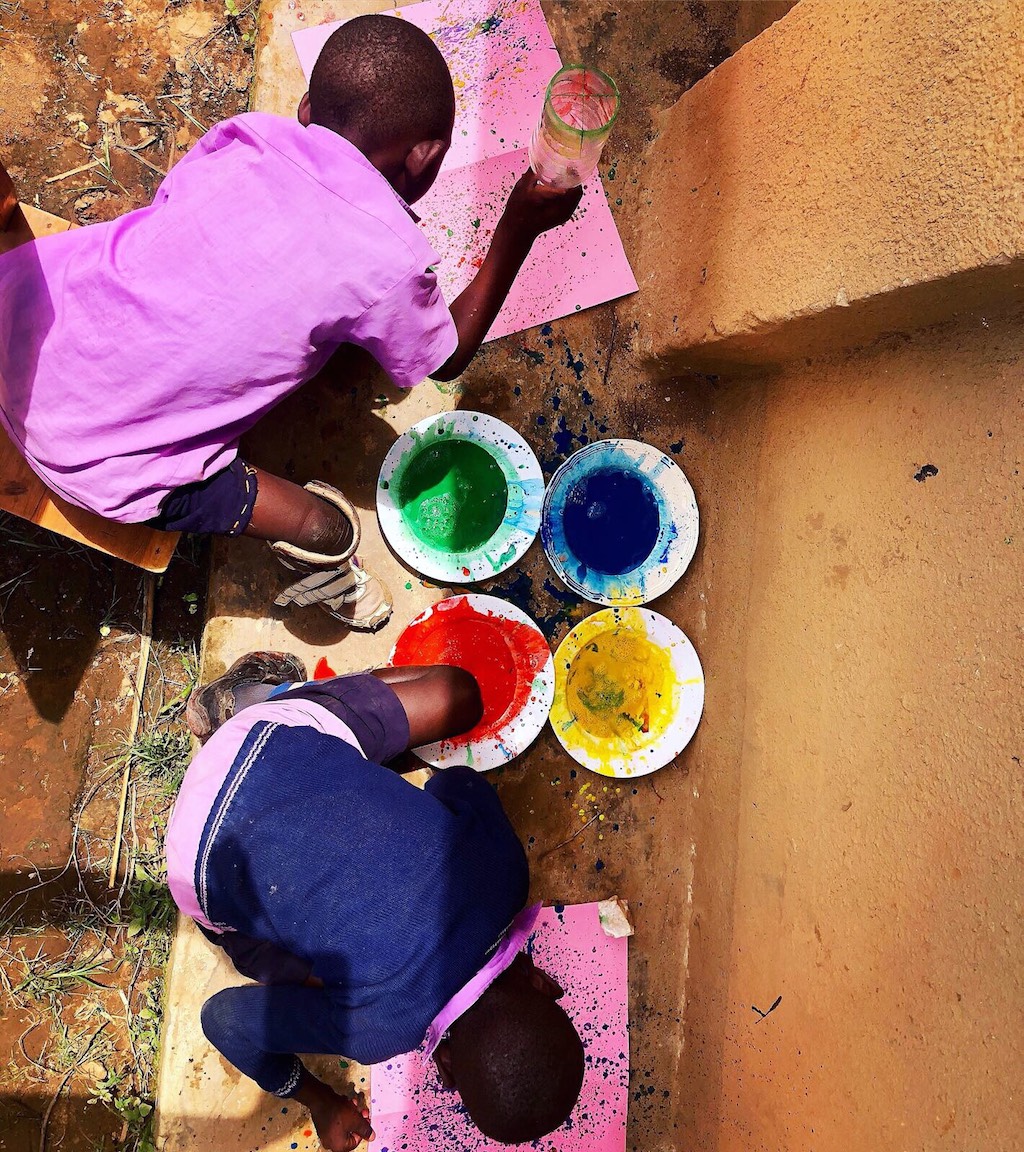 My lessons of joy also came in the form of realizing that very little things are actually worth getting upset over. From stumbling over language to incidents like our drop toilet getting covered in dirt, the kids laughed until whatever problem was solved. In the eyes of kids, there is no better excuse to have fun getting covered in mud than digging out a drop toilet from a collapsed wall of dirt. I learned rather quickly that if I expected to know what was going on, or if I expected things to go perfectly, I was going to be disappointed. But if I, like the kids, set no expectations and realized that everything would work itself out, every day turned out to be a good one that was full of laughter.
The boys helping us dig out the squatty potty after the farming field behind it turned into a mudslide during one of the rain storms. We ended up with five feet of mud in front of the door and ten kids helping to dig out a pathway. Daisy and I repaid their efforts with cookies.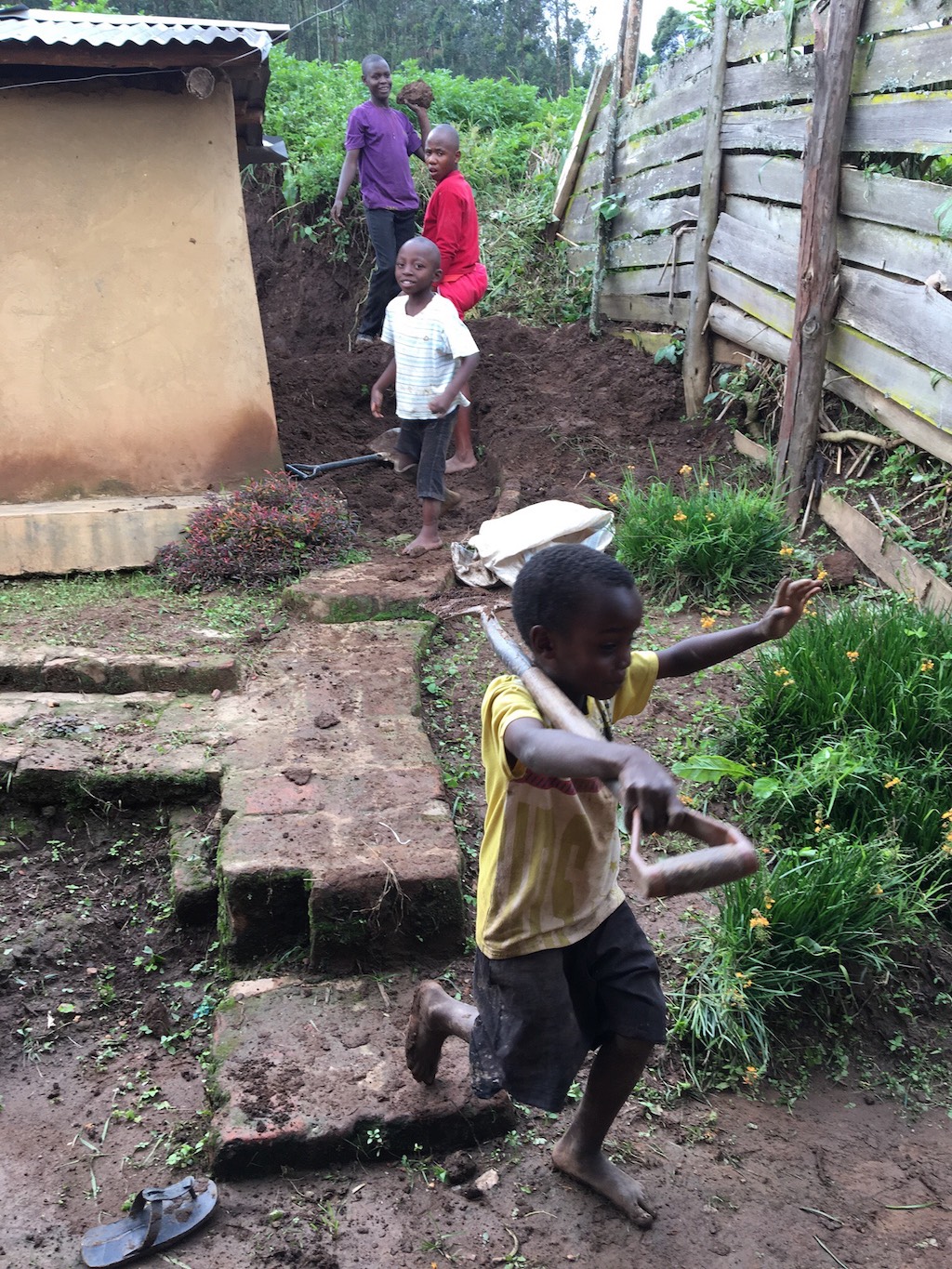 Over the last three months I took bucket showers, used a drop toilet, had no power most of the time, had to sit in the dirt for any good cell service, spoke a different language than the kids I was supposed to be teaching, and almost never had any idea as to what was going on. But, I got to learn every day that none of those things have any impact on my happiness. I had the opportunity to learn to cook, a bit of sign language, how to butcher a pig, and how to teach without a common language. I learned how to tell which guava were ripe and how to bargain for my vegetables at the market. I learned how to make chapatti and how to teach math to a boy who uses sign language. I learned how to cook over a fire and how to tie a baby onto my back with a chitengae. I learned how to laugh at my mistakes and, most importantly, the kids I was supposed to be teaching taught me how to be happy.