By Mary Dudley Berry
Hello to all of our fans out there!
As our time at Ohana Amani came to an end, the group experienced a few changes in our dynamic. We sadly said goodbye to one of our members, and happily welcomed a new temporary member. Jenny, the Executive Director of Carpe Diem, joined our group to experience the day-to-day adventures and challenges of a group semester. It seems like she came at the perfect time to truly grasp the ups and downs of our time abroad. In the vibrant town of Iringa, we were overwhelmed and delighted by all of the food choices (chocolate cake with ice cream, cinnamon rolls, roasted vegetable paninis, etc.) at a local cafe and craft store that employs people with disabilities. What's better than delicious food and beautiful crafts for an even better cause?! Up: check! After these very welcome indulgences, we spent some time searching for a group member's backpack and ultimately came to the conclusion that it was stolen. Peter and the member spent the rest of the evening learning the ins and outs of Iringa's Law Enforcement Department and came back with lots of funny stories (there was a chicken in the interrogation room). Down: check.
We then took off into the Tanzanian bush for our grand safari adventure. Upon arrival, we were briefed on our friendly and welcoming new neighbors, the lion and the black mamba. We were told to "hoot" if we were concerned about any suspicious noises (growls?) during the night in our durable, lion-proof shelters: the backyard tent. I can't speak for everyone else, but Rebecca and I sounded like a pair of owls by morning. The two following days, the group worked on various service projects and got the opportunity to visit a few different schools and play lots of games and activities with some very excited kids. Up: check! Unfortunately, I had a terrible case of What-The-Heck-Did-I-Eat-Oh-My-God-I-Think-I-Will-Explode-Maybe-It-Was-That-Weird-Smelling-Pizza, so I was unable to join everyone else. Let's just say that this trip has redefined my idea of what being sick really means. If you have not "hooted" to a Masai man to escort (run) you to a compost toilet because there's a possibility that it's in use by a lion and you have to check every visible surface for a black mamba, have you ever even actually been sick?! (Probably, I'm just trying to make myself feel better). Down: check.
With lots of medicine in my belly, we went on our way to explore the natural wonders of Ruaha National Park. Our first morning was filled with rain but eventually, the sun made an appearance and so did many giraffes, zebras, hippos, cheetahs, impalas, elephants, baboons, and even a feisty pack of lions. Even more exceptional, we were the only people around, which was a major perk of going to a less touristy park. Up: check!
The following day we woke up at the prime time of 6:00 a.m. to embark on our second day of animal stalking. With excitement and anticipation flowing through our veins, we loaded into our trusty safari cars and took off. This lasted for a total of two minutes before we found ourselves and both of our safari cars stuck in rising pools of knee-deep mud. We evacuated the vehicles and let our guides work their magic. It was quite the picturesque scene: we waited, watched, and played homemade mud corn hole as about 20 Tanzanian men pushed, pulled, and even chopped down a tree in an attempt to get the cars out (Don't worry, we offered to help). Their efforts were unsuccessful and they called in some reinforcements, which were stuck in the same mud shortly after. Two and a half hours later, the cars were freed and we were on our way. Getting stuck, down. Getting out, up! This past week perfectly encapsulates our semester so far: amazing triumphs, difficult challenges, lots of bugs, unreliable vehicles, mystery illnesses, kind and welcoming people, and lots of laughter.
While life in Africa is often chaotic and unpredictable, you can always count on it to be pretty dang good.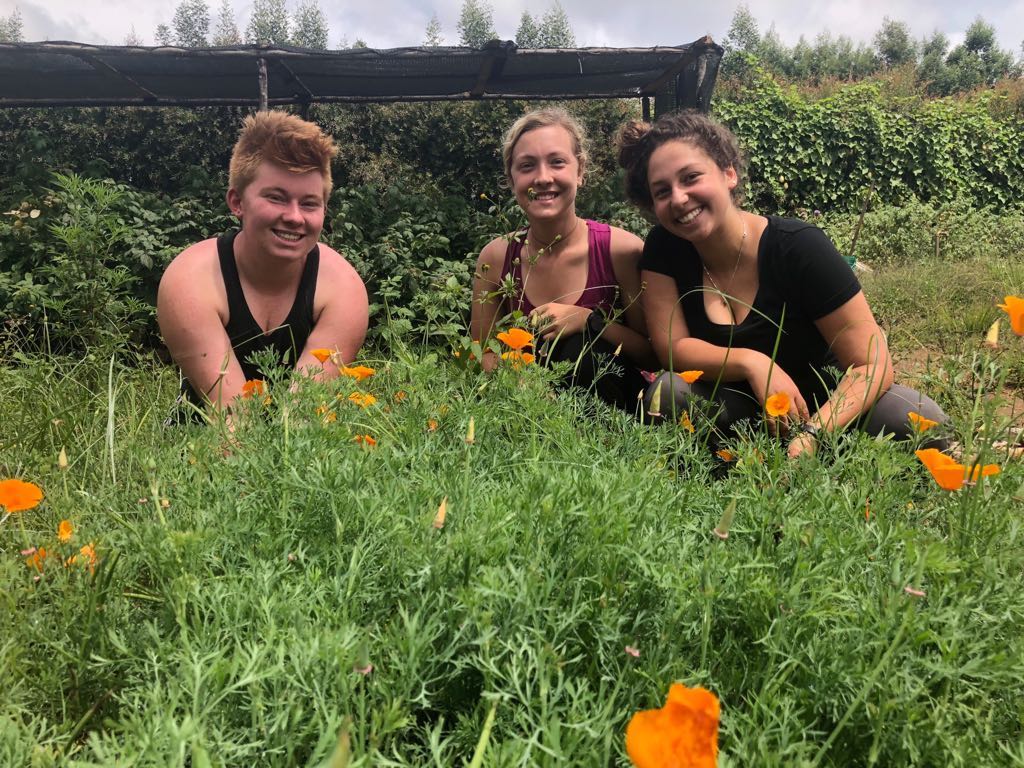 Jason, Kayleigh, and Maytal working in the gardent at Ohana Amani.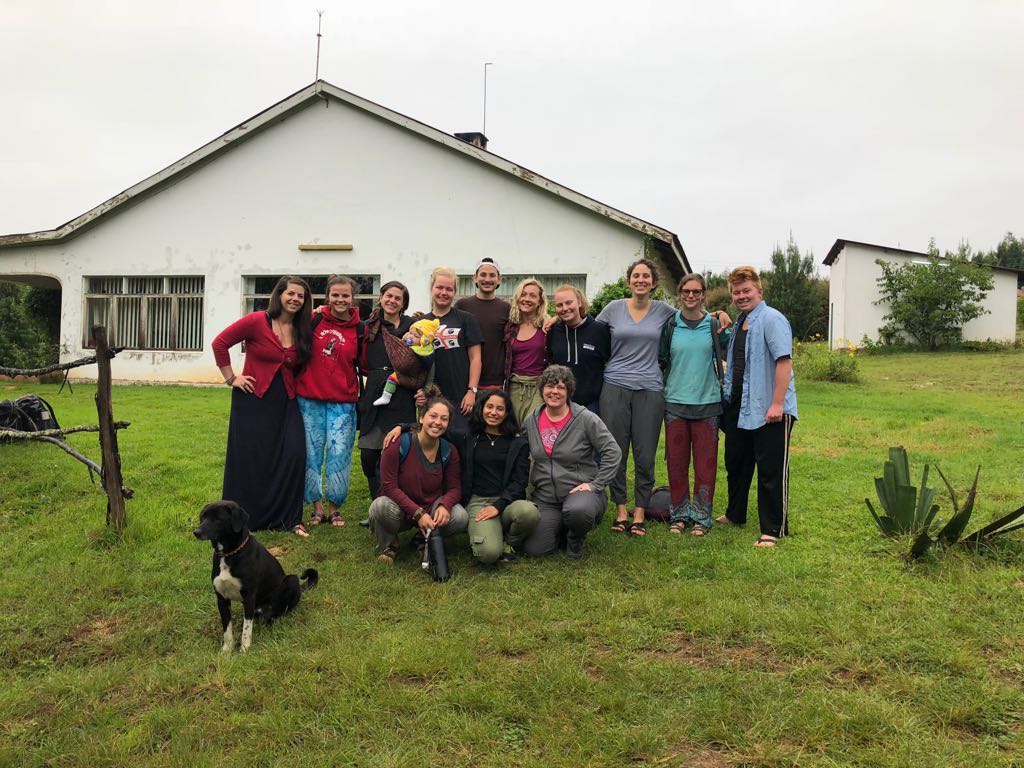 Saying goodbye at Ohana Amani.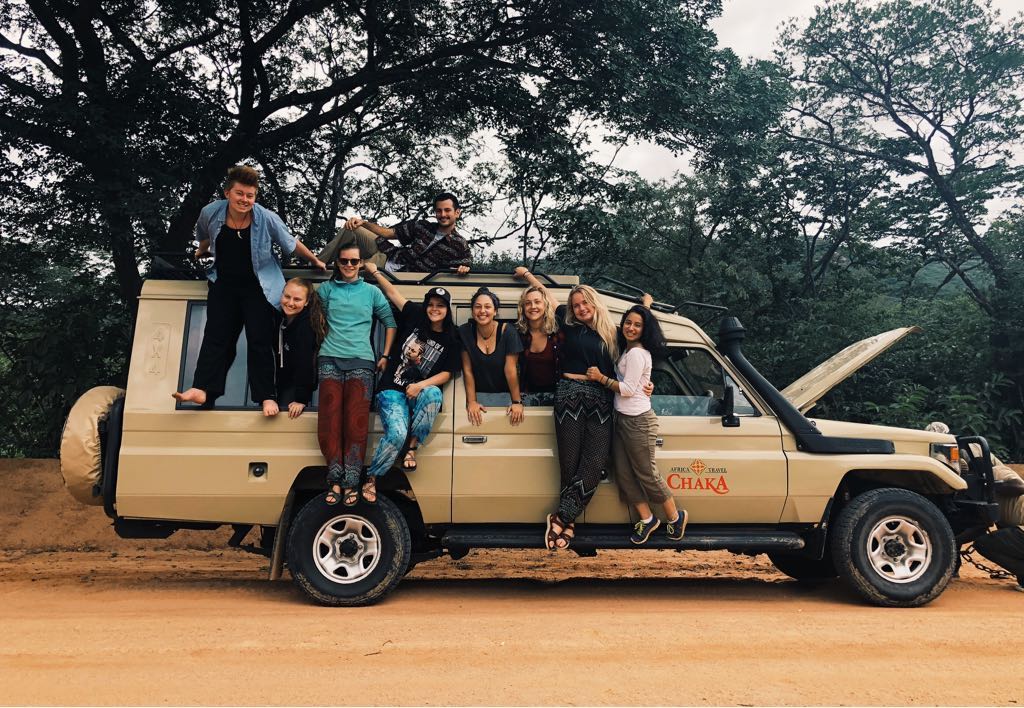 Photo shoot during one of our many stops for car maintenance on our way towards Wildlife Connection and Ruaha National Park.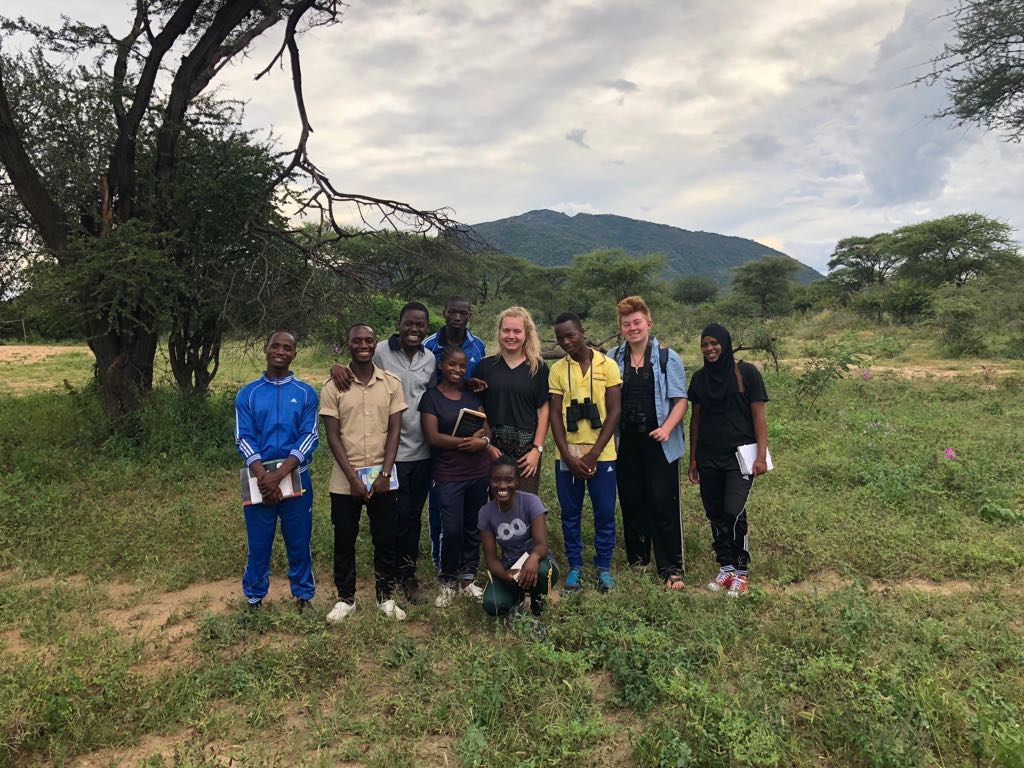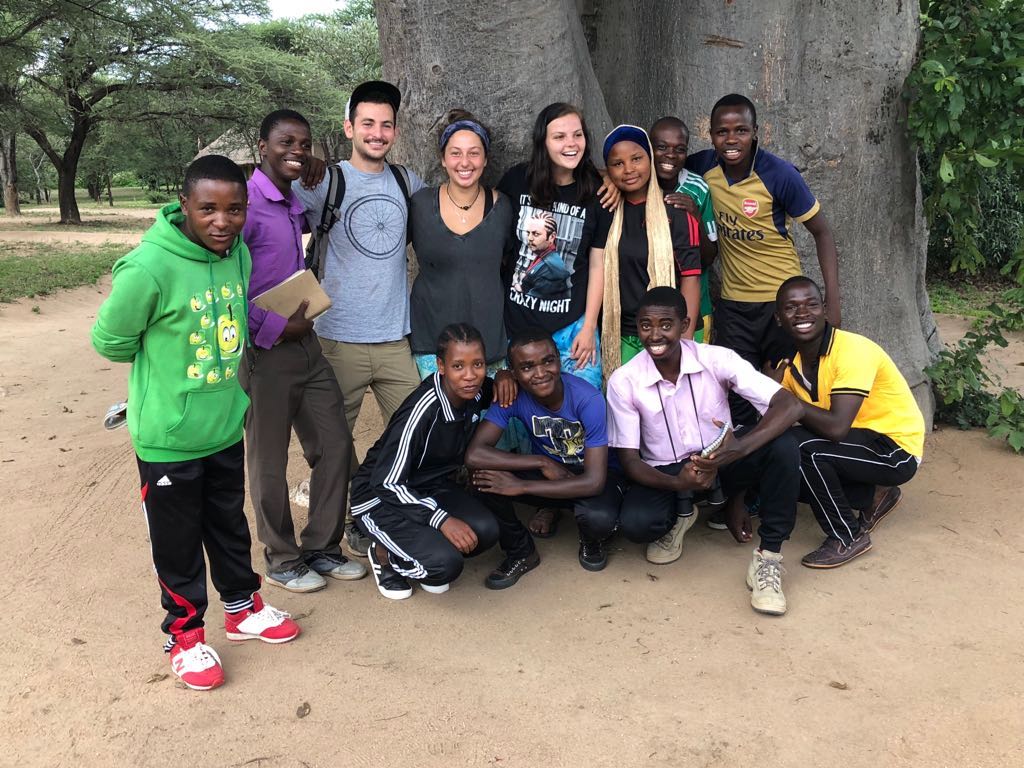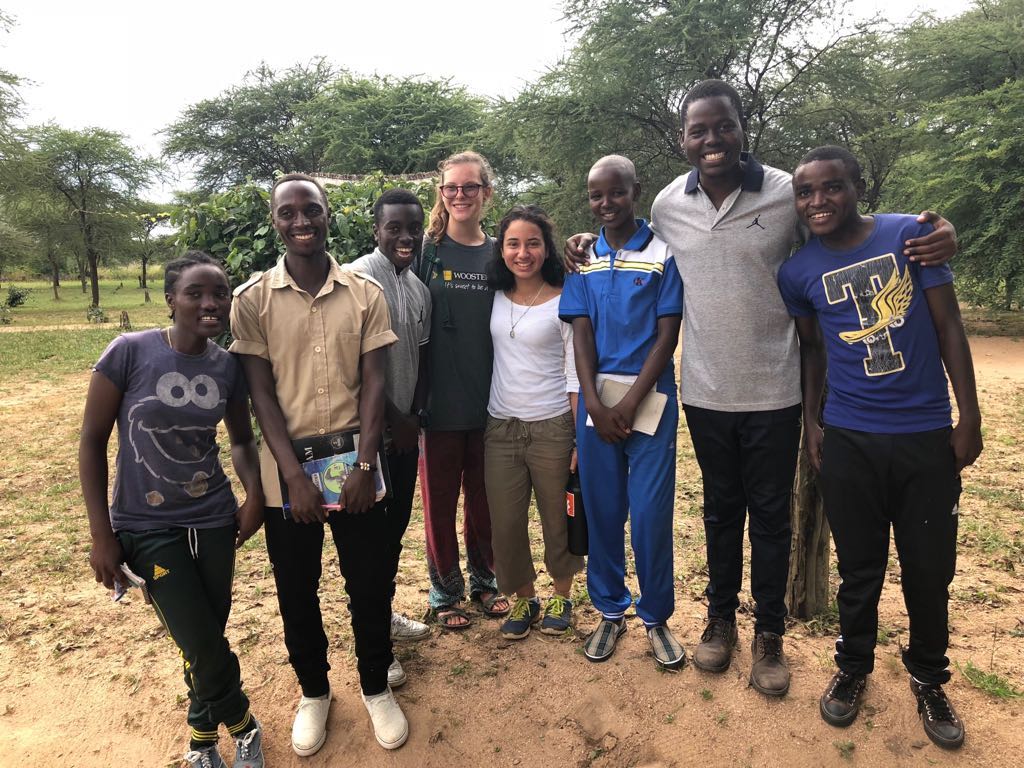 With some local youth learning to be Wildlife guides near Ruaha National Park.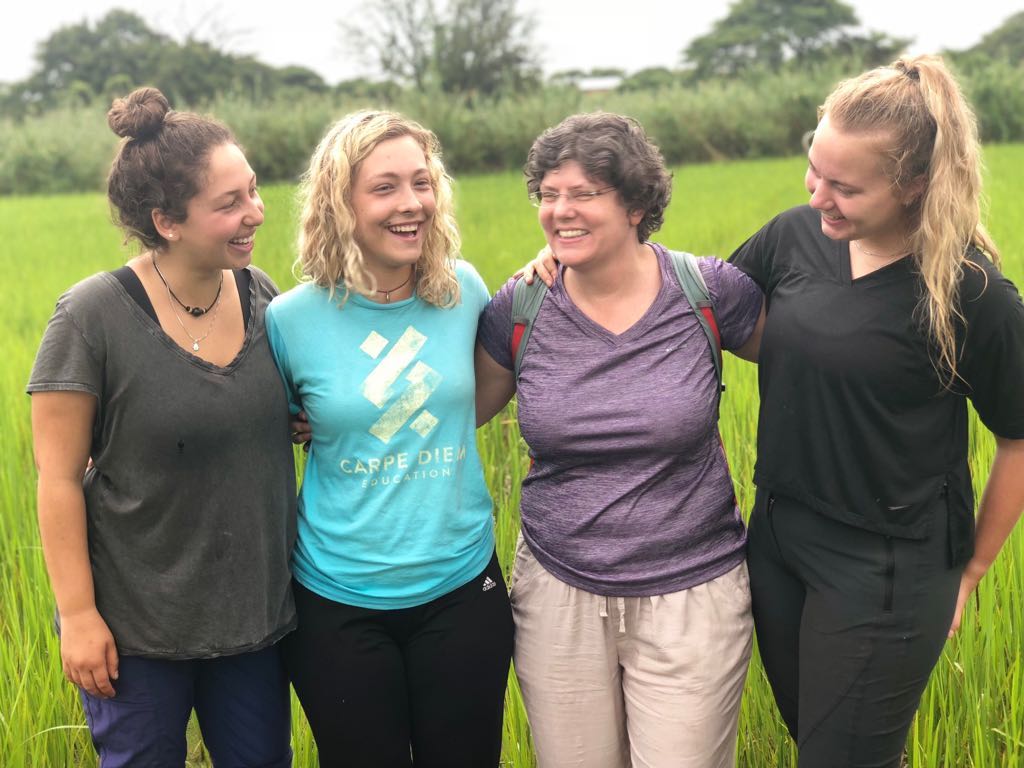 Maytal, Kayleigh, and Tosca with Jenny during a day of learning at Wildlife Connection.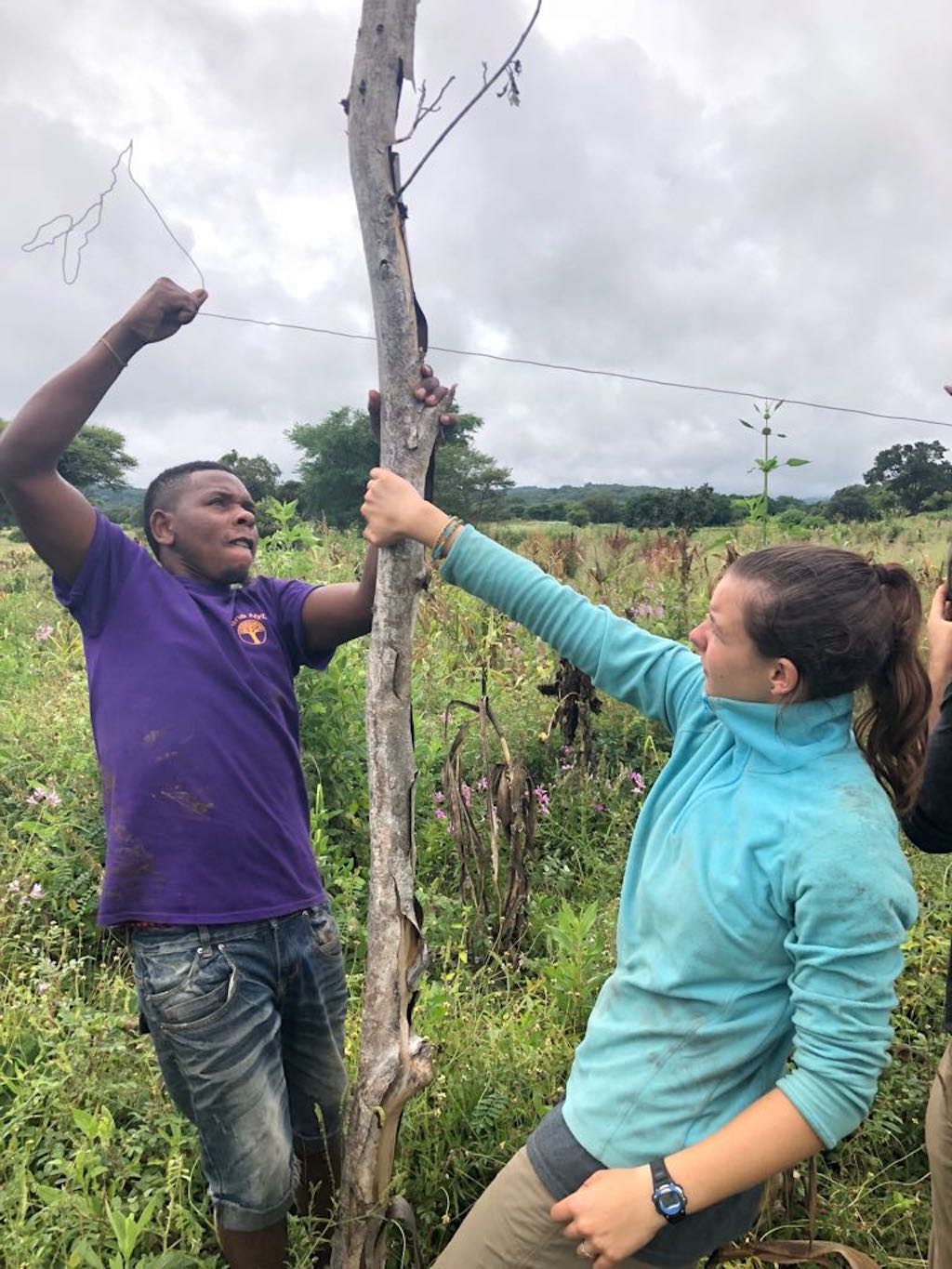 Morgan helping to build a beehive fence to prevent human-elephant conflict outside of Ruaha National Park.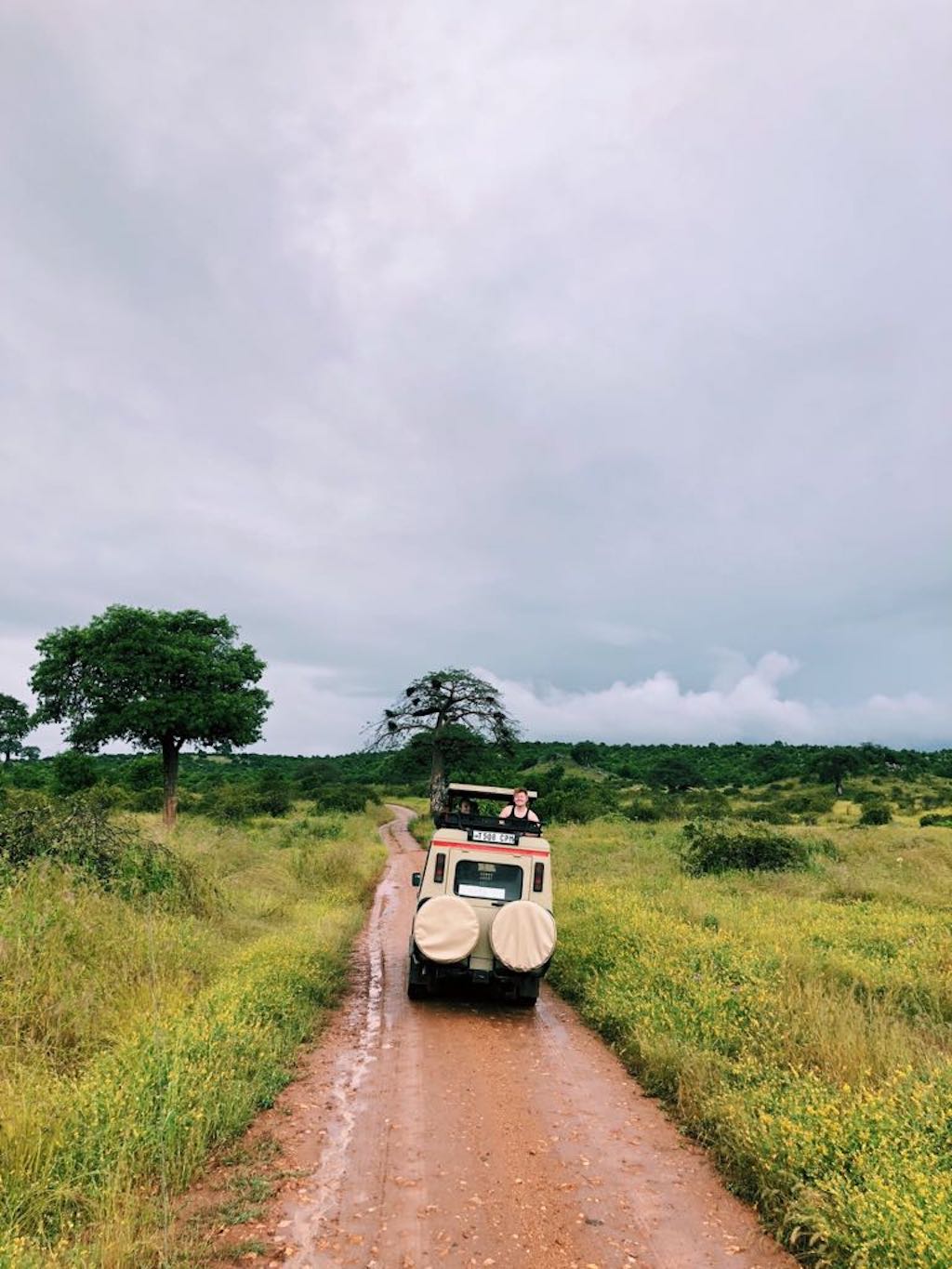 Jason on Safari!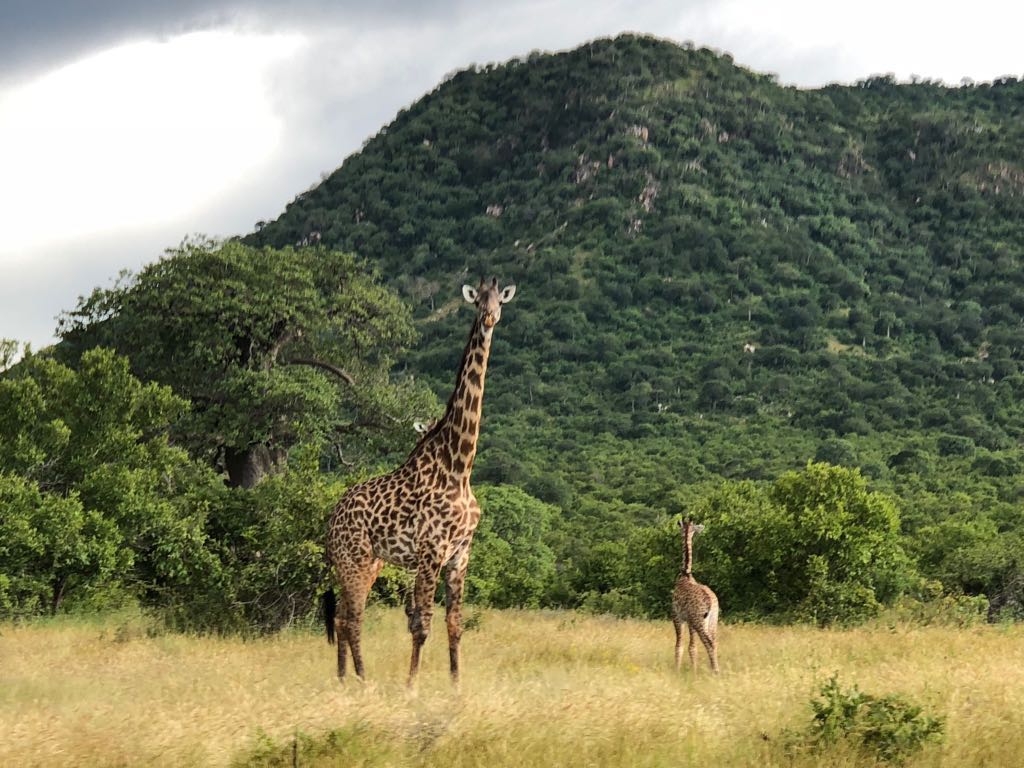 Mama and baby giraffe!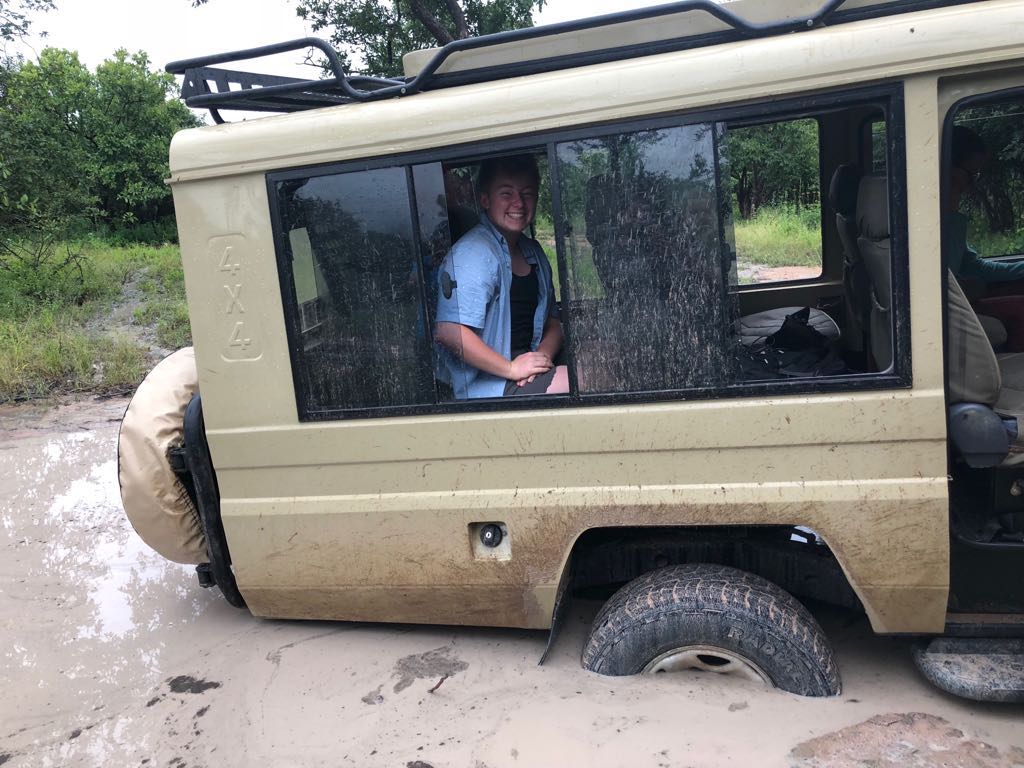 Sometimes our vehicles got stuck in the mud.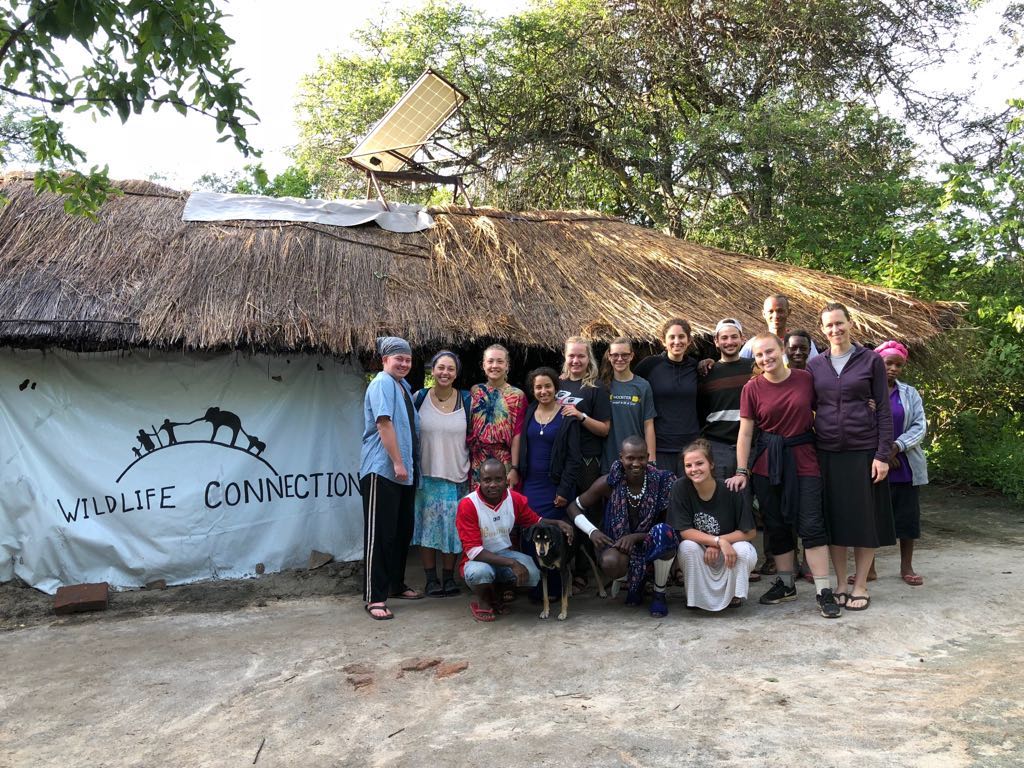 Saying goodbye to our friends at Wilderness Connection.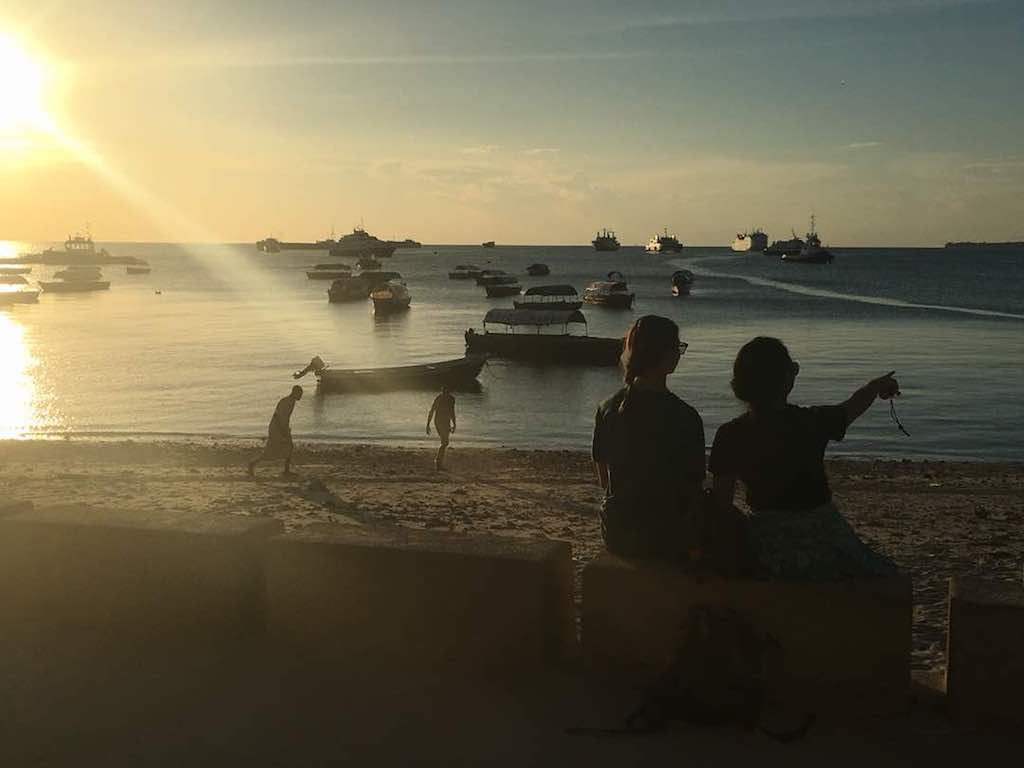 Morgan and Kiara on the beach at sunset.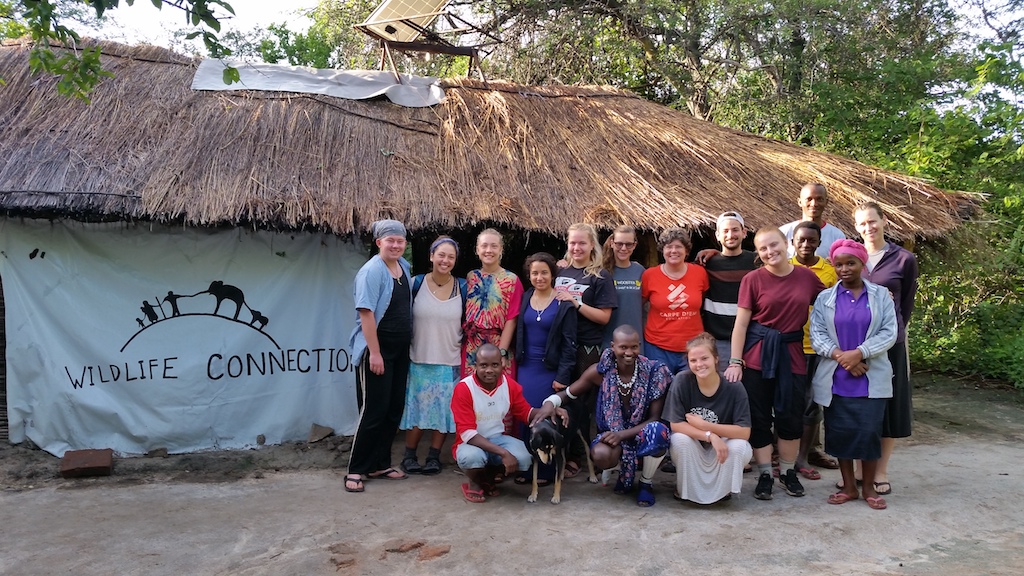 Jenny with Wildlife Connect and the Nkula crew.