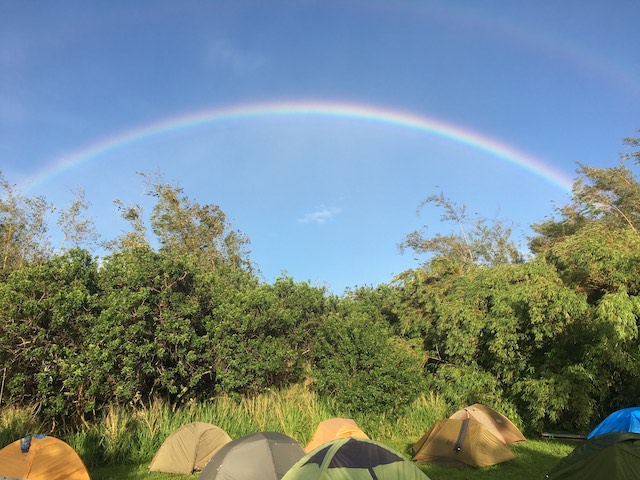 Dear team Aloha,
What a journey these two months have been with you all! It hasn't taken us long to start missing you all. We are packing up at Olowalu, right where everything began and ended on our wild ride, reminiscing on some of our favorite memories from our time together.
It was only a few days prior to your departure that a few of you finally figured out your bearings on Maui! ("We've just been doing X's across it this whole time! Over there is Waihe'e, that's Olowalu, that's where we hiked the King's highway, and that's where the road to Hana is!") And it's true! This small island has been our home for these past two months, holding more diversity, insight, beauty and bite than we could ever have imagined. In each corner of the island we've been lucky enough to work with incredibly talented and inspiring people who have shared their skills, wisdom and light with us. And, of course, there have been our non-human friends: the humpback whales, sea turtles, reef sharks, taro, banana trees….and the list goes on, that have also taught us so much along the way. Each time we drove across the island, something new and wonderful was there to greet us and we opened our arms for every bit!
We are so honored to have been your leaders, mentors and friends these past two months. Together, as a team, you have shown us what kindness, generosity and an openness to learning and growing looks like with, of course, a very healthy dose of smiles, giggles, and exuberance! We hope that your transitions back home go smoothly, that those sunburns and bug bites heal up nicely, and that you have many happy reunions with loved ones, finding out just exactly how to describe to them the experiences you all just had.
We are so grateful for all that you have taught us along the way and we know that you all have good things coming along each of your paths! Thank you for a beautiful, enriching, and silly two months! Keep on shining and keep in touch!
With gratitude and aloha,
Anya and Doug