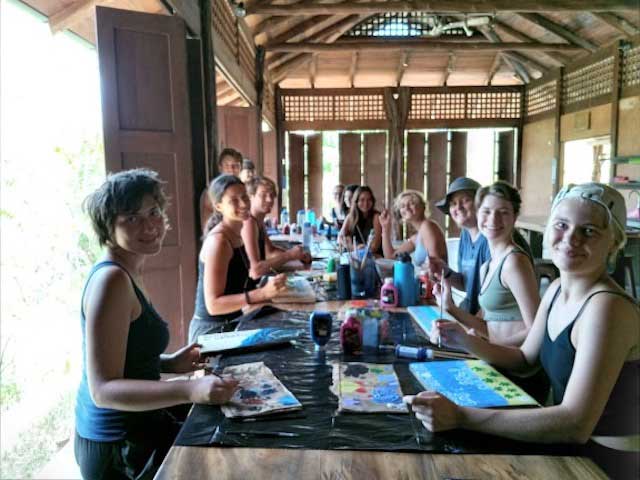 Written By Audrey & Veronica
Hola and happy Easter friends and family,
For the majority of our second and final week at Cirenas, we continued to learn and physically experience permaculture. We spent the mornings helping out around the property with the full time employees. From an onlooker perspective, we were mostly sweating our butts off and desperately seeking shade. However, the work we did contribute to included: planting tomato, yuca, and ayote, harvesting green mango, cashew fruit, and mangosteen, and watching a worker climb a palm tree to cut down the leaves for mulch. Most, if not all, of the group are getting quite comfortable with a machete. After a rare and coveted 9 am breakfast on Wednesday, we painted signs to deter poachers in the area. If you guys haven't picked up on the artistic talent within the group, take a look at some of the impressive signs below.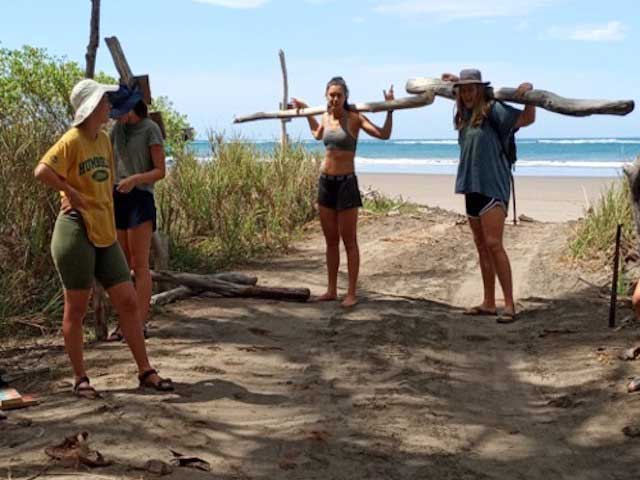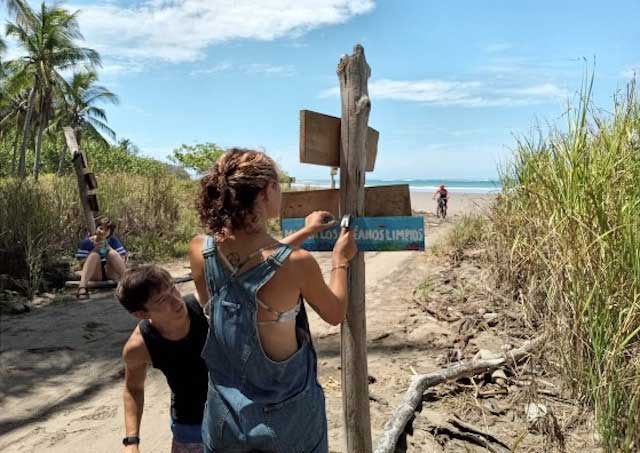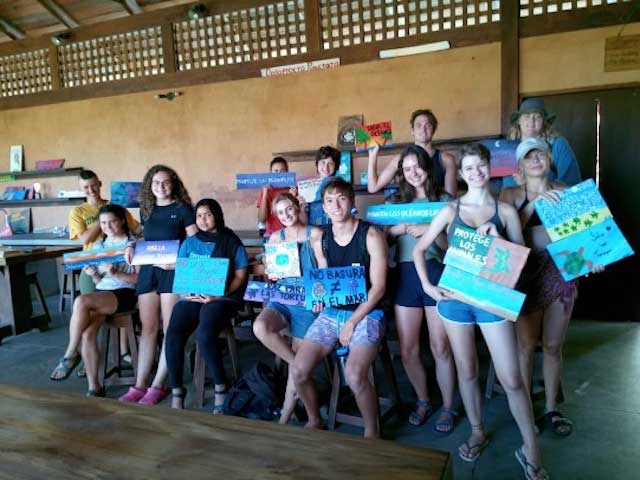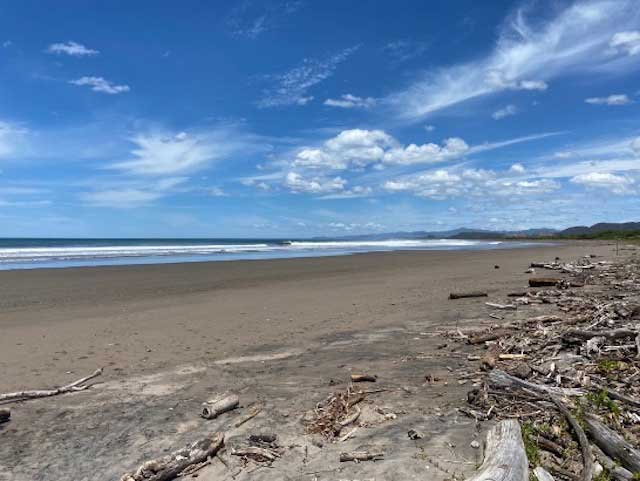 We are getting lots and lots of beach time, which is very obvious if you catch a glance at some of the distinct geometric patterns on our backs. The most recent human canvas is Sasha with a distinct, white, scrappy sports bra tattoo (AKA tan line). Most of that time has been spent cleaning up the littered trash or relaxing later in the afternoon before dinner. Unfortunately, it's that time of the month in which the high tide now interferes with our usual beach hours; only swimming if we feel particularly dangerous and able to dodge drift wood. The days are extremely hot and honestly, the water is not that refreshing. The water is usually warm, but always a good time nonetheless. The group has been working on our body surfing; I'm proud to say it is almost as bad as our ultimate frisbee. In an effort to spend as much time as possible on the black sand, this week's group leaders orchestrated both their activities on the beach. On Tuesday, Cole put together a sand castle building contest, and I'm obligated to name the winners. It pains me to write this, but the champions of the Carpe Diem Sand Spectacular are Mia, Cece, and Macy. The groups creations are in the photos below if you wish to judge the structures for yourself. On Thursday, Tyler took the group to the beach for a game of Ghosts in the Graveyard followed by a star gazing session; organization and snacks courtesy of Mia and Balkhiis. Some other activities, led by Macy and Sasha, were sprinkled in the slots of free time this week. My personal favorite was the intimate partner yoga guided by no other, Shaman Sasha. Lastly, we marked the end of our stay at Cirenas with a gratitude party and a competitive lip sync battle. Our gratitude party included a shoutout sesh to our trusted Dana, a Cirenas volunteer, who had made a significant impact on a few individuals in the group.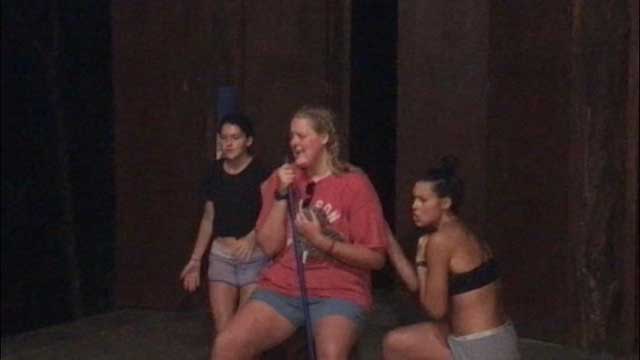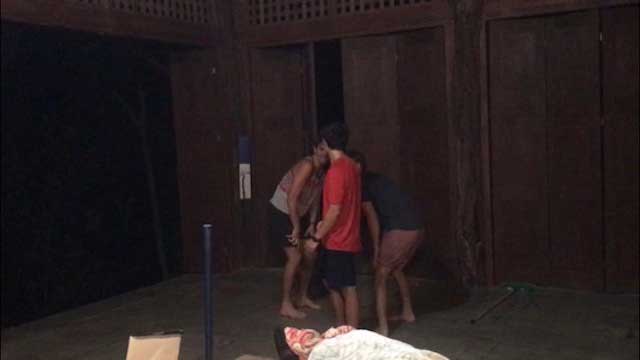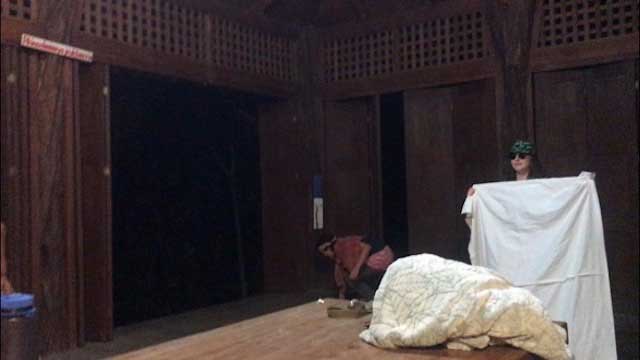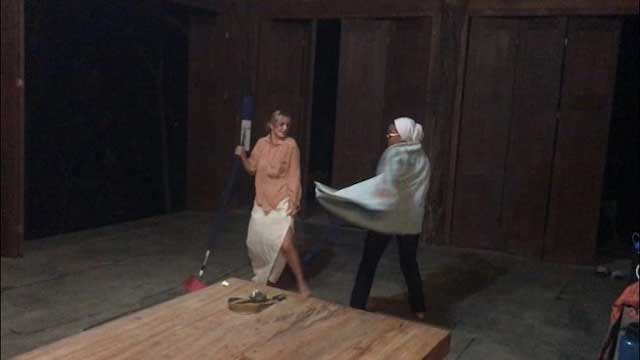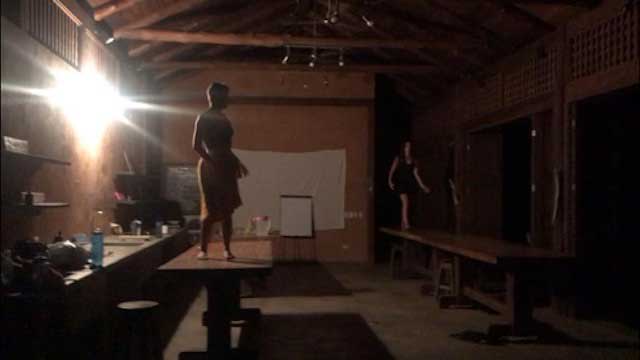 Although this may not be completely revolutionary for our blog series, I am insistent on describing the food we have been eating here. Also, my mom would not forgive me if I did not capitalize on this chance to provide a detailed recount of the memorable meals. Breakfast at Cirenas is usually gallo pinto, scrambled eggs and fruit (always watermelon, papaya, and pineapple). Sometimes we get fried sausage or fried plantain. Every other day, the main dish will be switched to either empanadas, tortillas, or pancakes instead of eggs. The fried dough is usually made of corn and filled with cheese or beans. Lunch always has rice, beans, and salad. The salad is sliced cabbage, lettuce, tomatoes, and cucumbers. The main dishes have included thin, well done beef steaks or cubes and a chicken with beans sauté. Interestingly, we had very hot soup for lunch on Wednesday. As you can probably imagine, this lunch was a bit sweaty. Despite the discomfort of eating practically boiling soup in 90 degree weather, we appreciated this lunch because it was full of local ingredients. To our best knowledge, there were 2 types of camote(sweet potato-ish), yuca, multiple kinds of local squash, potato, plantain, cabbage, and added boiled beef chunks. This soup reminded us of our last meal in Chilamate which Megan's children had specifically picked as it was their favorite meal. Dinner is similar to lunch with the same main ingredients. The notable main dishes were fried beef patties, steak fried rice, and enchiladas. Compared to Mastatal, there is a lot more meat and fried food here. The group is also realizing the versatility of yuca. Fried yuca just may be the new french fries.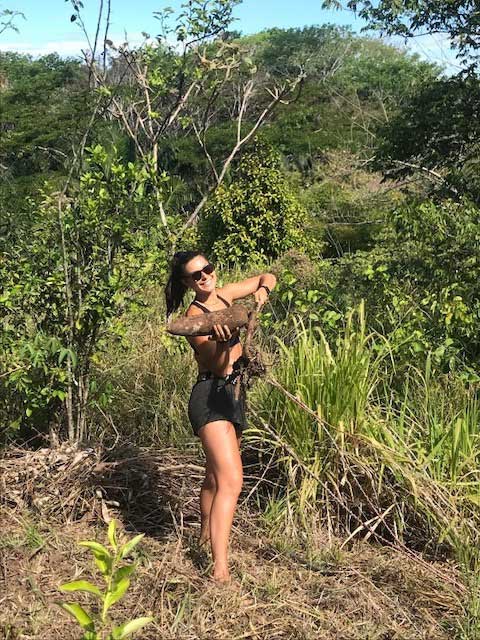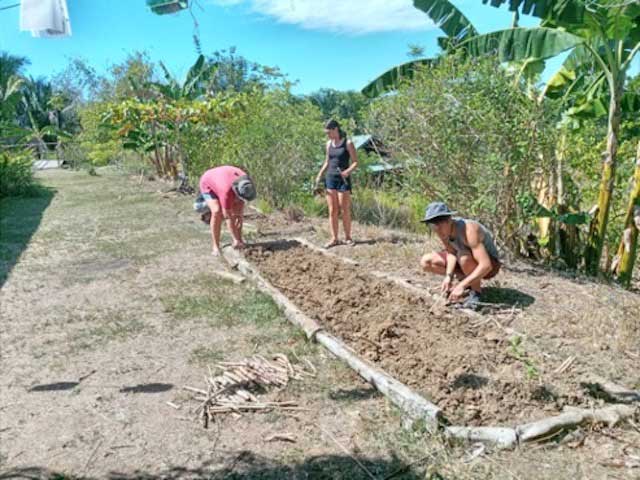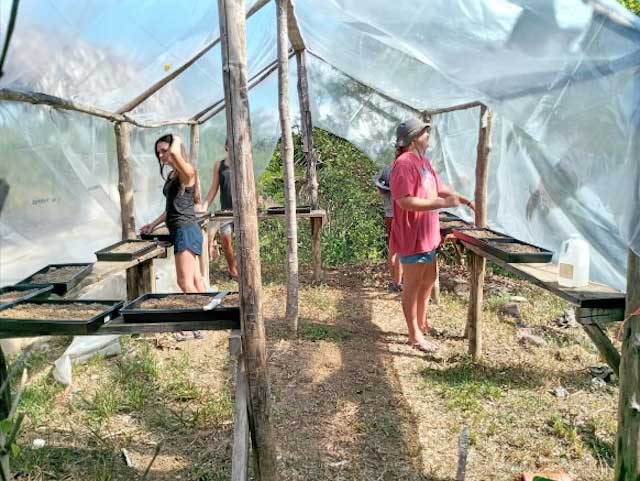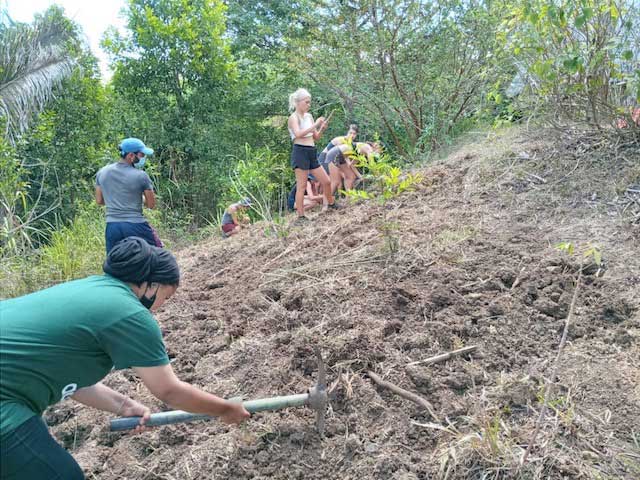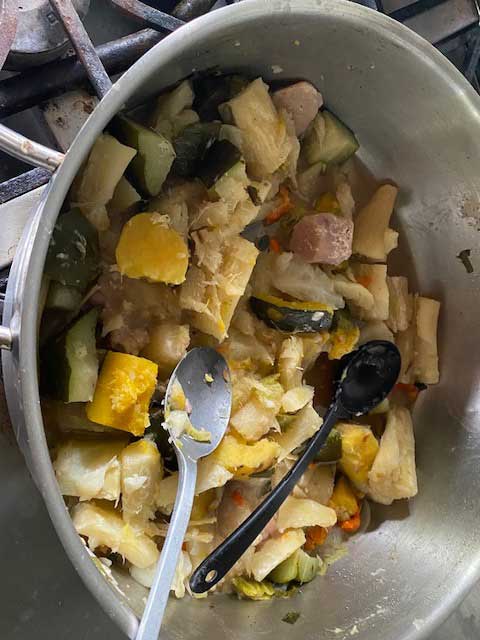 On the topic of tragic events, we must indulge this audience with the story of our unfortunate travel day. After an early send off at 6:45 am, burritos in hand, the group made our ferry with plenty of time left to spare. We easily found our taxis and began our trek to the Airbnb with only one stop for a decently average lunch. It started off great; so much so that Cole was confident in declaring "this is our smoothest travel day yet." Sadly, Cole ate his hasty statement soon after our lunch stop when one of the taxi buses began mysteriously smoking. In common terms, this is called a jinx. Thanks Cole. Officially settling in to our extremely comfortable and private shoulder off the highway, the group participated in some acro yoga and mango hunting while waiting for alternate transportation. A smart snow cone business man took advantage of our situation and relocated his cart directly beside us. The treats he served were surprisingly not tasty and described as a delicacy that "tasted like cough syrup with a hint of chalk." The snowcone-ish dessert was abandoned as one vehicle left and those remaining called Ubers. This is when the group was separated and began their vastly different drives to the airbnb.
Car #1: Cece, Maggie, Hank and Alma
The lucky quartet that got to leave first had quite the adventure. With a distinct head start compared the rest of the group, they left excited to have first dibs on beds. Their excitement was justifiable up until their journey went downhill… literally. After cruising on some delightfully paved roads, the quartet suddenly became aware that their driver had turned onto a dirt road which quickly turned into mud. The quartet promptly evacuated the vehicle at the the top of a hill, fearing that their added weight might make things more difficult. As they patiently waited on dry land, they were thoroughly entertained watching the car and the driver slowly move down the hill. After about an hour, he was able to eventually return up the hill and transport the quartet to their destination at around 6:30pm using a less muddy route!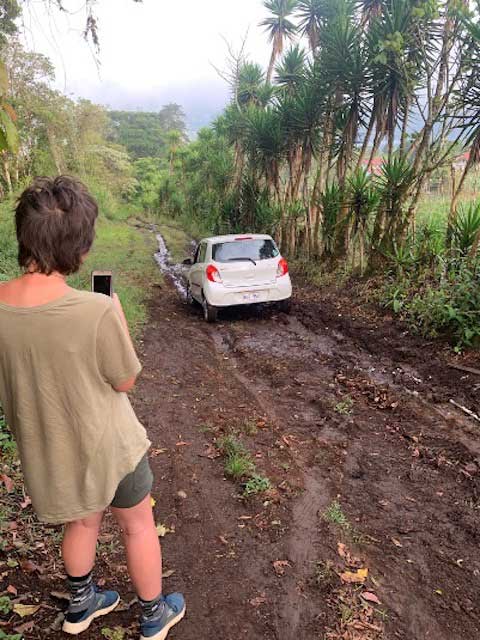 Car #2: Audrey, Sasha and Macy
The second group to leave was also excited to get on the road with an Uber Audrey was excited by the realization that there was an aux cord in this vehicle! At first, she was disheartened when she learned that her phone was incompatible with the car. Thankfully, Zina pulled out his second phone from the glove box which had access to Youtube. Naturally, dancing and singing commenced for the remainder of the 2 hour voyage. Upon a 5:10 pm arrival, they were expecting to see the group that had left in the first car, but the house was empty. Surprised, they came to the conclusion that Zina had somehow beaten the other vehicle. With the least problematic driving experience, they settled in at the house awaiting the rest of the group.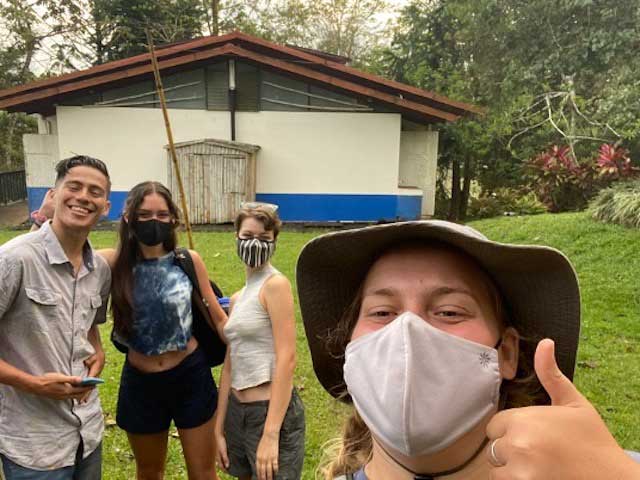 Car #3: Mia, Rachael, and Tyler
Once another Uber located our stranded group, we were disappointed to see that only 3 of us could fit in his car. On a whim, we asked the Uber if he possibly knew of anyone else who could drive us and luckily, he generously called his sister. 3 hours after we had originally stopped and 1 hour after the first car had left, a driver finally showed up to save the day. Thank goodness! Mia recollects, "Jose was his name. He has a daughter. Driving was efficient. Music taste reasonable, but a bit questionable. Overall had a fun time." Although car #3 was the last car to depart, they claimed third place when they arrived at the destination around 7:30 pm.
Car #4: Adam, Veronica, Cole and Balkhiis
This bunch of fun lads hit the road with the windows down, earbuds in, and spirits still high for roughly 30 minutes after the "Uber's sister" appeared. Of course, they suddenly slowed to a stop behind the tow truck, carrying our original taxi, that had also broken down and pulled over to the side of the road. Maintaining an optimistic attitude, this bunch took advantage of this excessive amount of free time as an opportunity to practice their American Ninja Warrior skills and plan dinner for the night. Yes, this noble group took it upon themselves to go the extra mile and stop at not one, not two, but three grocery stores to obtain delicious rotisserie chickens, tortillas, and salad ingredients. They threw in a stop at the bank for good measure and then, called it quits on the stopping because their stomachs declared that it was officially dinner time. After a timely 8:30 pm arrival, Adam and Veronica prepared the exquisite meal for the group which they graciously enjoyed about 8 hours post-decently, average lunch. In sum, it was a long day, man!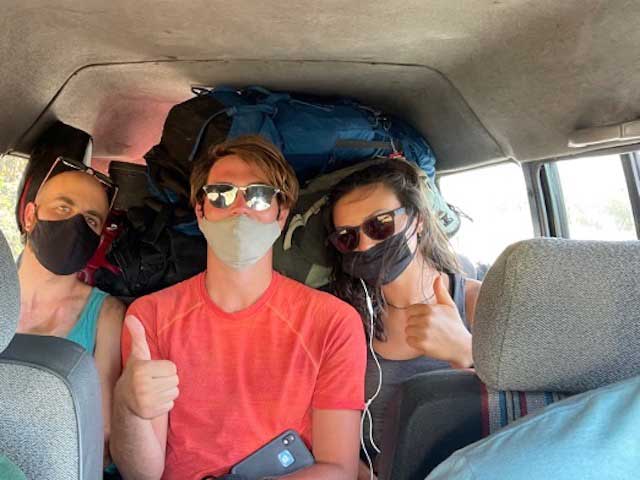 To conclude the student portion of this blog series, I would like to offer a brief acknowledgement of the lessons we have learned thus far. It is safe to say that our definition and conception of permaculture as an ideology has grown exponentially with our time at Cirenas and at Rancho Mastatal. Exposure to small changes and other realistic steps to live more sustainably has been particularly eye opening to many in the group. Both Rancho Mastatal and Cirenas have been very helpful in visually displaying a simpler lifestyle that many find fulfilling. On another note, I am impressed with the Spanish progress I am seeing in both my peers and myself. At Cirenas, we had to speak Spanish to the employees if we needed or desired anything. As a beginner, it is hard to witness and recognize the progress of the more advanced Spanish speakers in the group, but I trust that they similarly benefitted from the discussion. That being said, the other beginners are now having full conversations in Spanish! I'm very proud 🙂
-Veronica
Since I am particularly passionate about environmental sustainability and eventually becoming fluent in Spanish, finding Carpe Diem's Costa Rica "Sustainability and Spanish" program felt similar to striking gold. The curriculum matches almost exactly what I plan on studying in college next year. Though I had anticipated some of the lessons I would learn regarding Spanish and sustainability, I am truly blown away by the amount of learning and personal growth provoked by this trip. I have had so many impactful conversations with others in the group, our Overseas Educators, and especially, the local ticos. From über drivers to fermentation enthusiasts, the dialogue I have engaged in has been extremely diverse, yet valuable because I have been able to experience and witness the knowledge first-hand.
-Audrey