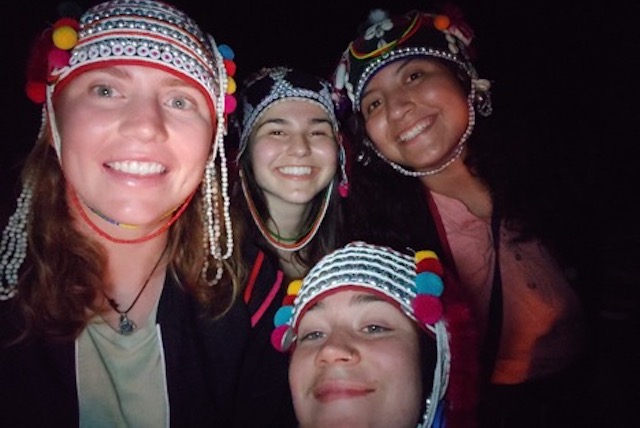 Written By Rosalba
Hola todos! Oops wrong country
This is Rosalba, writing the blog in an A/C hostel room while everyone else is out getting Thai massages. If you think I had to stay behind to write this, you thought wrong. Thai massages are way too painful for me to endure again, so I'm happily typing away!
For the past few days, things have been going all sorts of ways; up, down, sideways, you name it. If you don't quite understand what I'm saying, don't worry, I will explain more in detail.
When we finished decorating the well, Ban Apa gave us a farewell party! The whole village was present enjoying the feast and there was plenty of food to go around. Once we finished, we were put in beautiful Akha traditional dresses by our homestay moms and then walked towards the center of the village where a bonfire was waiting for us. We spent some time dancing around the bonfire, or at least trying to keep up with the tempo.
After playing one last round of Hearts at Ban Apa, we started packing for a 4-day trek towards the city. We could only bring a day pack that included only the essentials. Shoutout to Fields and McKenna for packing what they needed with their less than average size backpacks. I still wonder how they did it. Manop, our local guide, who gave us the inspirational quote of "Learning by Doing", arrived in fashion and ready for the upcoming days. And do you know who else was prepared for our hike?? Shackles and Monroe (the same dogs who accompanied us the entire time we were working)!
Before the trek, I thought it would be challenging, and boy was I right! Well, for me, it was, but it wasn't just the physical part that I needed to worry about, it was the fallen bamboo leaves that made everyone hesitate to take an extra step. The leaves left a slippery path, often obscuring the uneven ground, which led to some of us taking a minor slide. Fields, Miku, Daniela, Whitney, and I had a moment. Thankfully none of us got hurt, but our pride got the biggest hit. Daniela had the most dramatic yet, a slide in slow motion. All of us were amused yet confused watching it happen, luckily for Daniela, Manop was there to catch her! Jordan, McKenna, and our awesome leaders, Natalia and Paff, were the only ones saved from the slippery bamboo leaves.
After the trekking, we would stop at a village to recharge for the next day. Each stop, we would learn more about the importance of bamboo and how each tribe is run differently. Mckenna and Miku showed off their machete skills, chopping down bamboo stalks. Of course, with the help of our local guides, Jaha, Manop, and Akong. Jordan, Fields, Whitney, and Daniela felt a little under the weather that day, but fortunately, they have received tokens of bamboo items, such as flutes, cups, rings, all made out of bamboo!
As the treks and village stays came to a close, we all had our last goodbyes to our guides and, most importantly, our companion from the beginning, Shackles. We did it by visiting an elephant sanctuary, learning about the ethics of raising elephants for tourism. It was a pleasant and relaxing day before we headed back to the city of Chiang Rai.
That's the sitch and thanks for tuning in!