Aloha friends and family of the 'Ohana Spring 2021 semester! 
It's Peter and Natalie here from the beautiful Olowalu campsite on the west coast of Maui. We are full of gratitude and appreciation for the past week getting to know our incredible group of students. Orientation has been jammed pack full of adventure, learning, and connection. Students spent the day in Lahaina on their scavenger hunt in two teams. They competed for fun locally made prizes, explored the historic town, and ended the day with an epic whale watching tour, where we saw a school of 100+ dolphins that played alongside our boat for a half hour. As orientation comes to a close, we look forward to our transition to a local organic farm, where we will learn about permaculture, relationship to the aina (land), and sustainability, holistic living practices. We are excited to continue on our journey together and send thanks to the people we've met this week. Thanks to Ian for a talk that gave us a deeper perspective on the history, thanks to Ekolu for an introduction to Hawaiian culture, thanks for Harriet for an entertaining and informative star talk, and thanks to everyone back home who supported our students, so that we can all be here together as an 'ohana.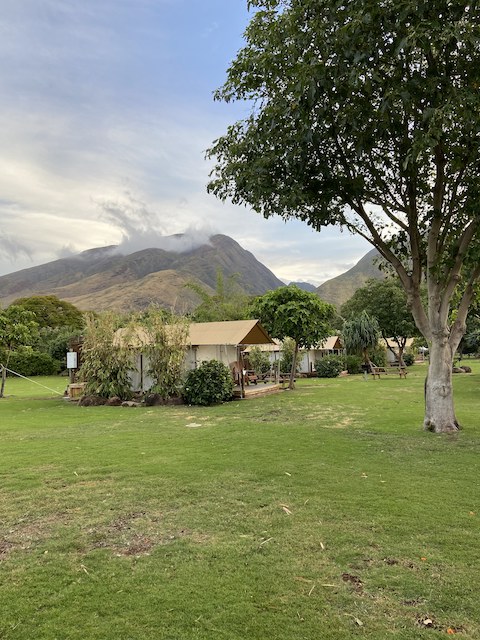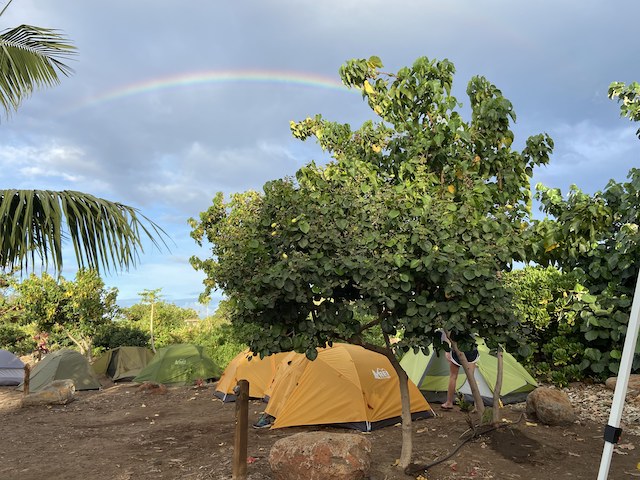 Here are our two blog entries, written by the students about their first week! 
From team #1:
Aloha! 
Jane, Tara, Eli, and Anabelle here. We have been on Maui for 6 days now and are loving it. The beauty around us is astounding-there is so much biodiversity. Our campsite is right by the water so we can watch the sun rising and setting over the ocean each day. This week we have been doing orientation activities in the morning and fun expeditions in the afternoon. Each day we have been able to go swimming, and we have seen coral reefs with fish, reef sharks, turtles, and seals! 
We have had the opportunity to listen to two guest speakers already who have taught us about the culture and history of Maui. Ekolu taught us different Hawaiian phrases as well as important life advice on how it's important to suffer first to find true happiness. Another one of our speakers, Ian, taught us the dark history of Hawaii as well as sharing traditional music that's a part of their culture.
For the past week we have been staying at Camp Olowalu  which boasts beautiful views of mount Haleakala and the Pacific Ocean. We have amazing outdoor showers, outhouses, and (drum roll please) wifi!! Camp Olowalu is the perfect place to start building our relationships and start out our eight week journey.
Yesterday we had the opportunity to explore the west side of Maui through all of its twisty and turny roads (thank you Natalie and Peter for driving!). We went on a short hike through the cliffs and saw rainbow after rainbow while checking out the blow holes. We went snorkeling and had a surprise experience with a Monk seal while picnicking on the beach. Today we are exploring Lahaina and learning more about its history via a scavenger hunt. This afternoon we will be going whale watching and will hear from another guest speaker about Polynesian star navigation.
We all feel very grateful to be here and look forward to the next days of adventure ahead. Sending all of our love home to our family and friends! Mahalo! 
Here's another blog entry from our second scavenger hunt team consisting of: Amanda, Genevieve, Louise, and Lauren: 
We've seen a lot of the island already on our first week in Maui.  We eat a picnic lunch at a new beach almost every day followed by some snorkeling.  The other day we saw some sea turtles, a seal, and a reef shark.  We've enjoyed exploring the town of Lahaina which means "relentless sun".  We also spent some time learning about the dark history of the Hawai'i from our friend Ian and learned some new Hawaiian words from Ekolu.  Yesterday we went on a beautiful hike along the ocean cliffs, and visited the Nakalele Blowhole where we walked through some lava rock and got pretty splashed.  After all testing negative for COVID, we visited a local market and got some shaved ice and banana bread.  There is almost always a rainbow in the sky and a whale in the ocean!
Aloha and mahalo!
Mahalo for reading. Until next time, 
Peter and Natalie
From our adventure road trip day of the west coast! Exploring the Nakalele blowhole. We stopped here to watch fishermen battle the wind and waves to catch a few fish.