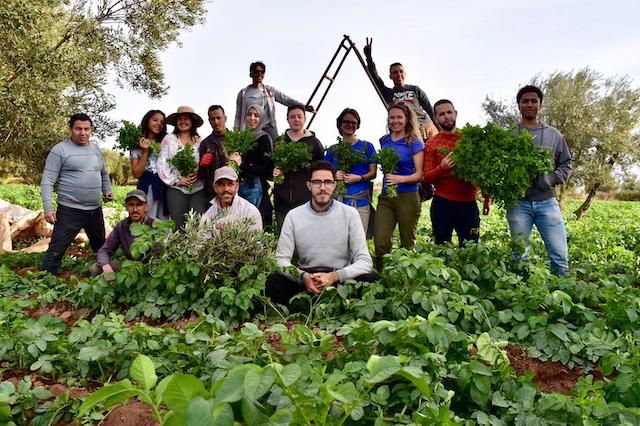 Situated in a unique location, Air Ourir is only a 45 minute drive from Marrakech, the bustling shopping capital of Morocco, but drive 10 minutes from the city center and you'll find yourself in the countryside, the landscape dotted with farms.
On Monday, we had the opportunity to visit several of these farms. We saw an olive plantation, a mint farm, and a potato farm. However, the farm we spent most of the day at was a unique experience because the man who owns it has donated part of his land to build a schoolhouse to teach literacy to women and children in the area. While we were there, several men from Ait Ourir were volunteering their time building the schoolhouse.
We got to help a little bit with making the roof. Woven out of bamboo, it's then put on top of the building and covered with layers of cardboard, plastic, and mud. We helped with weaving it. Some of us are more skilled then others at this endeavor, but the men from the project were very forgiving, constantly saying "mushi mushkill, mushi mushkill" (no problem) when shown one of our many errors.
The entire project is volunteer based, and once the school house is finished and classes start all the teachers will be volunteers. For me, it was really inspiring to see people in the community taking things into their own hands and volunteering their time to improve the community. Although talking about issues like literacy and education is important, what's even more important is actually doing something about them, which is what these men are doing.
– Hana