By Ella Gambell, Latitudes Australia
I'm not going to lie, the first couple weeks of this semester were pretty tough for me. At Latitudes orientation right before I came here, I heard about all of the amazing things all of the other Carpe kids are doing and I wondered if I could be doing something better or more adventurous than working on a farm. I would be weeding in the garden and think, "Wow. There are people cage diving with sharks, diving with seahorses, teaching African kids how to swim, helping women who are being trafficked in Nepal, etc., and here I am sitting in dirt pulling out weeds in another wealthy, Western country, much like my own."
I really needed to shake that perspective and see the bigger picture, so I did. It took a little more patience than I like but I kept reminding myself: I chose to be here. I'm supposed to be here. Better make the most out of it.
I'm going to talk a little bit about the place I'm living right now. It's a permaculture farm in the Yarra Valley, east of Melbourne, called P.E.A.C.E farm. The name itself makes this place so inviting. It's one of the reasons I chose to be here, to be honest. It stands for "Permaculture. Education. Art. Community. Enterprise," some of the many things this place has to offer. The farm is run by 3 families, all of whom live on the property. There are Travis and Emilie and their two boys, Ossian and Matis. Trav runs the market garden and the CSA. I've never seen someone who works as hard as that man. Then there's Matt and Cat, with their four kids named Jazzy, Marlow, Luca, and Ollie. Matt runs the nursery and sells seedlings in local markets. Lastly, there's Murray and Vicky who live in a tiny house that they built out of all recycled materials, with their little daughter Gracie. Murray is an acupuncturist and Vicky is an artist. Also, several WWOOFERs come and go. This place is always buzzing with people!
So, I don't know if you've counted, but there are seven kids total that live here, and most of them are little boys. We also had a Catalonian family living here with 3 kids of their own. Things can get pretty loud and crazy, though while the kids are at school, the peace remains at PEACE farm. 🙂
There is an abundance of things to learn and do here. Cat and Vicky teach yoga classes throughout the week, Emilie does shamanic drumming women's circles on the new and full moons, we have an annual tomato festival in February, and there are all different kinds of workshops throughout the month; it's endless.
I chose this place because I felt super drawn to Australia and like I needed to come here. I am also in love with our planet and wanted to connect deeper with her and learn ways to reduce my carbon footprint.
Throughout my time here I've realized the importance of many different things. From the environmental perspective, I have learned the benefits of eating local, organic foods on the personal and community level. Every Tuesday here, we have our "Box Day," where we pack boxes full of produce for our CSA. Everyone on the farm gets together and harvests heaps of produce fresh from the garden that gets dispersed in about 40 boxes for different locals. So much effort and love is put into the consumer getting the best produce possible. Community Supported Agriculture has great benefits for the community and the people, I'll briefly mention a couple things.
People have lost touch with what they eat and where their food comes from. Most people eat whatever they are craving, regardless if it's healthy, seasonal, or if it has traveled thousands of miles to get to the supermarket. Not only is local, seasonal food better for the environment because it is not traveling far to get to you, it is better quality, therefore better for the body. Knowing where our food comes from and who grows it, is a practice of being connected to the earth. If more people felt connected to the land we live on, I think they would be more inspired to save the planet. It has been enlightening for me to be part of a CSA, and I know it's something I'm going to carry with me in the future.
Personally, I've been more connected to the earth here than ever. I've always loved nature and being outside, but having my hands on the earth almost every day has really made me more aware of how special our planet is. Doing little things like planting baby beetroot in a garden bed and having my hands in the soil or just walking around barefoot, have given me a sense of groundedness and peace. Harvesting veggies and herbs straight from the ground and using them to cook and make tea is so fulfilling. It's so nourishing taking something from right from the earth and using it to feed our bodies, just like a baby nursing from their mother. I have learned how to raise a plant from seed, prep a garden bed, how to keep a plant thriving while it is in the ground, all of the tools needed to grow a successful, healthy crop. I have even learned how to use the different veggies on this land, so nothing goes to waste. I can't imagine living any other way than getting my food from a CSA when I get back home!
Those are a few of the many skills I have acquired from farming, but I've learned much more than just how to tend the garden. Living here has given me a new appreciation for life. Separating myself from all of my loved ones and immersing myself in a community of strangers has been one of my toughest challenges. I've had to learn how to take care of myself on my own, without the support system I've always had. It has not been easy, but as I learned last semester, you grow the most from immersing yourself in the unfamiliar.
I have found new gratitude for my family, friends, my hometown, mother Earth, and for myself. This place helped me open my mind and my heart and connect deeper with myself. There is so much I have left to learn from the incredible people that live here and I've barely scratched the surface. That just gives me more of a motivation to come back!
Here are some photos I gathered from this adventure: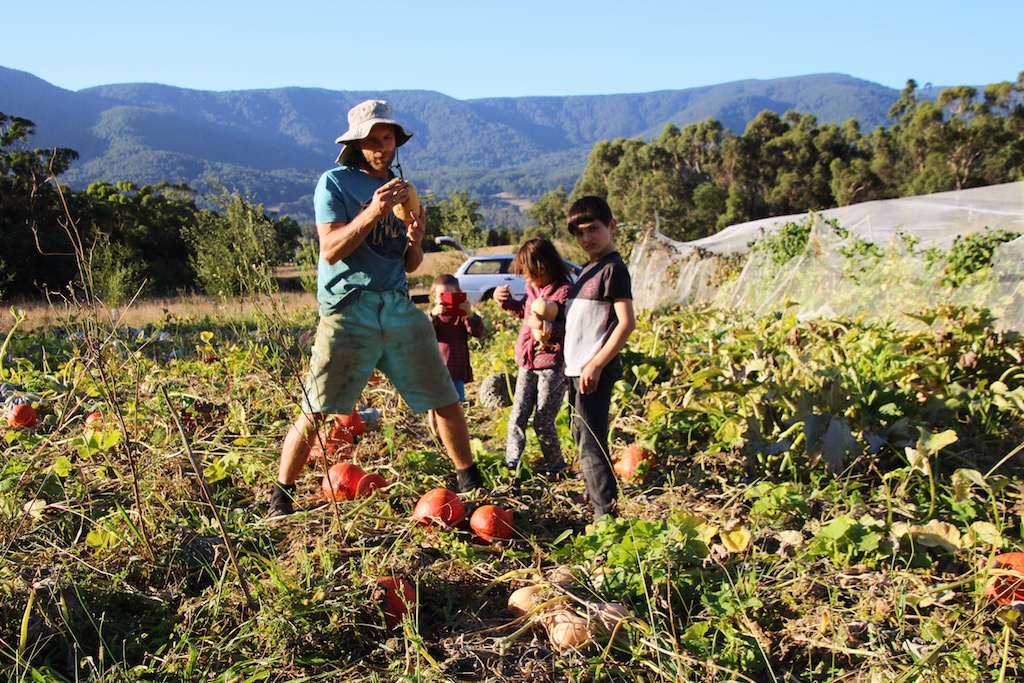 Trav and the kids harvesting pumpkins.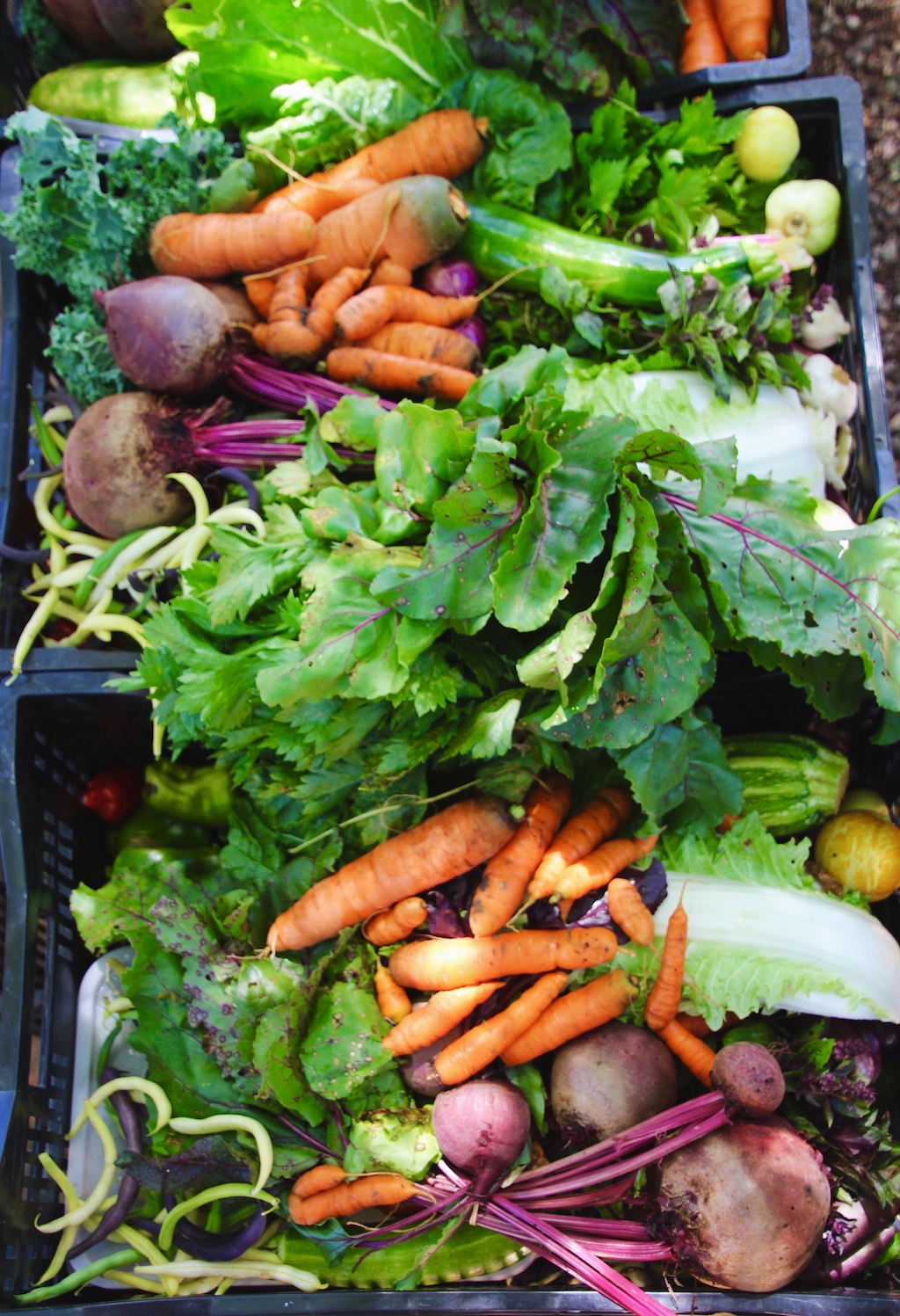 CSA Veggie Box.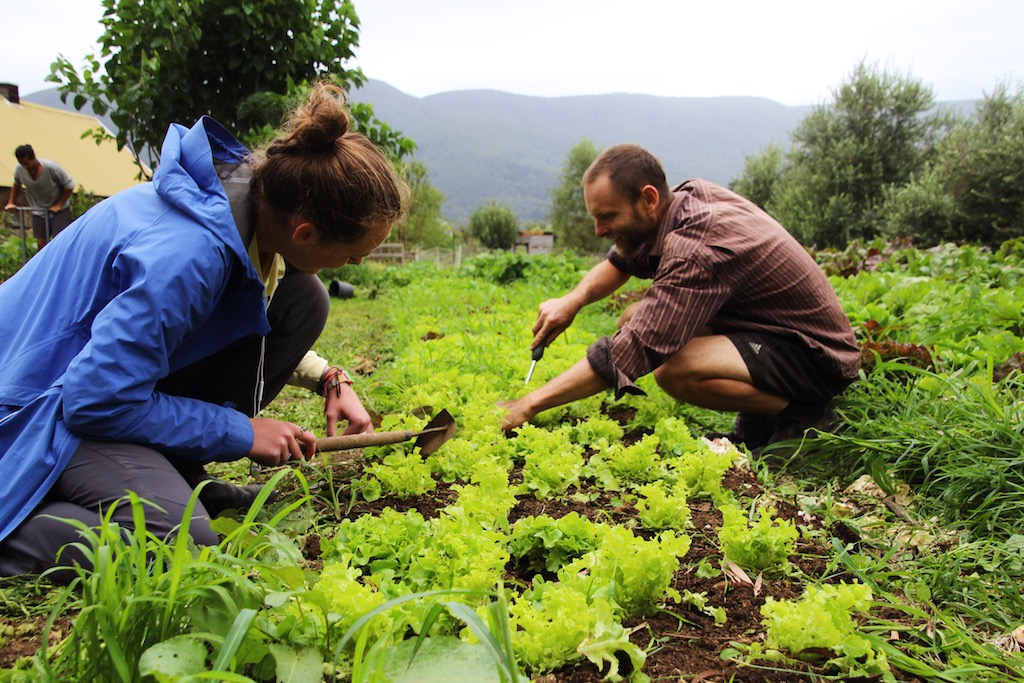 Trav and Kate in the garden.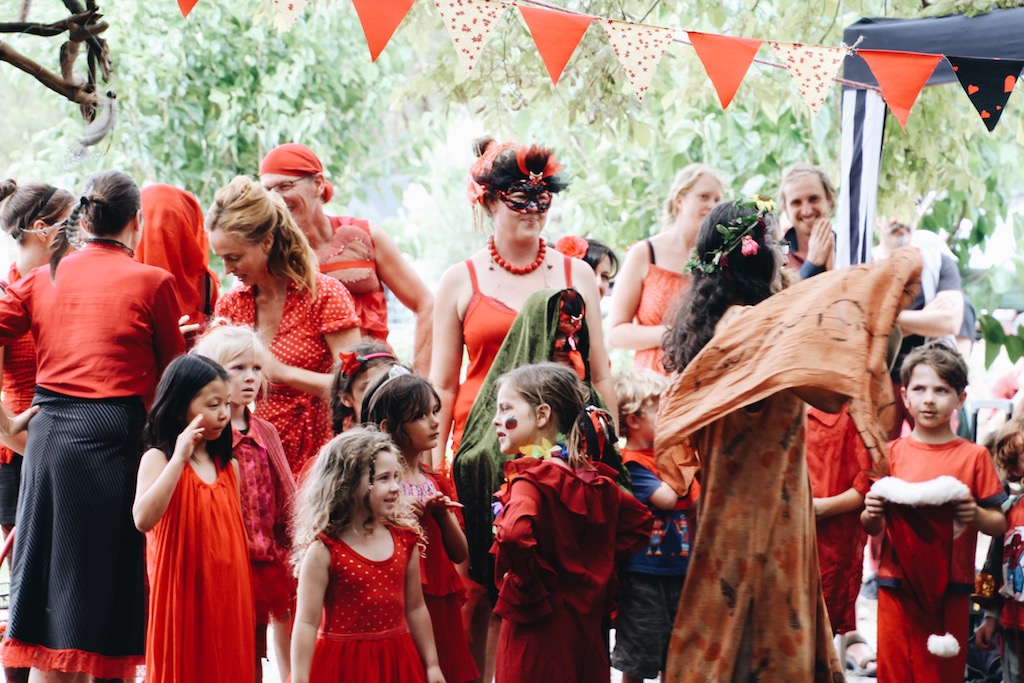 Tomato Festival Fashion Parade.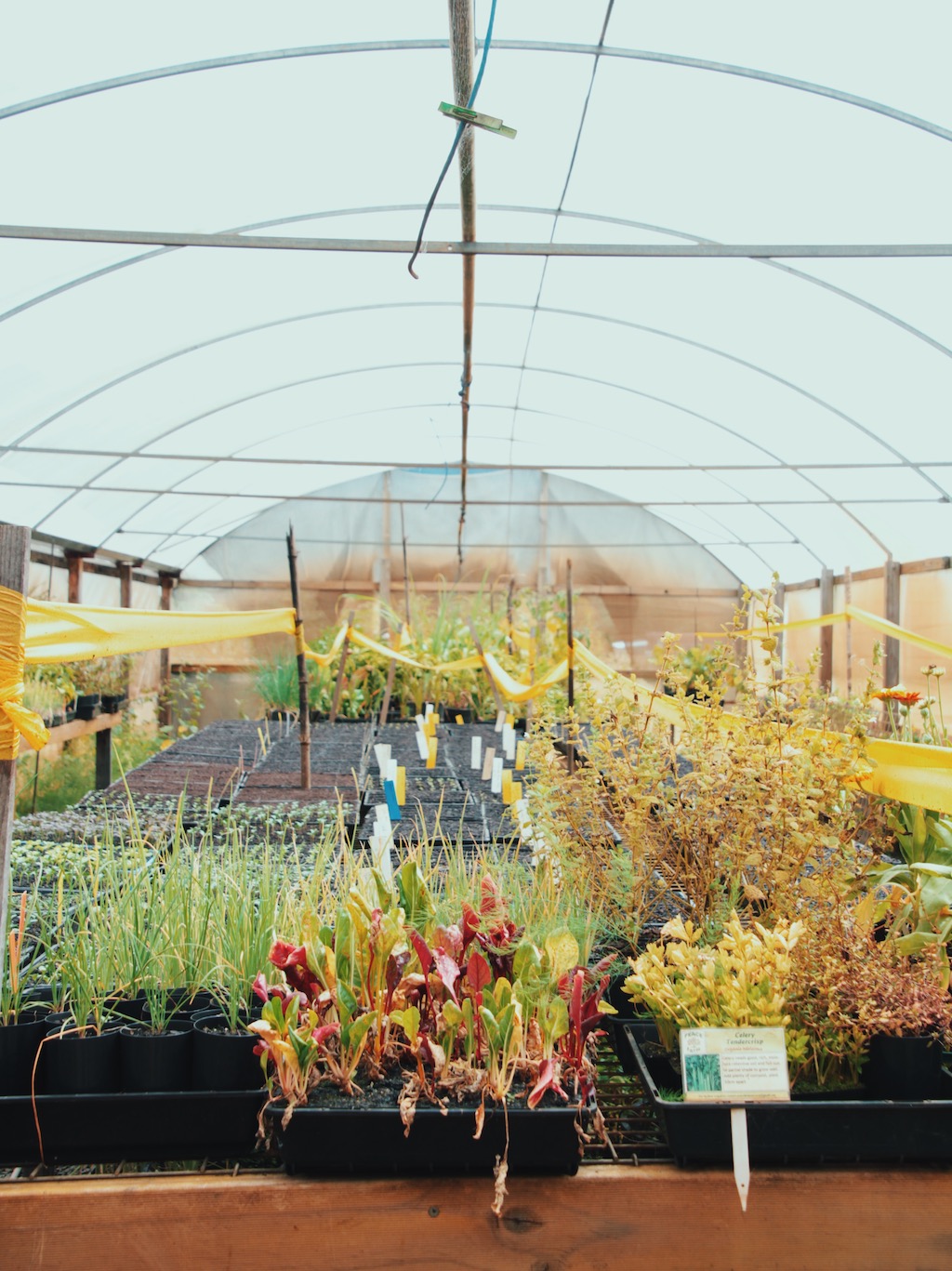 Seedlings in Matt's nursery.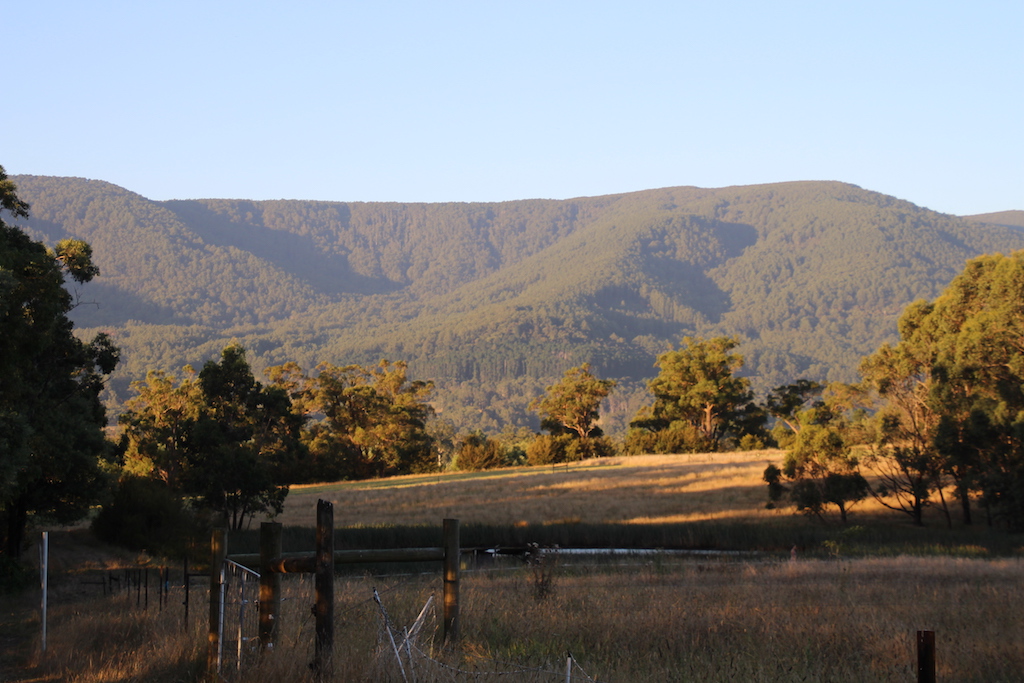 View of the mountains during golden hour.