Written by Chloe and Justin
Despite the rainy weather on Maui, this week was flooded with new learning opportunities and experiences for our group even if we needed to keep our rain jackets with us.
On Sunday our group vans, Ronnie and Mabel climbed to the top of Poli Poli recreation area in Kula. we wound our way through eucalyptus and redwoods forests. In the second half of the hike we spaced ourselves out to have a solo experience, but everyone was happy to reunite in the lucious lavender gardens at Poli Poli. Back at the farm, we made fresh guacamole and ice cream sundaes before an early bedtime in anticipation of a day at Uncle George Kahamoku's farm!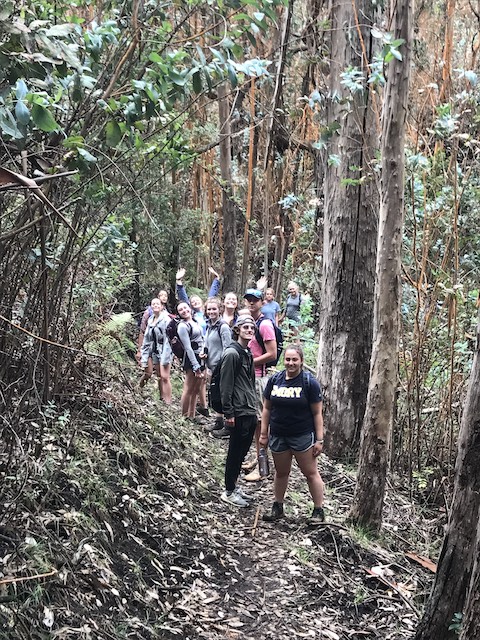 After a 5am wake up and winding drive through the west Maui mountains, we arrived at uncle George's farm. Before we even had time to say hello uncle George (a 5 time Grammy award winner and farmer at heart) we were collecting spinach clippings, planting taro, and shoveling sheep and horse manure. Uncle George herded us around with an energy we had never seen before. Unexpectedly, We next found ourselves watching as uncle George tied and transferred two wild pigs from a neighbors trap. Don't worry we didn't eat them, but we did cook and eat a delicious soup and salad with ingredients from the farm.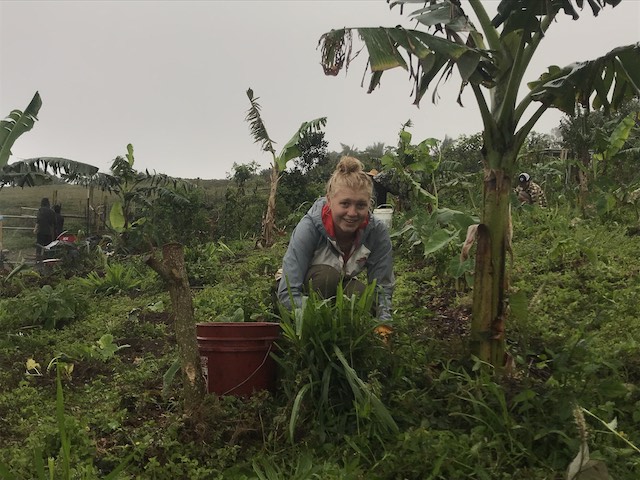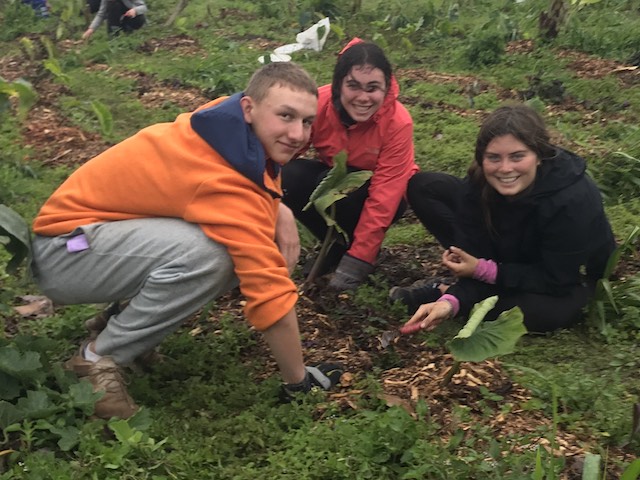 On Tuesday, our last day at the farm, we got to plant banana and avocado trees (some of our groups favorite foods to consume). We got to say a big thank you to the caring and Insightful farm staff that we had built relationships with along the way. We spent the afternoon cooking gnocchi and wrote each staff member a note. Justin and Lachlan even performed a rap.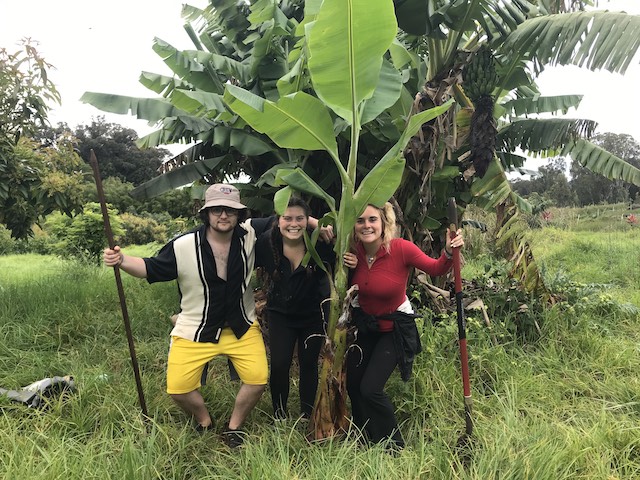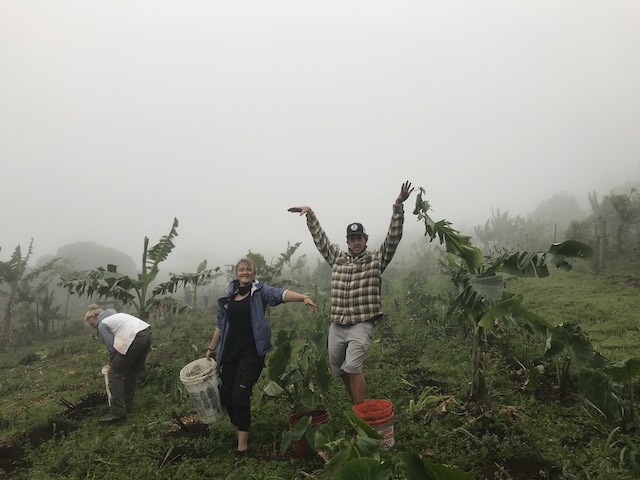 Wednesday morning we packed up our things, did a big cleanup, and reflected on our time at the farm. Then we talked to Danielle (Evan's wife) and learned so more information about our meditation retreat. we said a tough good bye to the farm and hosts and headed back to camp at the coast. Once we finished setting up our campsite in an element we hadn't seen much of—sun— we took a much needed trip to the laundromat to clean our clothes and also got some shaved ice while we were there.
The next day we got dressed in our bathing suits and met Fabio—our surf instructor at the beach! We rotated through traditional Hawaii canoe paddling, (insert name here) stand up paddle boarding (Justin's favorite , and SURFING. Fabio coached us calmly on the surf board, and everyone got up with a little help. We finished our morning with a Brazilian capoeira lesson from Fabio. Capoeira is a traditional Brazilian form of martial arts that is descended from the slaves of the Amazon. He had us cartwheeling down the beach in no time.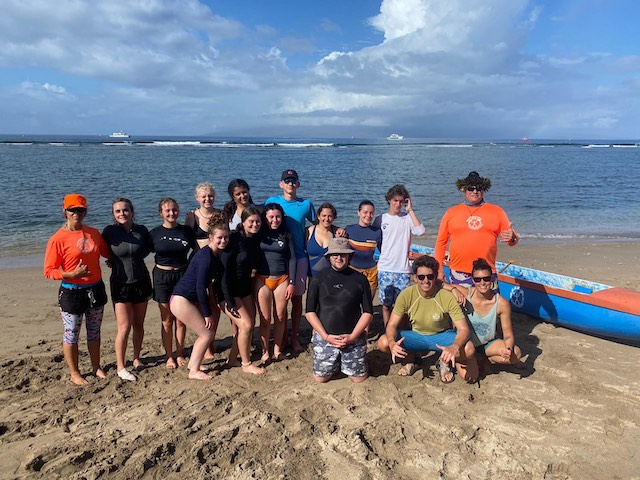 Our second day with Fabio, we expanded on what we learned. The ocean was a little bit rough so we couldn't go out as far but we did get to see Monk Seals, Tiger Sharks, and Turtles. We then practiced some more capoeira, and added to our arsenal of moves. Some of these moves included jinga, shiva, rainbow kick, and much more. We spent our afternoon walking around Lahaina, and after picking up a picnic dinner along the way, we went to hear our canoe guide friend Ua perform. Even though there was a timing mix up, our group made the best of it with an Oceanside dance party.
With a high surf advisory in effect, we instead went to Fabios gym to have our final capoeira lesson. We added music to our moves, and sparred each other in a circle. In the afternoon we had a picnic lunch in kapalua and walked along a coastal trail to a lava formation called dragons tooth. It was a full, awesome week and we're looking forward to what the next week brings!