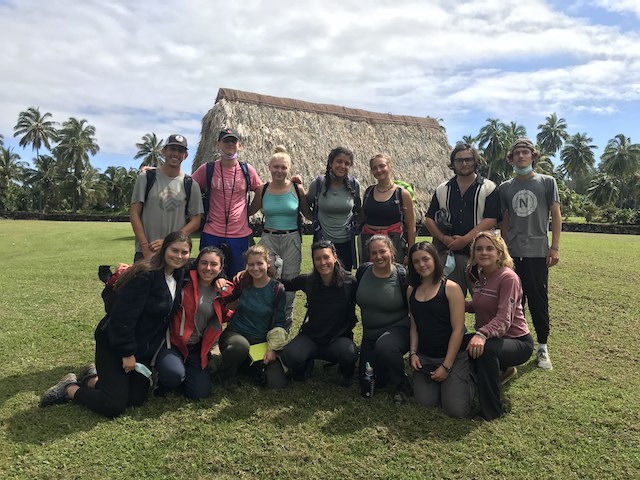 Written By Lachlan & Gemma
Aloha,
Its Lachlan and Gemma from the aloha group! This week was one of introspection and self discovery. We went to the Sacred Garden to do our meditation retreat where Danielle, who we spent time with previously at the organic farm, led the retreat. Deep meditation and yoga starting at 7 am, then six hours of reflection, finished off by another meditation at 6:30. It was really nice to have hot showers after 2 weeks of cold mosquito filled hose offs. Each day was a learning experience on Ayurveda techniques and life skills. The day of silence was awesome and allowed us to really learn about ourselves in a profound way. Thanks so much to Danielle for being so awesome and swinging by with Señor and Bija. Eve, the owner of the Sacred Garden was very hospitable and taught us how to walk the labyrinth whilst correctly focusing on ourselves. Her Golden Retriever, Kumu,(Hawaiian for teacher) would often swing by for a game of fetch. Kiki, the black cat, would swing by for attention and was extremely friendly. Loc, the lone chicken, would follow you for hours around the garden for hours, but if you got too close, you'd get sassed. Having this experience made us a little homesick, not because we miss our families, but it made us really appreciate the amenities of a house.
After the retreat we packed up and started our journey towards Hana. As we drove down the beautiful road to Hana we made a stop at a famous banana bread spot. So yummy! Next we pulled over and took a dip in a beautiful swimming hole with a waterfall! We arrived at our next camp site around 4pm. We set up camp and explored the farm.
Friday, our girl Clare's 19th bday!!, started with a visit to Kahanu Gardens, which is a national tropical botanic garden. They have the largest collection of bread fruit varieties in the world! The land they are situated on also contains many culturally significant sights and has undergone lots of restoration which allows it to look similar to what it would have when the ancient Hawaiians lived there. We had a tour of the garden and then worked on weeding their greenhouse, wiping the greenhouse walls and transplanting native plants. After the garden we drove over to the black sand beach. It was beautiful, with stark contrast between the black volcanic sand and the sea. For dinner we went to a local open air restaurant with live music and great pizza, and incredible deserts to cap off the bday celebrations!
Mahalo nui!